YouTube is the second biggest search engine worldwide, but it might be one of the hardest platforms to crack in terms of content rankings, so if you're struggling to work out how to optimize each video you post, it might be time to consider TubeBuddy.
TubeBuddy is a great way to streamline your video uploads, manage your comments, and generate search-optimized content all in one place.
It's one free extension for YouTube that offers all this in one handy dropdown.
We're going to run through the free TubeBuddy extension in this guide so you'll know:
How TubeBuddy optimizes your YouTube videos
Essential functions and how it works
Whether TubeBuddy is worth it
How much TubeBuddy licenses cost
How TubeBuddy Optimizes Your YouTube Videos
TubeBuddy is a free browser extension and iOS mobile app that integrates with your YouTube. It is fully compatible with Chrome, Firefox, and Safari.
TubeBuddy acts as an enhanced YouTube extension to help you streamline and manage your YouTube content easily. It enables you to optimize content by viewing key analytics on tags and titles so you can improve the searchability of your content.
TubeBuddy is particularly useful if you're looking for ways to grow your YouTube channel by using trending topics for your titles and tags.
TubeBuddy Key Functions
The free extension of TubeBuddy has multiple functions that you can use to manage your content. To register with TubeBuddy, you will need to install the extension directly from their website.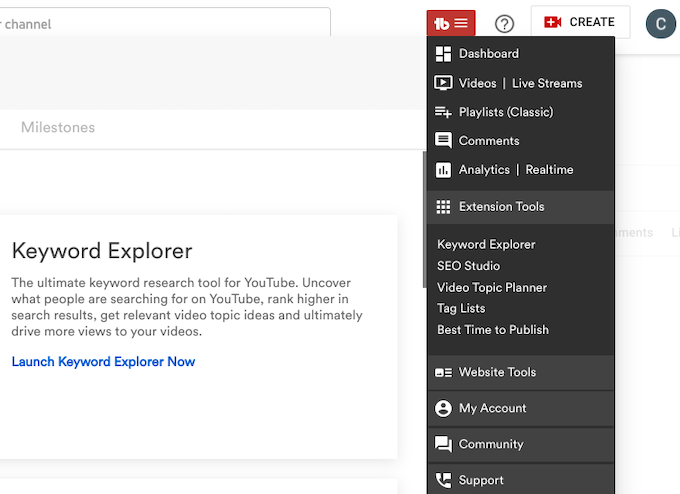 The TubeBuddy navigator will appear on the top right-hand side of your YouTube page as a black drop-down menu. To ensure it is fully integrated with your YouTube channel, you need to register on the TubeBuddy website and add your YouTube channel to the online portal.
You will then need to sign in to your YouTube channel from YouTube to get the above drop-down menu to appear.
The TubeBuddy drop-down allows you to navigate across YouTube to your dashboard, videos, playlists, comments, and real-time analytics easily and quickly. It also optimizes your existing YouTube capabilities in the ways listed below.
Save Time With Video Uploads and Playlists
TubeBuddy allows you to upload multiple videos at once, with integrated templates for tags and titles to save time when publishing. You can create template cards to quickly upload videos in one go (particularly useful for uploading a series) and add videos to a playlist quickly during upload to encourage your subscribers to binge-watch multiple videos.
You can simply click 'Add Card Templates' to apply your templates to multiple video uploads. You can also update your tags and descriptions individually or in bulk for existing videos using the Videos link on the TubeBuddy menu.
Engage With Your Audience Comment Management
TubeBuddy enhances the existing YouTube comments function as it allows you to filter comments into a higher number of categories, including:
Comments you haven't responded to
Comments from new subscribers
Comments from your Patreons
Comments that need a follow-up
It allows you to manage interactions with your subscribers comprehensively, so you're prioritizing and engaging with the members of the audience you need to. You can also create canned responses to save time when responding to messages.
Generate SEO-Friendly Ideas With Keyword Explorer
Perhaps the best function of TubeBuddy is allowing you to quickly see what is trending on YouTube with the Keyword Explorer function.
Say you were looking to get your first 1,000 YouTube subscribers with valuable content. If you want to generate trend-hitting content tags type a keyword into the Explorer search bar:

And it will also suggest other popular keywords as you type them in (like 'TubeBuddy review' or 'TubeBuddy for youtube'). Once you've typed in your keyword, a list of analytics will appear for that keyword search you've just completed: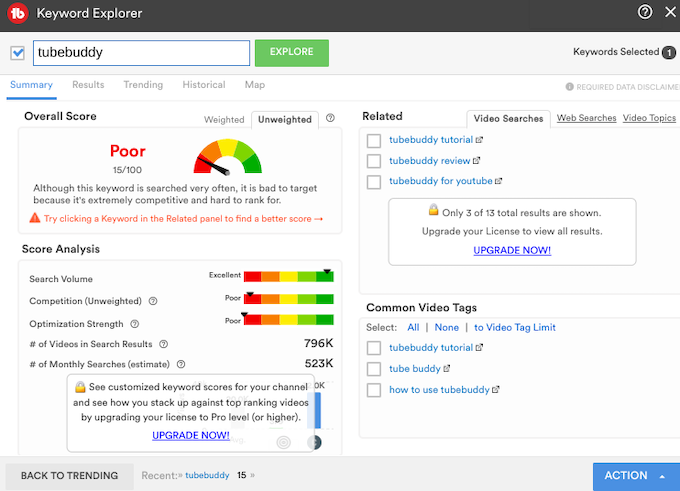 As you can see here, you do have to upgrade to a Pro license to see more than three frequent video searches or video tags. It is, however, beneficial for assessing how SEO-friendly your keywords are.
Here, for instance, TubeBuddy is too large a search term, so we can narrow down our success in the search rankings by changing the title to something closer to How To Use TubeBuddy.
Let's analyze how successful this title is: 'How To Use TubeBuddy for YouTube 2020.'

As you can see this is far more successful as an overall keyword score. This tool is particularly useful if you're new to YouTube and not quite sure how to begin growing your subscriber base.
Analyze The Competition With Videolytics And Channelytics
With Keyword Explorer, you can also browse the results on YouTube to see what sorts of videos appear. Click on the Results tab next to the Summary pane, just below the keyword search bar.
Currently, the following videos are available:
If you click on the top video, you can also receive the stats for that specific video, which is an excellent way to track your YouTube competitors' success. If you click through to their video, on the right-hand side you will see their 'Videolytics' for this video's metrics and you can also click through to view their 'Channelytics' which gives you the stats for their channel specifically:

If you're trying to mimic the success of a competitor, you can see which tags they are frequently using, and even copy them to save for use later.
Keyword Explorer is by far the most useful tool for generating SEO-friendly content ideas for your own YouTube videos.
Is TubeBuddy Worth It?
TubeBuddy is a free extension and is worth it. Many users feel that it saves them time and helps them generate successful content without the need to upgrade to Pro.
It might be slightly frustrating to have limited Keyword Explorer viewing options (only three items appear at a time outside of Pro). Still, given that it is entirely free, it's worth installing.
TubeBuddy is also easy to cancel from the TubeBuddy website once you log in:

To date, there have also been no security breaches reported through using TubeBuddy, and many creators use it daily to upload and manage their content. It is also YouTube certified.
The biggest drawbacks of TubeBuddy are that it only works on one channel at a time, so you'll have to buy a subscription for multiple channels. Also, many of the features like scheduled uploads are only available with the Pro content.
The app is currently not available on Android.
How Much Do TubeBuddy Licenses Cost?
There are three packages available with TubeBuddy: Pro, Star, and Legend.
Pro: For $9 a month, you get access to most of the productivity and video optimization tools. You do not have the option to schedule content and complete bulk actions for large video uploads.
Star: For $19 a month, you're granted access to all of the bulk processing options available for video management, like scheduling bulk uploads and managing when content publishes.
Legend: $49 a month grants you access to all the tools, like cross-channel SEO optimization, translation tools, and further competitor analysis.
The larger packages are only worth it if you have a large subscriber base, or are looking to make money from your channel. Non-profits, annual purchasers, and those with less than 1,000 subscribers also receive certain discounts across certain packages.
Final Musings On TubeBuddy
TubeBuddy is essentially a free upgrade for YouTube, so you can template your uploads, manage your comments, and generate SEO-friendly content ideas. For a free browser extension, it's one of the best out there and worth checking out.
Keyword Explorer makes it completely worthwhile, and with a Pro package discount, it is worth investing in if you want to grow your channel and have less than 1,000 subscribers.
The more expensive TubeBuddy packages? We'll leave you to decide.