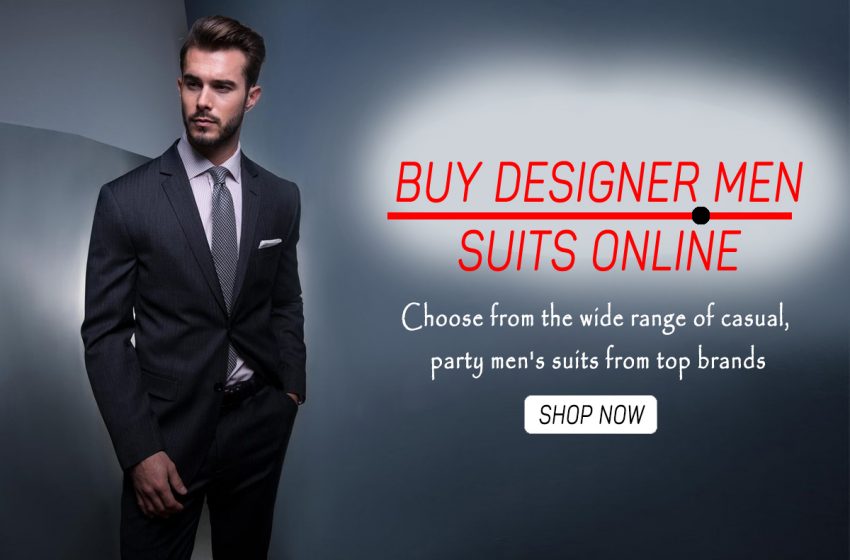 About Suitsupply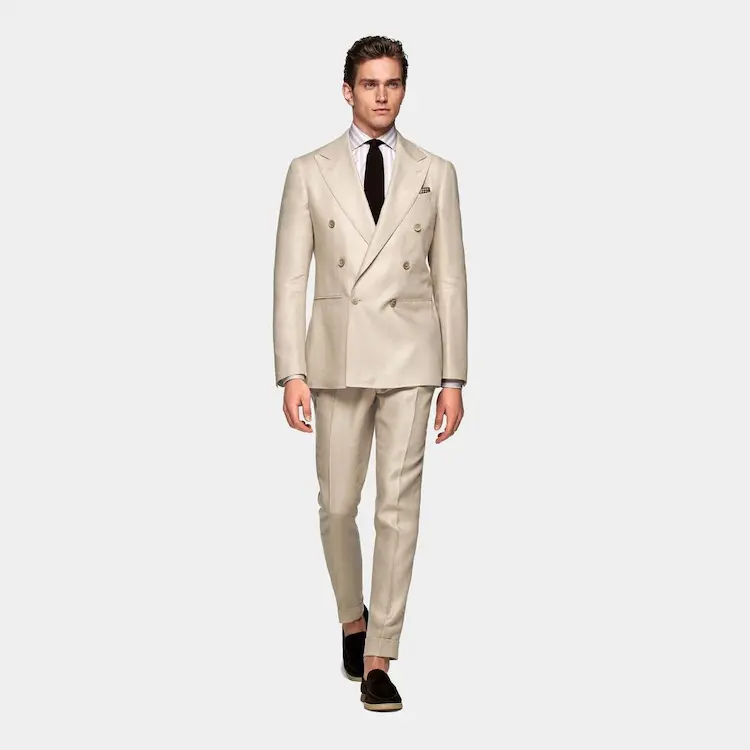 This is where Suitsupply's Custom Made came in. The company reached out to ask if I'd be interested in taking a look at its made-to-order suit program, which allows me to design a suit online, get it tailored to my body in person at any of their 100 worldwide locations, and mailed to me in less than a month's time. How could I say no? As it turns out, I'm thrilled I didn't.
Amsterdam-based menswear brand Suitsupply is a global retailer that specializes in good quality, relatively affordable two-piece suits, starting at $408 plus $100 to $200 for each garment's tailoring.
Although the company sources materials through historic fabric mills of Italy, it's best known for its provocative marketing imagery and promotion of fair labor.
For this review, I took a look at Suitsupply's Custom Made program and opted for its hybrid model. I customized a suit online at the retailer's website, sent my customization code to a local Suitsupply store, and drove for an in-person consultation about my options. After the meeting, I had my Custom Made suit mailed to my doorstep.
Overview of Suitsupply
Suitsupply is a suit brand that offers more than just stylish dress wear as their website also allows customers to build a custom look. Plus, you can get fresh ideas with the help of their Look Builder feature. The brand aims for a blend of style and an effortless purchasing experience that lets you find a new suit from the comfort of your home.
You can purchase individual pieces or find something fresh from top to bottom, and there are numerous unique styles that take influence from cultures worldwide.
Suitsupply's Custom Made is available in-store, online, or as a hybrid feature where customers can build their suit online, submit their customizations, and meet with a style expert at a store location to go over selections and measurements in person.
In any case, the end result is a fully tailored suit, made to your body and liking, and delivered in two to three weeks' time. Prices vary by fabric, but each suit generally costs under $1,000—a tad more than retailers like Bonobos and J.Crew, but hundreds of dollars cheaper than Saks Fifth Avenue and Neiman Marcus.
A custom-made and tailored bespoke suit can cost somewhere between $3,000 to $5,000, depending on the fabric. Alterations are included with all Custom Made designs.
Suitsupply Suit Review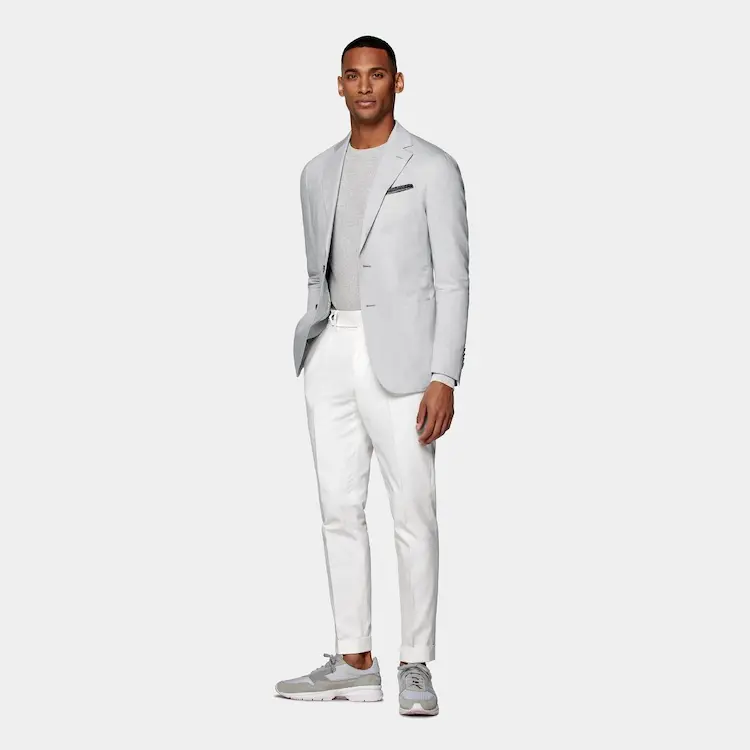 I started Suitsupply's Custom Made program with one goal: to build a suit that erred more on the casual and comfortable side. I had no idea what that meant in terms of fabric, style, and details, but the Custom Made program made catering to my desires easier than I expected.
When building a Custom Made suit, you design the jacket first before moving on to the trousers. Above all else, though, you have to pick a fabric. When I perused the brand's fabrics online, it was daunting.
I couldn't decide on what I wanted right away, but I knew what I didn't: wool or corduroy. (I live in Florida, after all.) I spent about 15 minutes slowly scrolling through the entire list of fabrics before deciding to play with Suitsupply's filter to separate fabric choices by color.
I went with what Suitsupply calls a "mid green pure cotton," which is a lightweight suit best for spring and summer. I figured the olive shade would make me stand out from the sea of grays, tans, blues, and blacks.
Light Grey Havana Suit Review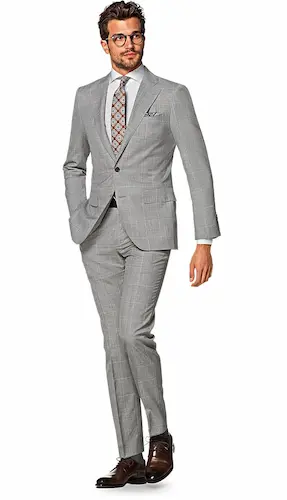 Quality Crafted with S120 wool that's soft to the touch, this suit is tailored to a slim fit and boasts a half-lined interior. It doesn't have any shoulder padding to aid the slim-fit design, and you'll also find smaller features that stand out, such as patch pockets, half-canvas construction, and more.
Style This suit delivers a modern design that works well for a wide range of occasions. You can wear it to a nice brunch, or it could be your go-to choice for the office. The cuffed Soho trousers look their best with a pair of dress shoes or loafers, minus the socks.
Its grey color is a great neutral choice that gives the suit plenty of versatility, so you can wear it on a more regular basis if you choose. Price: $698.00
Navy Napoli Suit Review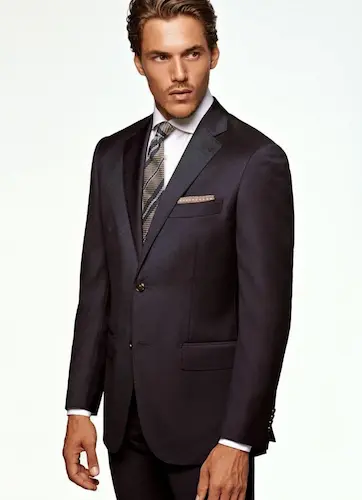 Quality Delivering a Napoli jacket fit that shines through in the shoulders and notched lapel, this suit comes with a classic look and feel. The dark navy color creates a sense of professionalism; its contrasting look will pop every time you wear it.
It also has a Brescia fit for the trousers, and the suit brings a formal silhouette that's perfect for professional environments. Style This wouldn't be a suit you'd want to mix and match, as it brings out its best qualities with a uniform look.
The dark navy colorway is bold and offers a regular fit that'll look great on most people. For footwear, you'd do well to choose a pair of either black or dark brown dress shoes. Price: $499.00
Light Blue Sienna Suit Review
Quality This suit is also tailored to a slim fit and comes with an outstanding balance of formal structure and soft materials. You'll find a more rounded and natural look for the shoulders, horn buttons, and various hand-finished accents.
Style It's definitely a professional-looking suit, but the light blue colorway gives it plenty of adaptability. The trousers have a flat front, and their design really excels with a nice pair of loafers, but traditional dress shoes will do just fine as well. Price: $779.00
What Are Customers Saying?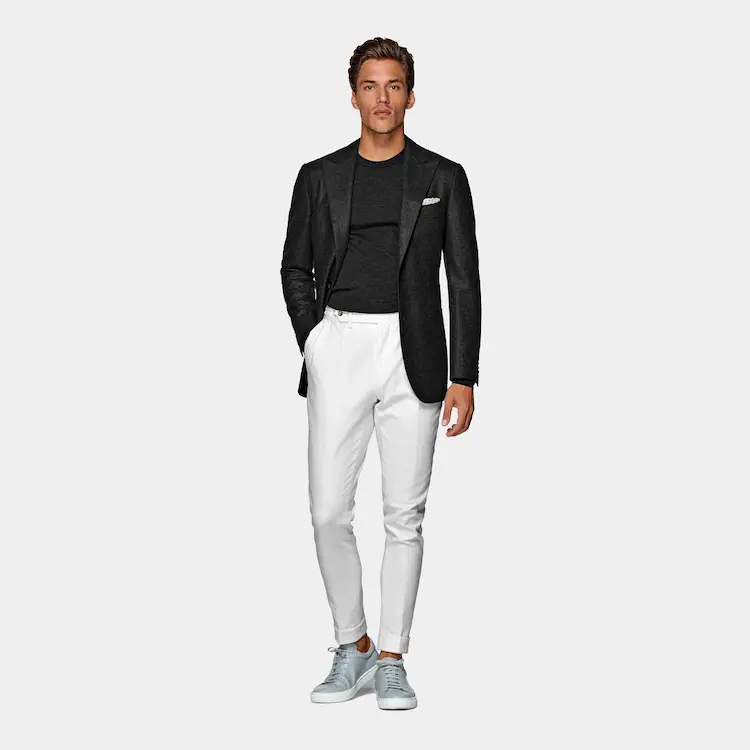 Exactly one month later, my suit showed up in the mail. Inside of a large box was the two-piece I had ordered, neatly folded in a zippered garment bag. I unzipped the bag, put on a dress shirt and a pair of socks, and suited up.
The results? I looked amazing. The suit came out exactly how I wanted it to. My jacket had a wide lapel, double vents, a natural shoulder structure, and jetted pockets. My sleeves had three kissing buttons, and the circle brown pattern on the lining looked even better in person.
Meanwhile, the pleated trousers I designed fit my body well, and the double-hook closure I ordered is super convenient compared to typical buttons. The materials, stitching, and fabrics feel top quality, and I'm sure this suit will last for years to come.
The tailoring was also well done. The alterations compensated for my disparate arm lengths via the back of my jacket, disguising my uneven shoulders in the process. The jacket covers my torso well without appearing too lengthy, while the sleeves of my dress shirt don't poke out past the jacket's cuffs, as I requested.
The trousers fell just above the area where my pair of Weejuns loafers expose my socks. The hems have a slight stacking, due to there being no pant break, and the double pleats toward my waistline look crispy.
Is A Suit from Suitsupply Worth It?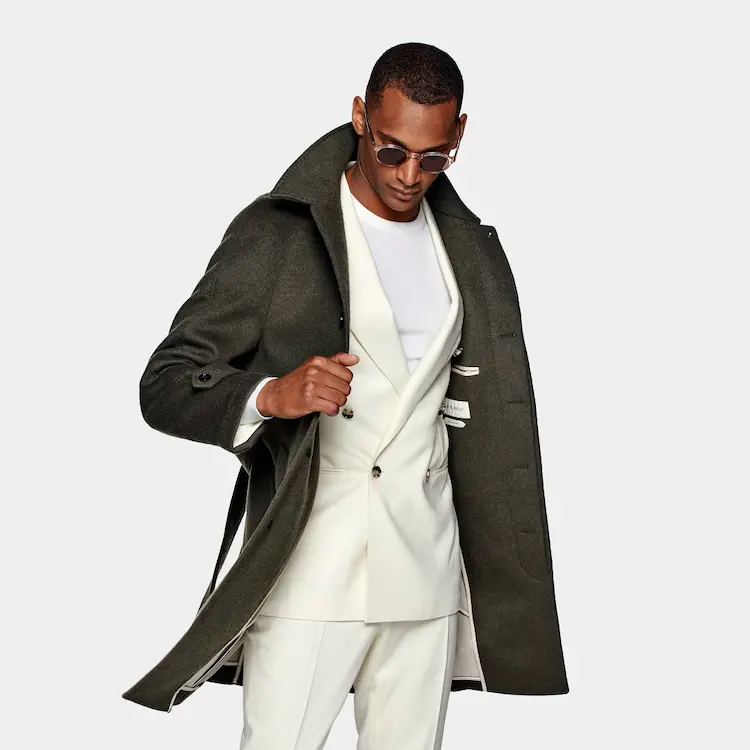 Preston: Speaking personally, I would have to say "not at this time." As Raphael mentioned, neither of us would have been even remotely satisfied with a true off-the-rack suit ordered sight unseen online as neither of us has body types that fit into Suitsupply's idealized mold.
While I was able to get a finished suit that I would call good or perhaps even very good overall, I don't think that the almost $700 price tag and the multiple rounds of in-store tailoring are worth it for something that I don't like that much more than my existing off-the-rack suit options that were already in my wardrobe.
As mentioned, the sales associates that we worked with were all pleasant and as helpful as they could be. Still, overall, this custom OTR program is somewhat frustrating in its experience because of the limited amount of options and combinations that you truly have available.
Also, the vagueness of what's available at different times and around terms like "collar pleat" added to the confusion and frustration in the overall experience.
What's it like to get a fitting at Suitsupply?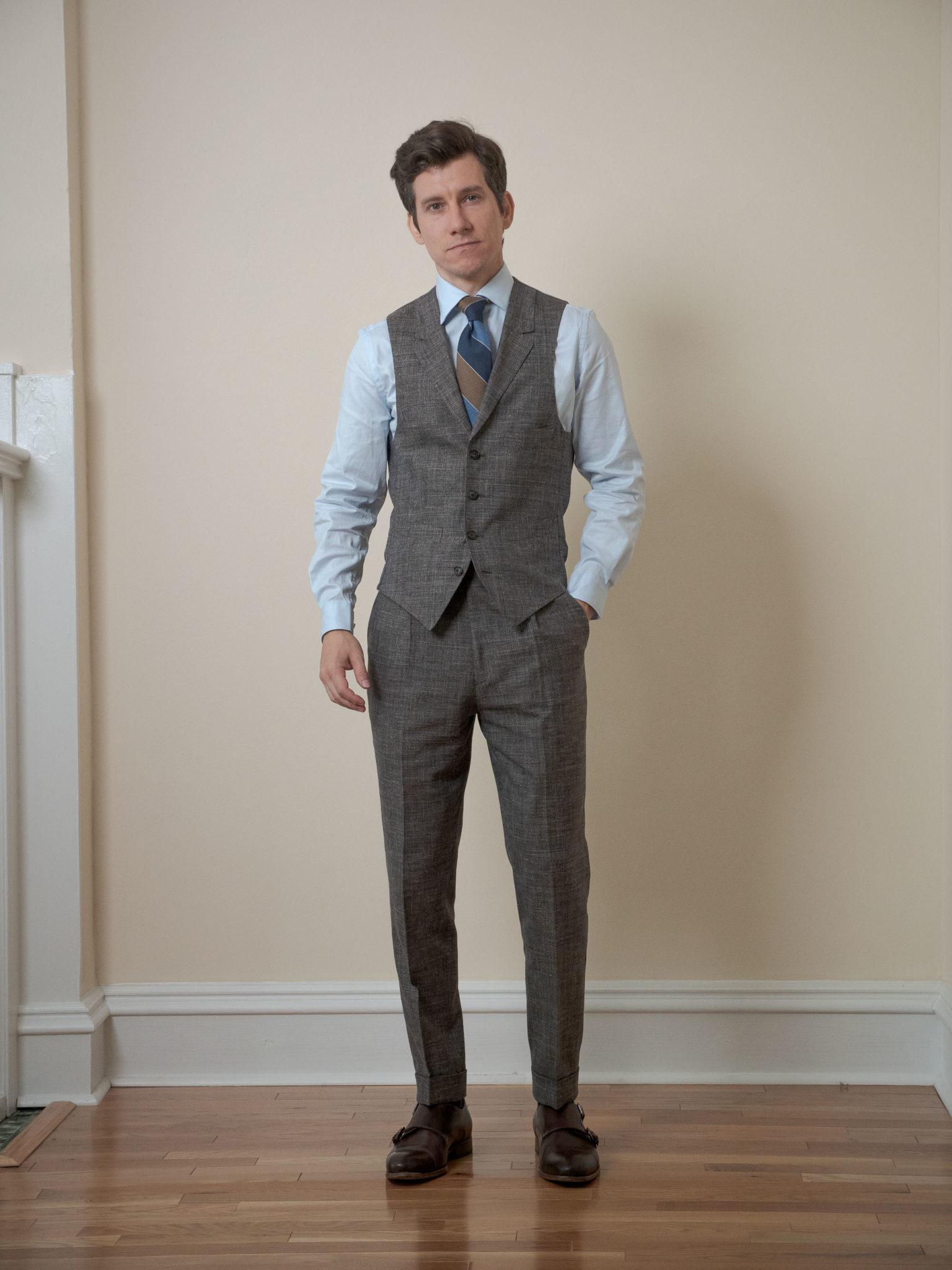 At Suitsupply's brick-and-mortar store in Tampa, Florida, I met with Robert, the store's sales manager, for my fitting and consultation. He pulled up the suit I designed online on his tablet and we went over my options.
Robert wanted to know some of the ideas behind my suit, and asked me if I was going for a casual or formal look. After I told him I wanted the former, he went over my selections and showed me samples. He pulled out huge binders of fabrics, buttons, and liners to let me see and feel some of the details I'd chosen for my suit.
This was helpful for me to envision the final product, and it gave me the option to switch out some of the selections. Though Robert told me that my selections stylistically made sense, I considered changing my button colors but decided to stick with my first instinct.
After finalizing my design, Robert fitted me for my suit using some in-store pieces. I went into a dressing room, changed into a Suitsupply dress shirt, suit jacket, and trousers, as well as a pair of Weejuns I brought with me that I planned to wear with the suit
Suitsupply Review Verdict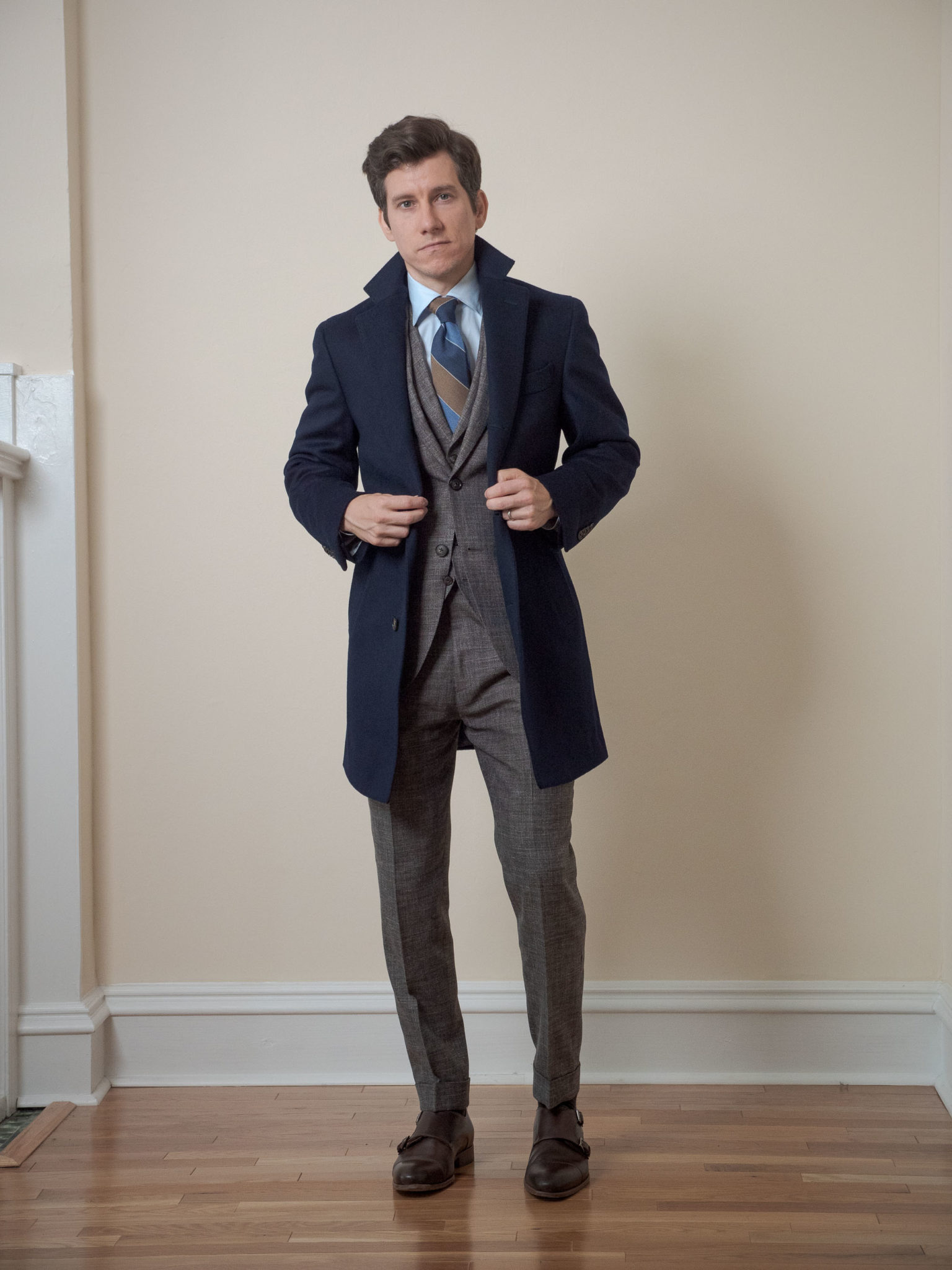 Conclusion, what did I think? Well, they have their fit guarantee for their custom program, and even when something comes from the factory already adjusted, and it still doesn't fit you, they'll alter it in store for free or included.
Obviously, I wasn't even able to buy a suit. For Preston, we could have just returned it and said, "Hey, we're not entirely happy with the fit," and they would have gotten us our money back, but we thought it would have been unethical because we wanted to review the suit and if we had returned it, they could not have sold it to anyone else.
We wanted to film a video to get the full experience, and we did get that, so it was okay in my mind paying for that. If you as a customer just want to end up with a well-fitting suit, probably you would have returned it, just like how I thought about Preston's.
Considering that a company is called Suitsupply, they focus on suits, and their slogan is, "Don't just fit in, find your own perfect fit," it's a huge disappointment that they couldn't supply me with a suit. Frankly, if I were them, I'd be embarrassed.
FAQs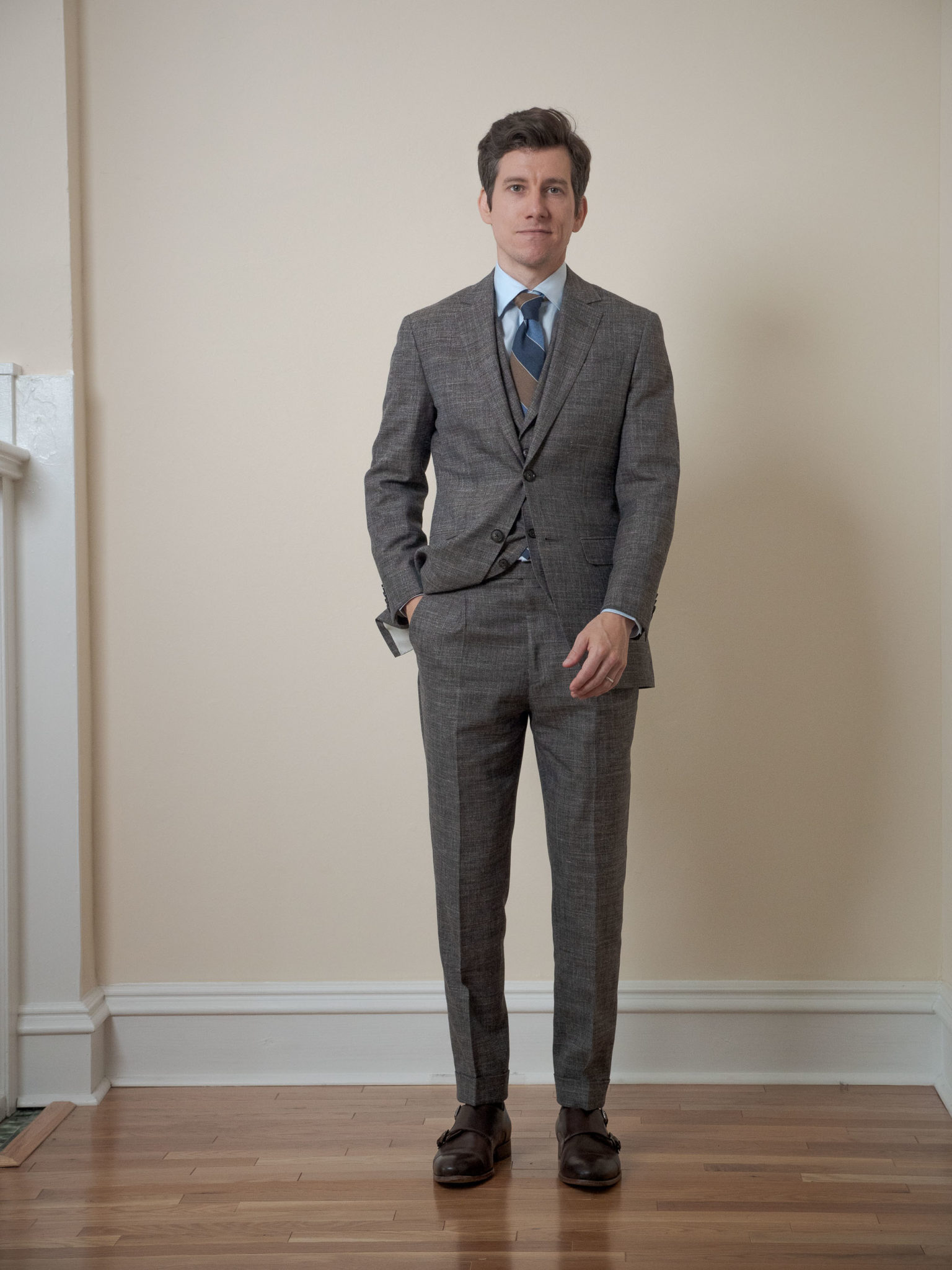 Where Are Suitsupply Suits Made?
From what we can find, their suits are made in Amsterdam, where the company was founded. The company likes to keep its manufacturing close to home, but they're happy to serve many countries all over the world.
Who Owns Suitsupply?
Founded by Fokke de Jong over twenty years ago, the brand has been growing a loyal customer base ever since. The brand is also a member of the Fair Wear Foundation, and they're known for unconventional retail locations and an innovative approach to its website's custom features.
How Long Does Suitsupply Tailoring Take?
The company claims it takes about four to five weeks from manufacturing to delivery. Considering the quality, many customers are happy to wait, and you can reach out to the company for updates anytime.