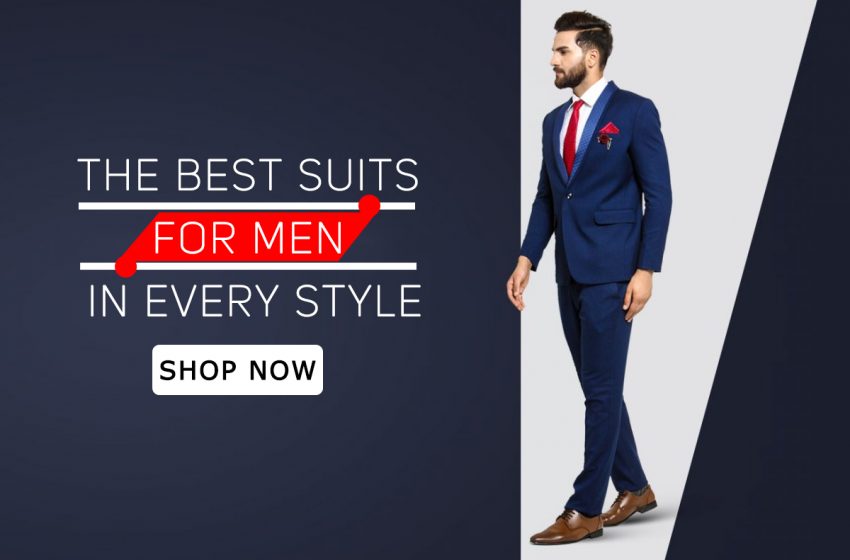 About Suit Supply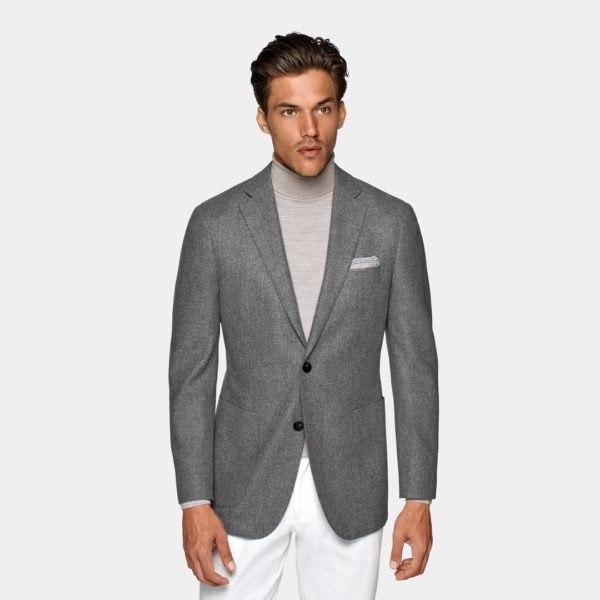 Take it from JT himself: as long as you've got your Suit Supply, you can leave it all on the floor tonight. Designed for aspiring Justin Timberlakes, this men's apparel boutique harbors the class, elegance, and sophistication you'd expect from formalwear. They've got blazers, ties, button-up shirts, coats, and tuxedos for days on their website.
For a company as classy as Suit Supply, you'd expect nothing less from its 602k followers on Instagram. They've also been featured in several media outlets, including Esquire, Men's Health, GQ, and Fortune. If you're not an avid reader, chances are you've spotted celebrities wearing their clothes, such as Armie Hammer and P Diddy.
Looking to get all pressed up in black and white? Let this Suit Supply review show you a few things when it comes to this menswear brand.
We'll take an in-depth look at the company, its collection, customer ratings, promotions, and more to help you decide if they're worth checking out.
Overview of Suit Supply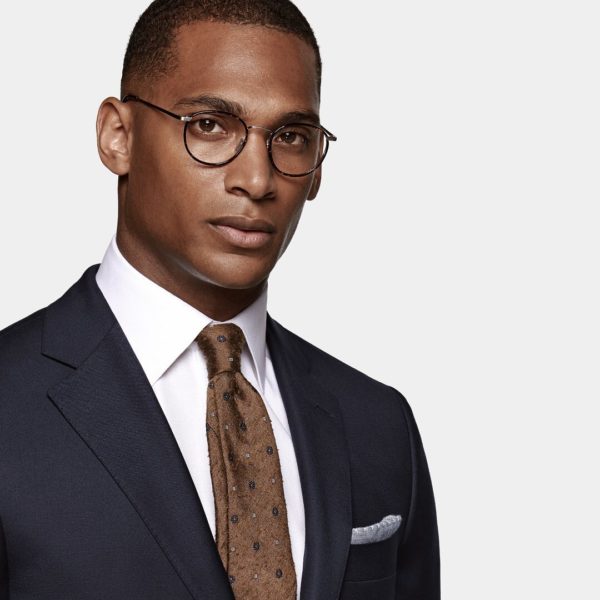 Something about the traditional suit and tie speaks volumes about class, sophistication, and confidence. In Hollywood, it's quite synonymous with fictional heroes like James Bond, Vincent in Pulp Fiction, and basically everyone in the TV drama, Suits.
Unfortunately, its television-like quality isn't on par with the options we have in real life. Most of the time, we settle for ill-fitting bargains that don't do much in boosting our ego.
In encouraging news, brands like Suit Supply want their clientele to feel like a real-life James Bond or Justin Timberlake. This Amsterdam-based boutique focuses on craftsmanship, quality, and innovative ideas to help them elevate the typical blazer and pant combo.
Since its debut in 2000, Suit Supply has gone on to open 150 stores globally, including cities like Milan and London. Today, the brand is headed by founder Fokke de Jong and is a member of Fair Wear Foundation (FWF), a corporation that ensures proper labor regulations within factories.
Before we get into this Suit Supply review, let's go over some initial highlights:
Highlights
A wide selection of formalwear to choose from
Available in over 150 stores worldwide
Offers customization services
Implements some sustainable efforts, including its partnership with FWF
Free delivery (to certain countries)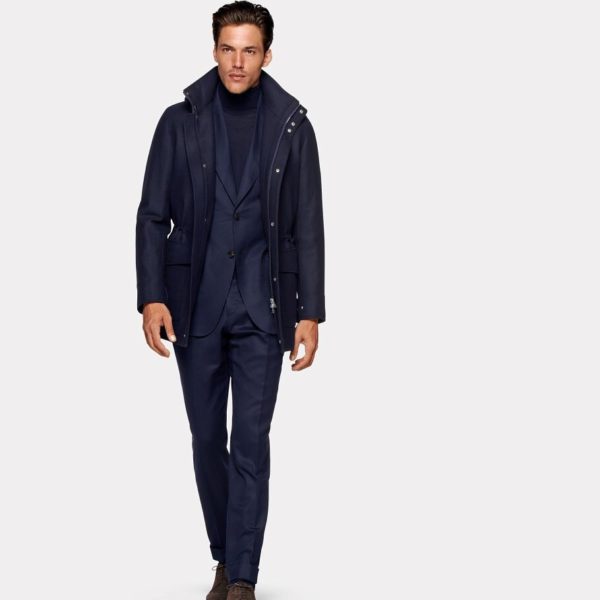 No gentleman is complete without a suit. Take it from on-screen heroes like Bruce Wayne and Eggsy from Kingsman. Whether you're fighting baddies or attending a high-profile cocktail party, it's best to dress formally to give off the right impression. With that being said, don't opt for any cheap blazer or pair of pants, as fit and quality are absolutely crucial for the entire look.
Instead of visiting your local department store, Suit Supply offers a wide selection of premium blazers, trousers, coats, knitwear, and ties for customers to choose from. To pair with your new elevated look, they also provide accessories and shoes to match. Ultimately, it's up to you to slick back the hair and adopt that courteous, chivalrous attitude.
From houndstooth overcoats to casual pinstripe trousers, this Suit Supply review will highlight a few of the brand's top-sellers for aspiring gentlemen to compare.
Suit Supply Review
Suit Supply is nothing short of class and confidence. Even if you feel intimidated to don that 007 look, you know what they say — fake it 'til you make it. Down below, this Suit Supply review will comb through a few of our favs, ranging from upper-class tuxedos to cigarette-style trousers. Let's dive in.
Suit Supply Dark Grey Washington Jacket Review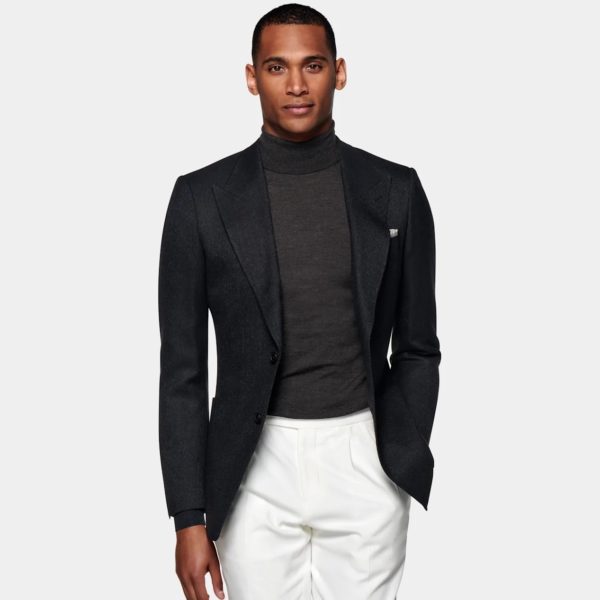 I know we've mentioned Eggsby before, but the Dark Grey Washington Jacket is practically screaming Kingsman vibes. I mean, are you sure it wasn't featured in The Secret Service franchise? This super flattering blazer comes with sturdy shoulders structuring, a proud peak lapel, and a tailored silhouette to help you achieve that Chris Evans' Dorito meme body look.
Sewn with pure wool from Angelico, this slick suit deserves to make its debut in a spy film. You should know that the Dark Grey Washington Jacket requires a bit of saving up to do, as it retails for a hefty $439.
Suit Supply Dark Grey Havana Jacket Review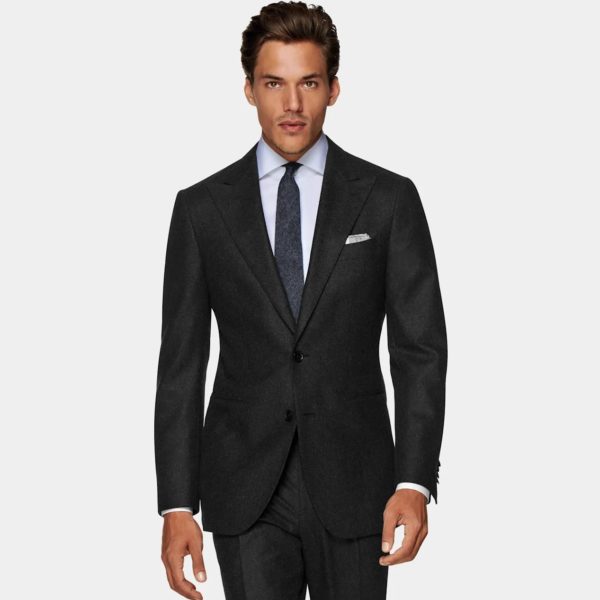 Do you see fifty shades of grey? Because we only see one when it comes to the Dark Grey Havana Jacket from Suit Supply. I'm sure this super-suave blazer will 'dominate' any office space due to its wider lapel, tailored fit, 2.5 button front, and casual shoulder look.
The best part about this coat is that it's made out of eco-friendly circular wool flannel sourced from Vitale Barberis Canonico. Guys, we're practically swooning over here.
Best paired with a sharp white button-up and matching pants, the Dark Grey Havana Jacket can have you looking so slick right now for $439.
Suit Supply Navy Stripe Fine Twill Extra Slim Fit Shirt Review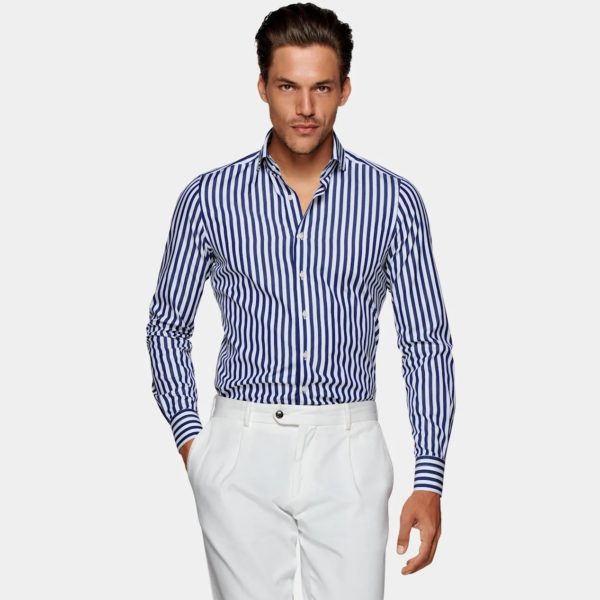 The Navy Stripe Fine Twill Extra Slim Fit Shirt offers smooth sailing when it comes to outfit construction. Designed with white pinstripes on a blue background, this sailor-style button-up will definitely shiver someone's timbers during your get-together. It's tailored to perfection, which does wonders in defining your figure compared to those cheap department store shirts.
Made from pure Egyptian cotton from the Albini Mill, this stylish number is obviously intended for special occasions only. If you're going for that classic 'yacht' look, this Suit Supply suggests pairing the $119 Navy Stripe Fine Twill Extra Slim Fit Shirt with white trousers and boat shoes. Oh, and don't forget to pour yourself a glass of sparkling champagne.
Suit Supply Dark Grey Jersey Extra Slim Fit Popover Review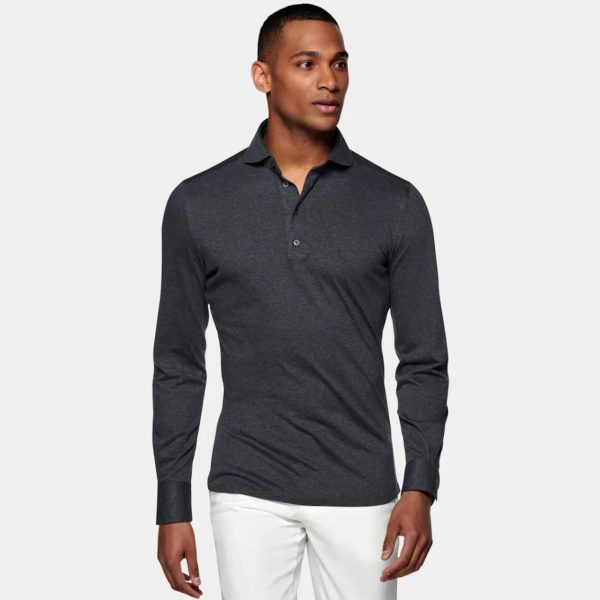 It's casual Friday at the office. And instead of opting for Michael Scott's hoodie or Andy's orange zip-up, the Dark Grey Jersey Extra Slim Fit Popover can help you look fresh in a more comfortable way.
This long sleeve comes with a half button-up enclosure, a tapered collar, and a slim-fitting silhouette. It's made out of pure knit cotton sourced by Italy's Tessilmaglia Mill.
Due to its subdued design, the $119 Dark Grey Jersey Extra Slim Fit Popover requires no effort in styling. If anything, it'll go great with a pair of jeans and dress shoes.
Suit Supply Dark Grey Soho Trousers Review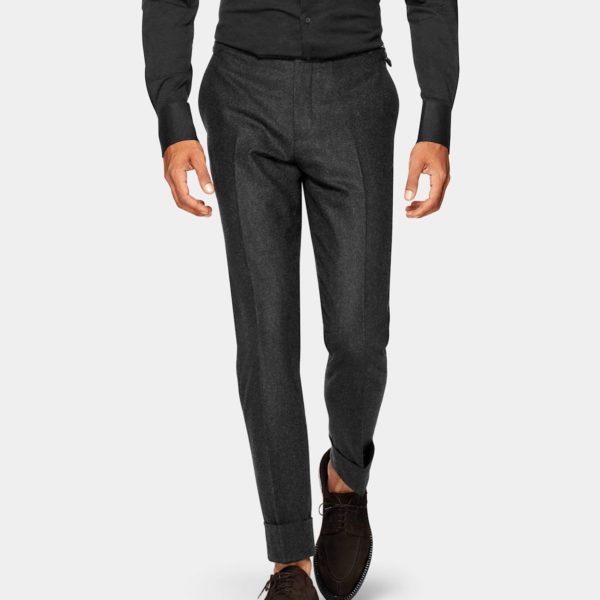 You can't get more classy than a pair of Dark Grey Soho Trousers. It's certainly an upgrade from any denim jeans you have lying around, as these pants are made out of circular wool flannel.
For added details, it features cigarette-style legs, adjusters at the waist for better fit, a prominent cuff, and a slightly pleated front for a touch of dimension.
If you're not heading to the office, we suggest going full academia with the $199 Dark Grey Soho Trousers. This entails a white turtleneck, a flannel (or houndstooth) overcoat, and some ankle boots to finish off that smart, collegiate look.
Suit Supply Navy Porto Shorts Review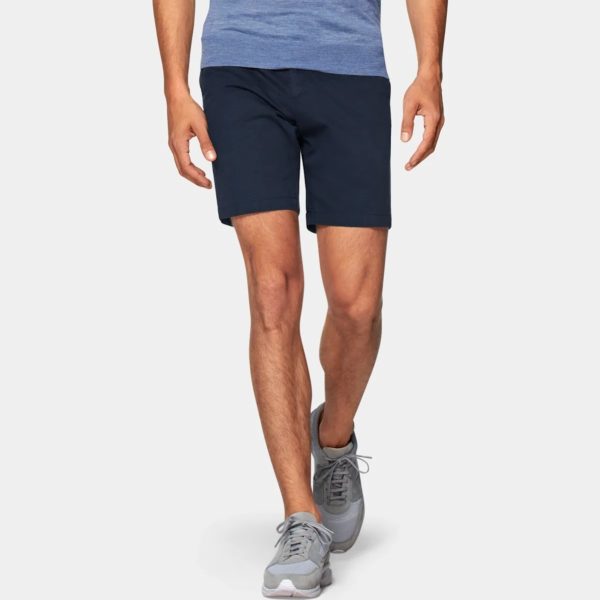 Considered the perfect add-on to the Navy Stripe Fine Twill Extra Slim Fit Shirt, the Navy Porto Shorts is what you need to complete that sailor-inspired outfit.
It's cut from pure stretch cotton and has an elasticized waist, which provides some flexibility in case of beer bellies. This spring and summer-appropriate number also comes with front loops if you want to style it with a belt.
For those who want to wear the Navy Porto Shorts more casually, this Suit Supply review recommends donning a simple white tee, tennis shoes, and sunglasses for a relaxed look. In terms of price, this number retails for a hefty $89.
Suit Supply Brown Chelsea Boot Review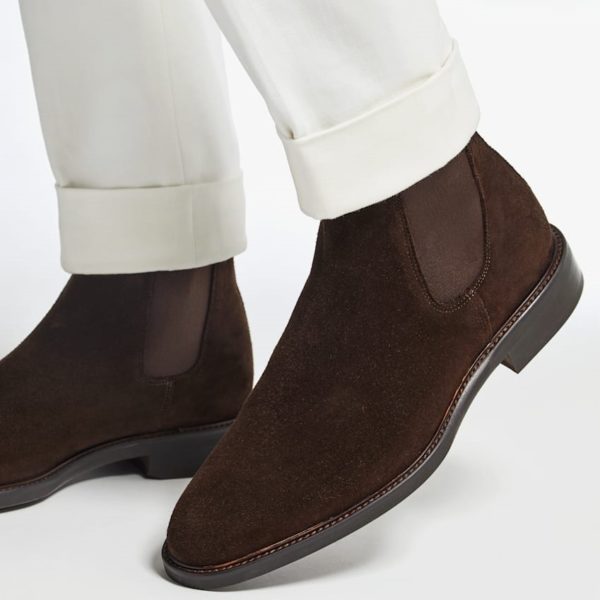 Let's be honest, the traditional Oxford shoe has been done to death. If you're looking for something different for your wardrobe, the Brown Chelsea Boot offers a streamlined look but keeps things subtle in its toned-down silhouette. Made out of calf suede from Italy, these office-appropriate kicks come with a studded rubber sole for your powerful stride.
The Brown Chelsea Boot requires some brainpower in order to style. We suggest a flannel-themed ensemble composed of twill pants, a smart button-up, and a peacoat to finish off the whole look. Of course, a shoe this luxurious entails a hefty price — specifically, $349 at checkout.
Suit Supply Brown Sneaker Review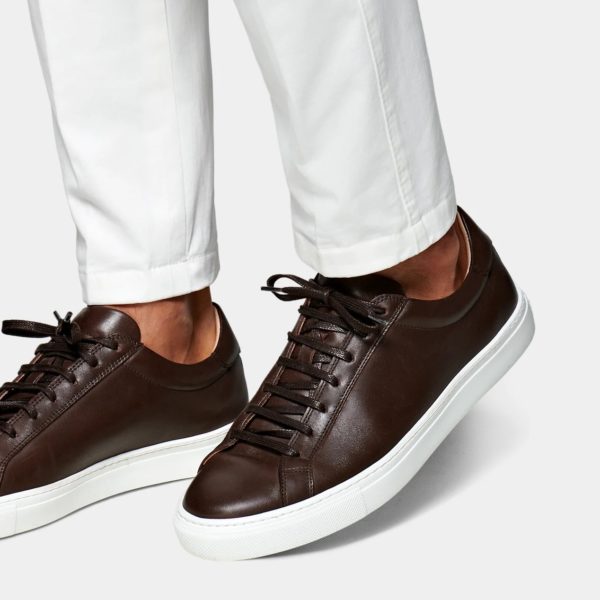 The Brown Sneaker from Suit Supply is designed for those who aren't a fan of the typical streetwear aesthetic. These kicks offer a more luxurious take on the average tennis shoe, as it features a calf leather exterior, integrated lining, and a super elegant white textured rubber sole. It'll definitely turn any skater boy into a skater gentleman.
You may want to brace yourself, as the Brown Sneaker costs more than your regular pair of kicks. In total, it's offered at a whopping $179.
Who Is Suit Supply For?
If you love the finer things in life, then you and Suit Supply will get along swimmingly. This menswear boutique is like the Serendipity 3 of clothing stores, as they offer luxury pieces from blazers to top coats.
Due to its high attention to detail, customers should be prepared to pay a hefty price. For example, a suit can cost upwards of $999, especially for customization.
Can You Design Your Own Suit Supply Suit?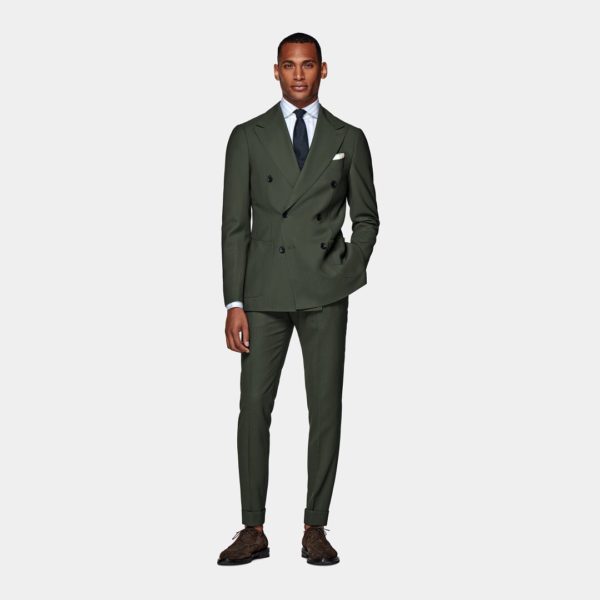 We all know the traditional suit is an investment. If it's made correctly, it'll last you years upon wear. With that in mind, it's probably best to design your own blazer and pant combo.
While some opt to hire a professional designer, Suit Supply offers its clientele a hand when it comes to customization, including making your own suit, coat, jacket, waistcoat, trousers, and shirt.
By creating your own design, customers are redirected through a 'DIY' workshop on the brand's website. By clicking this link, you'll be able to choose the fabric and style of your chosen garment. You'll also need to input your measurements before the checkout.
In our opinion, it's best to visit one of Suit Supply's 150 brick and mortars in order to get accurate measurements. You can also get advice from the brand's team of experts to help you decide on a certain design or fabric.
Suit Supply Reviews: What Do Customers Think?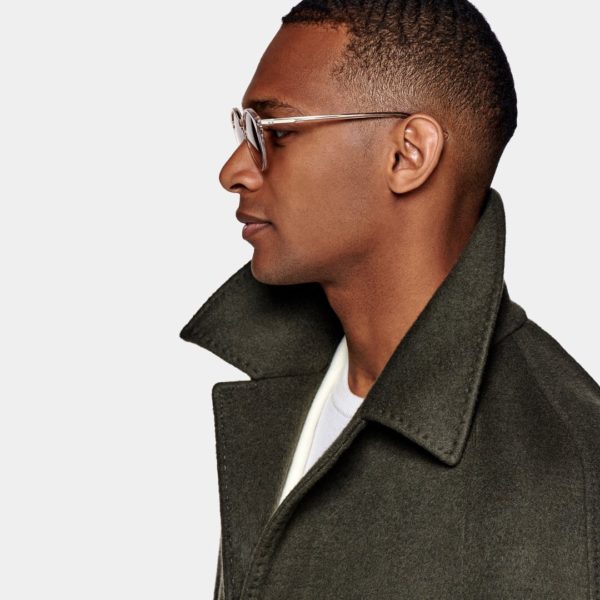 Suit Supply's elegant and timeless designs shouldn't pass anyone's radar. From grooms-to-be to office-clad gentlemen, hundreds of customers are hyping up this formalwear brand.
Unfortunately, there are no reviews posted on the company's official page — but we did find a number of them on other websites such as Trustpilot, Google, and Facebook. And the ratings are pretty phenomenal:
Google for the Toronto location: 389 reviews with 4.3/5 stars
Trustpilot: 640 reviews with 4.2/5 stars
Facebook: 754 reviews with 4.3/5 stars
According to several satisfied clients, Suit Supply excelled in customer service, quality, and design. In most cases, buyers reported a positive experience with the brand's in-store staff, as they helped them find the perfect style and fit that catered to their tastes.
"If you need a classic, decent quality suit for work, then this is the place for you. Staff are friendly, they understand your style, listen to what you are going for and recommend accordingly," one user wrote on Google.
"David is a magician," a happy customer shared on Trustpilot. "He really transformed my vision of how a suit can fit me and gave a lot of useful tips! He is super friendly and welcoming, knowledgeable, and patient."
For more in-depth feedback, this Suit Supply review turned to blog sites such as The Modest Man. According to the satisfied author, "These pieces from Suitsupply turned out remarkably well. They're high quality, they fit properly, and the overall experience was straightforward and stress-free."
Some media outlets, such as the Gentleman's Gazette, offered a fair review of Suit Supply's customization services. "I might stop in every once in a while just to see how their offerings change over time, and given that the suit trousers did fit me pretty well, I might consider getting a few pairs to wear on their own as odd trousers."
If you can, we suggest heading over to your nearest Suit Supply store, as it'll help prevent any issues concerning shipping and returns.
Is Suit Supply Worth It?
Suit Supply is a great place to find high-quality formalwear. Honestly, do you need our recommendation? It's not hard to be impressed with the company's fashionable collection of blazers and trousers.
By perusing their online catalog, you can get a sense of elegance and sophistication that's practically embedded in every product photo. It's expensive, yes, but what can you expect from a luxury brand?
If you're looking for a brand that promises quality over anything else, this Suit Supply review suggests that you at least check their website out.
Suit Supply Promotions & Discounts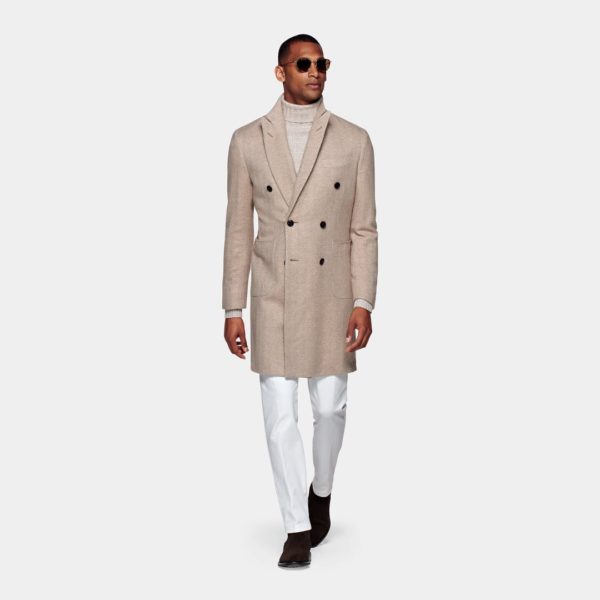 This Suit Supply review uncovered no sales or discount codes offered on the brand's website. If you want to be notified of any upcoming promotions, we suggest keeping tabs on the company's social media.
Where to Buy Suit Supply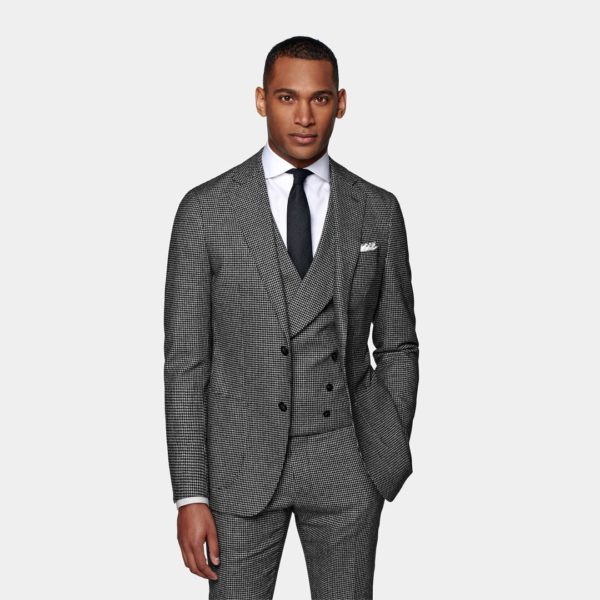 Looking to buy a snazzy suit? Customers can head over to suitsupply.com to see what they have. Aside from visiting their in-store locations, you can also find them at Nordstrom as well.
FAQ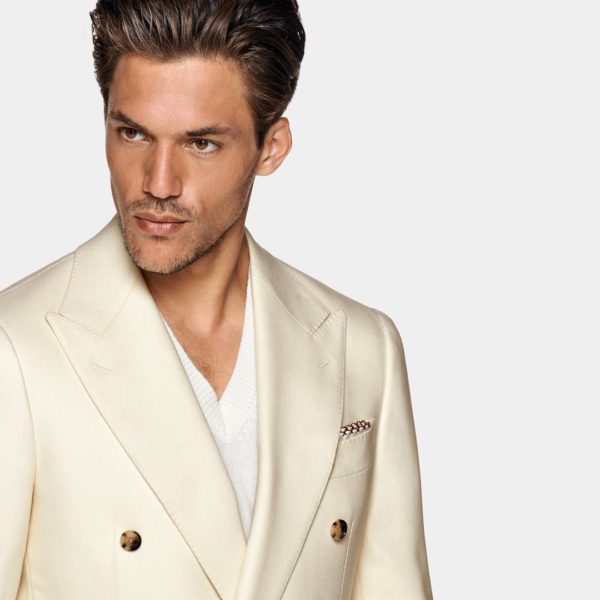 Who owns Suit Supply?
Suit Supply is owned by founder Fokke de Jong.
Does Suit Supply ship internationally?
Yep! Suit Supply ships all around the world, and you can go through the main menu and change the country at the bottom left hand corner.
What is Suit Supply's Shipping Policy?
This Suit Supply review is happy to report that they offer free shipping on all North American orders, including Australia, and parts of Europe as well. In terms of wait times, it typically takes 3 to 5 business days for packages to deliver. To help monitor the status of your purchase, the brand will issue a tracking number along with the confirmation email.
What is Suit Supply's Return Policy?
Suit Supply offers a 30-day window for customers to send back or exchange their orders. To return an item, you'll need to follow these steps:
Sign into your account on Suit Supply.
Pick a location where you'll have the package picked up or for you to drop off.
Attach the prepaid return shipping sticker to your package (it'll be included in your original shipment; make sure not to throw it out!)
Send it off.
For obvious reasons, items that have been customized cannot be returned. You can also return your unworn item in-person at a location near you.