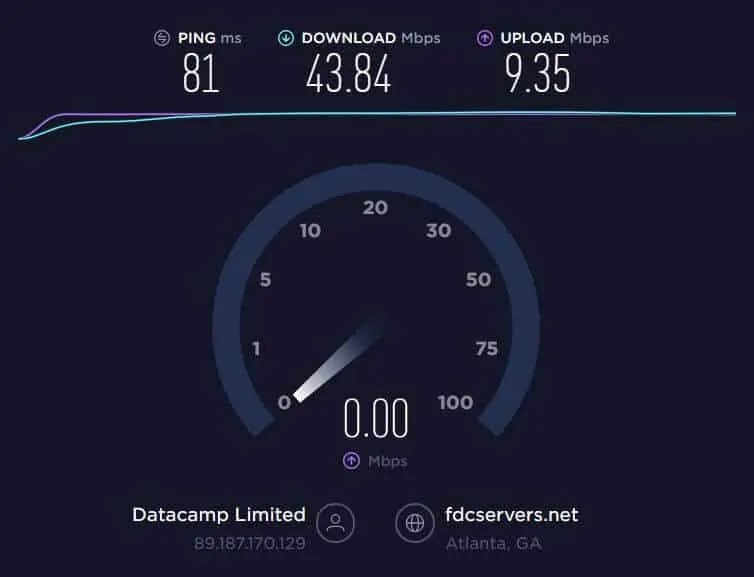 PrivateVPN is a relatively small Sweden-based VPN provider. With only around 150 servers, it claims to be the best VPN for streaming, privacy, and security.
So does this provider measure up? Can it really compete with larger providers like ExpressVPN and NordVPN?In my 2020 PrivateVPN review, I performed rigorous tests on PrivateVPN's desktop and mobile apps. While trying out the service, I sought answers to all the most important questions, including:
Is PrivateVPN fast?
Does PrivateVPN work with streaming sites like Netflix, Hulu, Amazon Prime Video, and BBC iPlayer?
Does PrivateVPN have a true no-logs policy?
Will PrivateVPN work in China?
Is PrivateVPN affordable?
I provide the answers to these questions and many more in this review.
I've been using the VPN for everyday tasks such as streaming, video conferencing, gaming, browsing, and downloading. PrivateVPN helps me keep all of these activities safe from snoopers such as my internet service provider and hackers.
You can see a short summary of my findings below, but read the full review to find out exactly what this provider is offering.
PrivateVPN summary
Even though it runs a small network, PrivateVPN has big offerings. It's a great all-rounder with excellent privacy and high speeds. Its reliable connections and ability to unblock sites like Netflix make it ideal for streaming. It can also be used to torrent and works well in China.
PrivateVPN key data
OVERALL RANK:  #6 OF 42 VPNS
Speed

9/10

Read more

Average Speed *
71 Mbps
Video Streaming Support
4K, HD video conferencing
Streaming

9/10

Read more

Netflix
Yes
Other Streaming Services
Amazon Prime Video, Disney+, BBC iPlayer
Security

8/10

Read more

Encryption Type
256-bit AES
Kill Switch
Yes
Log Policy
No logs
Protocols
OpenVPN over UDP or TCP, IKEv2, L2TP, and PPTP
Value for Money

8/10

Read more

Lowest Monthly Cost
$3.82
Money Back Guarantee
30 days
Website
https://privatevpn.com/
How does PrivateVPN compare to other popular VPNs?
Comparing VPNs side-by-side can be helpful in deciding which is the best fit. Here's a brief look at how PrivateVPN compares to top-rated providers ExpressVPN and NordVPN. We delve into these two further in our full ExpressVPN and NordVPN comparison.
| | PrivateVPN | ExpressVPN | NordVPN |
| --- | --- | --- | --- |
| Average speed * | 71 Mbps | 58 Mbps | 115 Mbps |
| Encryption Type | 256-bit AES | 256-bit AES | 256-bit AES |
| Kill Switch | Windows only | desktop only | excluding Android |
| Allows Torrenting | | | |
| Records Identifying Logs | | | |
| Unblocks Netflix US | | | |
| Unblocks Amazon Prime | | | |
| Unblocks Hulu | | | |
| Unblocks BBC iPlayer | | | |
| Lowest monthly cost | $3.82 | $6.67 per month | $3.71 per month |
| Money-back guarantee | 30 days | 30 days | 30 days |
| Overall Rating | 4.5 | 4.5 | 4.5 |
PrivateVPN pros and cons
Here are the main positives and drawbacks I discovered while using PrivateVPN:
Pros:
Unblocks Netflix and other sites
Very fast speeds
Zero logs
Use up to six devices simultaneously
Live chat and remote control support
Allows torrenting
Works in China
Cons:
Small network of servers
Server switching can be slow
Kill switch is Windows only
Live chat not 24/7
Speed: Is PrivateVPN fast?
Given that PrivateVPN operates such a small server network, I was keen to see if it was still able to maintain the great speeds we've seen in the past. It turns out that this provider is still one of the top VPNs in terms of speed.
PrivateVPN has increased its server network in the past year, but it still only comprises about 150 servers. This number is dwarfed by those of many competitors such as NordVPN (over 5,000) and CyberGhost (over 6,000). That said, PrivateVPN does cover 60 countries, which is decent, though not as many of the likes of ExpressVPN that covers 94 countries.
Across the test locations and times, PrivateVPN averaged 71 Mbps in download speed.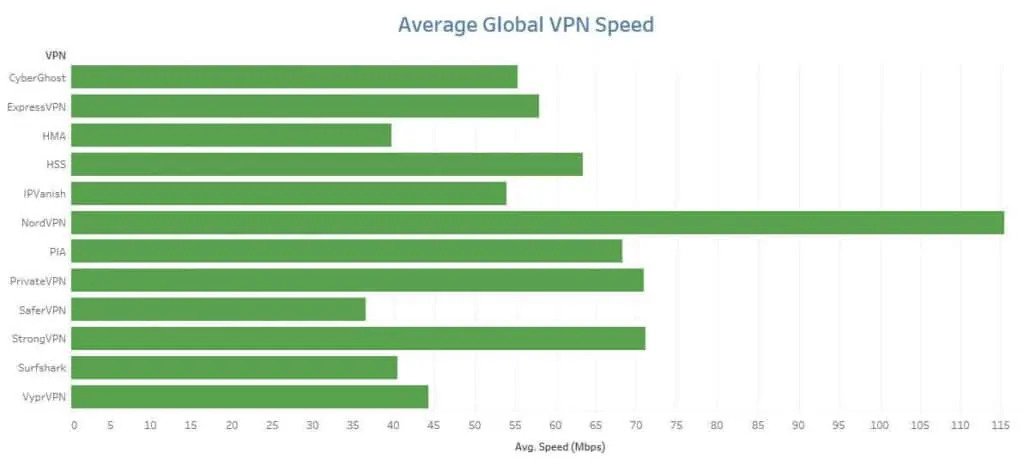 Test servers were located in North America, Asia, and Europe. Here are the average speeds PrivateVPN pegged in each region:
North America: 94 Mbps
Asia: 62 Mbps
Europe: 57 Mbps
Online gaming was no issue and I was able to stream 4K video and make video conference calls with no lag or buffering. I did notice a delay in connecting to some servers, which could become frustrating if it happens with the servers you use most.
Bear in mind that these tests only serve as a general indicator of the performance you may observe. Due to the inherent volatility of the internet, there's a significant randomness factor, so no tests can really be considered definitive. You may see smaller or larger discrepancies depending on the speed of your base connection.
Apps: What devices work with PrivateVPN?
A PrivateVPN subscription allows you to connect up to six devices at any given time. Apps are available for the following:
Windows 7 and newer
MacOS 10.11 or later
iOS 9.0 and up
Android 4.0 or newer
Amazon Fire TV

Apps are lightweight so even low-powered devices shouldn't pose an issue.
In the desktop apps, servers are listed alphabetically by country, but you can also have them listed by nearest server. I can see the ping time for each server which denotes the latency.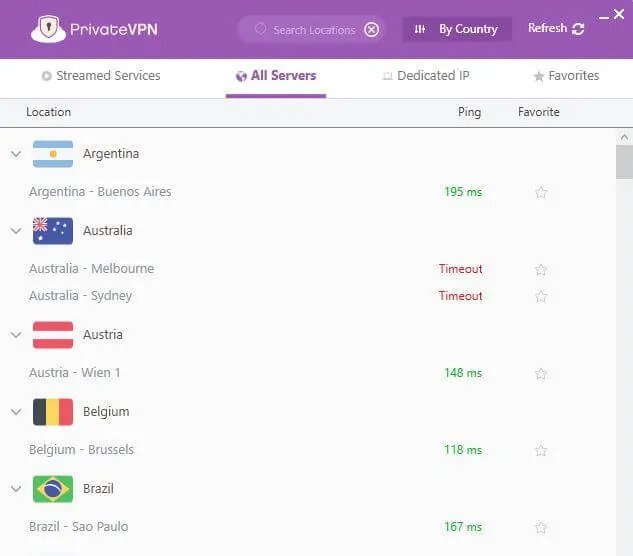 I can also select a server via a streaming site list and add servers to a favorites list. Finally, there's a selection of dedicated IP address locations along with ping times.
You can tailor the behavior of the clients in the Settings screen with options including starting the app and connecting automatically on system startup.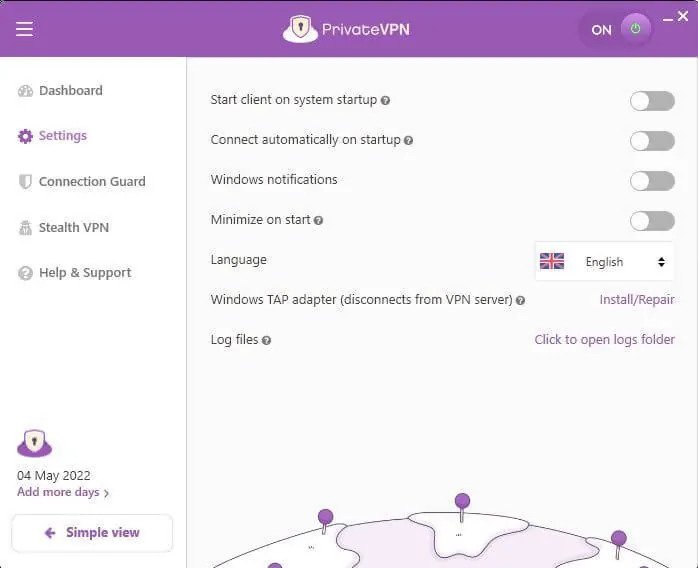 Other options will be discussed below, but they include leak protection, a kill switch, port forwarding, and Stealth VPN.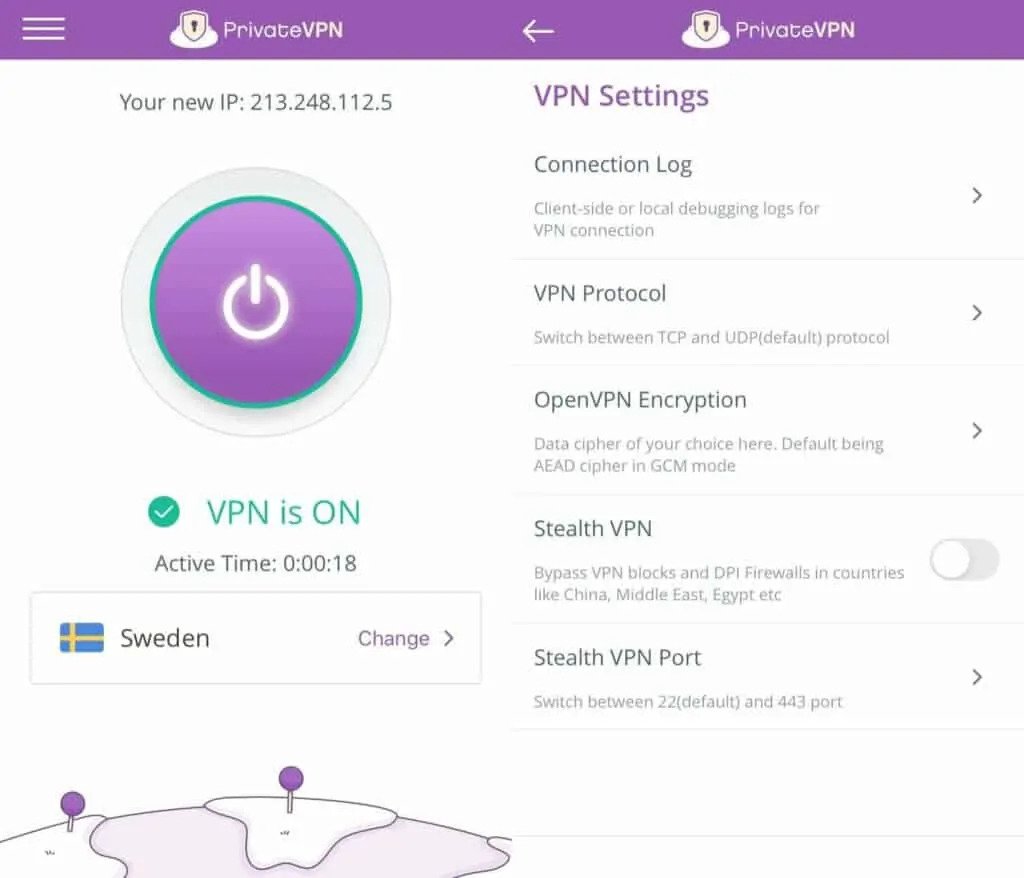 The mobile app is very similar to the desktop client, but as with most mobile versions, it is missing a few features.
PrivateVPN can be manually configured to work Linux and select routers.
Streaming, Netflix, and Kodi
Does PrivateVPN unblock Netflix?
Yes, PrivateVPN easily unblocks multiple Netflix libraries. This service has always been a reliable unblocker of Netflix and this round of testing proved it still works well. I was able to unblock many catalogs including Netflix US, UK, Canada, Australia, Japan, France, Spain, and Brazil.
PrivateVPN also works with a plethora of other sites including Amazon Prime Video, BBC iPlayer, ITV Hub, Disney+, and Hulu.
It's easy to connect to the right server for a given service. You just go to the Streamed Service server list to see a ton of platforms you can unblock.
PrivateVPN works well with Kodi too. You can download the VPNs Android APK file directly onto your device.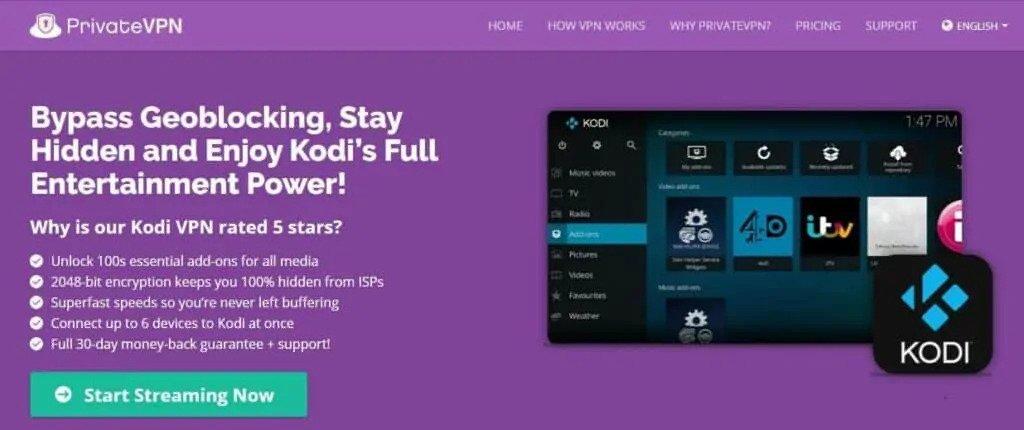 Does PrivateVPN allow torrenting?
Yes.
PrivateVPN allows torrenting and recommends using servers located in Sweden for this purpose. This VPN has a few features that many torrenters will find useful, including:
Port forwarding which enables you to connect to more peers in a torrent swarm.
A kill switch which cuts the internet connection in case your VPN connection drops. This prevents your real IP address being exposed. Note this is only available in the Windows app.
An app-specific kill switch (dubbed Application Guard) which allows you to choose which apps are shut off if the VPN is disconnected.
PrivateVPN operates with a true no-logs policy so no Personally Identifiable Information (PII) is ever recorded.
Security, privacy, and logging
Being based in Sweden, PrivateVPN would be subject to some pretty stringent data retention laws. However, this provider says it never stores logs of data traffic so it couldn't cough up any records even if it was asked to. To sign up, you'll need to provide an email address and password, and you can pay through Stripe, PayPal, or bitcoin. Details will be used for account correspondence and potentially for promotional materials but are never shared with third parties.
As for data security, PrivateVPN offers quite a few customization options within the app, which will be welcome news to more advanced users:
Adjustable encryption: You can choose between 128-bit or 256-bit encryption. Both of these are effectively uncrackable, although 256-bit is the stronger of the two while 128-bit may give you slightly better speeds. SHA256 is used for authentication, in conjunction with 2,048-bit RSA keys. 2,048-DHE keys are used to provide perfect forward secrecy.
Protocol options: Depending on which device you're using, you'll have several protocol options, including OpenVPN over UDP or TCP, IKEv2, L2TP, and PPTP.
A kill switch (Windows only): The kill switch is enabled by default, so if the VPN connection happens to drop, internet traffic will be blocked. This acts as a backup to ensure your data remains private. If you'd rather not have this feature activated, you can turn it off in the Connection Guard screen. There's also the app-specific kill switch discussed in the torrenting section above.
Protection against IPv6 leaks and DNS leaks: These are enabled by default but can be toggled off within the app. I tested for leaks (including WebRTC) and observed none.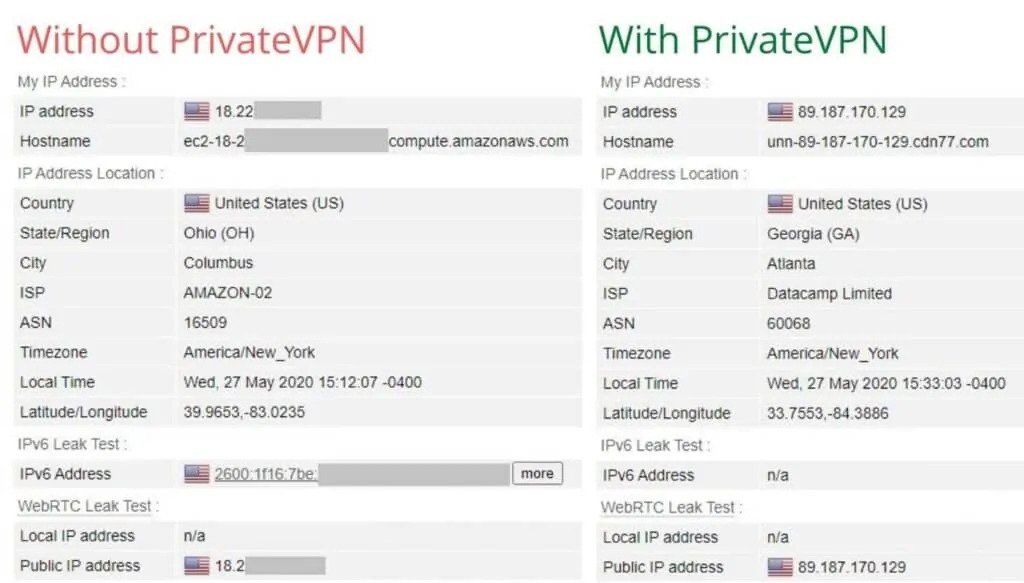 PrivateVPN previously used Google's DNS servers but has since set up their own. With Google DNS servers, Google has the ability to track what websites you visit when using the VPN, although it won't know your real IP address. Now that PrivateVPN has fully implemented its own servers, this is no longer a concern.
Does PrivateVPN work in China?
With so many VPNs being blocked by China's Great Firewall, it's pretty slim pickings when trying to find one that will work reliably. Fortunately, PrivateVPN makes working in China one of its priorities. It recommends using Stealth VPN mode to connect in China.

In case this doesn't work right away, PrivateVPN advises that you take advantage of its protocol options and use L2TP for connecting in China. This is because OpenVPN and sometimes PPTP can be detected and blocked by the country's firewall.
Bear in mind that some VPN sites may be blocked in China, so make sure you know how to set up (and reconfigure) the VPN on all of your devices before you travel.
PrivateVPN also works in the UAE and the wider Middle East, where many other VPNs are blocked.
Is PrivateVPN customer service any good?
In addition to comprehensive web tutorials, PrivateVPN offers a live chat service and email support. The live chat should be available 24/7, but there were occasions when I visited the website and it was unavailable. When I was able to use the live chat feature, the representative was prompt and knowledgeable.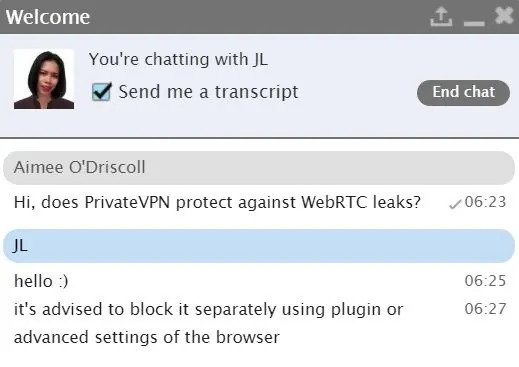 According to a representative, the reason for the downtime was a high volume of requests. There does appear to be a queueing system so it's unclear why the volume of users requesting live chat would cause it to appear offline.
A bonus of PrivateVPN's live chat is it offers remote control support for help with setup and troubleshooting. This is especially handy since some of the protocol options require setups that go beyond the standard installer wizard.
If you don't need immediate assistance, you can submit an email support request. These are typically responded to quickly (I got a response within an hour). Since the live chat is outsourced to a third party (LiveAgent), privacy-conscious users might be more comfortable with email support anyway.
PrivateVPN pricing
PrivateVPN offers one plan that is priced differently depending on which term you go for:
One month for $7.67 per month
Three months for $4.88 per month
One year (plus one free month) for $3.82 per month
These plans are all reasonably priced when compared to competitors.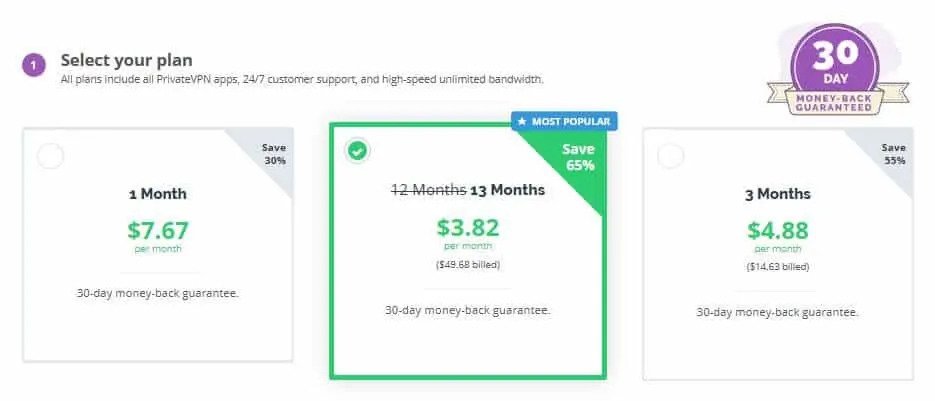 Payment can be made using most major credit cards, PayPal, or bitcoin. PrivateVPN also offers a referral scheme whereby you can earn points (exchangeable for credit) when you get others to sign up.
A 30-day money-back guarantee is offered on all plans. If you want to try before you buy, you can request a 7-day free trial by emailing PrivateVPN. They will provide you with a gift code so you can try the service without handing over any payment.
PrivateVPN coupons
Do I recommend PrivateVPN?
Even though it operates a small network, PrivateVPN has big offerings. Its reliable connections and ability to unblock sites like Netflix make it ideal for streaming. Unlimited bandwidth, high speeds, and strong security and privacy mean it's also suitable for torrenting, although Mac users may miss the option of a kill switch. PrivateVPN works reliably in China and other countries where attempts are made to block VPN traffic.
Although they're not quite 24/7, the live chat and remote control support are certainly selling features and make this a great option for beginners and advanced users alike.
PrivateVPN alternatives
While PrivateVPN is a solid VPN, there are some excellent alternatives. ExpressVPN boasts a much larger server network and is as adept as (if not more than) PrivateVPN at unblocking geo-restricted streaming platforms. It's compatible with all your devices (it even has custom router firmware) and works well in China.
NordVPN is another one to consider. It has blazing fast speeds and operates a network of more than 5,000 servers. NordVPN is great for torrenting and works in China, plus it's a budget-friendly VPN.