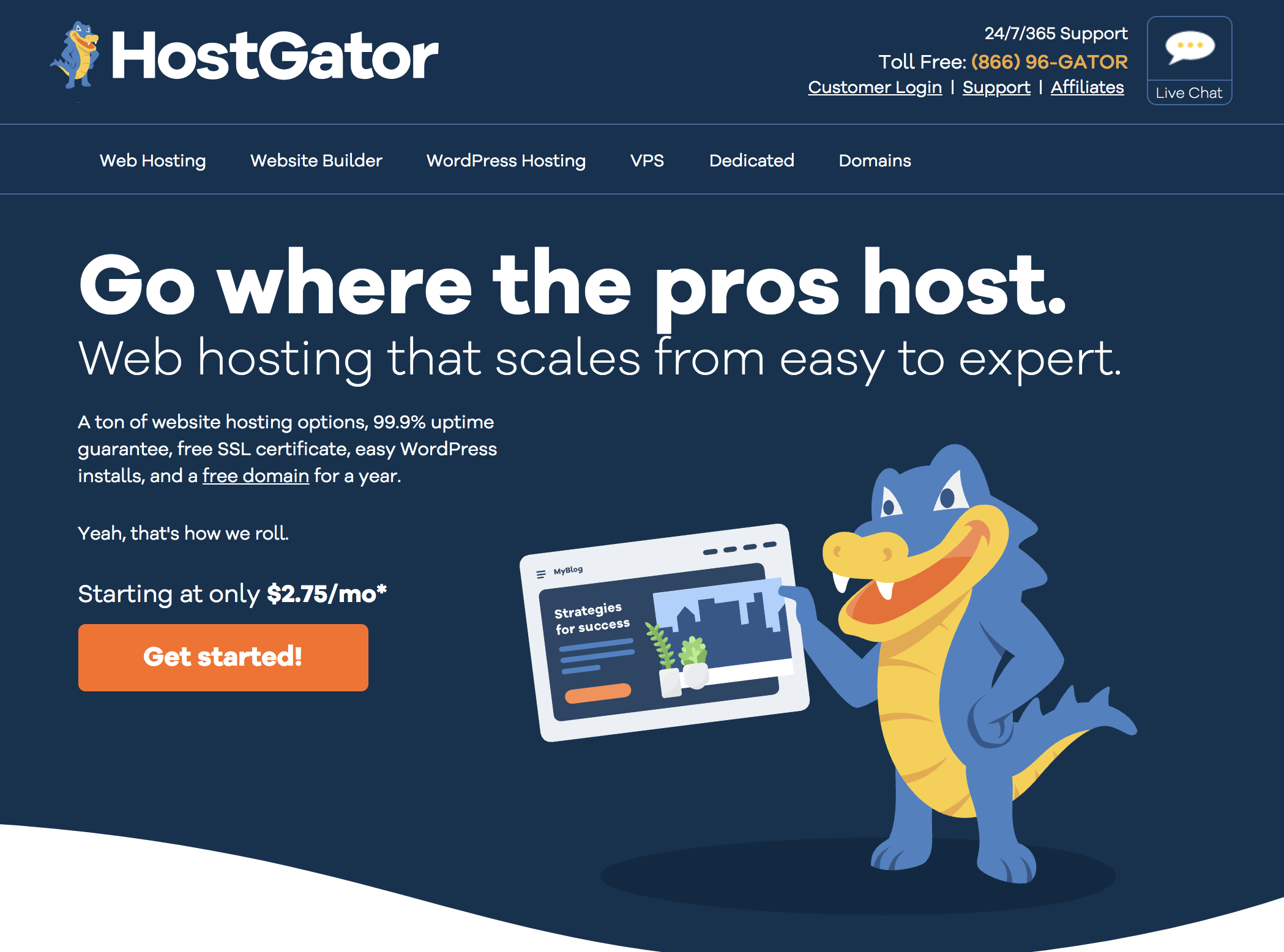 HostGator, established in 2002, is a Houston based web hosting service provider. The company has its predefined plans and packages that can be chosen as per the needs. The easy to use control panel gives the accessibility to manage traffic along with uptime guarantee.
THE HIGHLIGHTS
HostGator tops the list of the best web hosts. The company has been serving the customers for around a decade now and has gained appreciation over these years. Today it is one of the most trusted and well known web hosts.
The top features of HostGator include customer support, uptime shared hosting, hosting flexibility, etc. Other highlights are-
Excellent support options
A suitable content delivery network
The option to buy Site Lock in order to increase malware scanning.
Easy one click installation
Security of Account with SSL certificate
Monthly Billing Cycles
HOSTING PACKAGES
HostGator offers user-friendly packages for customers that can be used as per the users' needs. These packages are apt for both large and small businesses.
WORDPRESS HOSTING
HostGator provides cheapest WordPress hosting for one website with up to 100000 visitors each month. The basic plan includes 1GB backups. Further higher end plans allow 500000 visitors each month for up to 3 sites. The High End WordPress hosting plan allows for up to 3GB backups.
VPS AND DEDICATED HOSTING PLANS
When the business extends, there is often a chance of shared servers not meeting the expectations. In such situations, comes up the option of advanced packages like VPS and dedicated server plans. The top tier VPS package provides 240GB storage, 8GM RAM and monthly data transfers capped at 3TB.
Dedicated server packages provide the option of customization along with 16GM RAM, 25TB of monthly data transfers and massive storage of 1TB.
SHARED HOSTING PLANS
Shared hosting plans fulfill the most basic needs of the consumers. The most common shared hosting plan is the Hatchling Plan which offers support for one domain, disk space, database, Shared SSL, several email addresses, unlimited bandwidth, etc.
Other hosting plans are created by adding additional features to this Hatchling Plan like private SSL certificate, unlimited domains, etc.
RESELLER HOSTING
HostGator offers reseller hosting package with 60GB disk space, unlimited domains and 600GB bandwidth. The greater packages offer bandwidth up to 1400 GB & 140 GB disk space.
HOSTGATOR UPTIME
HostGator guarantees 99.9% uptime. It has thousands of servers under it. The onsite technical staff keeps an eye on HostGator servers 24/7.
A survey conducted states that HostGator has successfully provides over 90% customer satisfaction and maintains and uptime of 99.9%.
There are no-lock in contracts and 45-day money back guarantee offered by HostGator. If you feel like changing your mood within 45 days of joining, you can claim a full refund.
SECURITY
HostGator makes provision for complete safety and security of its web servers. Having solid resources to prevent interruption of services, the performance of HostGator servers stays to the point. These resources include server hardware, network, electrical and HVAC systems. In addition to these resources, there are excellent cooling systems that prevent overheating of servers. The presence of power backup, fire detecting lasers and redundant chillers keep up the nonstop performance of servers.
CUSTOMER SUPPORT
HostGator customer support is highly commendable. It has received many awards of appreciation that backs up this fact. There is constant support for general questions at HostGator's email option and social media support at Facebook, Twitter, Google+. There are FAQs, detailed articles and video tutorials for detailed information about topics. There are even customer support agents to assist in various issues 247 all-round the year.
HOSTGATOR TOOLS
HostGator is also a provider of a range of open-source applications like e-commerce software, CMS, wiki, etc.
It is known for its additional tools other than offering web hosting services. These are-
HostGator's BaseKit Site Builder Tool
Email tools
SEO and marketing tools
Security tools
Google Analytics
HostGator is also a provider of a range of open-source applications like e-commerce software, CMS, wiki, etc.