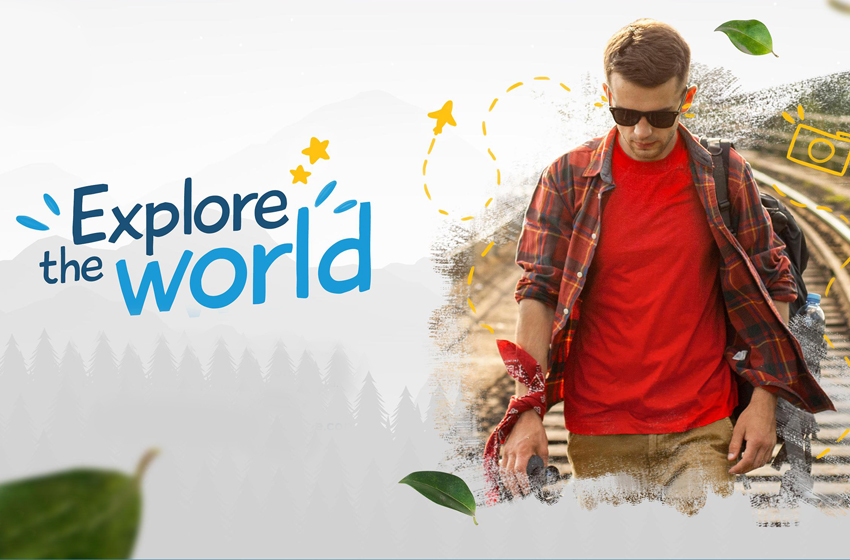 Whether you're backpacking Europe or just traveling on a budget, there is a good chance you'll find yourself in a few hostels along the way. And despite what you may have heard, there are a lot of excellent hostels but you have to find them first — which is where Hostelworld comes in.
For those that don't know, Hostelworld is the largest hostel booking website (with over 36,000 listings) so I thought I'd do a Hostelworld review to give you positives and negatives that I've found after booking dozens of hostels with them since my first trip back in 2006.
Booking a hostel with Hostelworld is a fairly straightforward process but finding a great hostel that fits your needs can take a little digging. Here's the process I use when I'm looking to book a hostel:
PRICE
The search results page shows the starting nightly price for a bed in a shared dorm and the price to rent a private room.
This price displayed can be a little deceiving because these are the cheapest options in the hostel.
The cheapest dorms are typically the rooms with the greatest number of beds — and the least amount of privacy and peace. Hostels often have multiple room sizes so you'll typically pay extra if you want a room with fewer beds. You'll need to view the listing to get a better idea of the full range of price options.
OVERALL RATING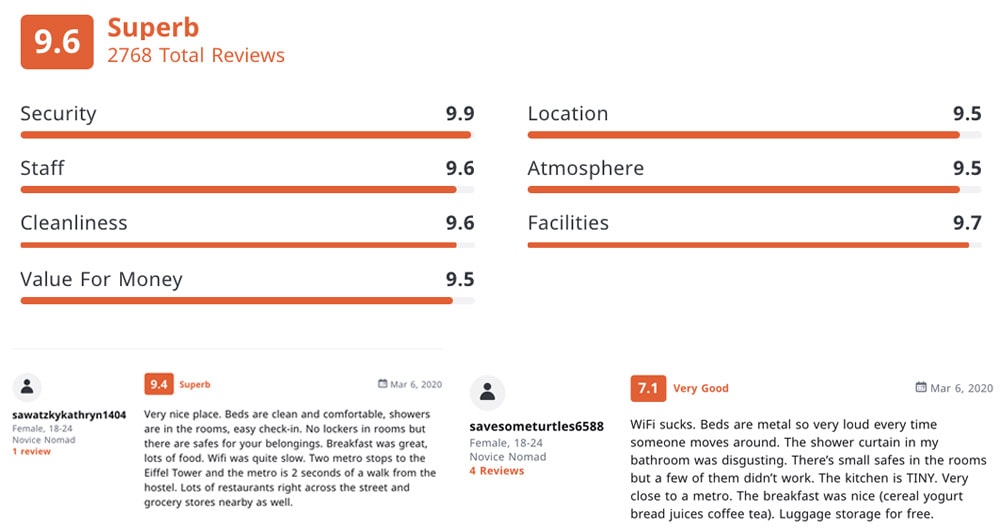 Hostelworld ranks hostels on a scale from 1-10 but I start getting a little suspect about any hosted that's under 8. I tend to try to only look at hostels with an 8.5+ ranking but these tend to command a higher price.
The overall ranking consists of things like location, amenities, vibe, security, cleanliness, etc.
You'll need to click into the hostel to get a better idea of the reviews — I'll talk more about deciphering these guest reviews later in this article.
NUMBER OF REVIEWS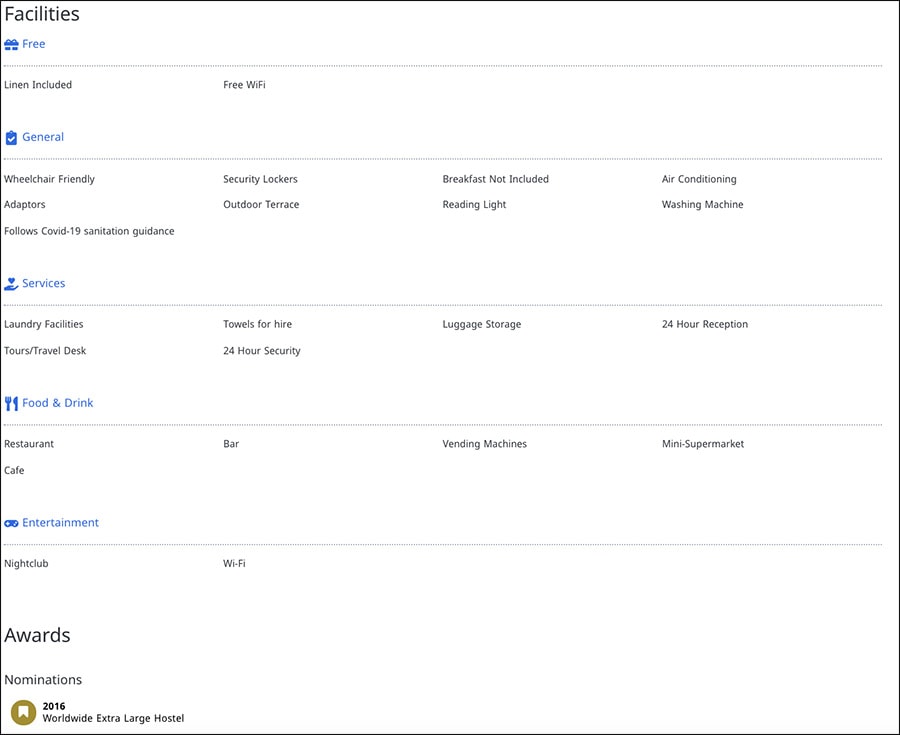 The overall rating listed on the search results page can be deceiving as some hostels can have super high scores but only a handful of reviews. That doesn't mean you should avoid places with minimal reviews but it's something to consider when looking closer at that property.
On the other hand, if the hostel has thousands of reviews and a high score then you know it's probably a great place to check out.
WHAT TO LOOK FOR IN A HOSTEL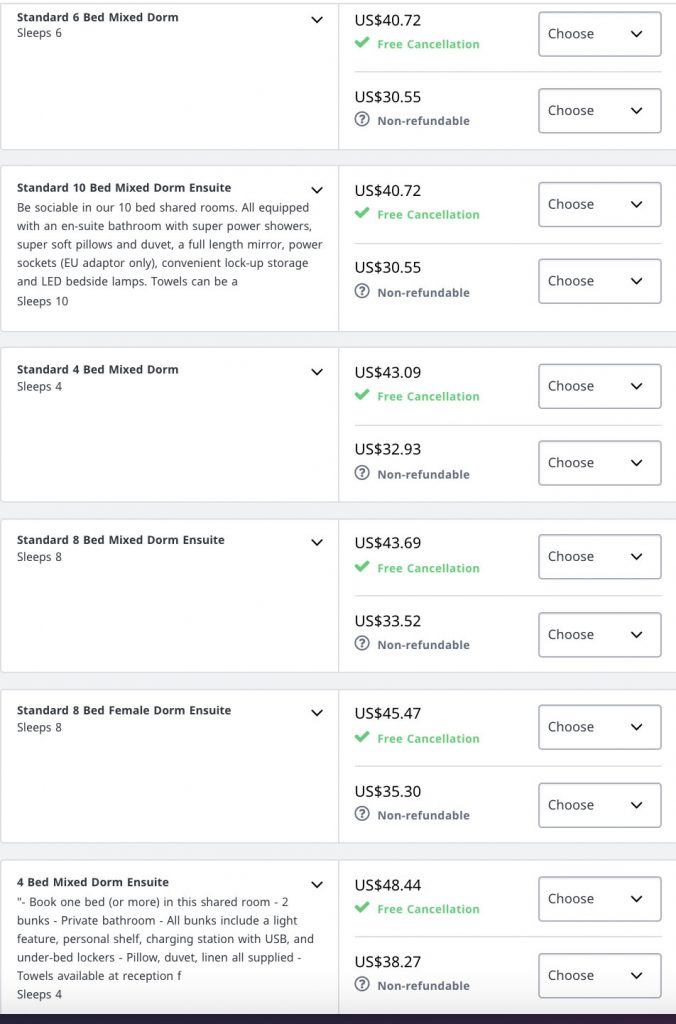 Once you've found a few hostels that look interesting it's time to take a deeper dive into the particulars listed on each hostels' Hostelworld profile. This is where it's wise to pay attention to the details because even well-rated hostels might not match up to your travel style.
TAKE A DEEP DIVE INTO THE PAST GUEST REVIEWS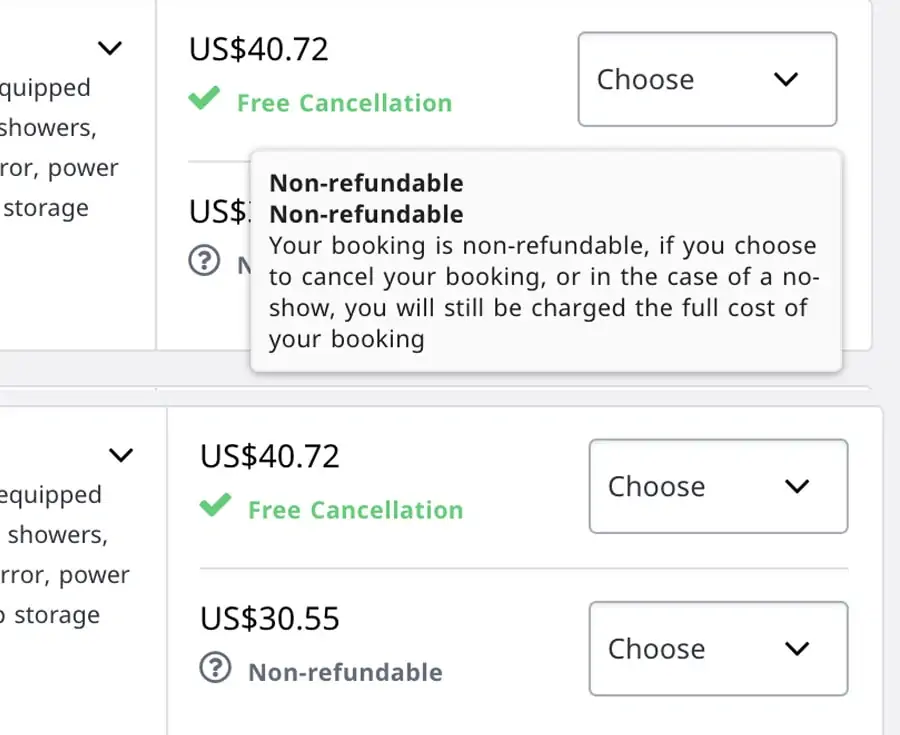 Hostelworld does a good job at getting reviews from past guests and people tend to write about the good and bad parts of their stays. I also like that all the reviews on Hostelworld are from the past 6 months, so it gives you a better idea of the hostel's current condition.
I try to take a holistic view of the reviews because there are so many things that can affect someone's stay — from annoying hostel-mates that sour a nice hostel to really cool people that make an average hostel feel awesome.
When I read reviews I look for specific things:
The Atmosphere: Some hostels are "party" hostels, some a quiet but maybe a little dull, some are quiet and cozy, some are for families, some feel like hostels, etc. It's important to find one that fits your style.
Location: Location is a huge consideration and I'd much rather pay a little more if I can stay right in the heart of things. Reviews often make comments about the safety of the area as well.
Cleanliness: Just by their nature, hostels can quickly get dirty if the staff doesn't stay on top of the cleaning so that's something I think is important to look into.
OTHER AMMENITIES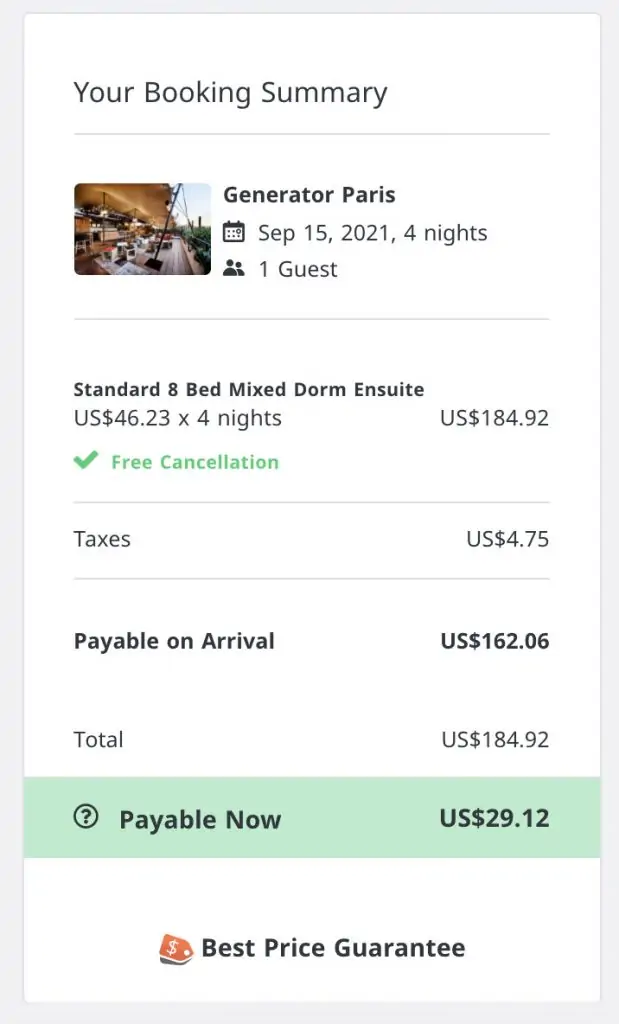 Hostelworld also lists out the hostel's other amenities so take a minute to look at what they offer.
As mentioned before, most hostels have multiple dorm rooms of various sizes. Some hostels also have female-only rooms. Typically the rooms with the most amount of beds are the cheapest option — so a bed in a 14-bed room might be $30/night and a bed in a 4-bed room might be $40/night.
Hostels also often have private rooms which are considerably more expensive than dorms but you still get the hostel vibe with more privacy. Some hostels also have private rooms with four or six beds — which is a nice option for groups but you have to pay for the entire room regardless if you use all the beds.
FREE CANCELLATION AND NON-REFUNDABLE BOOKINGS
Hostelworld recently started offering Free Cancellation and Non-Refundable pricing tiers.
As you can see from above, there is a fairly considerable price difference so you'll pay more for a Free Cancellation booking. On the other hand, you'll pay for the entire booking if you go with the cheaper non-refundable booking.
READ THE FINE PRINT AND HOSTEL POLICIES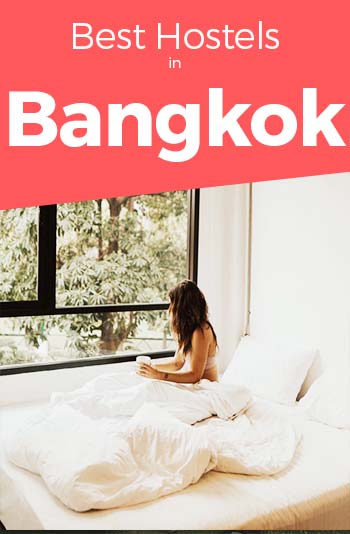 Booking a hostel on Hostelworld is simple. You select the type of room you want and the total price is shown at the bottom of the page. You are charged a 15% deposit/down payment (which is deducted from your total).
You then pay the remainder of the payment directly to the hostel when you physically check-in at the hostel. The whole process is painless and I've never had a problem in the 25+ hostels I've stayed in. Most hostels let you pay with a credit card but there are a few that only accept cash upon arrival.
The best way to learn about using Hostelworld is by clicking around and exploring the site. Hostelworld also now lists budget hotels and bed & breakfasts, but I've never used it to book those types of accommodation.
If you want to know more about what it's like to stay in a hostel, be sure to read my guide hostels in Europe.
How to cancel a booking with Hostelworld?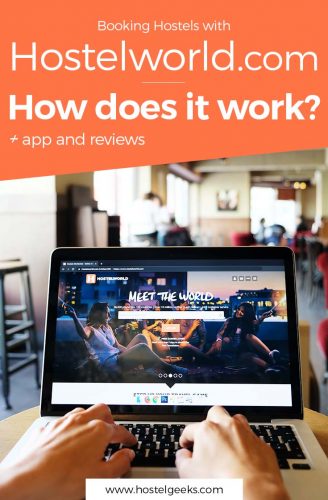 This one is a bit tricky. Personally, I do not like to cancel anything like flights, hostels, accommodation, tours. There is always this annoying terms & conditions – no-one reads anyways.
To avoid no-show or late cancellation charge, you may cancel your reservation with Hostelworld at least 24 hours ahead of your arrival date, unless otherwise stated by your chosen property.
If the 24-hour period has passed, it would no longer be possible to cancel your reservation online and cancellations after this time would be considered as late or no-show and additional charges may apply.
To cancel your booking with Hostelworld, you need to log into your account, find your booking and click on "cancel".
As for cancellation charges, this would depend on your booking and the property's terms as stated during confirmation of your reservation.
If you have a Free Cancellation Booking, the latest time that you can cancel would be the time provided on your confirmation e-mail and is usually in the property's timezone.
Refunds will be processed automatically but can take up to 7 working days to be processed. Cancellation must be done via Hostelworld to avail of your free cancellation.
Important: I really recommend using the "flexible booking option". This way, in case of a cancellation you get a refund in your account. You do not get your money back, but a voucher with the same value! If you are traveling, this is basically safe money you will use anyways.
Hostelworld shows only available hostels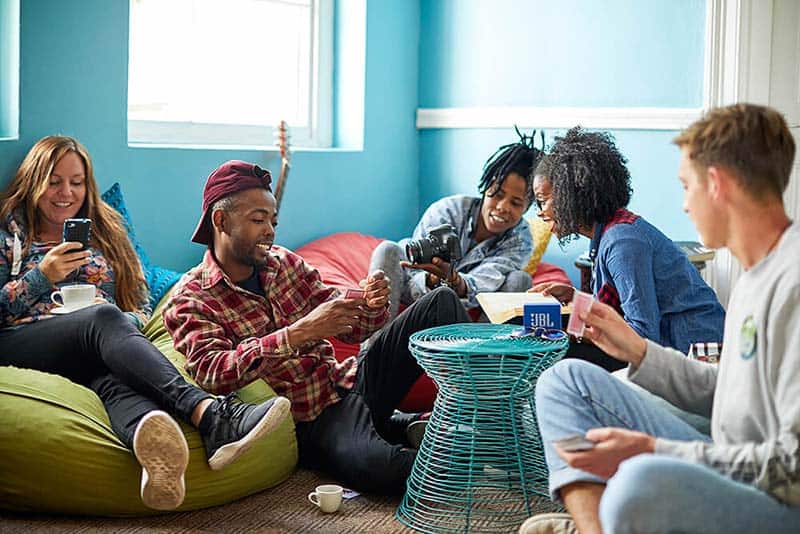 When you search for accommodations on Hostelworld, or any booking portal really, you will only be shown available places for your dates.
Which makes sense, obviously, since you cannot book a hostel that is already full.
While we don't want to confuse you, we'd also like to share some insider knowledge: hostels are the ones who control what you see on platforms.
Some hostels only add the dorms to Hostelworld.com, and the private rooms to a website like booking.com.
Or a hostel may only add 80% of their availability to the booking platforms, since they keep beds free for so-called walk-ins. Sure, it is convenient to see hostels that are available on your travel dates, but it also lowers your chance of discovering great places because they are not shown on the list.
Again, further research would be beneficial and would be a great way for you to discover other properties that you might have missed because of these limitations.
The solution? Hostelz.com. I mentioned them before, and I insist you should use them. They list all hostels in the world. In fact, it is in the only website in the world which does that. How? Well, they also list hostels that are not on any booking platform. This makes it so useful.
Contact Hostelworld & Customer Service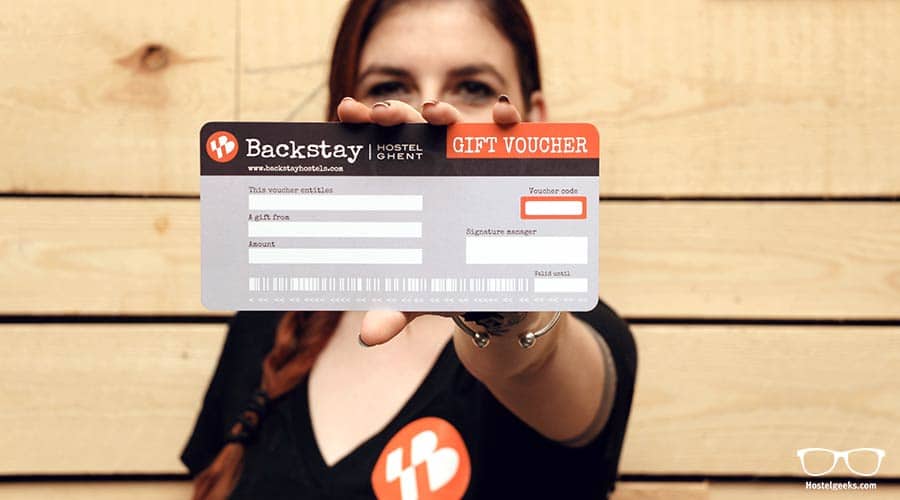 Hostelworld is very easy to reach and has a 24/7 customer service.
Once you've finalized your booking, you will receive a booking confirmation via email — just make sure to give the correct one.
Well, if you put a wrong email, you won't receive your confirmation and it might be hard for you to access the necessary details for your booking. Simple, really.
It also accepts the same payment methods available on the website and you can easily sign in your accounts simultaneously, syncing all your details without any additional effort.
It also has a "Hostel Noticeboard" where meetups and regular events are shared, making it easier for you to meet new friends.
Need translations? The app can translate up to 37 languages , breaking down language barriers and helping you to better understand and enjoy your travels.
Hostelworld Gift Voucher
At the moment you cannot purchase any gift vouchers for Hostelworld. We know, that is a pity, and actually could be an epic gift for travelers.
How to leave a review on hostelworld?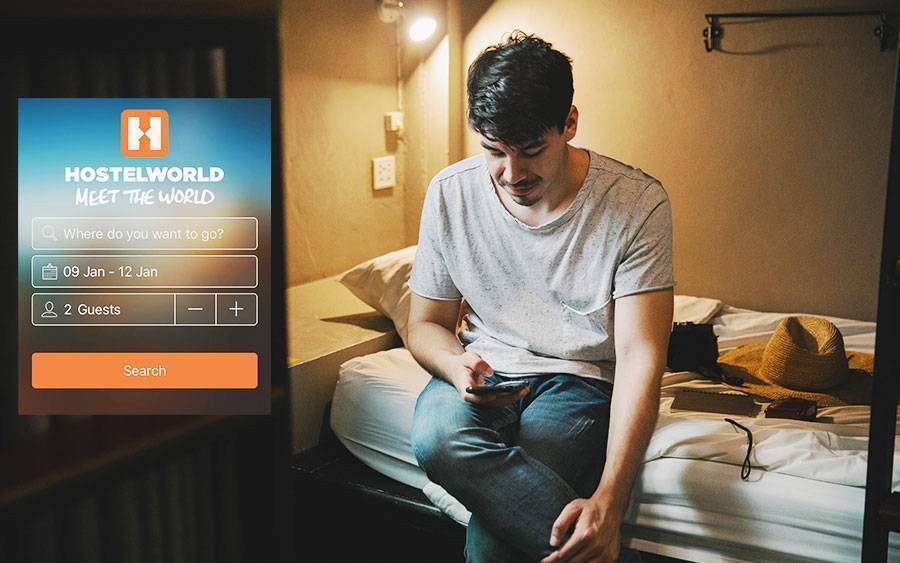 Hostelworld only accepts reviews from users who have booked and stayed at properties booked through their website.
This means that all reviews are authentic and are only created by real guests who have experienced staying at the hostels themselves.
After your stay, you will receive an email from Hostelworld, asking for your review. It is really straight forward, and done by all major platforms, like Airbnb, Booking.com. For instance, give details about the really good stuff like a family dinner on every friday night, the Pub Crawl for 10€ every night, or the board games, the fully equipped kitchen etc.
For instance, we once stayed in a hostel with super small blankets. These blankets are for children; not for adults. The very same hostel is actually a super cool one, one of the best hostels in Taiwan.
Your honest review helps your fellow travelers; and can even improve the hostel itself. Many, if not all, hostel owners read these reviews and comments. They even change a few things when they say it's requested often enough.
While Hostelworld is open to receiving and publishing all types of reviews, they do not allow publication of defamatory or offensive language of any kind. This includes racial abusive, threatening and other language that they may consider offensive.