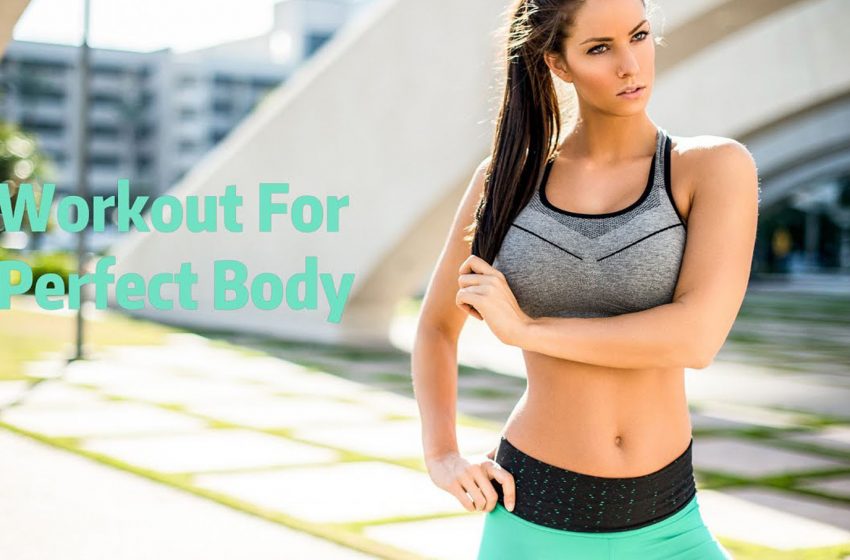 About Born Primitive Clothing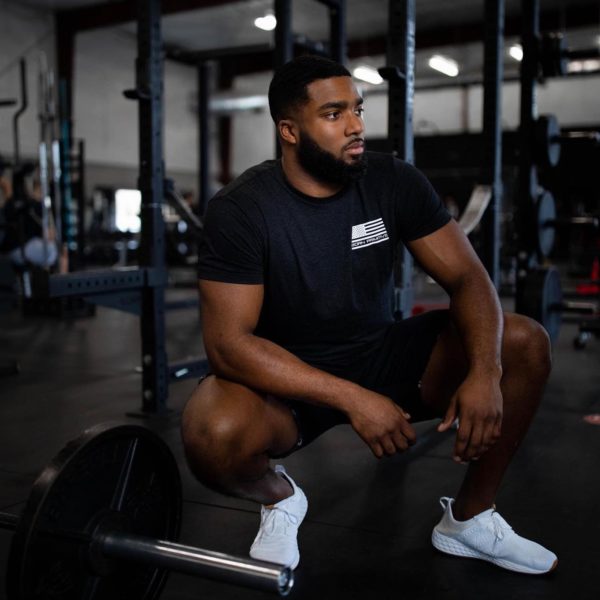 Born Primitive is an athletic apparel brand that makes clothing for both men and women. They specialize in athleisure and workout clothing and are well-known for their Born Primitive patriotic clothing.
Born Primitive has been featured by notable media sources such as Bustle, Inc., Forbes, USA Today, and Morning Chalk Up, to name a few. They also have a solid following of 258k on Instagram.
This Born Primitive clothing review will take an in-depth look at the brand and their products, customer ratings, promotions, and more to help you decide if their athleticwear is worth buying.
Overview of Born Primitive Clothing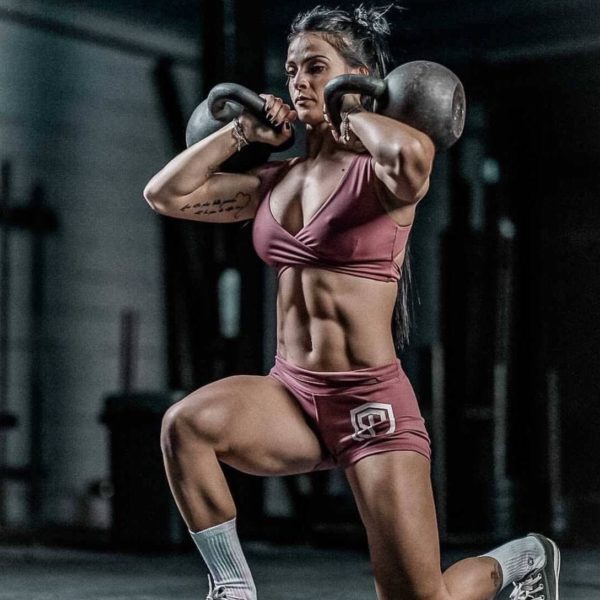 Born Primitive was founded in 2014 by Bear and Mallory Handlon. The brand is an active-duty-owned company that stays true to their service roots.
They make high-quality, comfortable and functional clothing for athletes of all levels to help you perform at the highest level. Born Primitive CrossFit apparel is well known for making great products for all types of workouts.
"Our apparel is made for athletes of all sizes and skill levels and designed to perform in those critical moments of mental and physical distress when the battle is won—or lost," says Born Primitive owner Bear Handlon.
Today, the brand is still creating the athletic and athleisure wear that customers are loving. They are headquartered in Virginia Beach, Virginia, United States.
Before we take a look at all the amazing products they have to offer, this Born Primitive review will highlight the brand's pros and cons:
Pros
Offers a robust variety of athletic apparel for men and women, including tops, bottoms, sports bras, swimwear, and more
Afterpay financing on orders over $35
Ships internationally, to PO boxes and military addresses
Widely available for purchase
Great customer ratings
Cons
Born Primitive Clothing Review
Calling all strongmen and athletic enthusiasts. Born Primitive sells men's workout clothing, including all kinds of athleisure, tops, bottoms, and patriotic clothing.
This Born Primitive clothing review will take a look at a couple of customer favorites so you can get an idea of what the company is all about.
Born Primitive Men's Stretchy American Wod Jorts Denim Review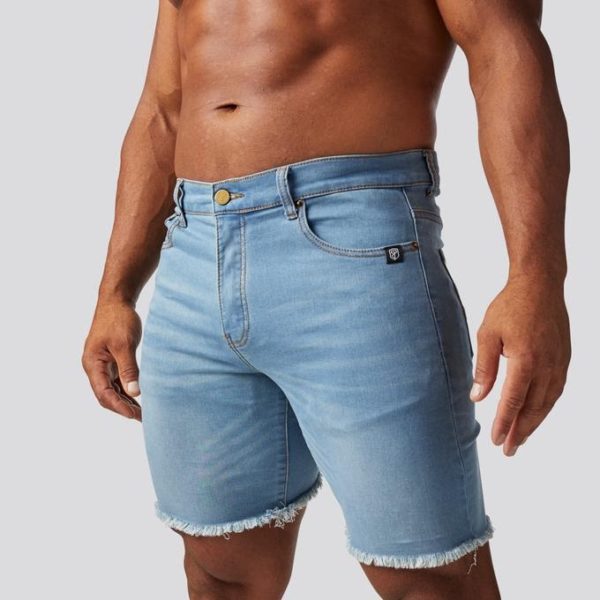 Jorts are the secret weapon you always needed. These shorts are the perfect way to look put together while being comfortable at the same time.
The Born Primitive Men's Stretchy American Wod Jorts Denim are stretchy and flexible and will move with you no matter where you go. These are more comfortable than any pair of denim shorts you own thanks to the polyester and spandex mix.
They come pre-frayed for the perfect vintage look and have an accommodating 7-inch inseam. These Born Primitive jorts for men are made of a blend of 75% cotton, 23% polyester, 2% spandex making them great for working out and even for doing squats.
They have an athletic fit, so this Born Primitive review recommends sizing up if you want a looser look. They come in 5 functional and standout color options, including denim, woodland, tigerstripe, black denim, and the exotic wild man edition.
To care for them, wash in cool water with similar colors and then hang them to dry. Cop a pair of the Born Primitive Men's Stretchy American Wod Jorts Denim for only $50.
If you're looking for something a little more appropriate for the gym, the men's snatch shorts are a great choice and are made specifically with weightlifting in mind. On the flip side, the Born Primitive American flag shorts are a more casual alternative.
Born Primitive The Versatile Short Review 
It's all in the name. Whether you're looking for a short for running, training, climbing, or anything in between, The Versatile Short has got your (lower) back.
Featuring a 100% polyester quick-dry blend, all the sweat accumulated during your workout will be long gone by the time you leave the studio, so there's no harm in having a post-gym lounge in these babies. They'll keep you cool and dry the entire time.
Now, let's talk about what sets The Versatile Short apart from the competition. They're durable, maneuverable, and the 7-inch inseam makes it easy to keep up with any activity you do. The shorts also come with a built-in compression lining to keep everything where it belongs.
The elastic waistband and inner drawstring also help to keep everything in place as your body moves throughout each exercise. These bottoms also come with more pockets than you know what to do with, including a few secret pockets built into the compression liner.
With all this in mind, The Versatile Short can become your new workout staple and is an absolute steal for $65.
Born Primitive Your New Favorite Booty Shorts Review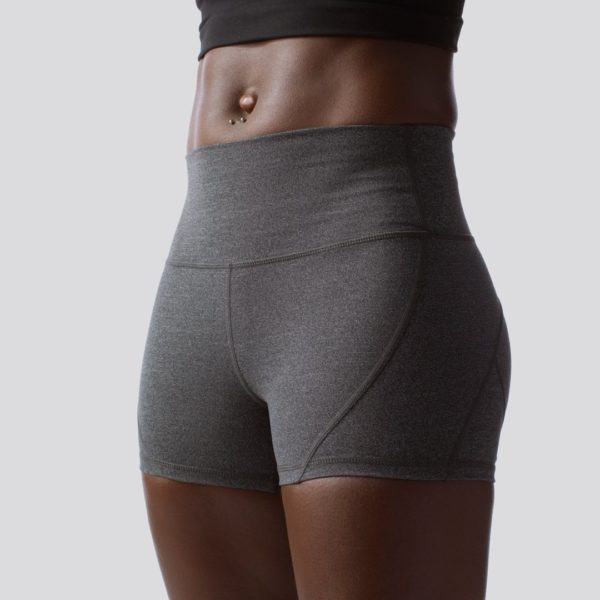 If it isn't obvious by now, the brand takes pride in their products and names them accordingly. Your New Favorite Booty Shorts are a high-waisted, form-fitting powerhouse designed to help take your gym and fashion gains to the next level.
Gone are the days of uncomfortable and unflattering workout apparel. These shorts are made from an 85% Nylon and 15% Spandex blend to be there with you every step of the way.
Your New Favorite Booty Shorts are so form-fitting that this Born Primitive review suggests sizing up to make sure they're like a friendly hug, rather than a boa constrictor. Lastly, the wide waistband helps provide support and coverage to your core at every rep and every step.
Grab a pair or two for only $42 each and feel even better at the gym.
Born Primitive Your Go To Leggings 2.0 Review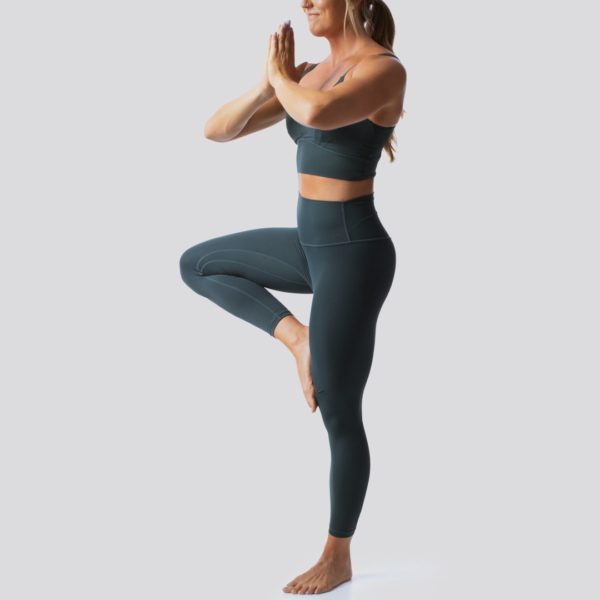 These aren't your regular go-to leggings. You've reached for them time and time again and they're starting to show their age. You might not notice it, but it's there.
That's why it's time to grab a pair of Your Go To Leggings 2.0. These high-waisted bottoms improve on the original design and are here to provide even more luxurious support and coverage.
Made to be form-fitting and in a 7/8s length, the leggings feel equally as comfortable in a gym, a track, or at a grocery store. Buyers beware, you may just not want to take these puppies off. The 70% polyester and 30% spandex blend will make sure of that.
Clocking in at $63 for a pair, you have 11 color options to choose from with Your Go To Leggings 2.0, so you may end up getting more than one if you're indecisive like us. This Born Primitive review has no shame, we love a good pair of leggings.
Born Primitive Double Take Booty Shorts Review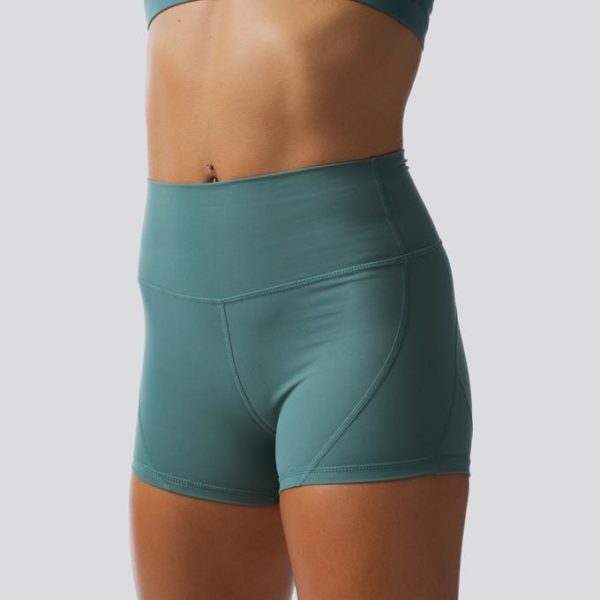 The Double Take Booty shorts are the perfect stretchy shorts that will make you look great while also being comfortable. They're made of a blend of 87% Nylon and 13% Lycra.
The fitted shorts have a longer inseam of 3.5 inches that adds added protection and comfort during workouts. It also has a wide waistband for added coverage.
There is a structured elastic around the bottom of the short leg to help keep everything in place. These shorts come in a large range of 15 colors, including patriot edition, camouflage, not fatigues, and avalanche, but we were especially drawn to the tropical WZA edition – pink palm.
To care for these shorts, wash them in cool water with similar colors and hang them to dry. These Born Primitive booty shorts women cost $42.
Born Primitive Infinity Sports Bra Review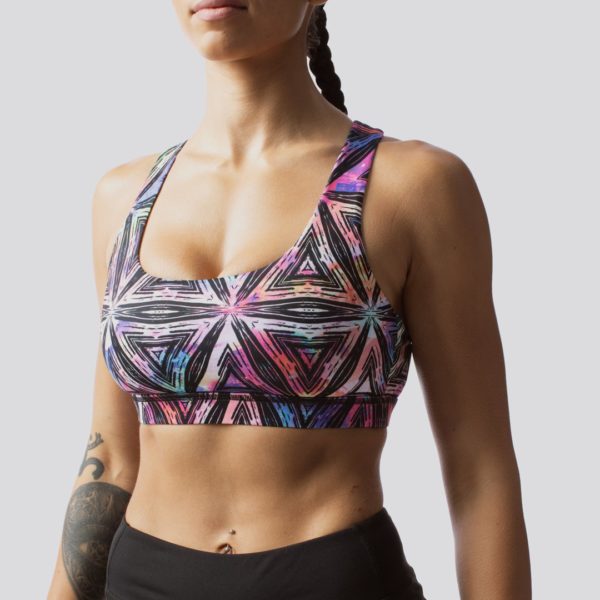 Cute? Check. Functional? Check. Comfortable? Triple check. Born Primitive have done it again with their Infinity Sports Bra. Offering more support than a girl's-night-in, this sports bra is there for you in and out of the gym on the daily.
These Born Primitive sports bras are made of 87% Nylon and 13% Lycra for a versatile and flexible fit. They also come with removable pads if that's more your style. The brand recommends removing them prior to washing.
Available in 3 colors, the Infinity Sports Bra is made to go with and complement many other pieces of Born Primitive clothing. Get mix and matching and start your workout outfit the right way for $43, on sale from $48.
If you're a powerhouse of a mother who's juggling all of life's responsibilities, check out the Born Primitive Nursing Sports Bra, part of the brand's maternity collection.
Born Primitive The Inlet Bikini Top Review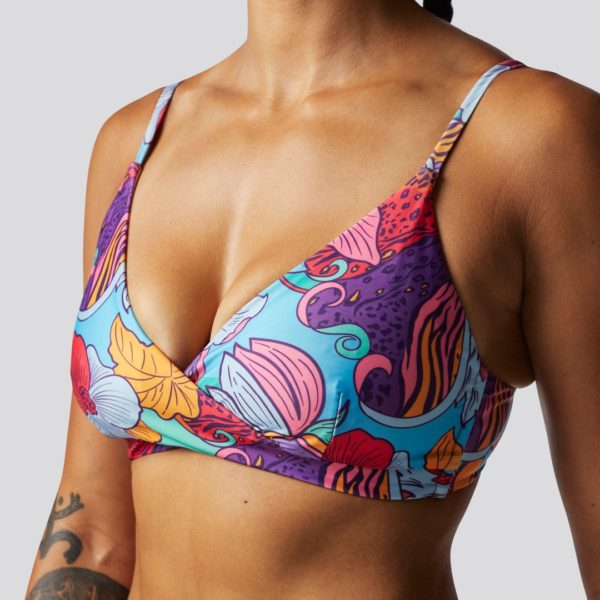 We've covered a lot of workout apparel, but what about hitting the beach after an intense gym session? Well, as it turns out, Born Primitive has got you covered there too. The Inlet Bikini Top is a cute piece of swimwear that comes in 7 different colors that are sure to stand out.
Featuring a flattering crossed-front and adjustable straps, this bikini top is with all the way, whether you're swimming, playing beach volleyball, or just lounging the day away in the sand. It's also quick-drying, lightweight, and has built-in 4-way stretch. Need we say more?
The Inlet Bikini Top can go with a variety of the brand's bottoms, so feel free to shop to your heart's content. This top works hard and plays harder for only $40.
Born Primitive Clothing Reviews: What Do Customers Think?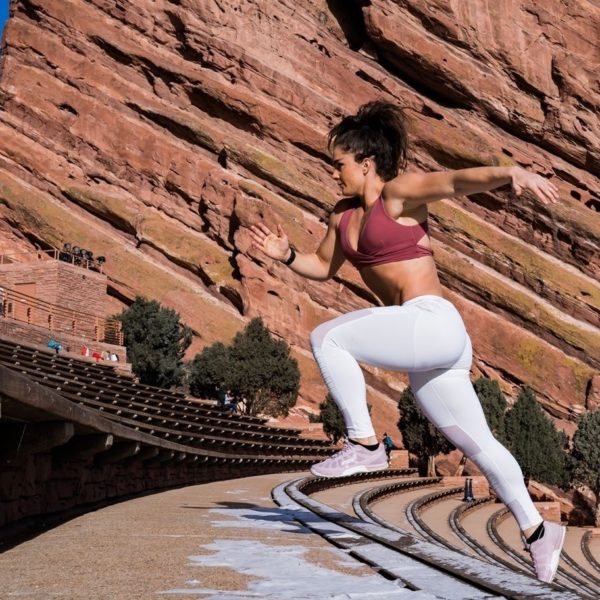 No Born Primitive review would be complete without taking a look at what customers think about the brand and their apparel. With that in mind, we took to the internet to get all the juicy details when it comes to people's positive and negative experiences with the company.
Sentiments on the Born Primitive website are extremely high. There are over 27k reviews left on their site with an average rating of 4.9/5 stars.
98% of customers said they would recommend Born Primitive products to a friend. Overall, buyers felt that the clothes look great and are comfortable for working out or just enjoying life. They also noted that the bras are very supportive and secure.
Let's zoom in on Your Go To Leggings 2.0 for a second. This product has a stellar rating of 4.9/5 stars from over 500 reviews. These leggings enthusiasts loved the quality and comfort that this product provides. They also noted how it runs true to size.
One extremely positive Born Primitive review gushed about the leggings: "I love these leggings – they are squat proof, stay in place, flattering and true to size. I wore them on leg day for a true test… 10/10!!! In other brands i wear a small, I ordered a small in these and they fit like a glove."
Now that's a true test of a legging's staying power, and it looks like Your Go To Leggings 2.0 passed with flying colors.
Many of the brand's workout apparel is very well-received on their website:
Stretchy American Wod Jorts (Denim): 4.9/5 stars out of 800 ratings
The Versatile Short: 4.9/5 stars out of 85 ratings
Your New Favorite Booty Shorts: 4.8/5 stars out of 120 ratings
Infinity Sports Bra: 4.8/5 stars out of nearly 100 ratings
The Inlet Bikini Top: 4.9/5 stars out of over 50 ratings
We also looked at a Born Primitive Reddit thread where commenters spoke about the brand's selection of products being "5-star". When it comes to most of the apparel, it seems like people really do love the designs and fit.
We also took to the brand's Facebook page to see customers' brutally honest opinions. There were many comments to the tune of "excellent customer service and amazing fit for athletics."
Many buyers on Facebook were especially pleased with the Born Primitive Joggers and their variety of Shorts, as each piece is very comfortable, does not feel restrictive, and lasts through each workout and wash. There were many glowing reviews, to say the least.
All in all, it seems like the brand is a hit! With a great variety of tried-and-true workout gear, Born Primitive has earned all the praise and then some. While there are a few complaints about delivery and customer service, they are definitely not the usual user experience.
Is Born Primitive Clothing Worth It?
Overall, we think that the brand is worth it. Customers gave great ratings across the board and found that their products are high-quality, looked great, and are comfortable to wear while working out.
Negative reviews commented on the sports bras not providing enough support for larger busts. This is often an issue for larger bust sizes, as they need more support than average bust sizes. Keep this in mind when purchasing a sports bra.
There were also a couple of issues with customer service, but these experiences were few and far between.
This Born Primitive clothing review happily recommends the brand based on their products and overwhelmingly high ratings.
Born Primitive Clothing Promotions & Discounts 
Every year there is a Born Primitive Black Friday sale where their apparel is on sale with major discounts.
If you are an athlete with a substantial social media presence, you may qualify for their brand ambassador program.
Where to Buy Born Primitive Clothing
This Born Primitive review found that you can shop the brand at bornprimitive.com.
You can also shop their clothing at Born Primitive stores worldwide. Use the store locator on their website to find the store closest to you. Select items can be found at retailers internationally, including the following:
CrossFit Imperial Valley
Motus
Outside the Box
Endurance Apparel & Gear
A Workout Company
FAQ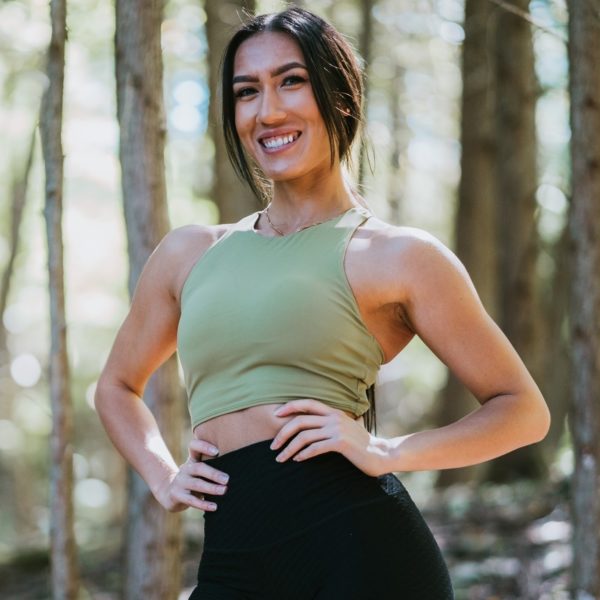 Where is Born Primitive manufactured? 
Unfortunately, this Born Primitive review could not find any information on where the brand manufactures their clothing.
What is Born Primitive Clothing's Shipping Policy?
The brand ships through USPS, but you can choose the shipping method of your choice at checkout and receive the subsequent shipping cost.
The brand ships internationally and to military addresses and PO boxes. Order tracking is available.
What is Born Primitive Clothing's Return Policy?
If you want to return or exchange an item, you will have to pay a shipping fee of $6. Returns and exchanges will only be accepted on items that are: