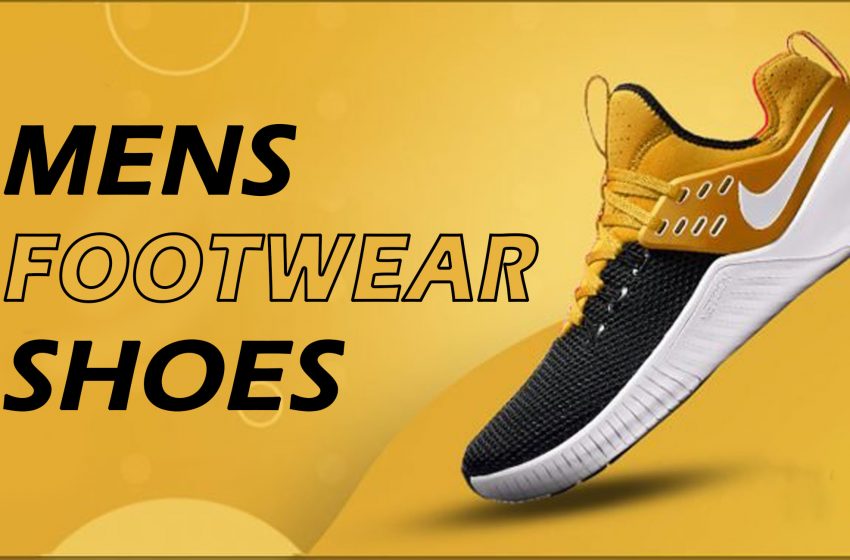 About BauBax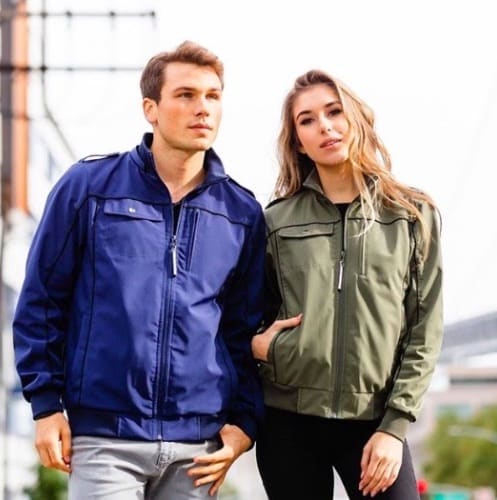 BauBax began with the intention of solving problems faced by travellers around the globe. The brand set out to revolutionize travel wear with innovative multi-feature and utility-inspired designs. BauBax aims to have you well-equipped to explore, no matter where your wanderlust takes you.
This BauBax clothing & shoes review will provide an inside look of the brand and its products to ensure you are well informed before you make the decision to purchase.
Overview of BauBax  
The company was founded in Chicago after its creators, Hiral and Yoganshi Shah, spent the first year of their marriage long-distance. A series of frequent flights from Chicago to San Francisco led Hiral to realize a better solution for sleep loss associated with travel had to be out there. The pair first came up with the idea to create a jacket with travellers in mind. They set out to design the most functional and fashionable travel jacket anyone had ever seen.
In 2015 they launched their first product, the original Travel Jacket. With 15 features, including a neck pillow, eye mask, gloves, stylus pen, tech pockets and more, Baubax jackets come in four variations: sweatshirts, windbreakers, bombers and blazers.
Three years later, BauBax set out to improve their travel jacket. The brand upgraded to the Travel Jacket 2.0 with an additional 10 features including a blanket, water bottle, and footrest. The BauBax 2.0 comes in four different styles: sweatshirt, windbreaker, bomber and vest.
Over 200,000 travelers worldwide reach for BauBax products because of their unique design. The company continues to push the boundaries of clothing to create products that make travelling hassle free and help keep you organized on the go.
Through each BauBax Travel Jacket launching campaign, the company raised over $15 million in combination. During their first launch in 2015, their campaign became the 'most-funded clothing project' and was the '4th most funded project in crowdfunding history.' In the 2018 campaign, the brand hit another milestone by becoming the most-funded Kickstarter Fashion project ever.
We'll dive into the benefits and downsides in this BauBax clothing & shoes review:
Pros
Ships worldwide
Offers free 30-day returns
Uses sustainable materials
Sells 'The World's Best Travel Jacket"
The brand aims to make travelling easy and hassle free with their products
Cons
Doesn't ship to every country
Doesn't offer duty-free shipping for all countries
Only available online
BauBax Jacket Review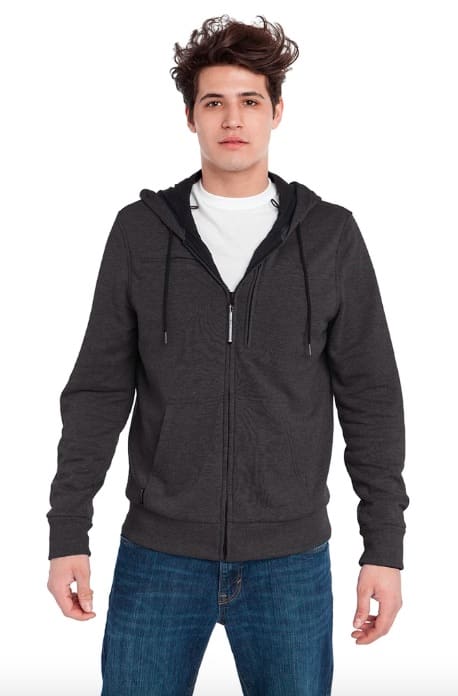 BauBax jackets focus on making fashion functional by finding the balance between visual appeal and comfort. Get ready for an in-depth BauBax 2.0 review. The jackets are designed to make travelling more organized with over 20 built-in features including:
Eye mask
Neck pillow
Footrest
Passport pocket
Zipper pen & stylus
Headphone strap
Bottle opener & whistle
Hand warming pockets
The BauBax Bomber 2.0 provides functional, comfortable and stylish coverage for your travel adventures. The jacket comes in blue, olive and black for $178. The BauBax jacket reflects an upgrade to the original design, making it more modern with utility-inspired details. The outer and inner linings are made from 100% polyester fabric and the outer is completely waterproof.
Men's Sweatshirt 2.0
The Sweatshirt 2.0's new-age design can be attributed to handcrafted tech styling. The fabric is made from a comfy combination of 60% cotton and 40% polyester that will keep you warm all day, every day. The Sweatshirt 2.0 is available in charcoal and navy with a price point of $128.
Men's Windbreaker 2.0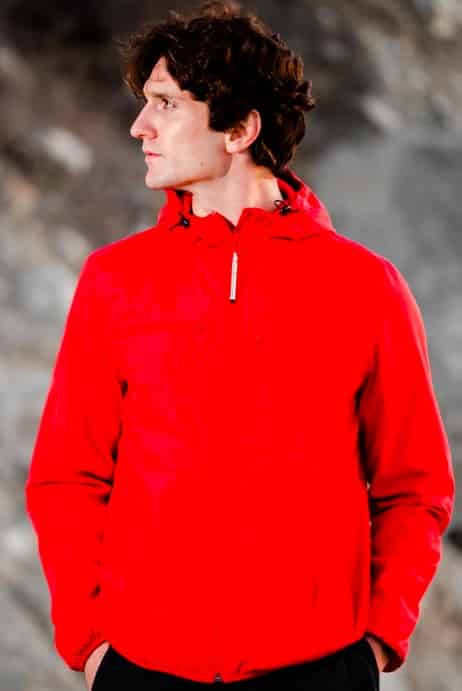 To keep the water out while you travel, opt for the BauBax windbreaker jacket, available in red and black for $148. Hike, trek and travel while staying dry with 100% water repellent polyester outer lining. Its breathable and lightweight features will keep you comfortable in any weather conditions.
Men's Vest 2.0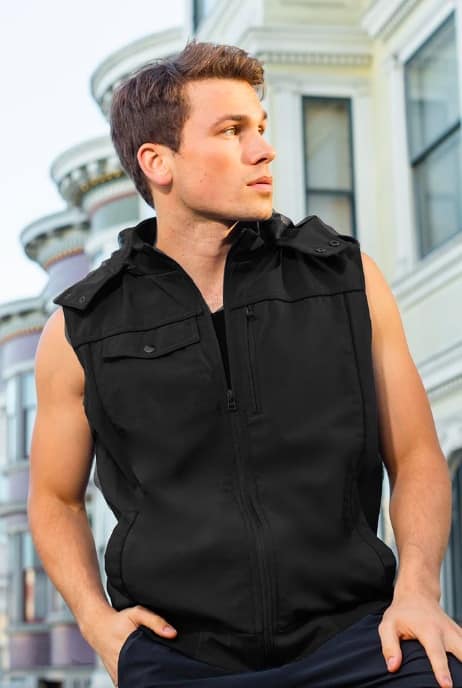 This BauBax travel jacket has one notable difference, it doesn't have sleeves! There is still enough room to provide you with all the extra features. The Vest 2.0 is great for layering over top of sweaters and shirts or to wear on its own, offered in black, olive, and blue. Its water-resistant fabric will keep you nice and toasty for $128.
BauBax women's jackets have style, functionality and comfortability woven into their design. Just like the men's, the women's jackets come in four distinct styles: bomber, sweatshirt, windbreaker and vest and include the same 20+ features as the men's jackets.
Women's Bomber 2.0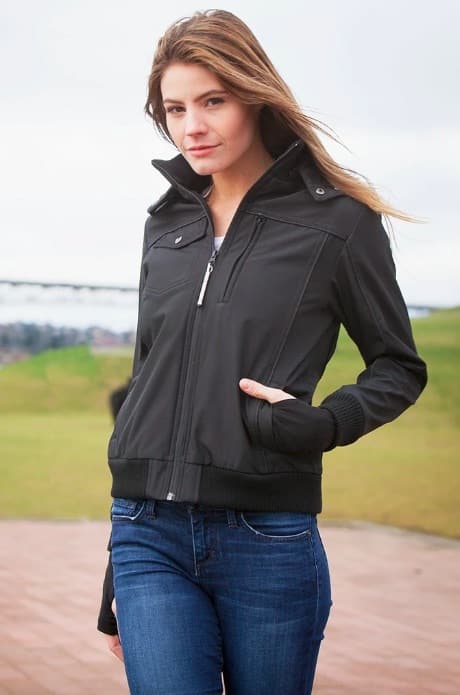 The Women's Bomber 2.0 comes with everything you need to make travel convenient and streamlined with its features hidden all over the jacket. All three colours, olive, black and blue, come with a 100% water resistant protective outer lining for $178.
Women's Sweatshirt 2.0
For breathable comfort all day long, try the BauBax women's hoodie. It's built in eye mask, inflatable neck pillow and footrest will help you to stay relaxed and cozy throughout your travels. The Women's Sweatshirt 2.0 is offered in navy and charcoal for $128.
You can take this on a train, bus, plane, or car ride and be so much more comfortable compared to a regular sweater.
Women's Windbreaker 2.0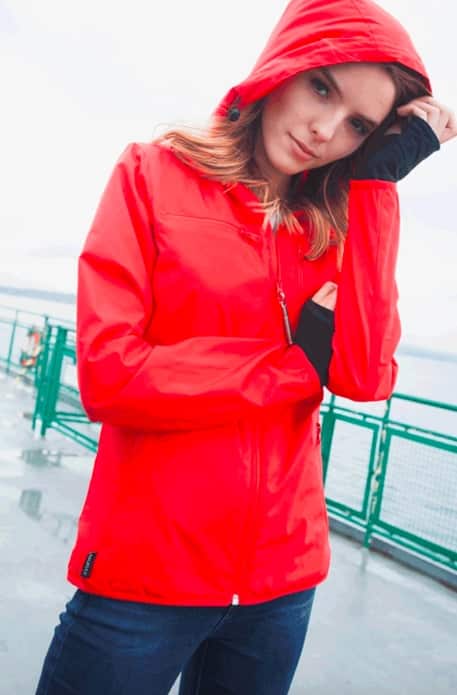 The Women's Windbreaker is the ultimate jacket for ladies with an active lifestyle. It's made using proprietary valve technology, which inflates the built-in inflatable neck pillow in two seconds and deflates in one press.
Tucked away in the sleeves are detachable gloves. Keep them hidden when you don't need them or slid them out to keep your hands warm. The Windbreaker 2.0 is available in red and black for $148.
Women's Vest 2.0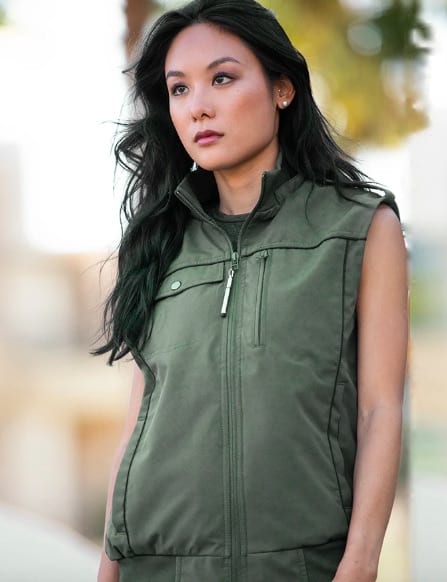 The Women's Vest 2.0 is tiny but mighty, as it includes all the key features for optimal travel experience. There are ten different pockets designed for easy access. You can fit your passport, ipad, phone, sunglasses or other loose items right in the comfort of your own jacket.
I can imagine the vest layering well with a white or grey sweater in the fall. The Women's Vest 2.0 available in blue, black, and olive, priced at $128.
BauBax Pants Review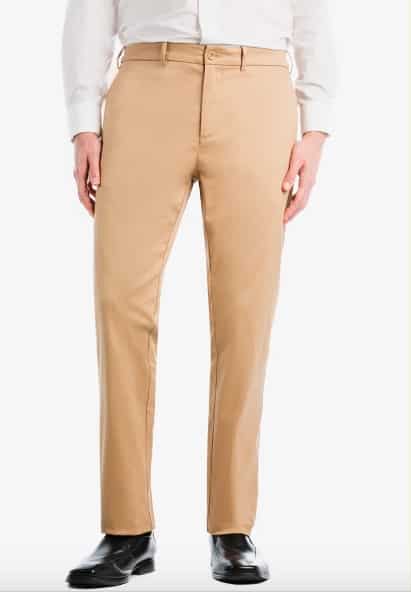 BauBax men's pants focus on fit and flair—you'll see that while they're built for travel, they would be a more functional alternative than regular pants in the same styles. The fabric is made from sustainable materials and the designs are loaded with features, as you'll see in this BauBax review:
Men's Chinos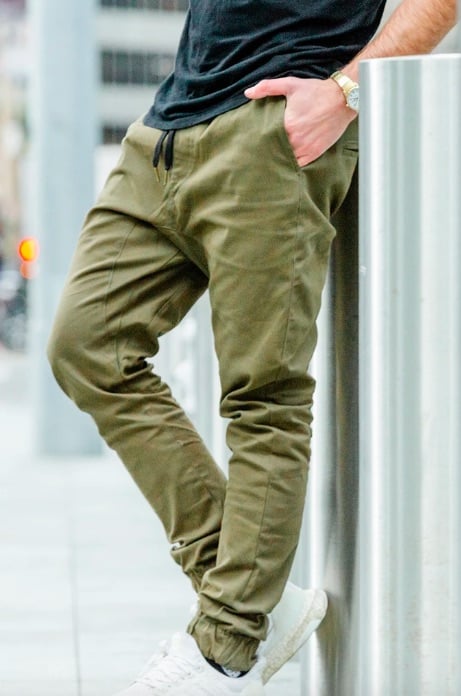 The Men's Chinos come in athletic and slim styles, the key difference being that the slim fit is tapered at the leg. These pants are made from a blend of merino wool and bamboo viscose for a luxuriously comfortable feel.
The fabric blend is stretchy, providing room to move and durability. The pants are stain resistant, feature odor control, temperature regulating, and quick drying. The Men's Chinos would pair well with a BauBax blazer.
The concept of travel chinos is new, and their use doesn't have to end to these circumstances: they can provide a stylish alternative to regular chinos that are missing the extra attributes. These Men's Chinos come in khaki and black for $128.
Men's Twill Joggers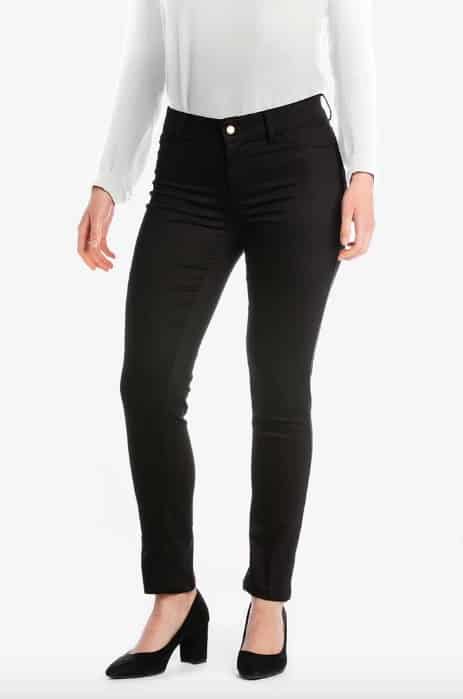 BauBax joggers feature a drawstring waistband, five pockets and banded cuffs. Each pair includes 15 distinct extras to make your travelling days easier. The unique blend of merino wool, bamboo viscose, and elastane create a soft and flexible pant. For $128, you can get the Men's Twill Joggers in olive or black.
BauBax Men's Twill Joggers
The first thing that came to mind when researching was that these Twill Joggers are a WAY more stylish alternative to wearing baggy sweatpants as you travel. You know how when you're at the airport and you notice that some people are dressed fashionably, while others look like they've just given up on style in favor of comfort? There's no need for that with these pants.
Look edgy and chic without compromising comfort with BauBax women's pants. With two styles, you'll have countless outfit options while travelling.
Women's Trouser Leggings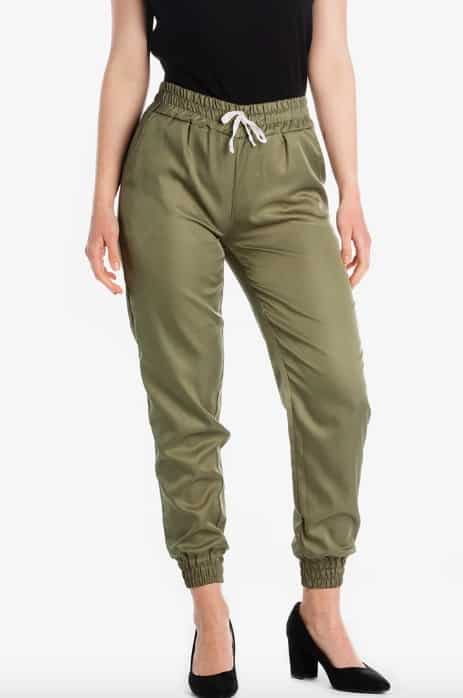 From desk to dinner to flight, mix leisure and business with these comfortable trousers. The gold top button and zip fly give this pant something special. The Women's Trouser Leggings have six pockets, two deep front ones, two rear and two hidden rear zippered pockets to gently secure your essentials. They come in classic black or beige for $128.
Have your airport outfit set for life with these women's twill joggers. The pants provide a lot of room in the hip and thigh region for maximum comfort, especially when you want to relax on long flights.
BauBax Women's Twill Joggers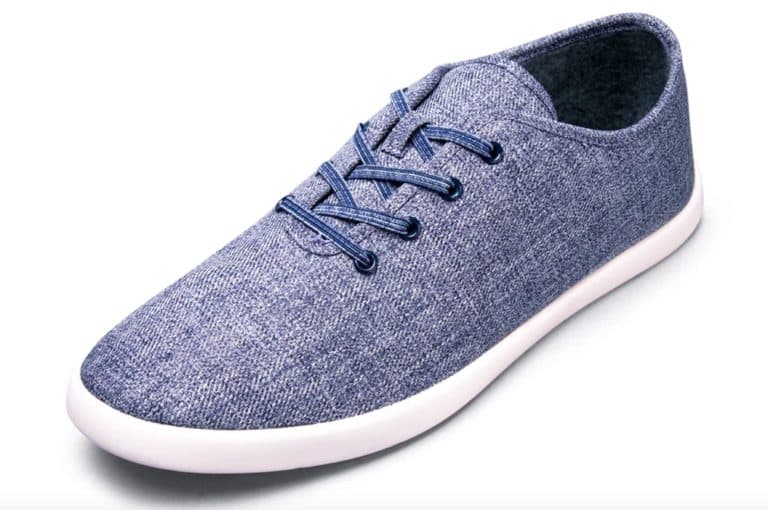 The Women's Twill Joggers have an elastic waistband, bottom cuffs, and a draw cord so you can adjust how they fit. The women's twill joggers are available in olive or black for $128.
BauBax Shoes Review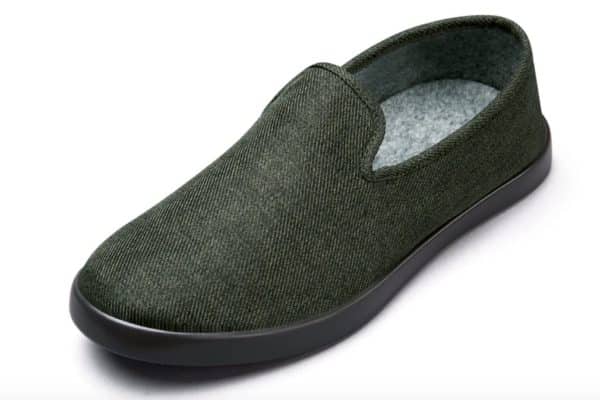 BauBax shoes are designed with the same high quality as their clothing. They feature a comfortable coconut noir midsole which makes the shoes breathable and extremely light. A natural latex insoles provides the right amount of cushion and support to give you that added pep in your step.
BauBax footwear is made of Australian merino wool, which has antimicrobial properties and prevents odor. Merino wool is moisture absorbing, so your feet will stay dry. Each shoe is made from soft and sustainable bamboo, featuring a sweat absorbing and temperature regulating upper. BauBax also boast adaptive support, responsive cushioning, and superior grip.
Mens Loungy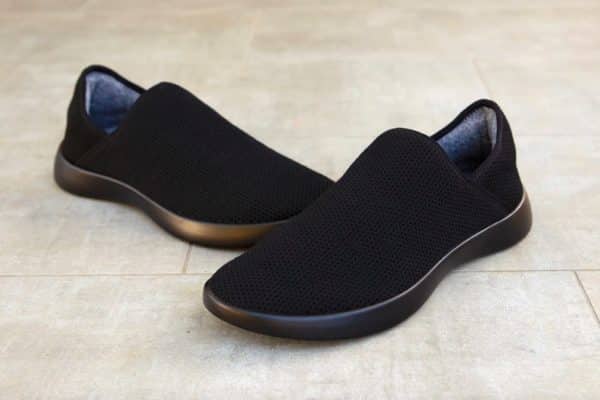 The Men's Loungy line offers the ultimate weekend shoes, available in two styles. Both shoes costs $128, with available colors including available denim, grey and dark olive.
The Loungy Laced shoes can be dressed up or down and have the look of a sophisticated sneaker. Their laces provide superior grip and an added accessory to the shoe.
The Loungy Loafers are perfect for slipping on in a rush with their lack of laces. They feature a sleek-looking outsole that has a soft metallic colored shine. The shoes are built for durability and high performance, designed to pair with casual streetwear.
These are the BauBax shoes that will take you the extra mile. For $128, you can choose between two styles that come in black, khaki and olive for the Men's Breezy line.
The Laced Breezy shoes offer great arch support, perfect for those who tend to be late a lot and need to run to be on time. Choose laced for a more playful look that can easily be taken from casual to chic.
BauBax Breezy Loafers stand out with their shiny metallic-looking outsole, which is built for traveling in comfort. They are constructed with perfect grip and support and are made for easy access.
Women's Loungy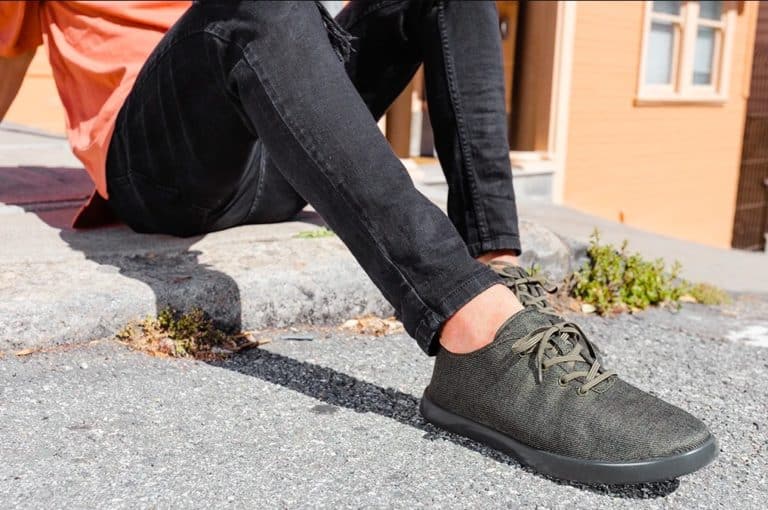 BauBax's range of women's shoes combines ultralight comfort with high-performance technology for your busy lifestyle. The Loungy collection for women offers two styles to make your outfits more versatile. The Loungy line costs $128 and is available in denim, grey, and dark olive.
The Laced Loungy is designed to take your wandering feet wherever they need to go. Whether you're exploring city streets or catching your next flight, these shoes are a lightweight and comfortable go-to with the interesting faux metallic outsole.
BauBax Women's Laced Loungy
The Loungy Loafers are for women on their feet all day, and who need a solid pair of shoes that they can trust. These are designed to keep your feet cushioned with every step, so your feet aren't another thing you have to worry about in your busy day.
Breezy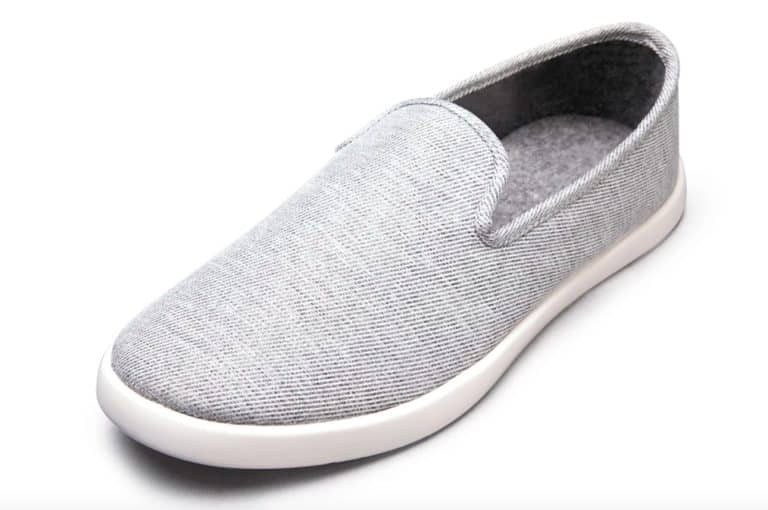 The Women's Breezy collection offers two everyday styles that take casual footwear to the next level. You can choose between pale pink, black, khaki, and olive, and both styles cost $128.
The Breezy Laced offers heel-to-toe cushioning and arch support. They're constructed with ideal grip and support, suitable for anything between shopping, to yoga, to hiking.
The Breezy Loafers take away the hassle of pausing to tie up laces, designed to appear sleek and simple. These shoes are a great option for exploring new cities and anything that doesn't involve an uphill climb.
BauBax Clothing & Shoes Review: What Do Customers Think? 
@bau.bax
Before any retail purchase, the best way to make an informed decision is to read the reviews and experiences of verified customers, which we include in this BauBax clothing & shoes review. I searched the Internet to find out what customers had to say about BauBax on the brand website and on exterior sites.
Here's what people consistently included in their Baubax clothing & shoes review:
Positives
Good performance
The additions were useful, such as the gloves, neck pillow, zipper pulls
Will use the product again and recommend it to friends
Quality is as advertised
Negatives
The size runs tight
Features were not as advertised, for example, one reviewer mentioned: the inflatable pillow is not connected to the jacket, it is stored in a pocket in the hood and side pockets are shallow and do not zip closed
Poor quality
On the BauBax website there are over 2000 product reviews and over 500 site reviews with the brand receiving an almost perfect 5/5 stars. Here are some BauBax clothing reviews:
A customer who purchased Men's Athletic Chinos wrote in a Baubax clothing review: "First of all: It fits perfectly. Second: It always looks casual and professional at once. Third: It keeps you warm when it's cold and cool when it's hot. Simply wonderful. It's my favorite trouser now."
Another customer said this in her BauBax review on the Women's Trouser Leggings, "The trousers are way too small and don't have much stretch. The pockets are shallow and not good for travelling – only for show. They look cheap actually. I really wanted to like them and was looking forward to the concept but I think the reality didn't work too well."
Is BauBax Worth It? 
After spending time researching and learning about BauBax products while writing this BauBax clothing & shoes review, I have gathered my own thoughts on the company based on pricing, value, customer feedback.
The price of the products seem fair for all the features that they offer. Comparable jackets on the market may cost the same, but don't have all the advantages BauBax provides. All the products, either jackets or shoes, are designed to last and have travelling specifically in mind, so I have no doubts about their longevity.
Give it a shot! If you're an outdoor adventuring enthusiast, or someone who is constantly on their feet, BauBax offers products that are well suited for you.
BauBax Promotions & Discounts 
To help you save even more with your purchase, this BauBax clothing & shoes review spreads the word on current deals offered by the brand:
If you sign up with your email on their main website, you will receive $20 off your first purchase with BauBax promo code WELCOME20
Get $25 off your order with the code THANKYOU25
Get 15% off when you spend $100 or more with BauBax discount code BUDDY15
Get $10 off your first order with BauBax coupon code WELCOME10
BauBax Sizing
This BauBax clothing & shoes review provides general sizing for jackets, pants, and shoes. For more in-depth information on sizing, refer to the brand website.
Men's jackets: XS to XXXL
Women's jackets: XS to XXL
Men's shoes: sizes 7-14
Women's shoes: sizes 5-11
Men's slim and athletic chinos: waist size 28-42 inches
Men's twill joggers: XXS to XXL (waist size 26-42 inches)
Women's pants: XXS to XXL (waist size 24-38 inches)
BauBax products can be purchased through their website or on Kickstarter. A limited selection of BauBax products can also be found on Amazon.
FAQ
Shipping Policy
BauBax offers worldwide shipping. For all orders and shipments, speed and costs may vary depending on location and value of purchase orders. For your convenience, this BauBax clothing & shoes review offers a breakdown of what you can expect.
To find out your shipping cost, add the desired items to your cart and proceed to the checkout page which includes a shipping calculator. Note that once your order is processed, no changes can be made. You will receive a tracking number through email once the order is processed. Once the order is placed, it takes 24 hours to process and ship your order.
The shipping costs depend upon the location of where the order is placed and the number of items in the order
They offer free shipping worldwide on orders over $150
They ship to all countries except Cuba, Iran, Iraq, North Korea, Lebanon, Myanmar, South Sudan, Sudan, Syria and Yemen
For domestic orders, the orders take up to 3-5 business days to be delivered
International orders take 7-10 business days to be delivered. For some international orders, delivery time may vary
Express shipping is currently not offered
BauBax ships duty-free to the US, European Union, Australia, Canada and Hong Kong only
International shipments may be subject to import taxes, duties and custom fees
To reschedule a package delivery, or if tracking says your order was delivered it was not received, email [email protected].
Return Policy
BauBax's return policy is hassle free. All requests, fees, and processes may vary depending on the location and value of requested orders. For your convenience, this BauBax clothing & shoes review will take you through the process of completing a return.
BauBax offers free 30-day returns, although clearance sale items are not eligible for returns or exchanges. Once the return is processed, it takes approximately 5-7 business days for the refund to be shown in your account. Returns can take up to 14 business days from the time the item is received, returned and refunded.
Returns and exchanges will only be accepted if the item is unworn, unused and includes all tags. To initiate a return, email  to submit a return request with your order number and the return or exchange details. You will then receive a RMA and instructions on how and where to ship your item. Do not ship to the address provided on the packing slip.
If a return has taken more than 14 days, or you receive a defective product,  with the tracking number provided. Customers are responsible for paying the cost to ship the products back for a refund or exchange.