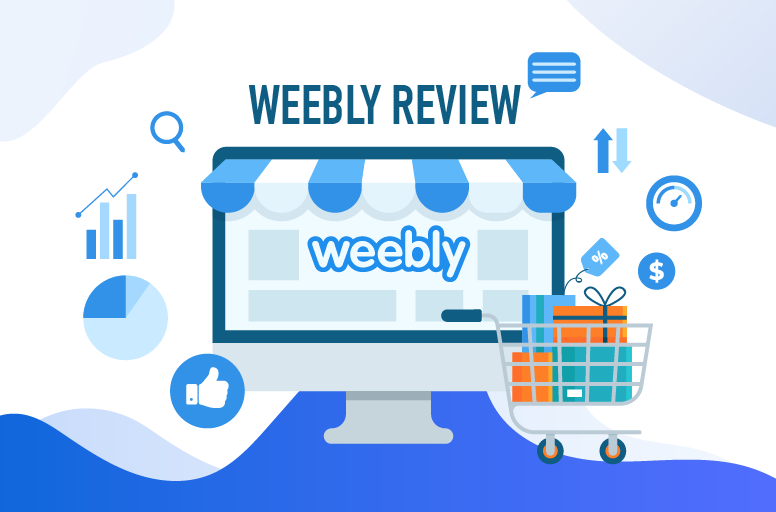 What is Weebly
Weebly is a good option if you want to build a website for free thanks to its generous free plan. However, it's more outdated than a lot of other platforms, with limited customization and few of the tools necessary for long-term growth. That said, it's good for beginners, providing step-by-step guidance, particularly for SEO.
Weebly is best for small businesses who want to stay small. As far as website builders go, it's pretty basic, but the advantage of this is that you can get your site up and running in no time. It also comes with a great app store, meaning you can add extra tools to your site as and when you need them.
In our Weebly review, we'll be walking you through each of the areas we tested – including Weebly's ease of use, designs, pricing, and features – to help you decide if it's the right website builder for you!
Overview of Weebly
Powering over 50 million websites worldwide, Weebly is one of the most well-known and popular website builders out there. This is thanks to its beginner-friendly structure and affordable prices. After testing over 50 different platforms, we feel confident saying that it sits very firmly in our top five website builders. Check out all of its scores below:
Overall, Weebly scored 4 out of 5, placing in fourth position behind Wix, Squarespace, and GoDaddy. Weebly's standout strength is its value for money – it came top in this category with full marks thanks to its free plan and its selection of affordable premium packages.
Scoring 3.5 out of 5 for its features, it's safe to say that although Weebly isn't the best of the bunch, it does cover all the basics and it has an impressive app store. This makes it perfect if you're just starting out.
We particularly like the way it eases users into Search Engine Optimization (SEO), providing in-depth knowledge guides and tips to help you get your head around it.
Is Weebly Easy to Use?
Quick Look: Yes, but it's a bit complicated. Weebly is easy to use in the sense that instead of dealing with abstract lines of code, you drag actual images, text boxes, buttons, and more around your page until you're happy. However, there are limits to where you can move things, and you are somewhat restricted by the structure of the theme you choose.
For this reason, Weebly scored 3.4 out of 5 in our ease of use testing. It's not quite as easy to use as Weebly's top competitor Wix, due to frustrations over limited customization. But for beginners looking for an easy start, Weebly isn't a bad choice.
Weebly is a "what you see is what you get" website builder, meaning you build your page exactly as you'd see it online. No skipping between a backend and a front-end, or having to edit raw code just to move an image.
What Kind of Website Can You Make With Weebly?
Weebly has a huge app store, and like many website builders out there, it also comes with a ton of built-in features to help you build the website of your dreams. However, Weebly also has strengths and weaknesses that make it a better fit for some users than others. Let's take a look at who Weebly is best for, to help you make the right decision.
Business websites are right at home with Weebly – in fact, businesses are Weebly's main target audience. Visit Weebly's website, and you'll see a lot of messaging focused on helping businesses get started, grow online, find customers, and sell products.
So, what does this mean? Well, don't write Weebly off just yet. If you're looking for a small business website that acts as a point of information for your clients, it'll do exactly what you need it to. As long as you're looking to stay small, Weebly is a perfect small business builder.
How Good Are Weebly's Themes?
Weebly doesn't have the biggest range of themes – there are around 50 to choose from in total – but the ones it does have aren't the most spectacular. They aren't bad and you can switch templates at any time– but they equally can't compare to those offered by the likes of Wix and Squarespace.
The good thing is that they come in a range of styles, although they do favor grid layouts and full-screen image backgrounds. This makes for quite a pleasing look on desktops, but things start to go a little wrong when you move to a mobile device.
Unfortunately, despite their claims, Weebly's templates aren't mobile responsive. Its designs don't translate well to smaller screens, and very often, the formatting is completely wrong. This is disappointing considering that mobile accounts for around half of web traffic worldwide, and plays a large role in Google rankings!
How Customizable Are Weebly's Themes?
Despite being pretty underwhelming, Weebly's themes tick most of the basic boxes – they look okay, they're all free, and there's a variety of different designs to choose from. You can even switch themes at any time. There's one more important box left to check off, though, and that's customizability.
You want to make your website unique and stand out from the crowd – you might even want to change the design of your theme to do this. This is where Weebly makes it super easy to edit your website, but offers less creative freedom than other builders, such as Wix.
Weebly's themes are more structured – you can't simply drag anything anywhere you like. This is a positive if you're nervous about designing your site, because it acts as a guide for your page layout. But, if you want total control over your website, Wix is a better choice. Weebly's structured themes may become frustrating as you try to customize your site exactly how you want.
What Are Weebly's Key Tools and Features?
When it comes to features, Weebly can't quite compete with the high scores earned by Wix and Squarespace, but it still managed to earn a third-place position during our research with its score of 3.5 out of 5. Below we'll dig deeper into all its most important features.
Weebly has an impressive app center where you can find both free and paid apps, which you can install with just one click and integrate with your own website.
You get all the basic features built into your Weebly editor, such as text blocks and image galleries, but the Weebly App Center is perfect for adding more advanced tools and features to your website – such as FAQ sections or "Back to Top" buttons.
This is useful for finding the app you're looking for, as there's hundreds to choose from in total. Useful apps include pricing tables, accordion tabs, an Instagram feed, and Facebook Like buttons. You can even integrate Facebook Messenger into your website so you can chat with your visitors!
How Much Does Weebly Cost?
The first thing to know about Weebly's pricing and value for money is that it's so good, it scored a perfect 5 out of 5 in our research for this category. It's the only builder out of our top 14 website builders that can claim this, so it's definitely something worth shouting about!
Its performance in this area comes down to a few things. First and foremost amongst these is the fact that it has a free plan. That means it's 100% free to build, publish, and even sell with Weebly – there's no time limit, and no hidden costs to catch you out. The free plan is perfect for trying out Weebly to see if it's the right web builder for you, or saving money while you get your site ready to publish.
However, we don't recommend staying on Weebly's free plan. Why? Well, you'll have adverts displayed on your site, you only have limited features (such as 500MB storage), and you can't use a custom domain.
Those are three big drawbacks, which make it sensible to upgrade to a paid plan if you're planning on anybody else seeing your website. Upgrading will also give you an extra shine of professionalism, so more people will take your website seriously.
Weebly Review: Summary
Although it's not the very best website builder out there, after giving it a thorough test, we can confidently say that Weebly is a great option for beginners looking to get online quickly and easily.
Its overall score of 4 out of 5 places it very firmly in the top five builders, and as the only builder to score a perfect 5 for value for money, it's got a lot to recommend it, especially if you're on a budget.
It may have come out of our testing with a lower ease of use score than some of our other builders, but once you've got used to the platform, it becomes very simple.
The real thing holding it back is the lack of development in recent years, meaning other platforms have improved, whilst Weebly has remained pretty much unchanged. This is partly responsible for its lower design score, too.
However, we can't question how kind it is to your wallet! To get the best out of Weebly, we recommend that you start with a free website. This is your chance to get to know the editing interface, and judge for yourself how easy (and difficult) its various features are, as well as giving you the chance to check out its templates.
Weebly Review: FAQs
Is Weebly a good builder?
The short answer to this question is yes. However, it's not the best. Weebly has everything you could need to get your website up and running, but it lacks some of the extras that make Wix and Squarespace so popular.
Is Weebly really free?
Yes! And there's no limit to how long you can stay on the free plan, either. That means, if you wanted to, you wouldn't ever have to pay for your website! However, there are some drawbacks to the free plan. Your website will be covered in ads, and you won't be able to use your own domain name.
Is Wix or Weebly better?
In our research, Wix outperformed Weebly. It gives you more creative freedom over your site, and our users found it easier to get to grips with. Wix also has a free plan, but its price plans are more expensive than Weebly's. Overall, Wix is the better builder than Weebly – however, it's about finding the best builder for you. They both have free plans, so why not take them both for a spin?
I'm starting a blog. Should I use Weebly or Squarespace?
In our testing, Squarespace came out on top for blogging, scoring 4.7 out of 5. It has a ton of a high-quality blogging features, along with some of the best template designs we've ever come across. This makes for a winning combination when it comes to blogging, where style is just as important as substance. For this reason, we'd recommend using Squarespace over Weebly.
Can I create a multilingual site with Weebly?
Yes! There are apps in Weebly's App Center that let you create your Weebly website in multiple languages, making it easy to offer content to visitors from all over the world.