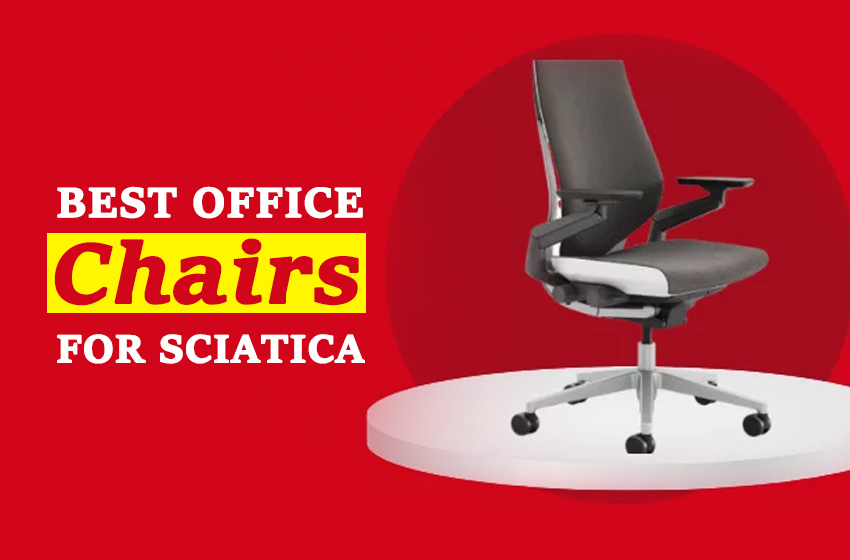 About Steelcase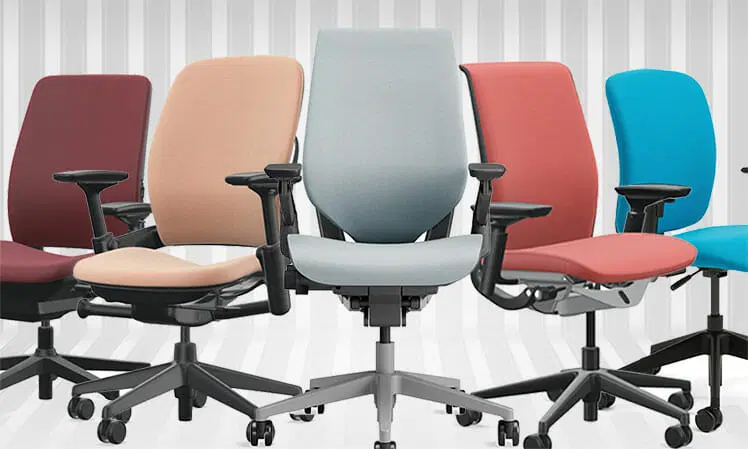 Founded in 1912, Steelcase is the largest office furniture company in the world. The company earns billions every year producing furniture for the office, education, and retail industries. Recently, Steelcase set up a dedicated work-from-home division This article reviews its 2022 lineup of ergonomic office chairs.
The best Steelcase office chairs range in price from $244 to $1244. Aside from the cheapest Jack model, all come with rock-solid 12-year warranties. That helps to offset the high price of these chairs.
For example, spreading the cost of a fully-loaded $1244 Gesture chair over the warranty period works out to $103 per year. In that context, even the most expensive Steelcase chairs offer excellent value for money.
Best Steelcase Ergonomic Chairs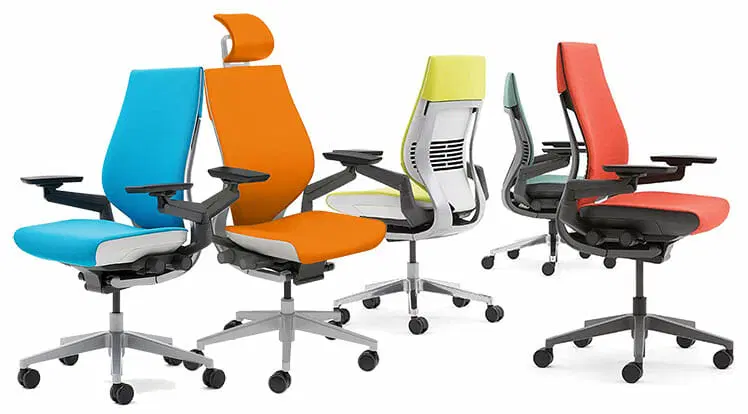 All Steelcase chairs share similar qualities. Standards include fabric padded seats, adjustable arms, tilt functions, and adaptive backrests. But there's a clear hierarchy in the 2022 collection. As you slide lower down the pricing scale, you get more basic feature variations.
For instance, a top-of-the-line Gesture chair comes stacked. Highlights include an ultra-adaptive backrest and mega-adjustable arms. 3D Liveback System. In contrast, the cheap Jack chair has a simple padded backrest and basic 1D arms.
Gesture: best tilt functions, backrest adaptability, and armrests. ($1218-$1244)
Leap: has the same features as the Gesture with an older, more dated style. ($1080-$1325)
Think: has a cheaper lumbar support and backrest than the Leap. ($778-$974)
Amia: has the same features as the Think (except for sync-tilt). ($849)
Jack: entry-level chair with fixed arms, sync-tilt, and a 5-year warranty. ($244-$329)
Here are our 2022 reviews of the best Steelcase chairs. The Gesture stands tall as the flagship. As you slide lower down the scale, chair functionality gets more basic.
Gesture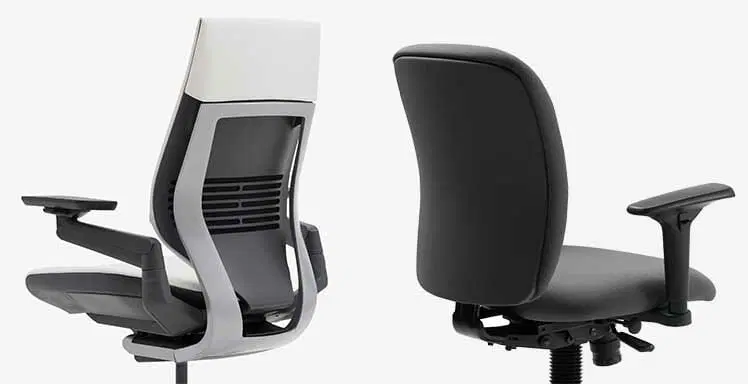 The Steelcase Gesture provides effective posture support and opportunities to move while sitting. It has a wide range of adjustments to support long periods of PC, tablet, and smartphone work.
While developing the Gesture chair, Steelcase conducted 11 studies with 732 participants. For the Gesture chair, Steelcase went even further. Its global posture study conducted studies on 2,000 people across six continents.
The result was a chair with a slightly revised feature set than the Leap. The Gesture chair has three key differences:
Refined synchro-tilt: reclines that backrest while tilting the seat up, instead of forward.
Flexible seat edge: the entire outer seat rim is flexible. No matter what position you sit in, the edges will flex to support your legs.
Articulating arms: provides a wider adjustment range than other chairs. This ensures support for both PC and mobile device users
The 4D armrests have a height range of 7.25-11.5 inches. They also come with a massive width-adjustment range of 10.25-22.5″. These dimensions let you keep the armrests low and out of the way. In contrast, you can raise them to almost mid-chest and swing them closer to your body. That provides clever elbow support when working with a tablet or smartphone for long periods.
That provides enough room to swing the arms out of the way when you prefer working without support.
Features summary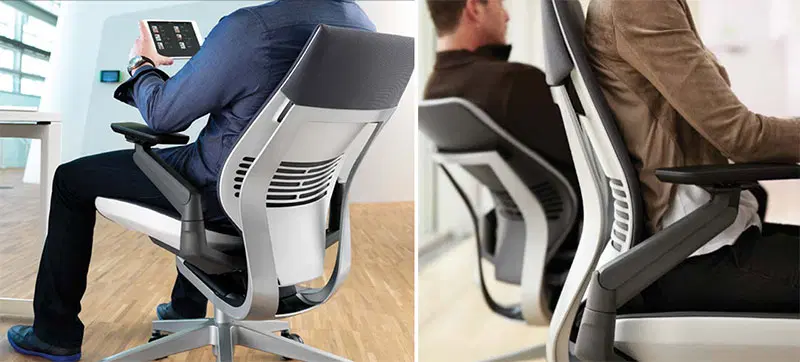 Synchro-tilt: seat pan angle 1°; backrest recline from 98° to 116°
Seat: height and depth adjustments.
Armrests: 4D armrests. Height range 7.25-11.5 inches; width range 10.25-22.5 inches.
Back support: adjustable lumbar; adaptive 3D Live Back system; 3-position seat and backrest tilt lock.
Warranty: 12 years on parts, lifetime on the frame.
The headrest is optional, depending on your preference. If you're used to gaming chairs, the headrest will support your neck's curve in a similar fashion. Without the headrest, the Gesture's back support works just fine.
Sizing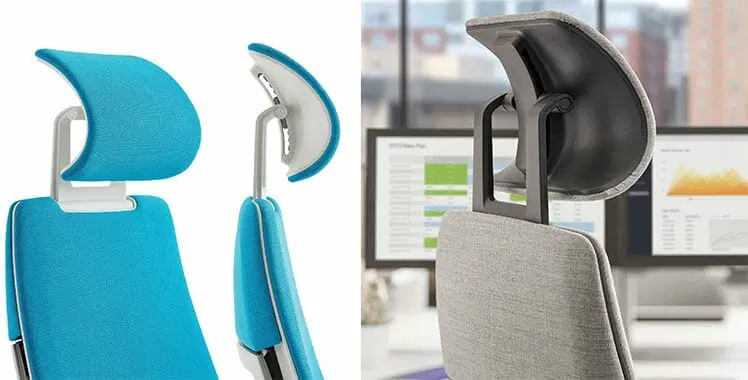 The Steelcase Gesture has a versatile one-size-fits-all design that should cater to a wide range of body types.
Seat width x depth: 19.25″ (W) x 15.75 to 18.75″ (D)
Backrest height x width: 24″ (H), 16.25″ (W)
Floor to seat range: 16-20.5″
Chair height: 38.5-43.5″
Size rating: people 5'4″ to 6'2″ tall; up to 400 pounds
Advice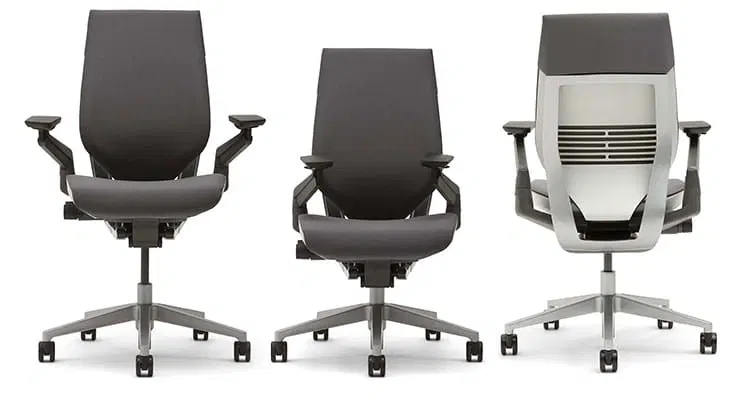 Like the Leap, the Gesture chair stands out with a superb build quality. Its 3D Liveback works as well as other adaptive backrests like the Herman Miller Aeron and Embody. Meanwhile, its 4D armrests have a greater range than all of the other high-end chairs.
If you can afford a Gesture chair, put it at the top of your list. It can adjust to fit most users and shines in the key areas. First, it provides excellent posture support throughout all recline ranges. Second, the synchro-tilt feature allows for plenty of seated movement. Third, the controls are intuitive and very easy to use.
Leap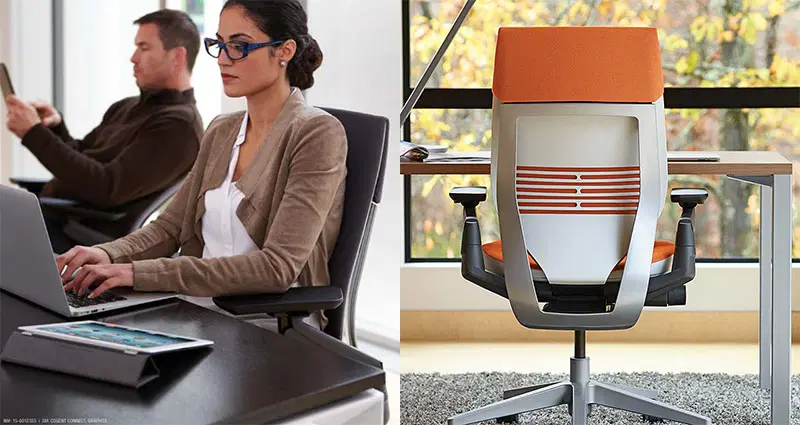 The Leap is the original Steelcase ergonomic chair. Three years after the Herman Miller Aeron debuted in 1996, Steelcase released the Leap chair. Minus a different shape and smaller armrest range, the Leap has the same features as the Gesture.
Those include sync-tilt, 3D Liveback back support, and a seat slider. But since it's not as flashy as the newer Gesture chair, it costs slightly less. If you're looking for value over novelty, a Leap chair may suit you better.
Key Features
The Leap made its mark with two standout features:
3D Liveback System

In regular chairs, when the user leans back, a gap appears between the lumbar curve and the chair. To compensate, most users will flatten their lumbar curve so that it continues to get support from the backrest.
To avoid that, the 3D Live Back flexes to provide consistent support throughout the recline range. With consistent support, the lumbar curve remains intact, ensuring good posture with proper hip alignment.
Synchronous Tilt
The second standout feature is an innovative synchro-tilt feature. As the user leans back, the seat tilts by one degree and also angles forward. That ensures the hips remain in a healthy alignment, with the thighs consistently parallel to the floor.
As the user leans forward, the seat contracts. That pulls the hips to the back of the chair for closer contact with the Live Back support. The result is that the user can enjoy plenty of movement while sitting.
Summary Of Features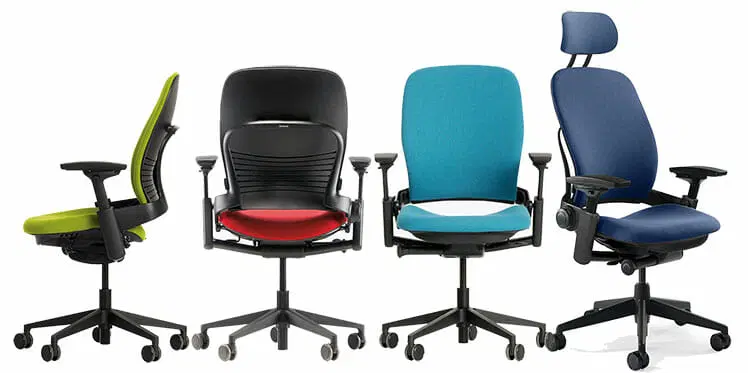 Complementing the Live Back and synchro-tilt are several robust extras. Those include adjustable lumbar support, 4D armrests and a 5-position tilt-lock.
Synchro-tilt: seat pan angle 1°; backrest 98° to 125°; 3-inch forward seat slide.
Seat: height and depth adjustments.
Armrests: 4D adjustable (7-11″ height range; 12.75-20″ width range)
Functionality: 3-position seat and backrest tilt lock; 4D armrests with a huge adjustment range.
Back support: 3D LiveBack (changes shape to mimic the natural motion of the spine).
Back support: height and depth-adjustable lumbar; 5-position tilt-lock recline.
Warranty: 12 years on parts, lifetime on the frame.
Upholstery options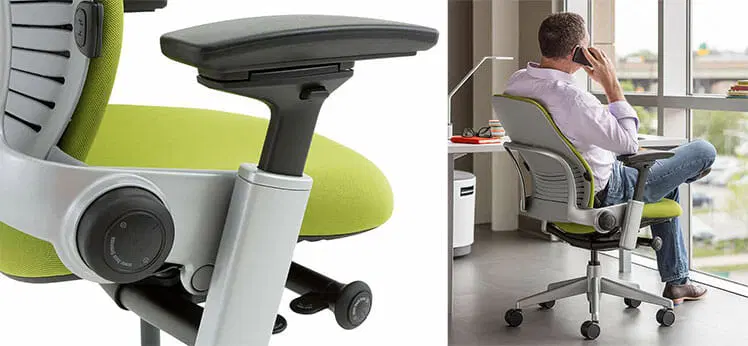 All Steelcase chairs have four upholstery options. Buzz 2 is the default option, while others cost extra. Here is a breakdown of the Leap color and upholstery options:
Buzz 2: tightly-knit polyester fabric with a coarse finish. Choose from 26 variations.
Cogent Connect: softer fabric in an array of fun, bright colors. 18 variations all cost $18 extra.
Leather: genuine leather in a few dark color options. 4 variations all cost $470 extra.
Elmosoft leather: a softer leather in dark colors with distressed patterns. 31 variations all cost $544 extra.
Steelcase Leap advice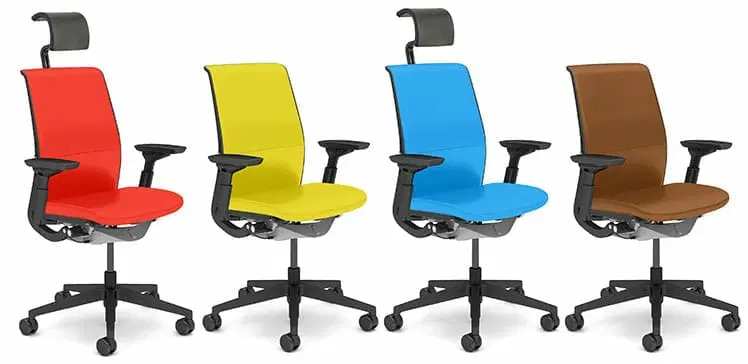 The Steelcase Leap looks, feels, and operates like a $1000+ chair. The build quality is superb. One of the few high-end chairs to support 400 pounds, it feels rugged and super-solid.
Features are on par with other world-leading chairs. The Leap chair comes with every adjustment imaginable. That makes it easy to fine-tune the fit to your needs.
There are two downsides. The first is the high price. The second is the fixed back. A height-adjustable back would make the Leap a better fit for users taller than 6'1″. Only those shorter will enjoy a perfect fit.
Think chair advice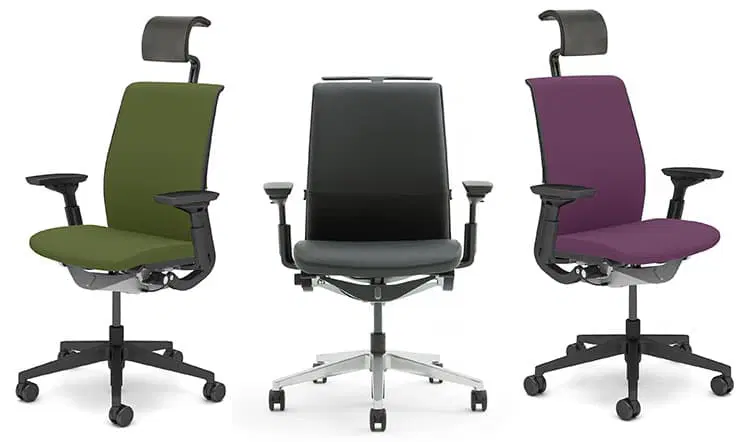 The fully-loaded Think chair includes optional 4D armrests ($145.35), adjustable lumbar support ($34), and a headrest ($98.60 extra). Both the 4D armrests and adjustable lumbar support add-ons are essential. Without those, the Think chair loses a lot of its ergonomic potency.
The height-adjustable headrest depends on your preference. Some people prefer having their neck supported, others prefer having no headrest. Whichever option you choose, expect superb lower back support.
Conclusion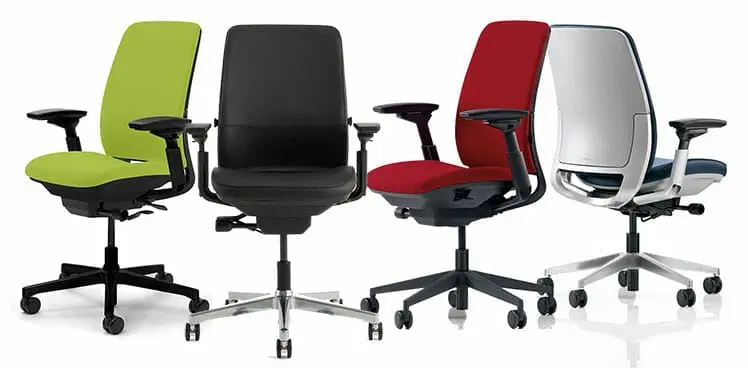 Steelcase makes most of its money selling chairs to corporate clients. In that setting, the ranking of 'best' Steelcase chairs would follow a corporate hierarchy. The CEO gets a Gesture chair. His leadership team gets Leap chairs. Rookie interns get basic Jack chairs.
From a work-from-home perspective, Steelcase competes with the Herman Miller WFH Collection. It offers premium Aeron and Embody chairs, plus a stripped-down Sayle edition. The Steelcase collection provides more options.
Gesture and Leap chairs stack up well against Herman Miller's flagship Aeron chair. However, its cheaper options cater to budget users better than Herman Miller does. If you want a high-end sitting experience for as cheap as possible, the sliding Steelcase hierarchy has a great range of options.