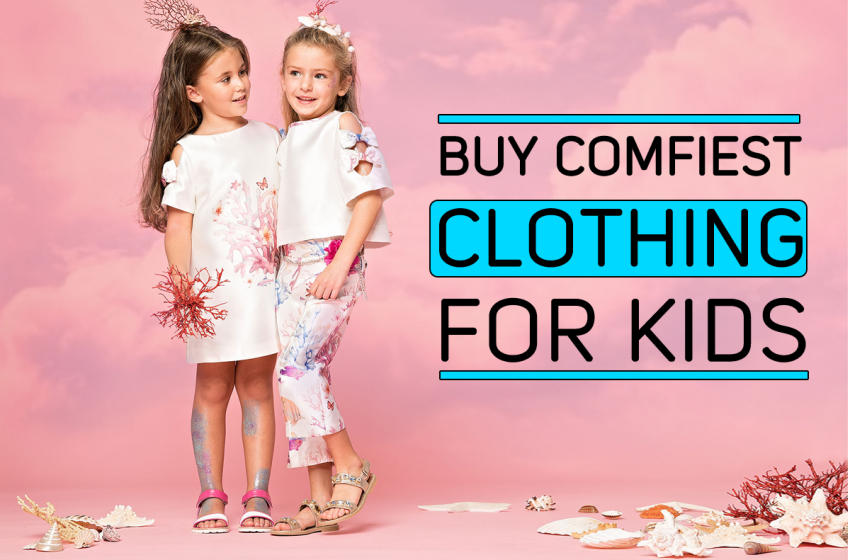 About OshKosh
There are a lot of things to consider when looking for children's clothing: durable and kid-safe materials, cute and quirky designs, a super soft feel, and of course, affordability since little ones are constantly growing.
Fortunately, OshKosh offers all that and more, with its vast selection of children's clothing in all different styles and designs for ages anywhere from 0-14. With 4.5m likes on Facebook and over 804k followers on Instagram, it's clear that this brand has stolen the hearts of parents and children worldwide.
Looking to dress your littles in some stylish new gear? Take a peek at this OshKosh review. I'll guide you through everything there is to know about the brand, their top selling products, customer testimonials, important FAQs, and more to help you determine if it's the right brand for your tots.
Overview of OshKosh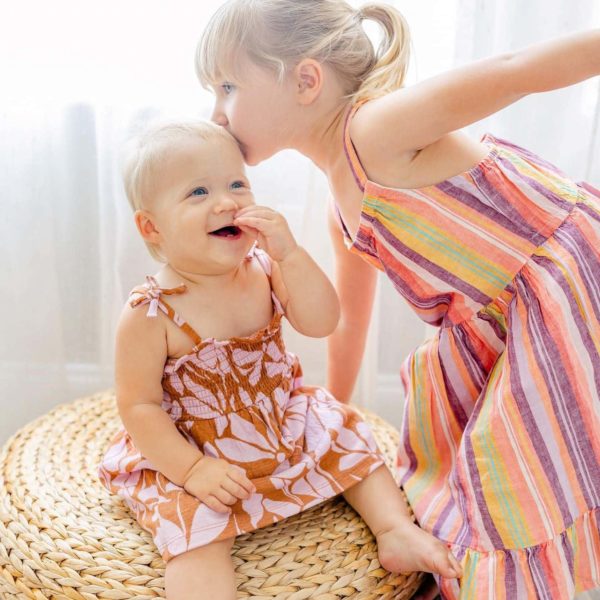 One of the most recognized children's clothing brands in the world, OshKosh B'gosh was first launched in 1985 in the city of OshKosh in Wisconsin, United States. It was originally named Grove Manufacturing Company as it was founded by Frank Grove, Howard Jenkins, and James Clark.
By 1896, Jenkins and Clark owned the company themselves and chose to rename the brand to the iconic name it still holds today. They started out by creating work clothing like overalls, and eventually transitioned to manufacturing children's clothing (overalls included).
Carter's, a company on a mission to "celebrate childhood by supporting babies, children, and families with thoughtful designs, quality materials and construction, and convenient shopping options," adopted OshKosh into its family in 2005.
Carter's, founded in 1865, is also the number one brand in children's clothing. So, it only makes sense that you'll find other popular brands like Little Plant and Skip Hop owned by the same parent company.
Today, the products are manufactured in facilities in China and Bangladesh and are available worldwide, meaning shoppers everywhere have access to adorable and functional pieces. Now that you know all the details about the brand's origins, I'll steer this OshKosh review into a look at some of their overall highlights.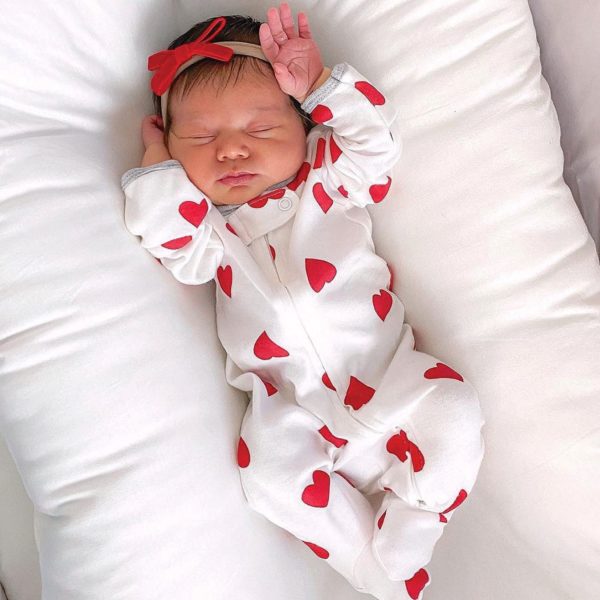 Highlights
Vast collection of affordable children's clothing for ages 0-14
Style conscious
High-quality fabrics and materials
Affordable prices
Easy to shop parent and sister brands such as Carter's and Little Planet at the same time
Free shipping on orders over $35
Plenty of discounts running all year long
Rewards program
Hassle free 90-day returns
OshKosh's collection includes a variety of clothing, from tops to bottoms, as well as fun accessories like backpacks and lunchboxes for newborns, babies, toddlers, adolescents, and tweens.
Fabrics include easy-to-wash cotton, polyester, and more. Plus, there are so many different patterns to choose from to suit every parent's aesthetic and child's interests. And if you're not sure where to start, the brand makes things super easy with subsections for ages, sizes, and styles.
All that being said, you may be looking for a little more in terms of details. To give you an idea of what the brand has to offer, my OshKosh review will guide you through some of my top picks down below.
OshKosh Review
Cute and trendy kids' clothes are sought after by many parents for a reason, from cute family pics to the smiling faces of your tots. But, the clothes should be functional too, made from durable fabrics, and feel super soft against their sensitive skin.
Since I mentioned that there is so much available for a range of ages, in this OshKosh review I will delve into the top-selling pieces from a variety of sections.
OshKosh Stretchy Hickory Stripe Overalls Review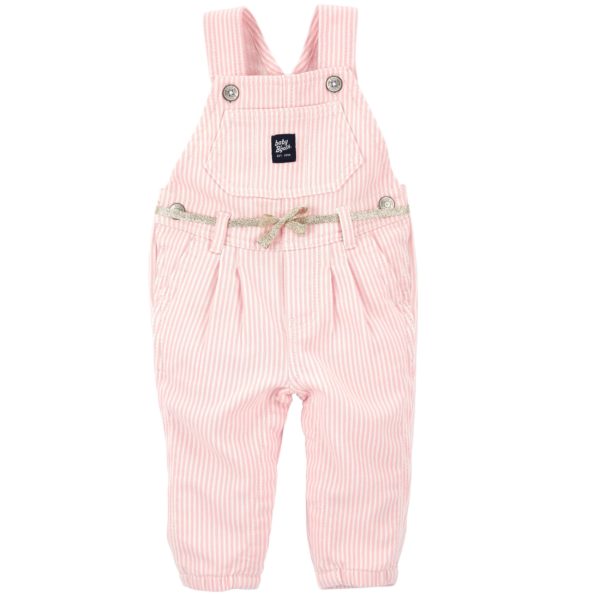 Since the brand started with a classic pair of overalls, it only makes sense to start this OshKosh review with the Stretchy Hickory Stripe Overalls. As the name suggests, this cute little one-piece is made from a soft and stretchy blend of cotton, polyester, and elastane.
It also comes with a sparkly gold belt and adjustable shoulder straps for hassle-free dressing and changing. Available in classic light wash denim or a pinstripe baby pink, the Stretchy Hickory Stripe Overalls come in sizes 3-24 months and retail for only $23 on sale from $38.
OshKosh I Love Mom Bodysuit Review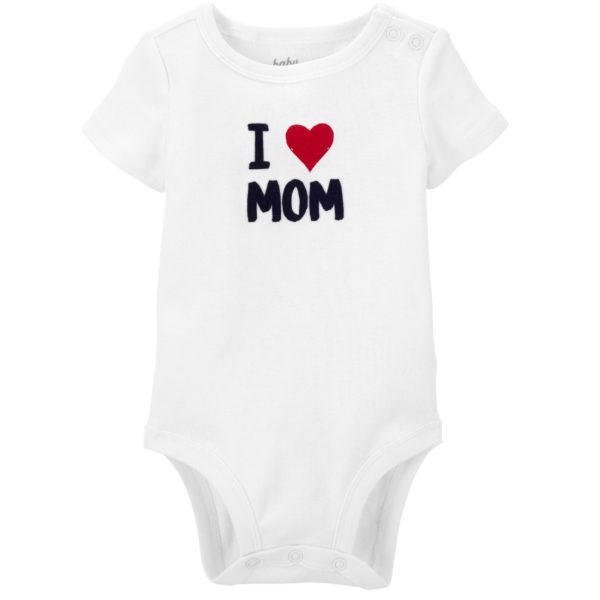 When it comes to photo ops of newborns, the I Love Mom Bodysuit has things covered. This super cute and simple design is reminiscent of the crowd favorite "I Love NY" tees, though it of course features a family-focused twist.
The bodysuit is made from a breathable cotton jersey material in a soft white shade, with the graphic logo as the center of attention. There are even snaps at the legs for easy changing.
The I Love Mom Bodysuit also comes in an 'I Love Dad' version and is available for sizes 3-24 months, retailing for $10 on sale from $16.
OshKosh Heart Fleece Cozie Review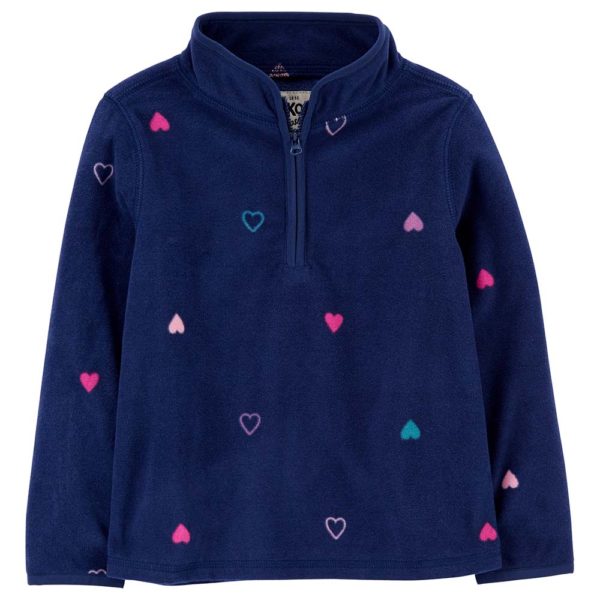 As the cooler months approach, keep your tot warm and toasty in the Heart Fleece Cozie. With a comfy quarter zip that provides breathability and easy on-off, this style is ideal for layering and is sure to keep your little one nice and warm.
It's made from a super soft and cozy 100% polyester microfleece, with a high neck, long sleeves, and a loose fit for extra warmth. It comes in a deep blue with a cutesy heart pattern, a color blocked pink or blue, and a sweet and simple floral design.
The Heart Fleece Cozie is available for little ones between 1-14 and retails for $28, though it's currently on sale for a steal of a deal: only $7.
OshKosh Straight Leg Jeans In Natural Indigo Review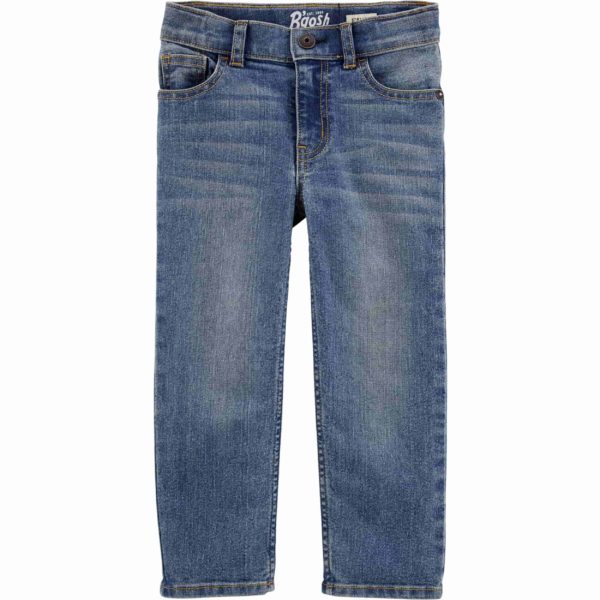 An essential to any wardrobe? A pair of Straight Leg Jeans in Natural Indigo. This style is pre-washed for extra softness and ensures no shrinkage after the first wear. They also have an adjustable waist that is ideal for kids that are still growing and changing.
On top of that, the front and back pockets are fully functional, while the sleek straight leg is easy to pair with any outfit. Made from a blend of cotton, polyester, and elastane, these stretchy and comfy jeans are sure to become a fav.
For ages 6 months to 14 years, the Straight Leg Jeans in Natural Indigo come in three different washes from dark to light and retail for $30-$34.
OshKosh Cotton Rib Henley Review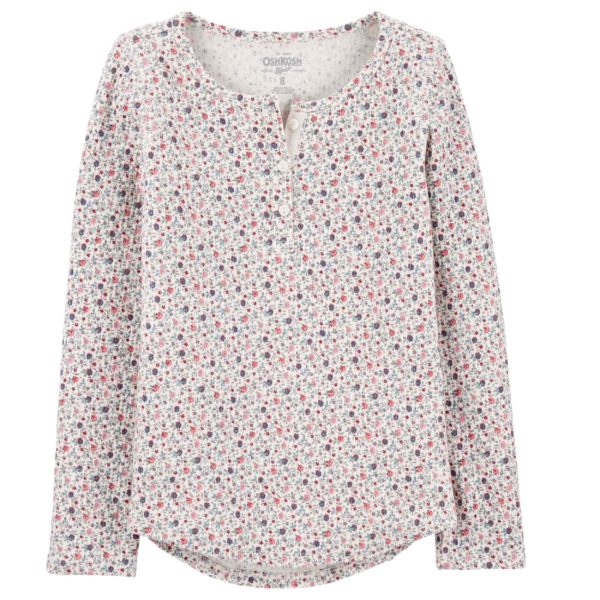 Your babe will find them comfy and happy in the Cotton Rib Henley. This style features a drapey, casual fit with a curved hem and the classic henley neckline.
It's made from a super soft and stretchy blend of cotton and elastane with a textured, ribbed fabric for the most comfort. It comes in a few different designs from a pastel-colored floral to striped sage green to suit any pattern preferences.
Available for kids from 4-14, the Cotton Rib Henley retails for $24 but is currently marked down to only $10.
OshKosh Long Sleeve Striped Uniform Shirt Review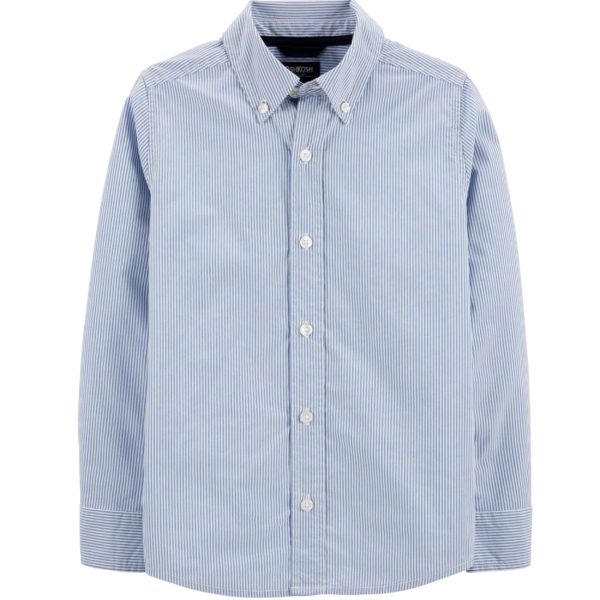 For a more sophisticated and dressy look, put your little one in the Long Sleeve Striped Uniform Shirt. Made from 100% cotton poplin for a soft yet structured look, this button-up dress shirt is ready for any formal occasion.
Pair this button-up with some sleek black pants and dress shoes to prepare your tot for family events, photoshoots, and maybe even their graduation. Available for kids from 4-14, the Long Sleeve Striped Uniform Shirt comes in a classic blue or a pinstripe blue for $15, marked down from $30.
Who Is OshKosh For?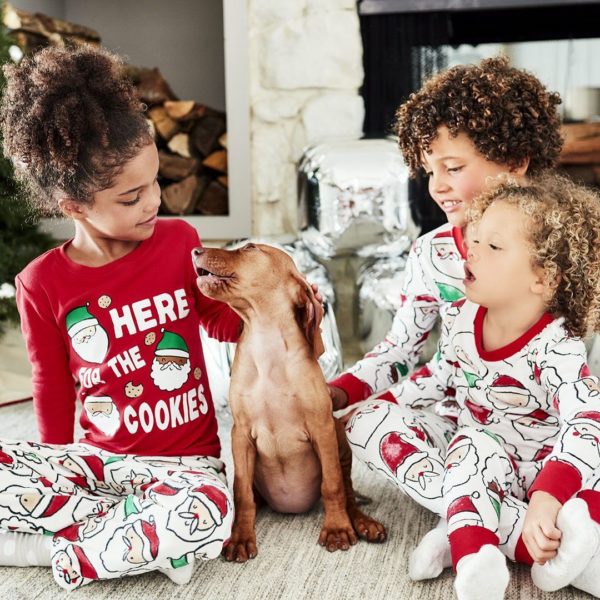 While OshKosh is designed for kids, it is very well loved by parents. So, it's easy to see that the brand is designed with the whole fam in mind. The clothes come with cute and trendy patterns that kids will love, with affordability and high-quality fabrics that parents will approve.
On top of that, the products are ideal for gifts, whether you're bringing them to baby showers or gifting them to littles. The truth is that kids can never have enough clothes. They grow so fast, soil them quickly, and love to wear fun designs and patterns. So OshKosh is here to help!
OshKosh Reviews: What Do Customers Think?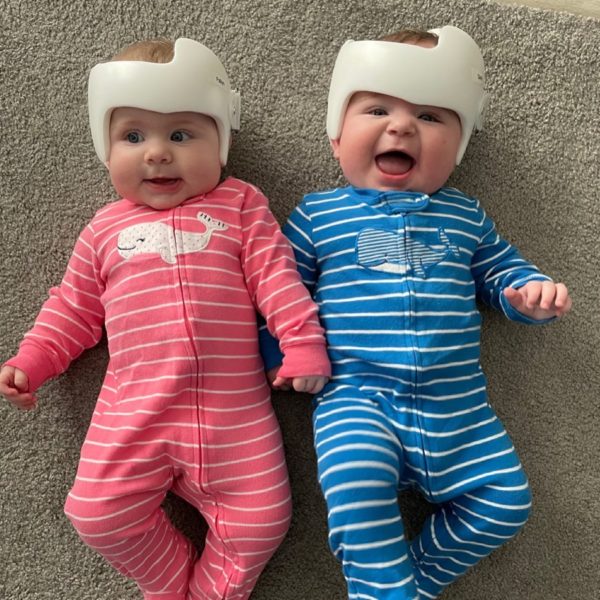 Despite the hype online, there aren't actually too many OshKosh reviews. That being said, there are comments and ratings of the pieces on the website, and I also sourced testimonials from Amazon, SiteJabber, BestCompany, and Zappos.
First up, let's start by taking a look at how some of our best sellers are rated:
Stretchy Hickory Stripe Overalls: 4.9/5 stars
Cotton Rib Henley: 5/5 stars
Long Sleeve Striped Uniform Shirt: 5/5 stars
On Amazon, the brand is rated 4.8/5 stars out of 886 reviews. One shopper describes how the jacket they purchased impressed both them and their little one:
"It is the perfect weight for cooler days but not too heavy. I love that the hood is attached and it's a zipper versus snaps. The first thing my daughter asked for was pockets and this jacket has them! A great plus is that it is both a windbreaker and water resistant for the bipolar midwest Spring weather!"
Another customer was impressed by the versatility of the jacket they bought, as well as the fact that it remained true to the product description: "I ordered this for my daughter and we have gotten so much use out of it. It rains once a day here and this jacket has been so handy on the warmer days. I ordered her a 6 so she could wear another jacket under if needed. She normally wears a 5."
The company receives a similar rating on SiteJabber, with 4.62/5 stars out of 57 reviews. One impressed buyer outlines everything there is to love about the brand, from excellent customer service to product selection:
"The clothes are so cute and they wash really well. It also holds up well to the active play of children. The stores always have a great selection of items that are displayed nicely. It is also very organized and easy to find what you are looking for. The customer service reps in the store are friendly and helpful."
One reviewer received them as a gift and was happy about the quality and designs, writing, "My friend gifted me some clothes for my baby from this shop. I like them all and find them pretty cool. I think they provide really comfortable clothes."
61 shoppers on BestCompany rate the brand 4.3/5 stars. A customer mentions that the clothes are made to last: "OshKosh has been around since I was a baby and the quality remains as great as it was since then. Whenever I purchase this brand of children's clothing, I know I can count on it to hold up for years to come."
Another patron shares similar sentiments, stating that the clothes have been used by three of their children: "When I had my first baby, I couldn't wait to put her in her first pair of OshKosh overalls. And all three of my babies have loved crawling around and playing in these well constructed, adorable clothes."
On Zappos, the brand receives 4.6/5 stars out of 38 ratings. One customer explains that the variety is great, the pieces are versatile, and the sales are great, writing, "I really like this style for my LO. I also liked that there was a 3 for the price of 1 sale! Good for any outfit!"
Overall, buyers make it clear that this brand delivers when it comes to stylish kids' clothes that are made to last. Plus, the pieces are versatile and make both parents and kids happy–and seriously, what more is there to ask for?
Is OshKosh Worth It?
With such a wide selection of children's clothing for so many ages, this OshKosh review deems this brand well worth the buy. On top of that, they're crafted from safe, soft, and durable fabrics that parents and kids will love.
Another key detail? The brand offers affordable prices, which is a must-have when kids tend to go through clothes so quickly. There are also plenty of opportunities for extra savings, but this OshKosh review will get into that further in the next section.
OshKosh Promotions & Discounts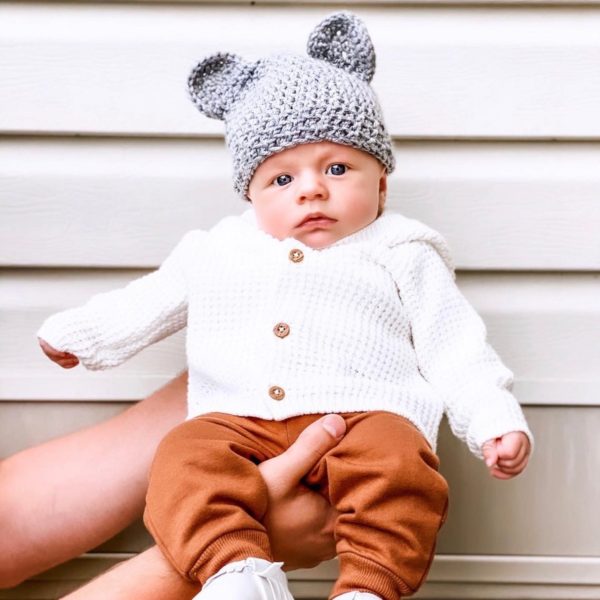 Looking for a discount on some of the bestsellers in this OshKosh review? Here's what I found:
Save 20% on your first purchase when you sign up for emails
Free shipping on all orders over $35
Save 30% when you sign up for the Carter's credit card
On top of that, you can visit the sale sections for a long list of savings:
Where to Buy OshKosh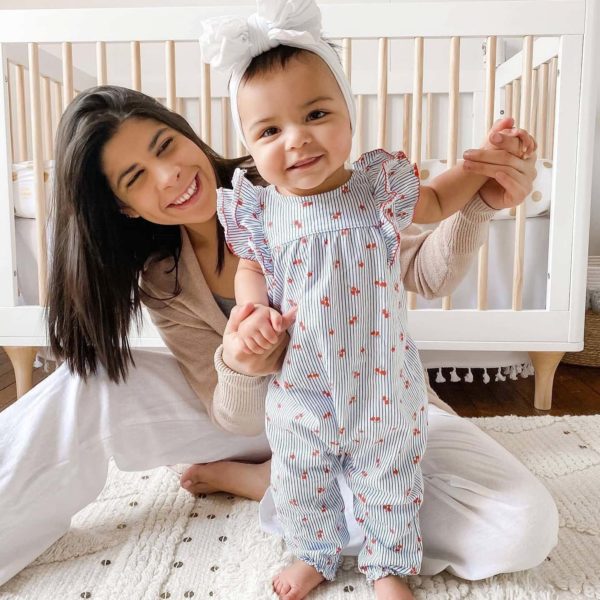 If something in this OshKosh review has caught your attention, you'll be happy to hear that the brand is widely available. Here's where to shop:
oshkosh.com
OshKosh stores
Walmart
Kohls
Target
Amazon
Bed Bath and Beyond
FAQ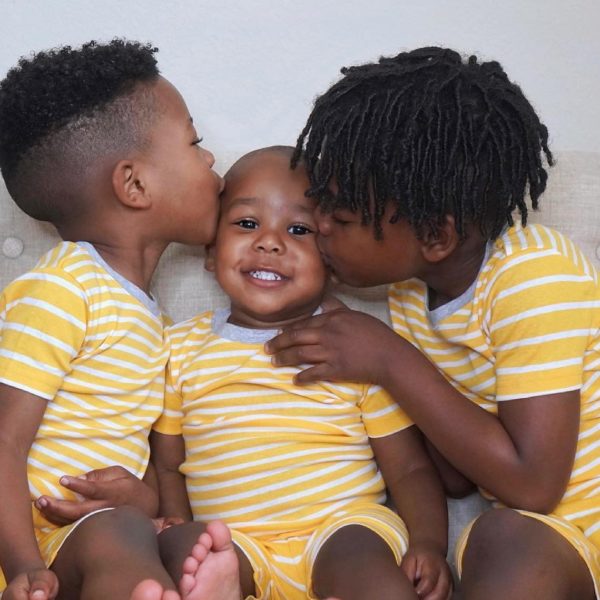 Who owns OshKosh?
At the time of this OshKosh review, I found that the brand is currently owned by Carter's Inc.
Does OshKosh ship internationally?
If you're already adding items from my OshKosh review to your cart, worry not. The brand offers international shipping, with costs and duties calculated at checkout based on location and the weight of the package.
Plus, orders only take between 5-14 business days to arrive, with more specific estimates available upon checkout.
What is OshKosh's Shipping Policy?
When it comes to shipping, I found that the brand offers multiple methods via USPS or FedEx to get your package to you in time:
Standard (3-8 business days): $6 or free on orders over $35
Expedited (3 business days): $15 (only available in the continental US)
Overnight (next business day): $25 (only available in the continental US)
What is OshKosh's Return Policy?
If your OshKosh order isn't the perfect fit, the brand offers a hassle-free return policy. Shoppers have 90 days to start a return using the function on the website with their order number, email, and zip code.
After that, the company allows shoppers to use the prepaid return label (a $6 fee will be deducted from the refund) or print their own. Then, the customer can simply send the item(s) back. In-store returns are also available.