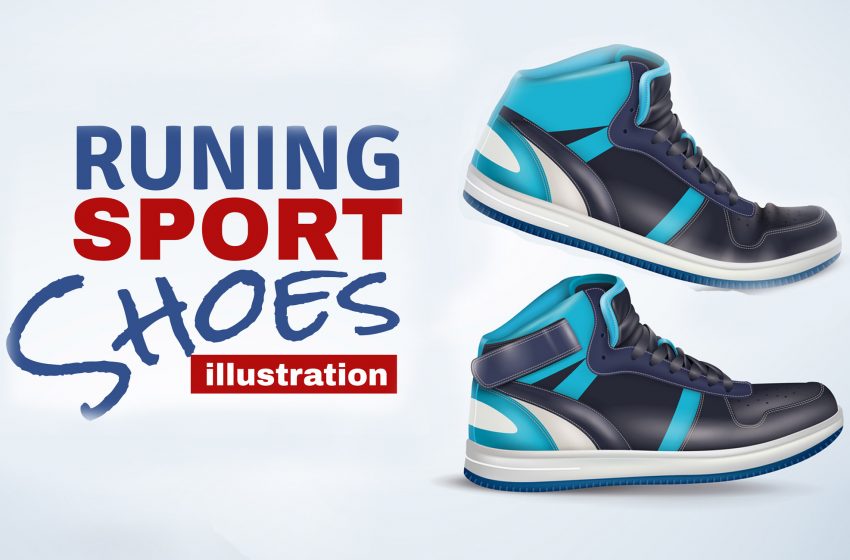 About Indestructible Shoes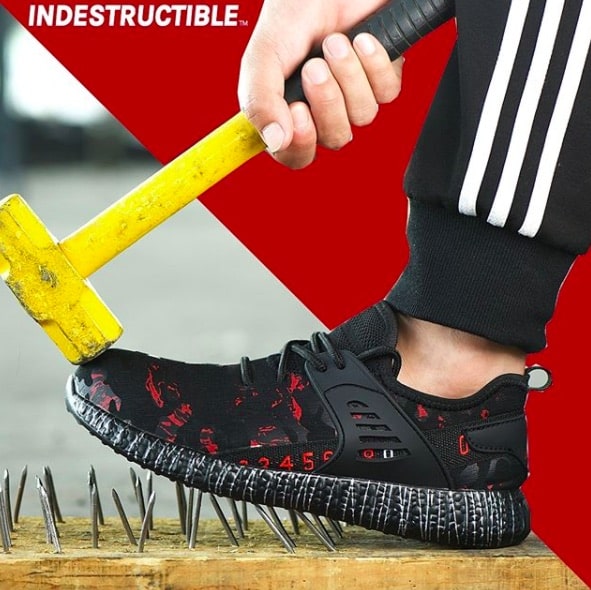 Indestructible Shoes specializes in high tech men's work shoes, promising safety and near invincibility in their footwear. The brand has been featured in Futurism and recommended by Military Times. Our Indestructible shoes review tells you everything there is to know⁠—if these shoes really are invincible, top sellers, customer ratings, promotions, and more.
Indestructible Shoes specializes in high tech men's work shoes, promising safety and near invincibility in their footwear. The brand has been featured in Futurism and recommended by Military Times. Our Indestructible shoes review tells you everything there is to know—if these shoes really are invincible, top sellers, customer ratings, promotions, and more.
Overview of Indestructible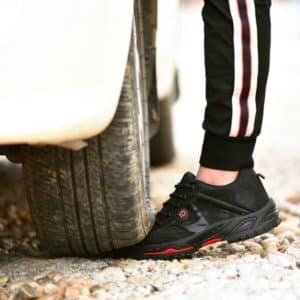 Indestructible Shoes was founded by Eric Nyugen, and other guys who had been working on their feet for years. They were determined to create an all-in-one work shoe, where the typical sneakers, work boots, and slip-resistant shoes just didn't cut it.
This all-in-one shoe would be built to function in different environments and protect the feet against workplace hazards. Intensely durable, lightweight, and comfortable all at once.
Raise your hand if you're only used to finding clunky, old-timey decidedly unattractive work shoes. Indestructible vows to design work shoes that actually look good. Stylish and safe don't have to be mutually exclusive. When you browse the Indestructible Shoes site, every pair looks like trendy and casual footwear you'd find at Nike. Except your Air Jordans can't walk across a bed of nails or be set on fire.
Unbreakable Shoes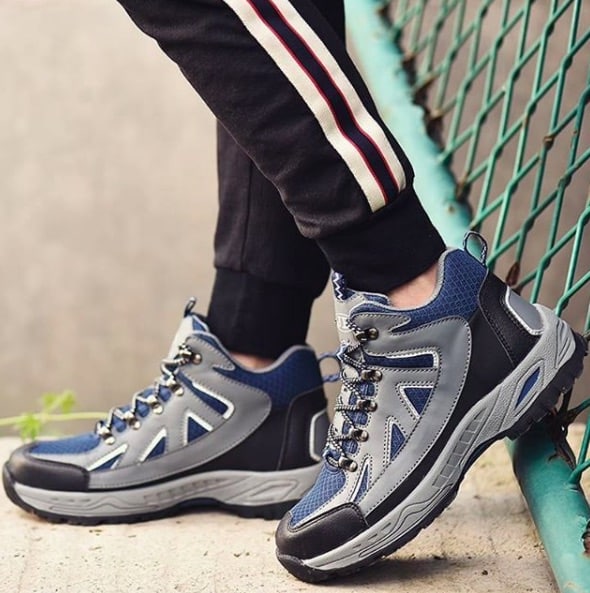 Indestructible Shoes recommends its shoes for construction and labour jobs, hiking and the outdoors, military and security personnel, and the restaurant environment. That's a pretty wide reach. How can we be sure that these shoes will survive all that foot abuse? This Indestructible shoes review took me to their website, where you can watch a video all about their safety testing.
The camera rolls and it appears that members of the Indestructible Shoes team are in a lumber yard, for some reason. While a hammer is dropped on one of the shoes, we hear, built with military-grade kevlar, Indestructible work shoes are incredibly tough. Damn, ok. Kevlar.
Then we are introduced to a guy named Steve, who apparently works on a construction site. Steve is safe at his work station surrounded by dangerous tools, because of the steel toes in his shoes, which are made of fire-proof material. Steve and the narrator give each other a thumbs up. It's all very chill.
Some other stuff happens, the narrator tells us to pick up some Indestructibles, and then he drops a brick on his shoes. In slow motion. The video ends as we hear make-believe sounds of the construction site. I was both impressed by the shoes, while also entertained by how cheesy the video is.
You can find other safety testing evidence on the site, like someone walking on nails and the shoes being run over by a car tire (while being worn). I've only mentioned comfortability in passing, which we'll get into for each bestselling pair in this Indestructible shoes review.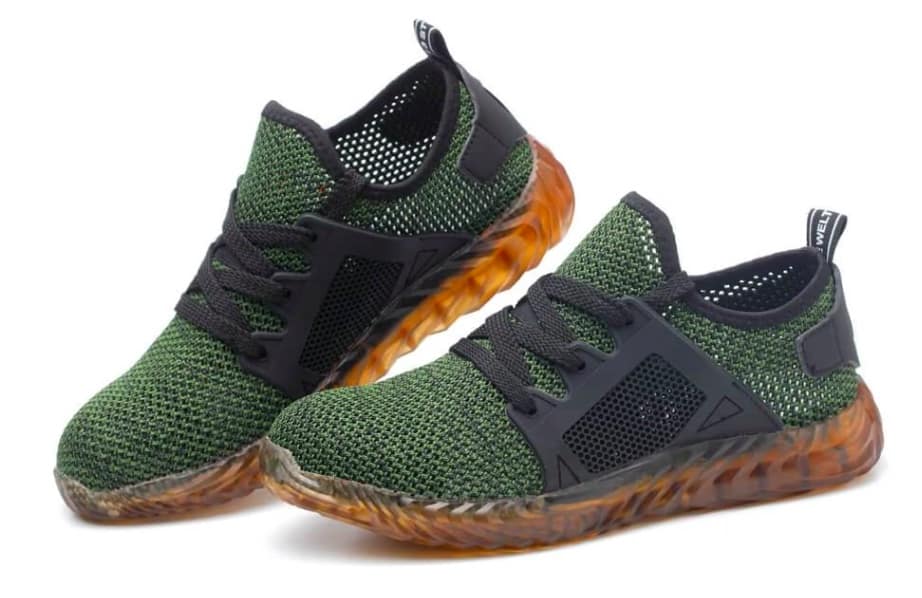 Pros
Stylish, comfortable, and durable work shoes
Extensive safety features like kevlar, fire resistance, and electric shock protection
Versatile footwear that can be worn in different environments
Reasonably priced work shoes
Free worldwide shipping
Cons
Conflicting reviews on and off Indestructible Shoes website; potential scam
Ryder Indestructible Shoe Review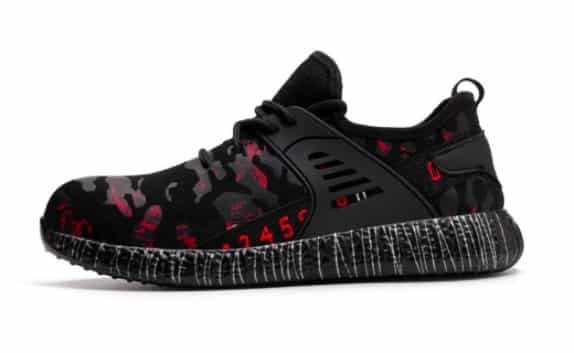 The Ryder Green was showcased by Military Times, with variations in black, grey, and pink. Something to know about kevlar: it's seriously tough, yet also incredibly lightweight (the shoe weighs less than 1 lb). The Ryder shoe contains a breathable kevlar flymesh, providing tons of airflow to prevent stinky and sweaty feet on the job. European heavy-duty steel protects your toes from crushing and falling objects.
The Ryder soles are puncture resistant, with a padded midsole for extra cushioning. They feature no tie laces, where you just pull to customize the fit. Ryders are built to be springy and flexible, which helps distribute body weight evenly. They're so flexible, that they're twistable (photo evidence on the site). These lightweight work shoes are on sale for $79, originally $160.
Indestructible Shoes Waterproof CamoX Review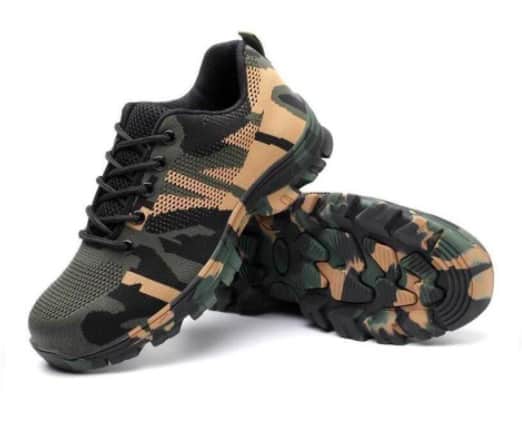 The CamoX is Indestructible's first waterproof work shoe. It's made of the classic military grade kevlar, weighing less than 1 lb, with steel toes and puncture resistance. The CamoX features a shock resistant sole that can keep up with strenuous activity. Working with that shock resistance is an upgraded insole: extra-padded heel cup, 3D arch support, and breathable mesh.
These red and black work sneakers have an easy slip on/off design to save time. The CamoX is springy and flexible for even weight distribution. The red camo details, red numerals, and white line texture on the outsole definitely puts them a level up in work shoe aesthetics. These Indestructibles also come in black/white, discounted to $79 from $160.
Indestructible Military Battlefield Shoes Review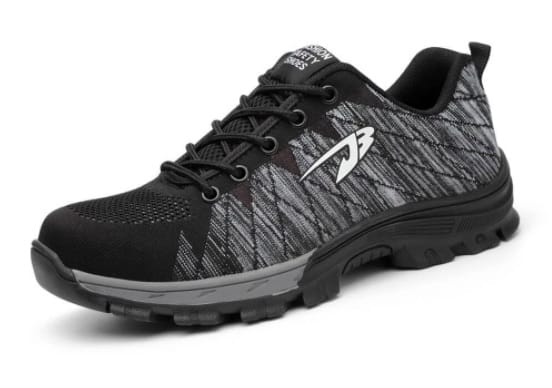 This military-inspired Camouflage Green shoe is hardcore, as far as civilian footwear goes. Built with Indestructible's go-to kevlar, these sneakers have a separate shock absorption layer and wear-resistant tech.
An anti-puncture steel midsole plus insulation from electric shock keeps you protected from numerous workplace hazards. Plus, an anti-slip rubber sole makes this Indestructible shoe skid proof.
The Battlefield Series is also available in blue and grey, discounted for $79 (originally $160).
Airwalk Indestructible Shoes Review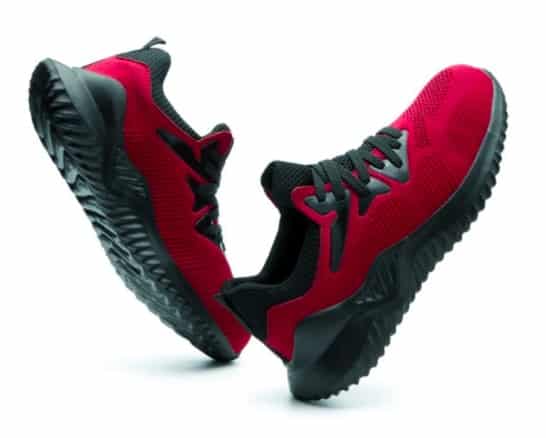 These Airwalk Grey sneakers share a lot of the same features as the Battlefield Series, with a more modern look. Kevlar, protective steel toe cap, anti-slip rubber sole. An extra shockproof layer, anti-puncture steel midsole, wear-resistant tech and protection from electric shocks.
These are basically the Camouflages, minus the military theme. Indestructible Airwalk shoes also come in blue, black, red, and pink for $89 (discounted from $160).
Indestructible Hummer Shoes Review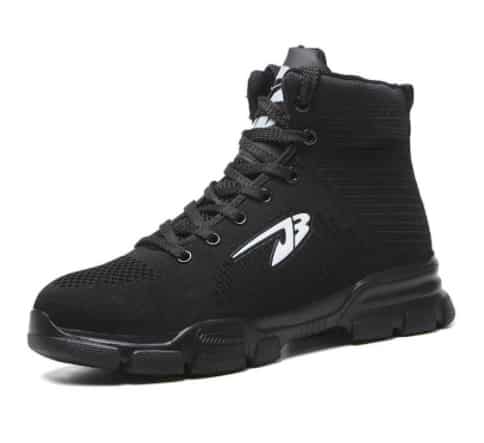 The Hummer Red is another fan favorite and Indestructible's most futuristic design. They look cool, and the airflow from kevlar fly mesh actually makes them cool. No sweaty and odorous feet on the job (at least, that reek won't be coming from you). European steel toes, a shock-resistant sole, and puncture resistance are Indestructible's MO.
The Hummer sneaks have an upgraded insole like the CamoX, providing extra-padding in the heel cup, 3D arch support, and breathable mesh. They're flexible, completely twistable, and weigh less than 1 lb like the Ryder. I like the sweet texturizing on the outsoles, which stand out like the ones on CamoX. These Indestructible shoes also come in grey, all black, and black with a neon yellow stripe for $79 (originally $160).
J3 Indestructible Shoes Review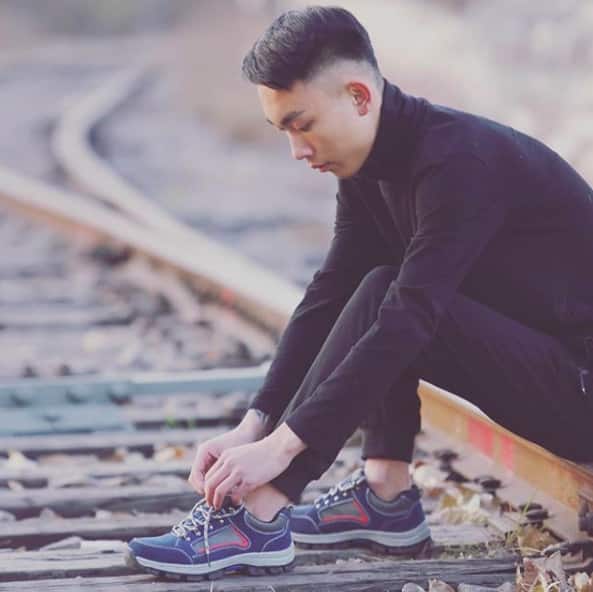 There's no point trying to decide whether the J3 Black is a sneaker or a work boot—it's a bit of both. Even though it gives you extra coverage around the ankle, you won't be sweating it out in the J3. It's got moisture-wicking kevlar flymesh to keep things nice and airy. European steel toes, puncture resistance, you know the drill.
What sets these apart from other Indestructibles is their fire resistance. Please do not tempt fate and set them on fire. They have the extra-padded insole of the Hummer and CamoX, plus the flexibility and super light traits of the Ryder, weighing less than 1 lb. The J3 also comes in green, grey, red, and black for $79, originally $160.
Indestructible Accessories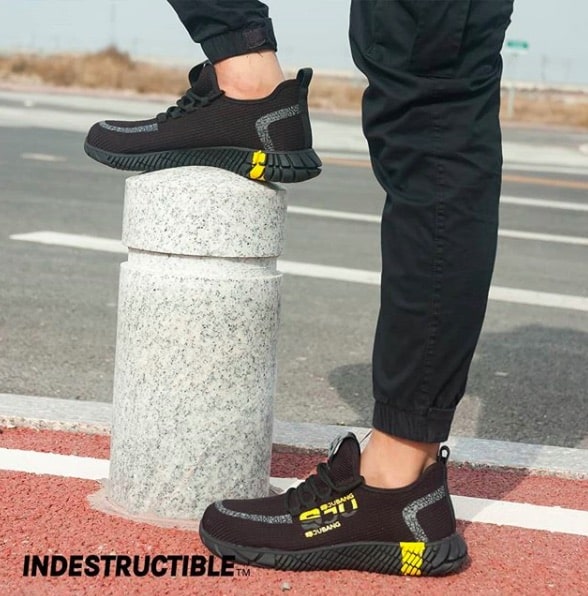 Indestructible Shoes also sells shoe insoles, compression socks, knee support pads, and no-tie shoelaces. We won't be discussing them in this Indestructible shoes review, but you can get a sense of their pricing:
Indestructible Insoles: $18.65, originally $24.40
Indestructible Compression Crew Socks (2 pairs): $17.20, originally $24.40
KneeTec Support Pads: $58.80, originally $99
Indestructible No-Tie Laces: $8.60, originally $14.35
Indestructible Shoes Reviews: What Do Customers Think?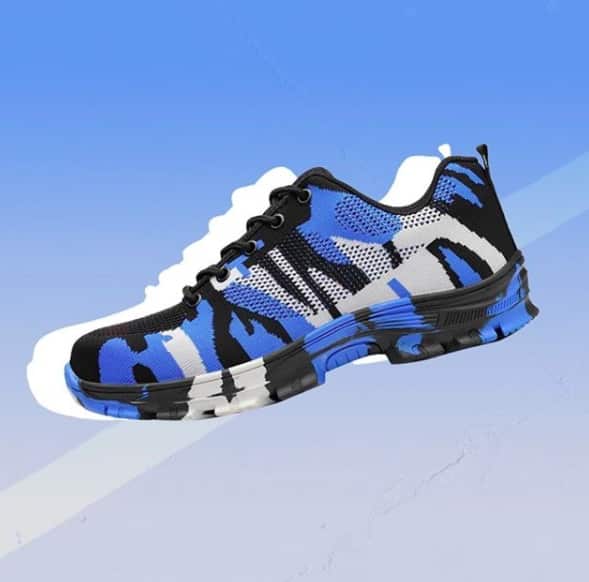 Indestructible Shoes have near perfect 4.5/5 star ratings on the website. Like this Ryder shoe review: "Wow. It's much lighter than my boat shoes. I work 10 hours a day, 6 days a week and so far it feels great to be on my feet." The reviews are positively glowing.
Our Indestructible shoes review ventures deeper, since you can't judge a book by its cover (or a shoe by its website). The Indestructible shoes review Reddit scene is decidedly less favorable. A plumber called the video advertising the shoes as impenetrable to nails "a flat out lie," since nails did go through the soles of his. Another user said that the Indestructible shoes he purchased for his grandson only lasted a month. In a separate Reddit thread, a reviewer claimed that the outsole completely detached within a month.
Indestructible Shoes also do not fare well on Trustpilot, with 1.5/5 stars and 92% bad reviews. The amount of times I read "scam" started to make my head spin. Customers complained of having to wait months for delivery, shoes arriving fallen apart or falling apart shortly after, and the near impossibility of receiving a refund.
There was a lot of discussion about drop shipping scams and customers buying the shoes from unverified sources. It may be that these Reddit users thought they were purchasing from Indestructible, but only received knock-offs. The Indestructible Shoes page on Facebook has a lot of positive reviews. Onecutreviews.com rated Indestructible shoes favorably, and the brand wouldn't have been featured in Military Times if they were poor quality, right? Hmmmm.
Our Verdict on Indestructible Shoes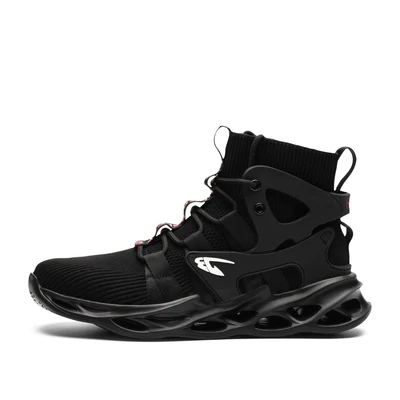 We absorbed some conflicting feedback in this Indestructible Shoes review. Close to perfect reviews on the website and endorsement from big media sources, all amounting to a scam? I searched on Amazon and AliExpress, and it turns out that there are shoes being advertised with the exact product names as Indestructible shoes.
There's no way to tell whether the reviewers purchased real Indestructible shoes, or fake ones. Or if it really is just some big scam. My shady senses are tingling. Based on everything I've read, it seems like it's a risk to buy Indestructible shoes. If you want to take the risk, make sure you purchase directly from their website.
Indestructible Shoes Promotions & Discounts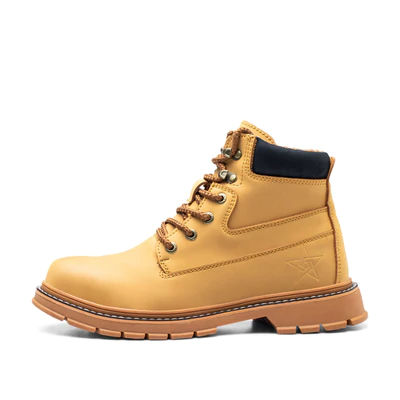 We hunted for deals while researching this Indestructible shoes review. You're offered a unique Indestructible shoes promo code at checkout, plus a lot of the shoes are already discounted.
Indestructible Shoes Clearance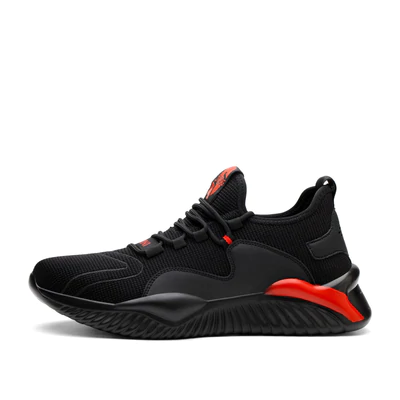 Currently in the Indestructibles Clearance section, you can find discounts on the Airwalk, Camouflage, Jailbreak, and Zero models.
Where to Buy Indestructible Shoes
Indestructible shoes can be purchased through their website, indestructibleshoes .com. Indestructible shoes Amazon offers are FAKE.
FAQ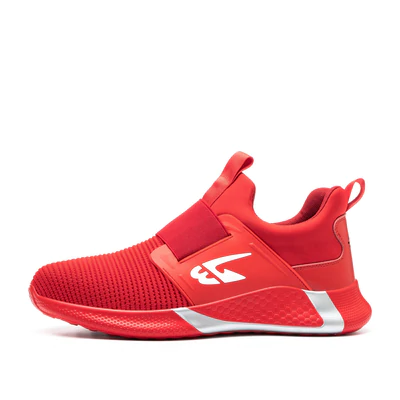 Indestructible Shipping Policy
Shipping with Indestructible is free worldwide. The company has fulfillment centers in the United States, Canada, and China. After submitting an order, it takes 1-2 business days to process. If there is a lack of inventory in Canada or the US, the order is shipped from the main fulfillment center in China.
Indestructible uses SFexpress, China Post, USPS, UPS, or FedEx based on location. Delivery generally takes 5-15 days, however, due to COVID-19, expect 6-9 weeks for delivery. Indestructible provides a tracking number within 24-48 hours of ordering, and orders can be tracked on their website.
Indestructible is not responsible for any incorrect shipping addresses, lost, or stolen items. In the case of lost or stolen items, contact your shipping carrier.
Indestructible Return Policy
Customers can return unworn shoes within 30 days of purchase. Shoes must be in the same condition as they were received in with their original packaging. All returns are subject to a 15% restocking fee. Contact [email protected] with proof of purchase to process a return.
Once your returned item is inspected, you will receive an email notification. If you are approved for a refund, a credit will be applied to your credit card or original method of payment less than 15% of the original payment, within 2-3 business days.
Note that items will only be replaced if they are defective or damaged. Socks and insoles cannot be returned due to health reasons.