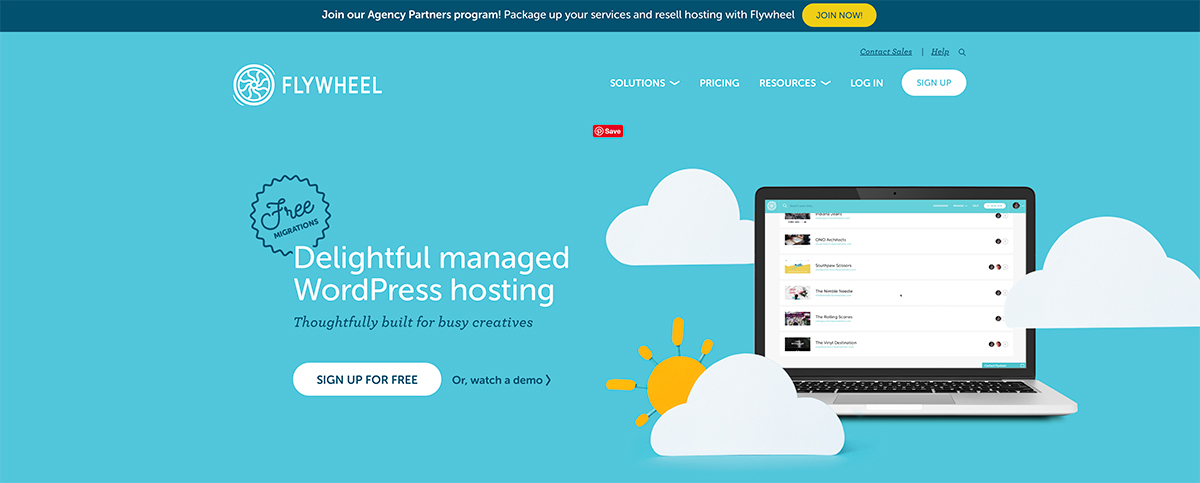 GeyFlywheel is a manage wordpress hosting company that provides some excellent speeds. GetFlywheel had great uptime and also some blazing fast web hosting speeds. This is one hosting company that you should always consider to help manage your wordpress website.
Managed WordPress hosting is a great choice if you don't want to deal with the technical aspects of maintaining your website. It's more expensive than the regular shared hosting but it also comes with some great perks like plugin updates, better security, and better website performance when it comes to page loading times.
There is no shortage of managed host providers and one of them if GetFlywheel. In today's post, we'll take a look at what Flywheel offers, talk about it's plans, uptime, page speed, and the company's pros and cons.
Is Flywheel Fast?
Before jumping into the main part of the review, let's answer the most important question: is Flywheel fast? The answer is yes, they are. I personally tested Flywheel against 21 other web hosting companies during 60 days and monitored their uptime and speed. Flywheel ranked in the top 3 cloud hosting providers. Here are my results for Flywheel.
Flywheel Plans
As mentioned earlier, Flywheel offers managed WordPress hosting geared towards freelance web designers and web design agencies. This means you'll get some extra features such as local development environment, staging site, and free demo site. On top of that, each plan includes free migrations and 24/7 chat support. Let's take a look at the plans offered by Flywheel.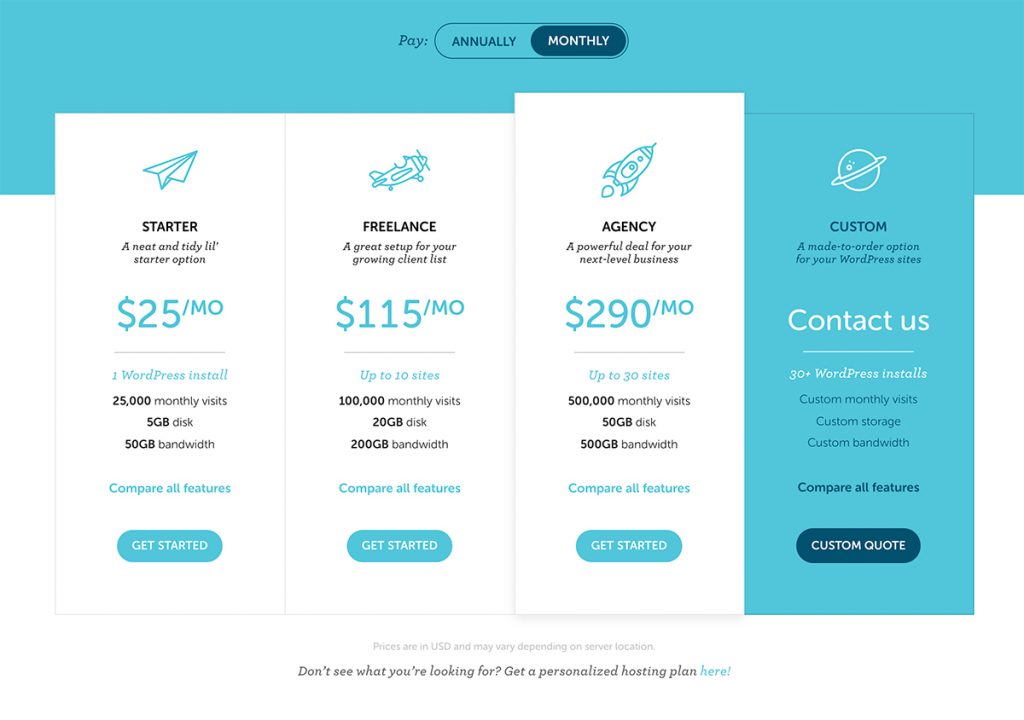 Starter
The Starter plan is the cheapest plan that Flywheel offers. It's a good starting point if you want to try out their services and see if they are a good fit for your business or agency.
This plan allows you to host one website and is suitable for sites that have around 25,000 monthly visitors. Yolu'll also get 5GB of storage space and 50GB of bandwidth.
As far as features go, Starter plan includes server-level caching, built-in SSL certificate, the ability to add collaborators, site cloning, and more.
As you can see, this plan is rather limited, however, it does make it easy to try out their hosting service, especially if you choose the monthly billing option.
Freelance
The Freelance plan is suitable for larger sites and allows you to host up to 10 websites. You can host additional websites for an extra $20/month/site.
The plan allows for up to 100,000 visitors and comes with 20GB of storage and 200GB of bandwidth.
All of the features found in the Starter plan are included in this plan along with extra features such as the ability to have WordPress multisite installations and install third-party SSL certificates.
This plan is great for growing agencies and freelancers who are starting to get booked out with clients. However, it's also suitable for larger business or eCommerce sites that are in the growing stage of their business.
Agency
The Agency plan is a great choice for freelancers and agencies with a steady stream of clients. If you want to provide regular site maintenance and updates to your clients, the Agency plan makes a lot of sense.
It allows you to host up to 30 sites and you can host additional sites for extra $20/month/site. You'll get 50GB of storage space and 500GB of bandwidth. The plan allows for 500,000 visits.
As far as features go, you'll find everything from the Freelance plan as well as access to phone support and a dedicated account manager.
Custom
The last plan, as the name suggests, is custom-tailored to your needs. This plan is suitable for enterprise-level websites that are getting millions of views. As such, the storage and the allotted bandwidth are configured based on your needs and you'll need to get in touch with Flywheel to get a custom quote.
This plan is suitable for hosting more than 30 websites and includes all the features from the Agency plan. A perk that's exclusive to the Custom plan is quarterly business reviews.
It's worth mentioning that each plan includes optional addons which you can purchase for an additional fee. The addons include plugin updates, performance and security insights, and whitelabeling Flywheel services.
Keep in mind that Flywheel doesn't offer domain registrations and email hosting services so you'll have to use a third-party service like Gsuite to have an email address at your domain.
Uptime

With hosting plans out of the way, it's time to talk about Flywheel's uptime results. Over the course of 60 days, Flywheel had only 14 minutes of downtime which translates into less than a second per day. Their overall uptime was 99.99% and is in line with what other managed and cloud hosting companies offer.
Speed

By now, you probably know that page speed is incredibly important. Not only will a fast site improve your conversion rate, it will also rank better in search engines. As such, finding a hosting company that will provide you with good page speed and server response times is crucial.
When it comes to speed, Flywheel doesn't disappoint. Their server response time was around 0.6 seconds and page load time was around 1.18 seconds. As you can see from the screenshots, their server is pretty consistent too so you can expect your site to load fast constantly.
Support
Flywheel offers 24/7 chat support which is available on all hosting plans. They also offer phone support on Agency and Custom plans. Aside from regular support, you'll also find a plethora of resources. From their blog to support articles written by WordPress experts to video guides, free eBooks, and design trends eCourse, finding a solution to your problem shouldn't be too hard with Flywheel.
Pricing
Now that we've covered all the plans that Flywheel has to offer as well as their core features and support options, let's take a look at the pricing.
The Starter plan, as mentioned earlier, is the cheapest option available for $25/month or $23/mo paid annually.
The Freelance plan is available for $115/month or $105/month paid annually.
The Agency plan is available for $290/month or $266/month paid annually.
As far as the add-ons go, you can purchase the following:
Performance Insights, Security Insights, and Plugin Updates for $25/month each
White label services for $99/month.
Final Thoughts
Flywheel offers managed WordPress hosting that's fast and reliable. As you saw from my test results, Flywheel had only 14 minutes of downtime. Their server response time averaged around 0.6 seconds and page load time was around 1.18 seconds.
Considering they are marketing themselves as hosting company for designers and developers, they offer plenty of features that will help you streamline your design workflow. These include staging and cloning sites, a local development environment, and a free demo site to showcase your designs to your clients.
The only con that I have found with Flywheel is that the phone support is available only on their Agency and Custom plan. They are also on the pricey side but if you want the peace of mind that comes with managed hosting, it's a worthy investment.