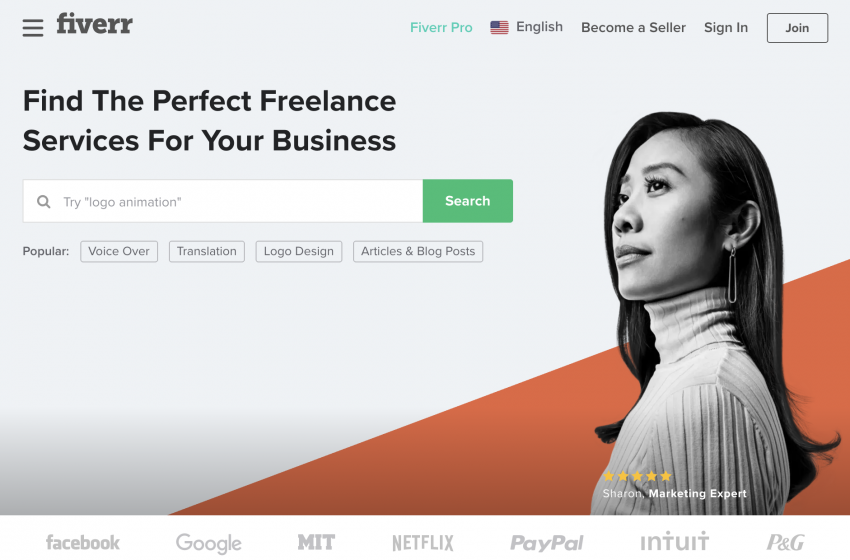 Freelance service marketplace Fiverr is a platform that helps employers find talent for their projects. It won our Great User Experience Award. The service facilitates meetings between employers and freelancers who can aid them in brand building or their marketing efforts, providing them with access to a vast pool of highly-qualified freelancers.
The platform allows entrepreneurs to discover freelancers by having them come in contact with service sellers in three different levels. This way, they get to meet freelancers with the ideal skill sets and rates who will suit their needs. These seller levels allow businesses to either expand or narrow their searches according to freelancer levels.
What's good about this  crowdsourcing service is its provision of total transparency. Freelancers' profiles can be accessed, along with their reviews, leaving buyers to decide whether they want to hire them or not. With the system, employers are provided with advanced knowledge on the quality of service they are to receive from a freelancer.
Fiverr is just the right platform that an employer on the hunt for a freelancer needs. You can find just about any product or service you need–all starting at $5. The system works by hosting freelancers by having them post their services and work samples. Buyers simply have to look up the best one that would suit their needs. Common services include logo design, contract writing and even hiring a virtual assistant.
Freelance platform Fiverr offers a plethora of benefits to entrepreneurs who require the services of high-level freelancers. Here are some of them:
Product Categories/Searches
Products and services offered through the platform are categorized in 12 major groups–graphics and design, writing and translation, music and audio, online marketing, video and animation and advertising, among others. Every category is further broken down into subcategories. Buyers can explore these subcategories or simply search for specific keywords. Although prices start at $5, enhanced services or faster deliveries entail higher prices.
A Boon for Freelancers/Sellers
Many freelancers have been switching to Fiverr owing to the low fee it charges, which makes hunting for freelance work a lot easier. Virtually anyone can sell on the platform, which does not require any complex technical know how. Freelancers who have a knack for being creative can earn money using Fiverr. Another good thing is that freelancers actually get paid for doing what they love to do, making work a lot more fun. They also get to have more exposure as buyers search for them and not the other way around.
Transparent Freelancer Information
On Fiverr, employers are able to see all the necessary information about a freelancer. These include ratings, feedback, number of jobs or gigs completed, and cancellation incidents. This offers confidence to buyers, knowing the kind of worker they are potentially collaborating with.
Filtered Seller Search
Fiverr has three seller levels, aside from the new seller level. These are freelancers who have varying job completion statuses and ratings. They come with different prices as well, depending on their skill levels and performance reviews. This allows employers to find the right freelancer who fits their requirements and their budget.
Secure Personal Details
When entrepreneurs hire freelancers on Fiverr, their personal details are kept protected. The platform only gives out information that assists sellers in learning more about their potential employer. Furthermore, the service does not share anybody's details, be they buyer or seller, with any third party. Everyone's privacy is protected, allowing them to conduct transactions with peace of mind.
Protected Buyer Payments
All financial transactions happen on Fiverr. Regardless of the payment method, the platform assures users that their financial data are safe from prying eyes. This gives them the assurance that their information does not get compromised. Payments can be made through PayPal, credit cards or other forms of electronic payments.
Private Communications
During the hiring and the collaboration process, Fiverr provides avenues for buyer and sellers to communicate effectively and privately. Both parties can chat in a secure platform to ensure that project details remain between buyer and seller only.
Overview of Fiverr Features
Freelance Marketplace
Seller Rating & Feedback
Custom Offers
Multi-Category Jobs
Secure Payment Gateways
Multi-Currency Support
Private Communication Platform
How Much Does Fiverr Cost?
Fiverr Pricing Plans:
Fiverr offers a single enterprise pricing plan for all users. Here are the details:
Fiverr – starts at $5/job
Freelancer Search
Vetted Talents
Feedback & Reputation Review
Buyer Protection
Safe Transactions
Secure Communications
Dedicated Customer Support
Success Managers