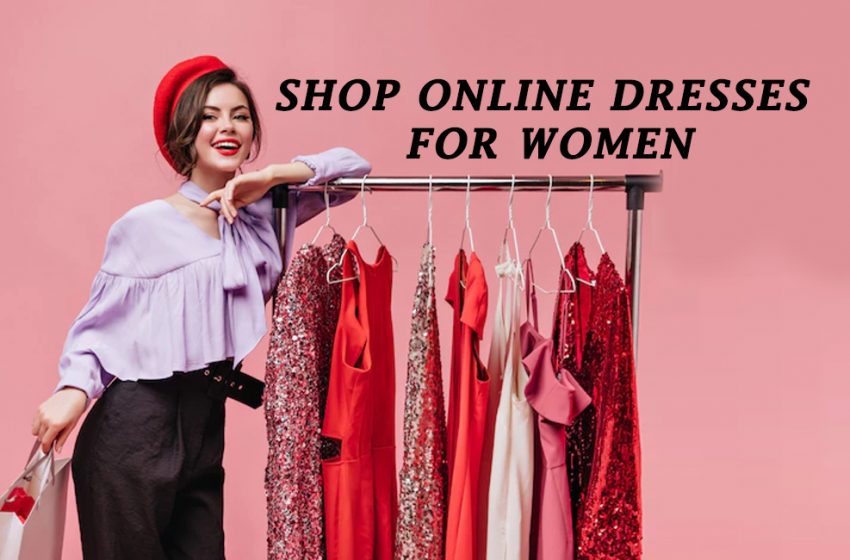 About Boohoo
Forget serious fashion, Boohoo wants to make clothing fun again with a wide selection of products for men and women to help create your personal style! If you've been wanting to add a bit more interesting looks to your closet, then Boohoo might just be able to help you out.
With over 9.7M followers on Instagram and 3.8M likes on Facebook, it's quite obvious this brand has really captured people's hearts. They've even been featured in Forbes, Teen Vogue, and Elle.
What can be said about them? That's what we're going to find out. This Boohoo clothing review will look beyond Boohoo clothes and give you all the info on background, pricing, shipping, reviews, and more to help you decide how best to spend your hard-earned money!
Overview of Boohoo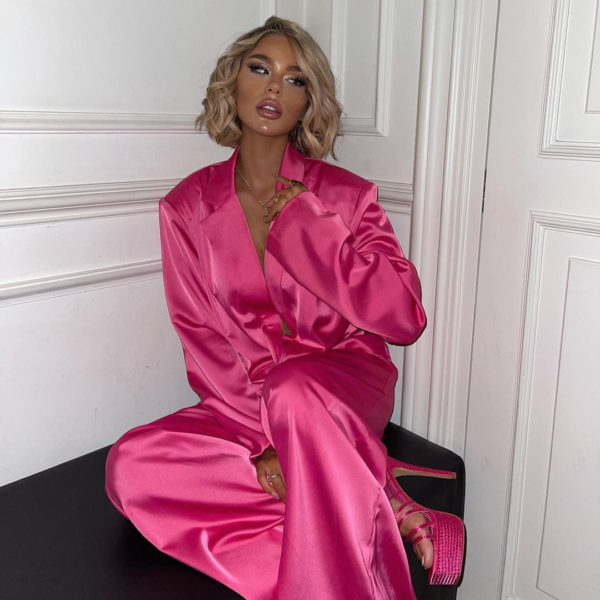 Launched in 2006, Boohoo embraces the idea of being your fashion BFF to make shopping fun, inspirational, and accessible. No drama here; only deals as you find the style that works best for you. Originally established in London, Boohoo has since moved to LA with international offices in France, and Australia.
Boohoo has been working on establishing a sustainable alternative practice regarding materials for their clothing. Moving forward, items will be made 20%-50% with pre-used fibers, organic cotton, and fabrics obtained from responsible sources. The goal is to cut textile waste and find a more manageable option that works for the environment rather than against it.
Now that we have a bit of background on the company, let's go over some quick highlights:
Highlights
Sales across the board
Super fun and creative styles
Boohoo sizing chart offers realistic sizing
Klarna, Afterpay, and Quadpay available
Inclusive sizing
Petite, tall, and maternity categories
Eco-friendly fabrics
28-day returns
It seems Boohoo is doing their best to turn the idea of 'fast fashion' on its head, which is a promising thing to see. However, this Boohoo clothing review will dig even deeper behind-the-scenes to see if the brand can stand up to the hype of fashion bestie.
Boohoo Review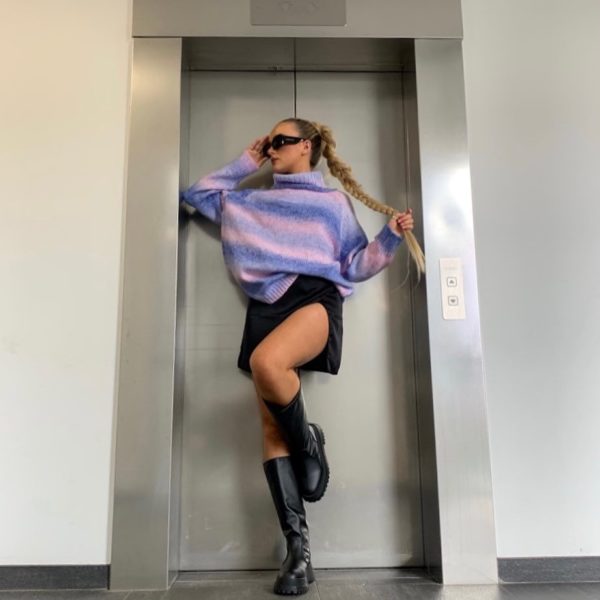 Boohoo products can transcend age and gender, leaving so much to explore before buying! Whether you're a Boohoo man looking for a solid pair of shoes or you're more into Boohoo women's fashion for that perfect dress, this brand has you covered! Here are some of the top designs this company has to offer!
Boohoo Women's Clothes Review
Boohoo dresses, jeans, tops — oh my! This brand brings Boohoo curves, plus sizes, and maternity wear to a new level of women's fashion. With so many options we narrowed our list down to a few top best sellers!
Boohoo Maternity Bodycon Dress Review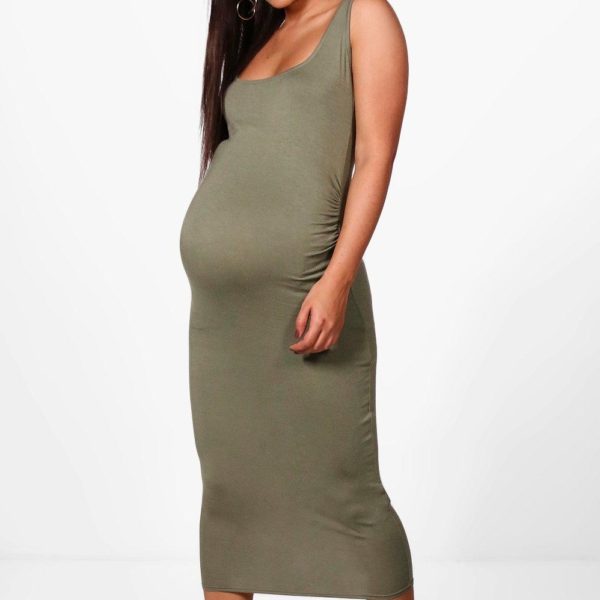 Maternity clothing doesn't need to be drab; you can rock your baby bump in the Boohoo Maternity Bodycon Dress!
This Boohoo maternity dress is designed for peak comfort with its light polyester, viscose, and elastane blend. You don't even need to think about it — just throw it on and you're out the door. Long, flexible, and available from US sizes 6 to 12, this is a must-have for any expecting mother.
The design works for both casual and formal situations, keeping you comfortable in any environment. You have three choices in color:
The Boohoo size chart will help you best select the size you need to be serving style until that baby is born!
Even better, this dress is currently down to $8 from its original $20. Buy now to save a bundle for the comfort you need in your second trimester. Klarna, AfterPay, and Zip are available with payment plans.
Boohoo Plus Cap Sleeve Jersey Midi Dress Review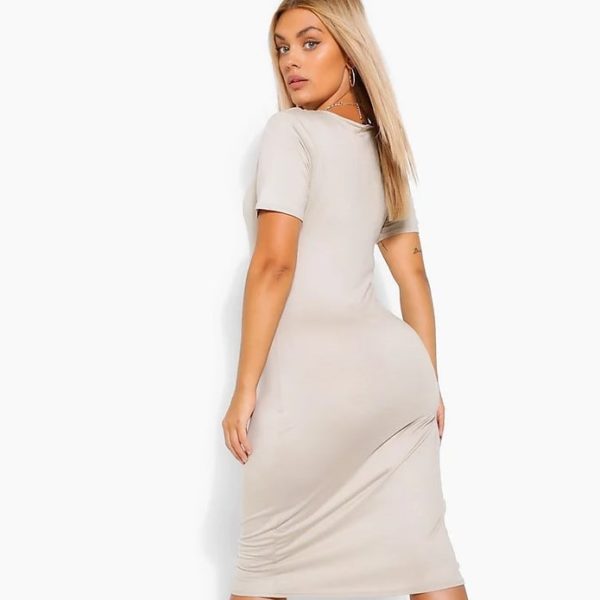 Every woman needs an outfit they can throw on at a moment's notice and still look effortless. The Boohoo Plus Cap Sleeve Jersey Midi Dress even comes in a variety of colours so you can pick what works best for you This Boohoo plus size dress is one of many Boohoo plus options.
Made from a jersey knit, this dress will flow over your incredible curves. The dress is available in US sizes 12 to 24 and comes in seven colors:
Stone
Gray marl
Khaki
Red
Navy
Black
Orange
Dressed up or down depending on what you need, this dress is a perfect addition to your closet for only $30, currently on sale for $12. Klarna, AfterPay, and Zip are available with payment plans.
Boohoo Acid Wash Rip Split Hem Jeans Review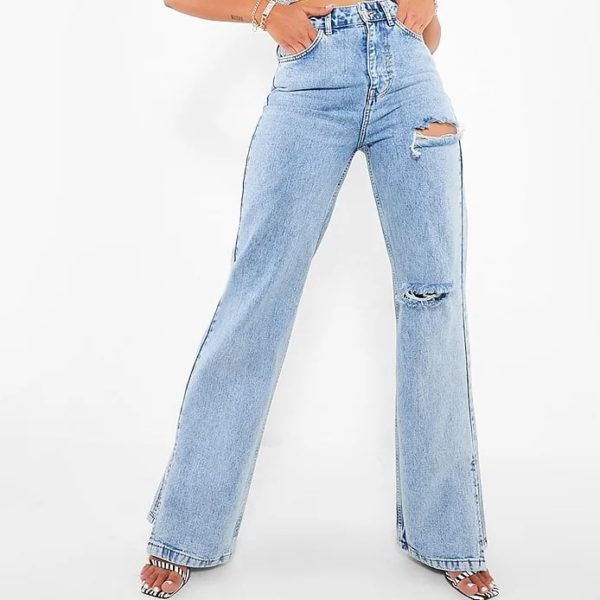 For those moments you want to be on trend without spending a ton of money, these Boohoo Acid Wash Rip Split Hem Jeans make a statement unlike any other. Slight rips in the material rough up the look just enough to give a bit of attitude to your style without making it seem too forced.
Available in Boohoo USA sizes 2 to 12, these jeans are perfectly suited for any season. Forget make or break, these stunning ice blue jeans will forge a new fashion with any top you choose to pair.
This item is currently on sale for $22, down from its regular price of $56. Klarna, AfterPay, and Zip are available with payment plans.
Boohoo Basic V-Neck Ruched Front Thong Bodysuit Review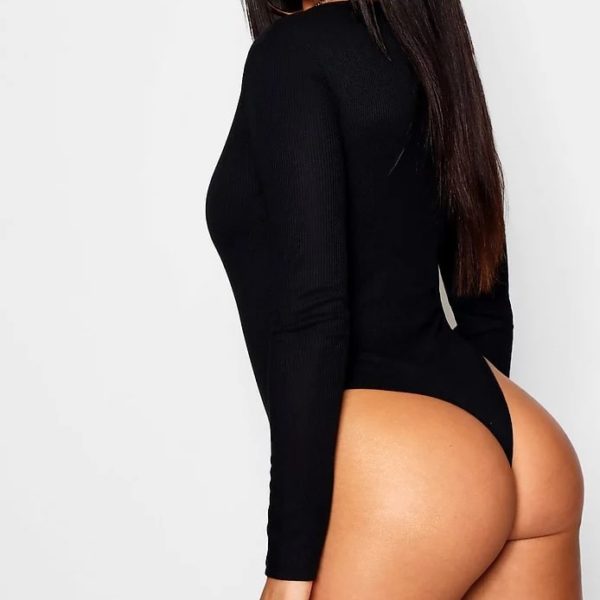 With Boohoo, curves will never be hidden! Show off your size with the Boohoo Basic V-Neck Ruched Front Thong Bodysuit. Available in a slimming black, your curves will pop and show off your assets with ease! Made from a polyester and elastane blend, you'll feel comfortable while stepping into your sultry side.
Who thought basic could look so bold? Boohoo front thong bodysuits are a simple and elegant design made to impress. For only $10 instead of the regular price of $20, you'll save on a stunning piece that will enhance your image to the next level.
Unfortunately, at the time of this Boohoo clothing review, this item is now sold out.
Boohoo Animal Print Scoop Neck Swimsuit Review
Boohoo swimwear lets your wild side out in the Animal Print Scoop Neck Swimsuit. When you walk around the pool or at the beach in this stunning one-piece, you'll have all eyes on you.
This purple hued swimsuit has high cuts on the leg to give you that va va voom factor! This polyester and elastane suit is made to breathe and keep you cool during the hottest summer days.
Available in US sizes 2 to 8, this Animal Print Swimsuit retails for $50, currently on sale for $24. Klarna, AfterPay, and Zip are available with payment plans.
Boohoo Men's Clothes Review
It wouldn't be a full Boohoo clothing review without taking a look at men's fashion. Our favourite featured best sellers below are the best place to start diving into a whole new world of affordable menswear!
Boohoo Oversized Nirvana License T-Shirt Review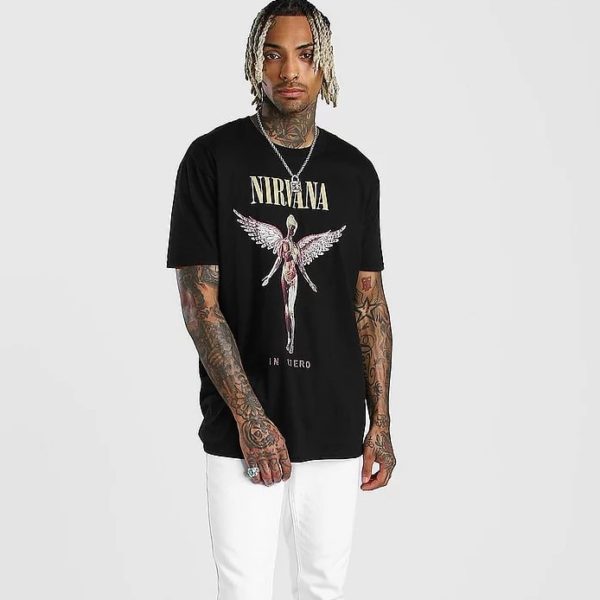 If you're a grunge fan from back in the day, then you need this T-shirt. There's nothing more classic than a simple black band t-shirt. And Boohoo's Oversized Nirvana License T-Shirt offers the perfect addition to your already growing collection. Pair it with some Boohoo jeans and you'll be strutting around in a classic casual look that can never be beat!
Made from jersey, this comfy tee will be your go-to piece when you're heading out for coffee or lounging with some friends. The shirt is available in black only and comes in US sizes S to L.
The Oversized Nirvana License T-Shirt retails for $30, currently on sale for $12. Klarna, AfterPay, and Zip are available with payment plans.
Boohoo Tapered Stacked Leg Shredded Jeans Review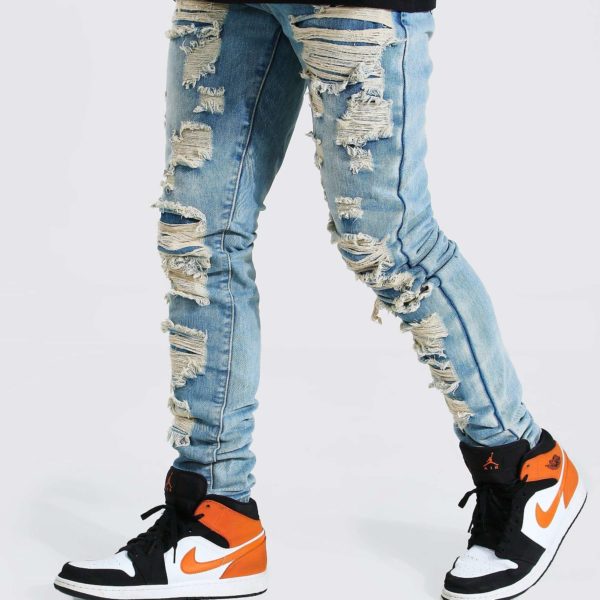 Your ultra casual look won't be complete without a pair of Boohoo Tapered Stacked Leg Shredded Jeans! These light blue jeans claim nothing but effortless style with the numerous shreds across the front. If you're going for an "I woke up this way/I don't care" vibe then these are the pants for you!
This distressed denim is the ultimate in cool and comes in US sizes 28 to 36. The jeans retail for $50, currently on sale for $20. Klarna, AfterPay, and Zip are available with payment plans.
Boohoo MAN Signature Mid-Length Swim Short Review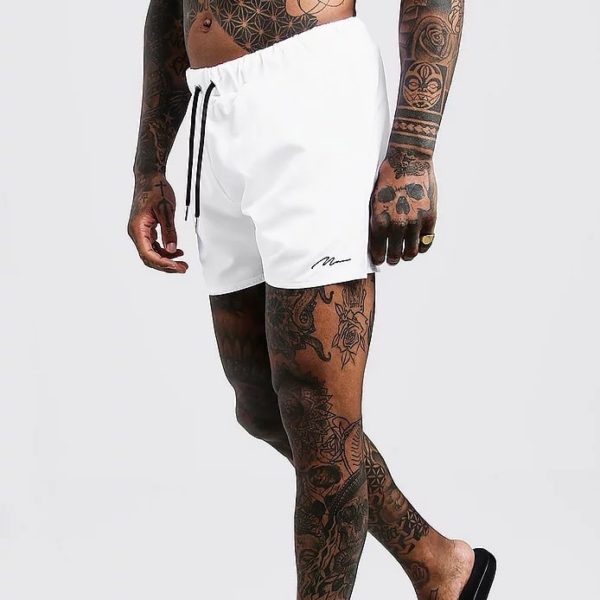 Get ready to take a dip in these Boohoo MAN Signature Mid-Length Swim Shorts. Don't be intimidated by not having anything to wear to that pool party when you've got this pair on hand. These swim shorts can transition from beach to backyard party in a snap.
Made from polyester, this white ensemble that will keep you looking and feeling cool for those nice summer swims! The shorts come in US sizes S to XL and are available only in white. No matter where you go, you'll be floating a smile in these incredibly comfortable swim trunks.
The Signature Mid-Length Swim Shorts retail for $24, currently on sale for $10. Klarna, AfterPay, and Zip are available with payment plans.
Boohoo MAN Script Deboss Slider Review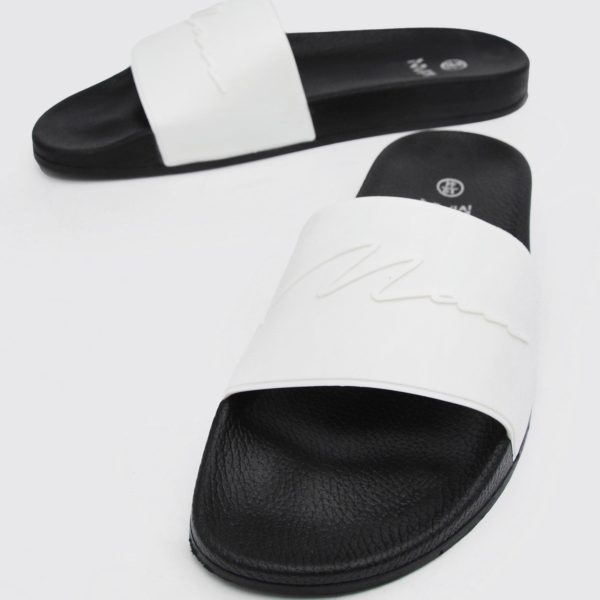 Boohoo shoes offer up new options you never knew you needed. Among those options are the Boohoo MAN Script Deboss Sliders. Looking for a quick set of sandals to slip on in the summer? Boohoo has just what you need in a bold black or white design.
Made from polyurethane, the sliders are available in US sizes 9 through 12, making these wide band sandals comfortable on your feet, no matter how long a trip you take. For only $6 instead of the usual $16, you may as well get two pairs. Klarna, AfterPay, and Zip are available with payment plans.
Who Is Boohoo For?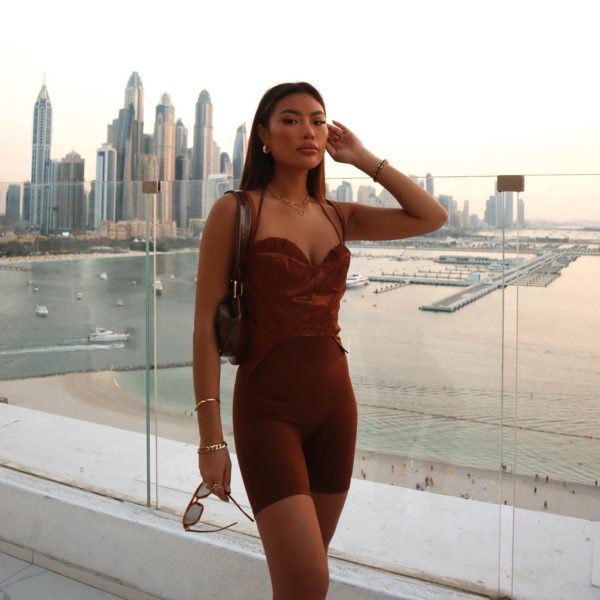 Boohoo style is geared towards people who are looking to spice up their wardrobe at a great price. No need to spend big money when you aren't sure what you want out of it yet. Boohoo advertising seems to lean more towards women and women's fashion than men, though their line has expanded to include men's fashion as well.
Comparison: Boohoo vs. ASOS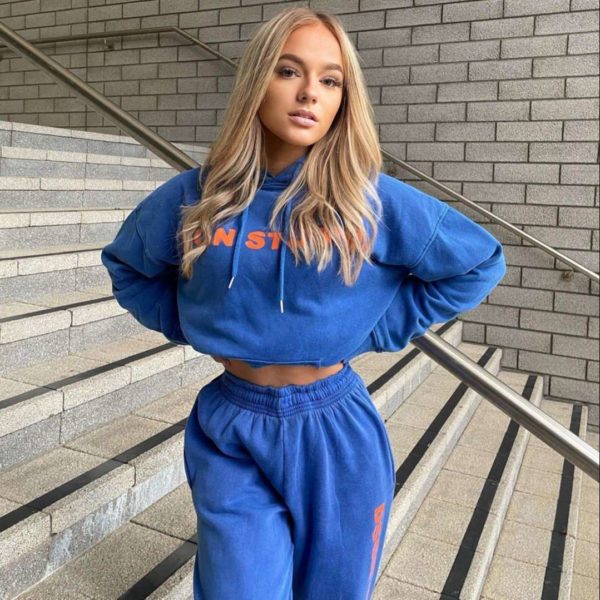 Boohoo's brand has skyrocketed through the past ten years, picking up speed through stocks, international offices, and most recently buying out other brands. Alongside them in their quest to win over online shopping is ASOS.
ASOS is a one-stop shop for men and women's fashion. Both brands offer affordable clothing to build your own style and individuality. Similar in style, price, and shipping reviews, what makes one better than the other?
The e-retailer giants are known for pushing out several hundred different styles each week, bombarding their customers with an overwhelming amount of choice. With fast fashion being a big drain on earth's resources, ASOS, much like Boohoo, has made efforts towards lessening their impact by reusing materials and using more sustainable methods.
In terms of pricing, ASOS and Boohoo are pretty on par with one another when they aren't having big sales. For example, ASOS' AX Paris Plunge Dress retails for $72, whereas Boohoo Off the Shoulder Midi Dress sells for $60, currently on sale for $24.
Both retailers also ship internationally, with ASOS offering free shipping over $50 and Boohoo has a flat rate of $10 in the US. For returns, ASOS provides their customers with free returns, as does Boohoo.
If you're interested in more information about ASOS, you can check them out here.
Boohoo Reviews: What Do Customers Think?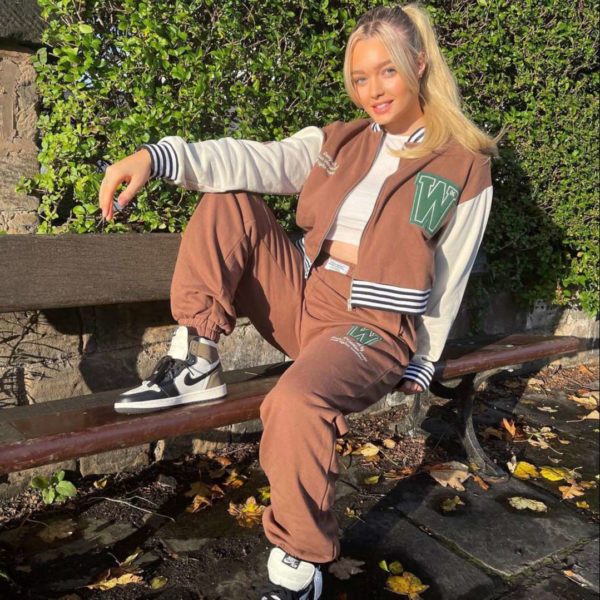 When it comes to fast fashion retailers, you may not always get the whole picture when you go to their website. That's why this Boohoo clothing review has packed in what their customers truly think about the brand.
TrustPilot's Boohoo clothing reviews are higher rated than other sites. At 4.3 stars out of 176,000 reviews, there are numerous fans who love their clothing, with one happy customer stating, "Very helpful and prompt customer service. Great experience. What more do you want. Boohoo is my go to place got clothes now."
Another satisfied buyer from Sitejabber mentioned, "I just found Boohooman a couple of weeks ago. The clothes all run a size small, maybe even a size and a half. The shirts fit width, but couldn't also cover the length for a Tall size. But, WOW, the quality! Especially for the price! Sturdy, thick material, fantastically made, and great looking."
And people can't stop raving about it on Influenster, rating it 4.1/5 stars out of 1,095 reviews. One person wrote, "I love the high waist jeans and the fabric. The company ships items very fast. The price point is perfect, and I love the plus-size collection."
Is Boohoo Worth It?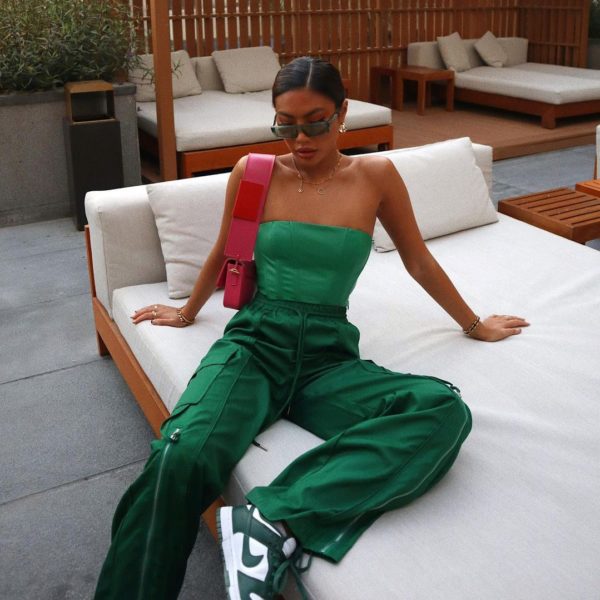 Boohoo's reviews definitely point to the brand being worth it. There are many Boohoo clothing reviews that preach their amazing experiences with the brand.
With that in mind, their affordable prices and expansive stock lend themselves to a certain type of individual – those looking to expand their style without having it break the bank. If you're looking to try something new and add a bit of flare to your wardrobe, then Boohoo is the perfect place to shop.
Boohoo Promotions & Discounts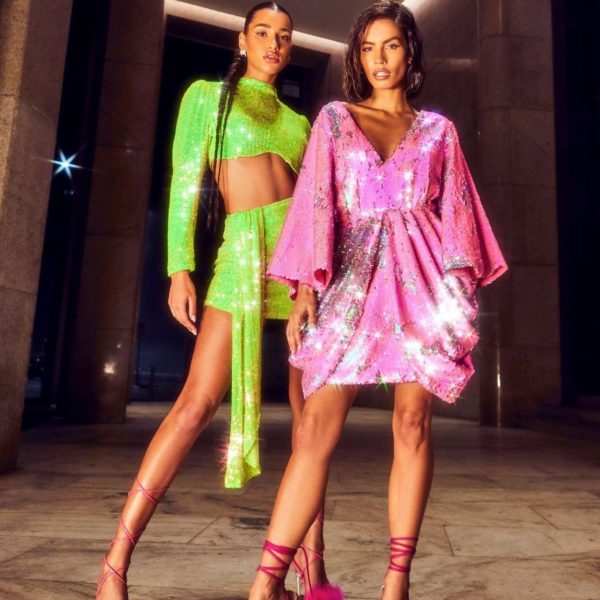 Boohoo promo codes appear throughout the website and offer great discounts on already low prices. Along with their sale section, you can get:
60% off everything in their New Season sale
50% off items along with $3 shipping
10% for subscribing to exclusive offers
5% Student discounts
Boohoo offers a page on their website dedicated to letting you know what promos and deals are available.
Where to Buy Boohoo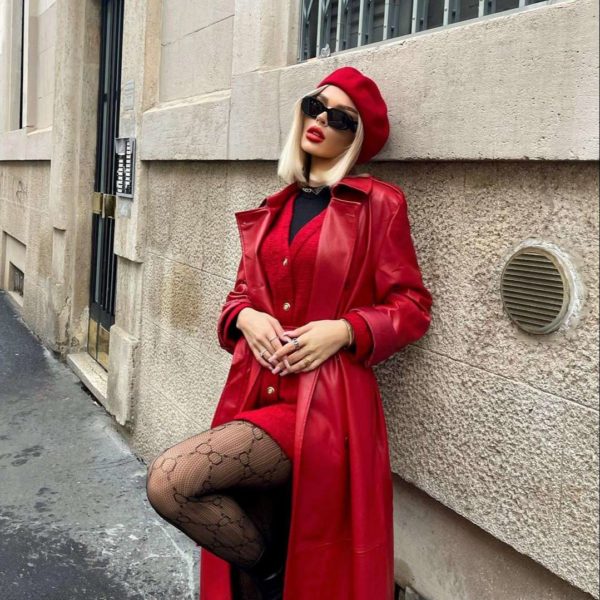 Boohoo clothing is available on multiple websites and platforms. The brand website www.boohoo.com offers the entire store selection along with their Google Play Store app. Boohoo clothes are also available on:
ShopStyle
Lyst
Boohoo Man (dedicated entirely to men's fashion)
FAQ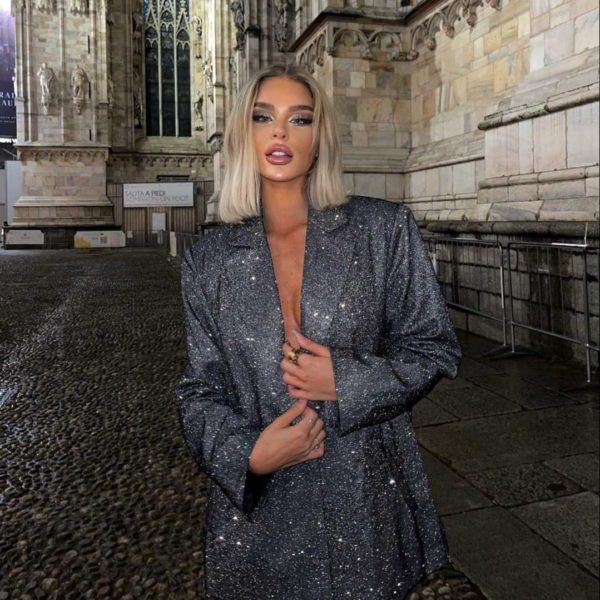 Where is Boohoo clothing located?
The US head office is currently located in Los Angeles, California. The former London company moved in 2017 amidst their launches of BoohooPremium and BoohooBeauty.
Where is Boohoo made? 
This Boohoo clothing review found the brand claims the majority of their products (75%-80%) are manufactured in the UK.
Is Boohoo true to size? 
Boohoo clothing reviews list some inconsistency regarding true to size. Many suggest the clothing is a perfect fit while some argue the sizes run a little large.
What is Boohoo's Shipping Policy?
Standard and express shipping options are available for all locations, but to determine the cost, check the delivery or shipping details page on Boohoo's website under your location. Boohoo covers all duty fees, but extra taxes may be added to your order.
In the US:
Standard shipping: $10 (8-10 business days)
Express shipping: $15 (3-4 business days)
If you're ordering from Hawaii, the company recommends giving a 4-5 week delivery time.
Boohoo does ship internationally but again, you will need to check shipping fees through the dropdown menu under Shipping Information.
What is Boohoo's Return Policy?
Looking for a different style or didn't love what you purchased? Boohoo offers returns and full refunds within 28 days of your delivery. Unfortunately, exchanges aren't offered through Boohoo, however returns are a quick and easy process through Boohoo's new paperless method!