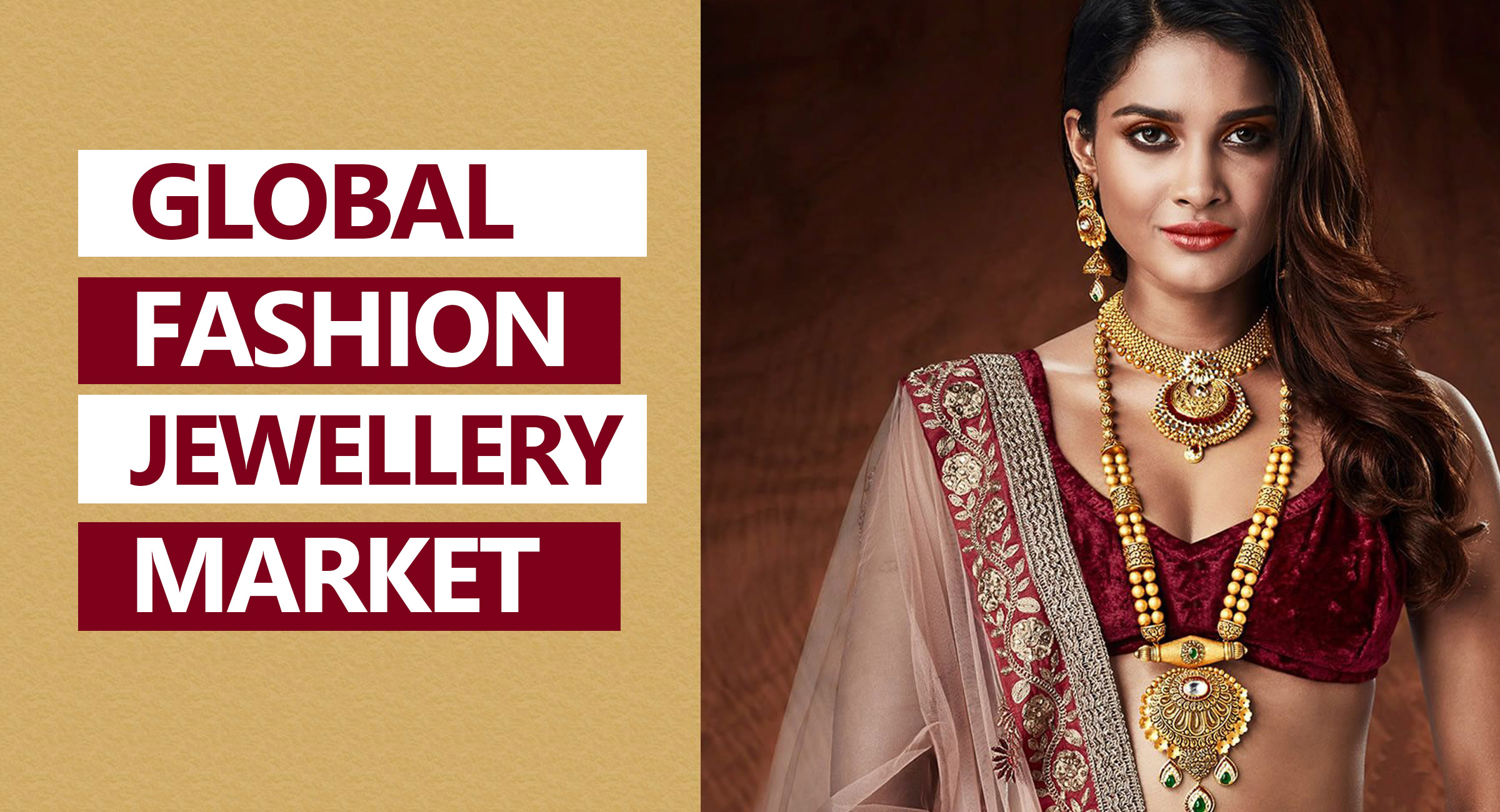 About BaubleBar Jewelry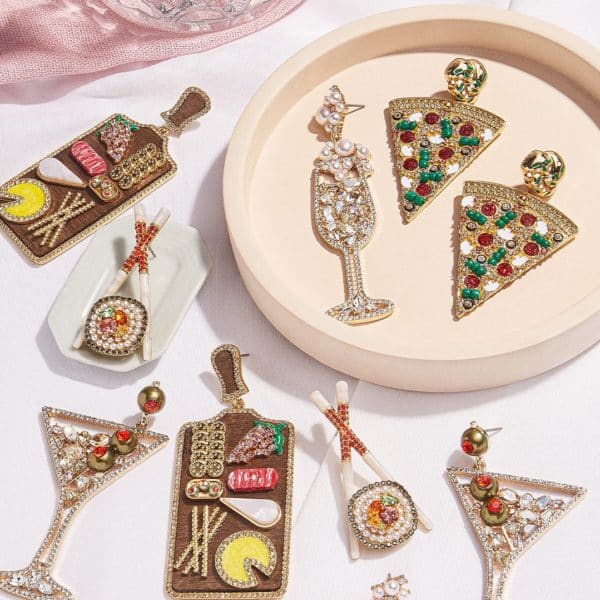 BaubleBar is a fast-fashion jewelry designer specializing in an extensive line of feminine accessories for reasonable prices.
BaubleBar has also been featured in InStyle, People Magazine, Business Insider, Fashionista, and more. Their Instagram also has an impressive 178k followers and celebrities like Julia Roberts have been spotted wearing their jewelry.
This BaubleBar jewelry review will give you a look at the brand's diverse range of jewelry, their discounts, shipping policies, customer reviews, and more, to help you make a thoughtful purchase.
Overview of BaubleBar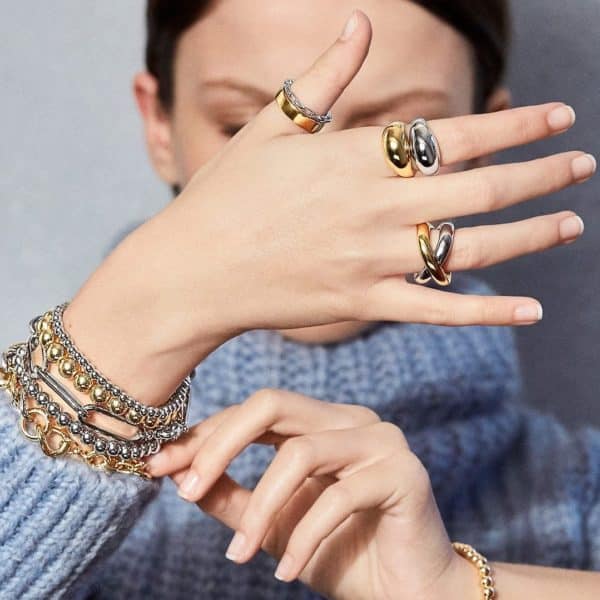 BaubleBar was founded in 2011 by friends and former investment bankers, Daniella Yacobovsky and Amy Jain. The two Harvard graduates came up with the idea for an e-commerce business that would offer fast and affordable, fashionable accessories.
Now, they've expanded to handle more than 1,500 orders a day, while the website receives 1 million visitors a month.
Offline, BaubleBar has also partnered with big retail stores like Target, Nordstrom, Bloomingdale's, and Anthropologie.
The brand's fashion philosophy is to invest in essentials that you can mix and match in order to play around with your evolving personal style.
To meet that need, BaubleBar stays on top of trends to supply you with every possible jewelry option, or in their words, to provide the "ultimate playground."
This BaubleBar jewelry review will now look at the NYC-based company's pros and cons.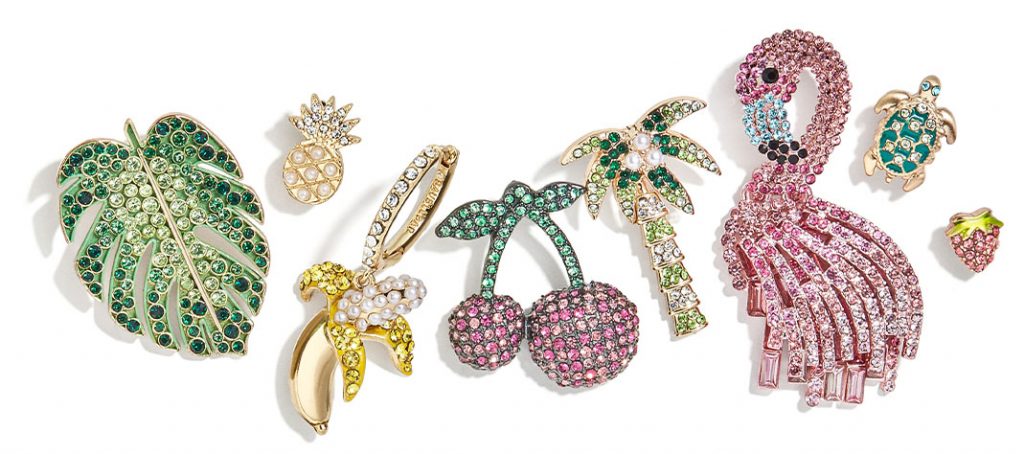 Pros
A diverse selection of unique jewelry options from necklaces, rings, bracelets, and more
Up-to-date on current jewelry trends
Frequently restocked
Frequent sales, discounts, and site-wide promotions
Many positive customer reviews from multiple online platforms
Free U.S. on orders $50+
Free returns
Cons
Expensive International shipping
Customers cite cheap quality and poor customer service
Multiple customers claim they never received their order and never heard back from the company
Many customer complaints on the Better Business Bureau
BaubleBar has a huge collection of jewelry, or "baubles" as the brand refers to their pieces.
Whether you're looking for a minimal piece to wear every day or making a statement at a wedding, you'll have no problem finding something for every occasion. This BaubleBar jewelry review will focus on bestsellers.
BaubleBar Necklaces Review
BaubleBar sells necklaces that turn heads on their own, or when layered for all of the looks you could need, from glam night to Netflix night.
Next in this BaubleBar fashion jewelry review, we'll be looking at some of the brand's bestselling pieces, including the Asymmetrical Letter Necklace (famously worn by Meghan Markle).
BaubleBar Nameplate Necklace Review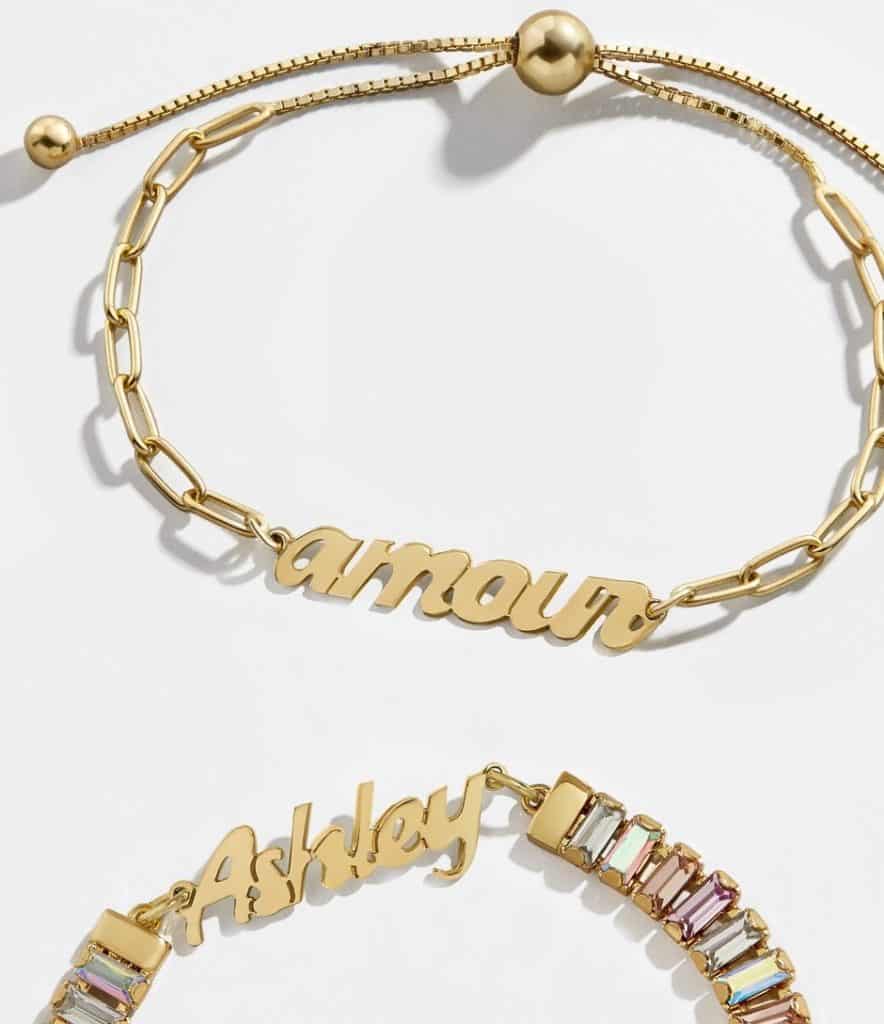 The Nameplate Necklace represents a staple within the jewelry industry that has been seen time and time again since the 70s'.
But, the BaubleBar options are completely customizable, so you can spell a (short!) name, nickname, or phrase. But be advised that the brand does a max of 9 letter characters only.
BaubleBar offers 5 choices of chains, and 3 choices of fonts. The chains include:
14 K Gold Vermeil Box Chain
14 K Gold Braided Chain
14 K Gold Curb Chain
14 K Gold Paperclip Chain
The fonts include:
Block (case sensitive)
Gothic (only first letter can be capitalized)
Script (only first letter an be capitalized)
The necklace is also made with hypoallergenic 14K Gold with a lobster clasp for a bolder look, while the chain measures 16", the extender is 3″, and the pendant is 30″.
You can purchase your custom BaubleBar NamePlate Necklace on final sale for $138.
BaubleBar Maya Brenner Asymmetrical Letter Necklace Review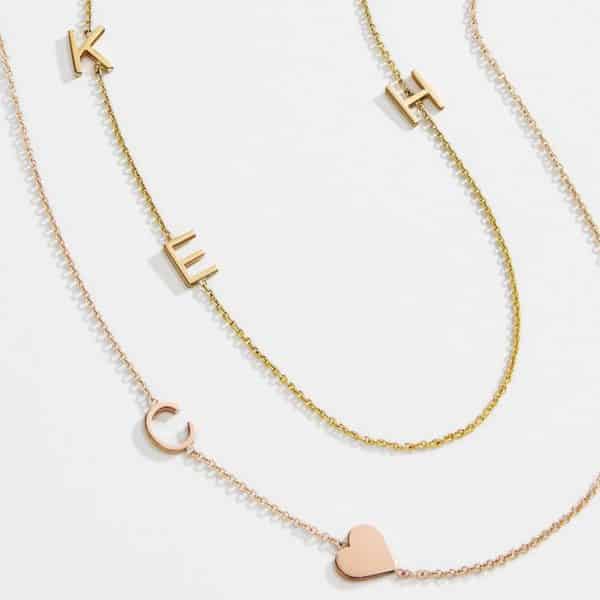 The Maya Brenner Asymmetrical Letter Necklace is another personalizable piece, much like the Nameplate Necklace.
It has a super subtle appearance, making it great for layering. Ex-duchess and actress, Meghan Markle was seen sporting this necklace with a simple 'A' around her neck (we can only assume it was for her son, Archie).
This piece of jewelry is designed with 3 fixed points for customizable letters or characters so that you can play around with it to your individual taste and be sure everyone, or everything, is represented.
The customizable options for your own BaubleBar Maya Brenner Necklace include chain material, chain length, and of course, the characters which are 0.25" each.
While the first one is complimentary, the two additional (optional characters) cost an extra $60 each.
Character options include all letters of the alphabet, stars, or hearts. Customizable chain options are broken down as follows:
Metal
14 K Gold
14 K White Gold
14 K Rose Gold
Length
This necklace is also a final sale and excluded from site-wide promotions. The Maya Brenner Asymmetrical Letter Necklace sells for $240.
BaubleBar Nascita Necklace Review
The Nascita Necklace is a thick layering chain with a glittering birthstone pendant. Don't worry if you don't know what yours is, BaubleBar provides a whole guide featuring amethysts, emeralds, rubies, sapphires, and more.
If you're wondering what the significance is, wearing your birthstone is supposed to bring you good luck, and protection from bad karma and negative energies.
The box chain is made of 14K Gold plated sterling silver, and the colored stones are made with cubic zirconia.
Note that this necklace measures 16" in length with a 3" extender and lobster clasp. Purchase your own Nascita Necklace for $58.
BaubleBar Earrings Review
There's a bottomless collection of BaubleBar statement earrings ranging from whimsical and colorful to minimal and classic. This BaubleBar fashion jewelry review will focus on the brand's bestselling earrings.
BaubleBar Tassel Earrings Review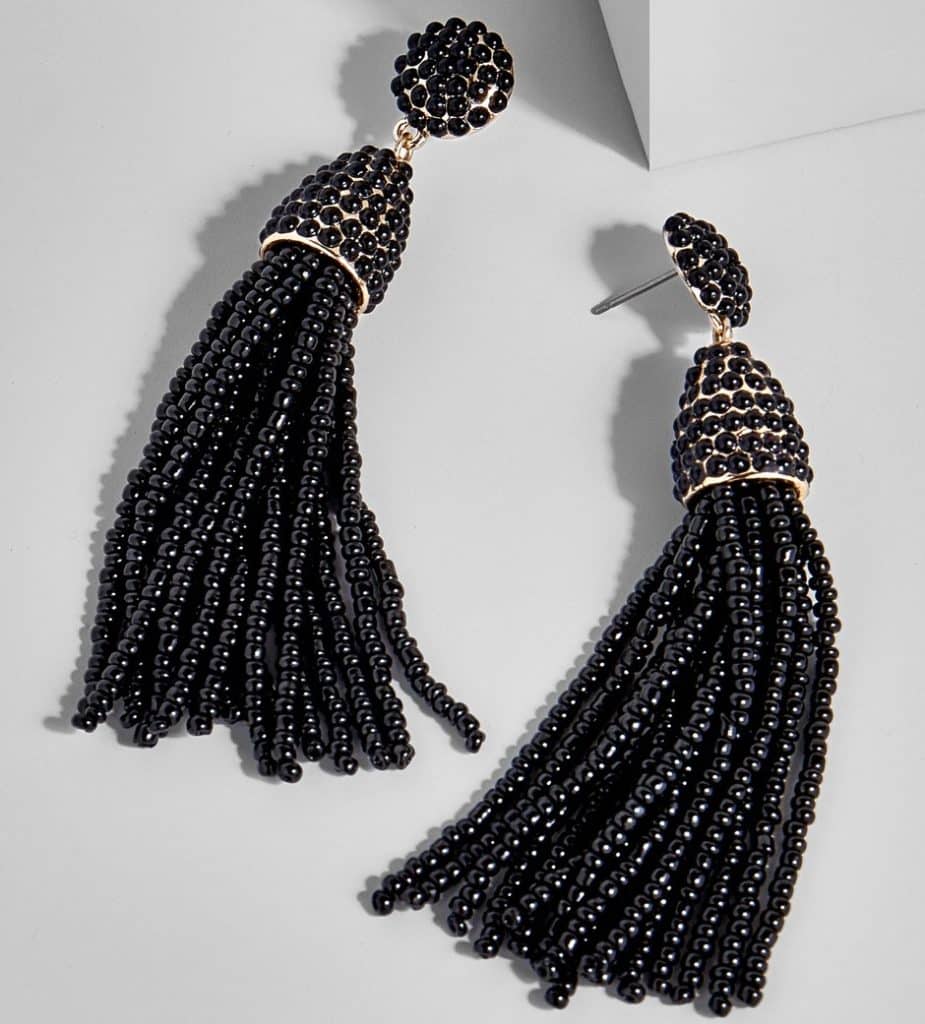 The Piñata Tassel earrings are made with lightweight glass beads. This style can seamlessly transition from accessories worn on a normal day at work to a night out with the ladies.
This pair is made from hypoallergenic materials, measuring 3.25" in length and 0.48" in width, and weighs around 0.45oz. If a classic, elegant look is more our thing, try the BaubleBar Farah Ear Crawlers.
Looks like the popular Piñata Tassel is usually offered in black and white, but is currently sold out (normally, it is available for $36).
BaubleBar Spillo Earrings Review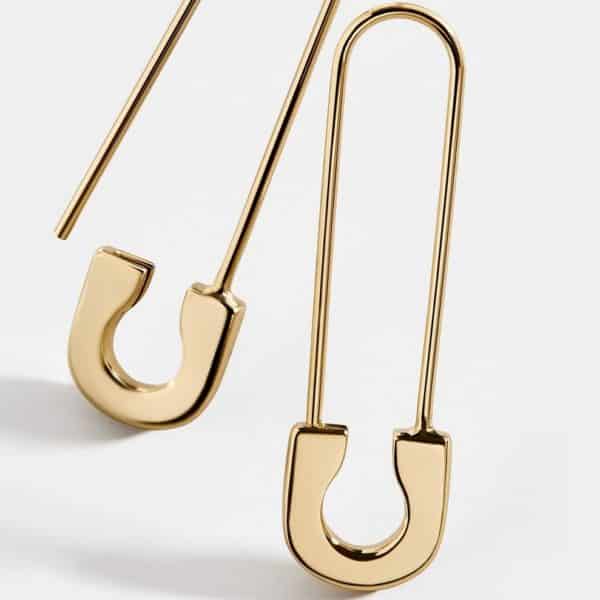 If you've seen the BaubleBar safety pin earrings floating around, you've been looking for the brand's Spillo Earrings.
These unique earrings are great conversation-starters that reflect fashion while representing function. You'll notice that this style is pretty dainty and looks great paired with both studs and heavier earrings.
The Spillo Earrings are also constructed with 2.5 microns of 18K gold-plated sterling silver, so we suggest keeping them safe in a jewelry box when they aren't being worn. Also, keep them away from water to maintain quality!
These earrings measure 1.12" in length and 0.30" in width, weighing a total of 0.03 oz. Get simple yet unique with the Spillo Earrings for $54.
BaubleBar Gummy Earring Set Review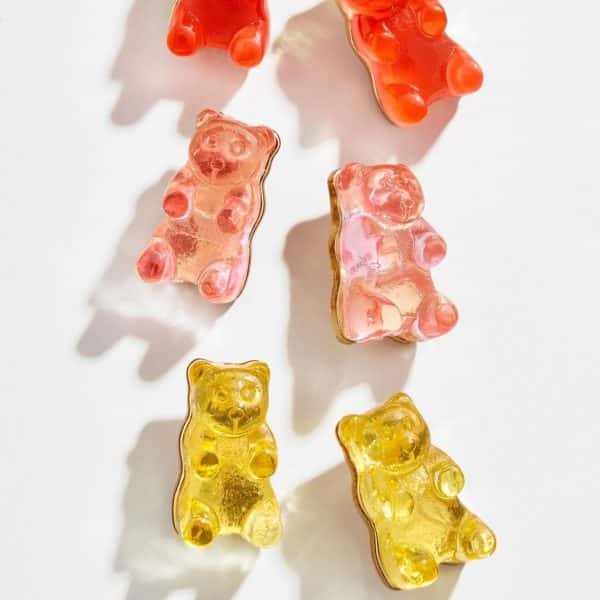 The Gummy Earring Set is a stud earring shaped like, you guessed it, a gummy bear!
When you buy this set, you get 3 pairs of these adorable bears in Red, Pink, or Yellow. Before you ask, yes, they really do look edible, but this BaubleBar fashion jewelry review definitely doesn't recommend popping them in your mouth!
They're almost as lightweight as candy, which makes them easy to wear all day long, while also being hypoallergenic due to their Epoxy, Brass Casting, Titanium Posts, and shiny Gold Plating.
The Gummy Earring Set is high in demand and it is presently sold out, so you'd have to sign up for the waiting list. They normally ring in at $42.
BaubleBar Bracelets Review
Like all BaubleBar accessories jewelry, the bracelet collection offers tons of different styles. From busy and eclectic, heavy and glamorous, to delicate and stackable, there is something for every preference. This BaubleBar will focus on the brand's bestselling bracelets.
BaubleBar Nameplate Bracelet Review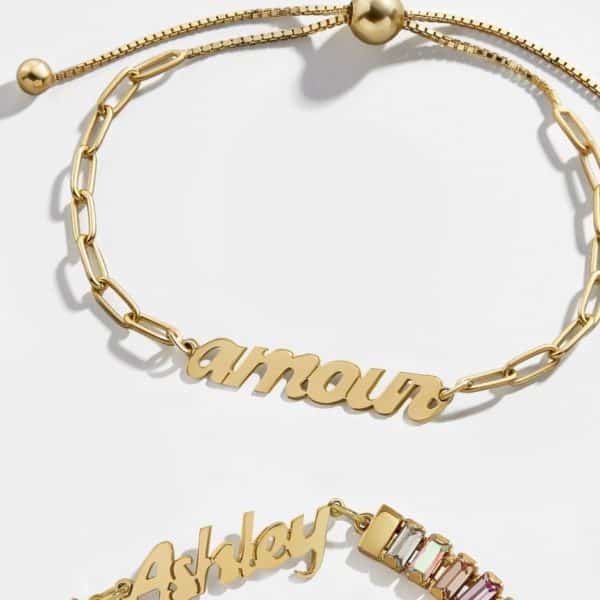 If you want a matching bracelet to go with your Nameplate Necklace, or necklaces simply aren't your forté, then this style is made for you.
The Nameplate Bracelet is, of course, a customizable piece. Two very different chains are available for this style:
14K Gold Vermeil Paperclip chain (for an extra +$20)
Baguette Gem
The Baguette Gem chain looks like a row of multi-colored glass rectangles made from glass and resin. For your custom name or phrase, you are limited to 8 alphabets. So, again, choose wisely!
The Nameplate Bracelet is hypoallergenic, made with gold plated brass, and 14K Gold plated sterling silver. The inside circumference measures 6" with an extender of 1.25″.
This Nameplate Bracelet makes the perfect gift, or as a friendship bracelet, on final sale for $58.
BaubleBar Custom Multi Pisa Bracelet Review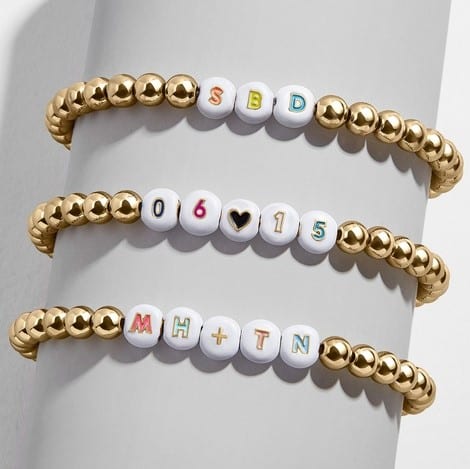 Yet another custom option! Show a subtle, personal, pop of color with the Custom Multi Pisa Bracelet that can add a new look to the friendship bracelets we all loved as children.
Made with 6mm gold balls and rainbow-colored beads can be personalized with your choice of a name or phrase. This BaubleBar fashion jewelry review recommends a nickname or pet's name!
Note that this particular product currently has a promotion for 20% off 2+ Pisa bracelets with the promo code listed below. You can get the cute, and quirky, Custom Multi Pisa Bracelet for only $40.
BaubleBar Gold Braid Cuff Review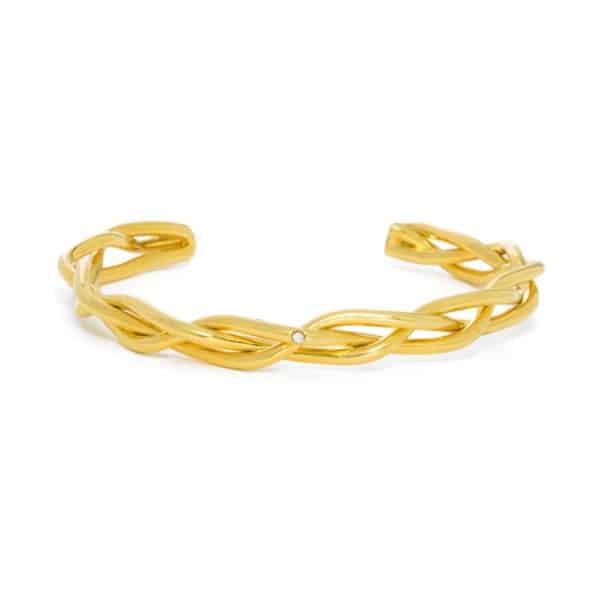 The Gold Braid Cuff is a simple braided cuff bracelet that opens on one side for individual adjustment. BaubleBar describes this style as sleek and feminine, embellished with a crystal accent to add a sparkle to your arm stack.
The Gold Braid Cuff is made with 14K gold plated metal, and measures 6.2″ in length, with a 1″ adjustable opening.
Note that BaubleBar offers a Stack and Save discount on this style so that when you buy two, you earn 20% off your purchase, but is currently sold out.
BaubleBar BBxOMC Phone Case Review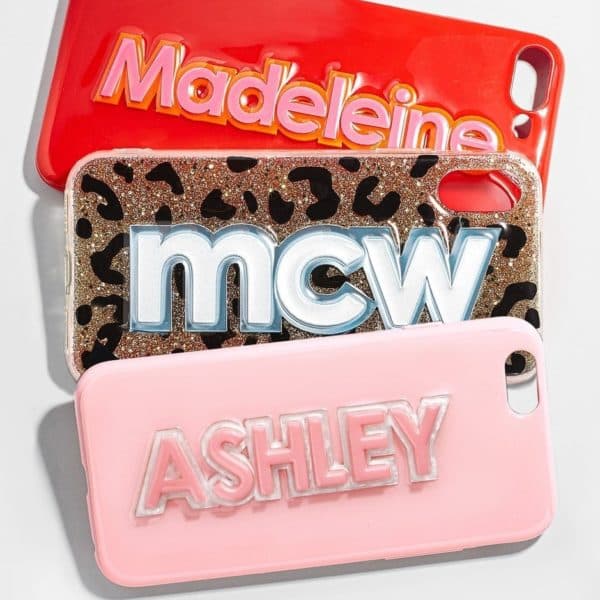 The BBxOMC Phone Case is a BaubleBar and Off My Case collaboration, producing a line of attention-grabbing iPhone cases.
The BBxOMC Phone Case comes in 18 patterned background combinations, including Zebra, Rainbow, Leopard, Star, and more. It covers a range of iPhone 7 to iPhone 12 mini.
Your custom font can either be in a script (lowercase) or block, and you can select up to 12 characters including the alphabet letters, a comma, plus sign, and an ampersand sign so that you can write out your preferred name or mantra.
Since this one is personalized too, the BBxOMG Phone Case is final sale and ineligible for returns. It sells for $78, but BaubleBar is offering a limited-time discount: 15% off when you buy 2!
BaubleBar Tris Ring Set Review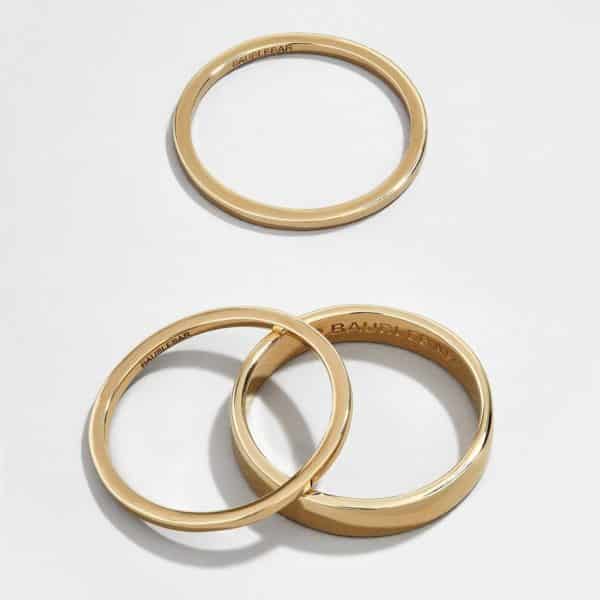 The Tris Ring Set is a combination of BaubleBar rings that come in different weights. According to BaubleBar, this is a foundational set for anyone who likes the stacking look.
It comes with 3 minimal bands with increasing thicknesses, made from 8K gold plated sterling silver. Easy for an everyday essential, the Tris Ring Set sells for $62.
BaubleBar Jewelry Reviews: What Do Customers Think?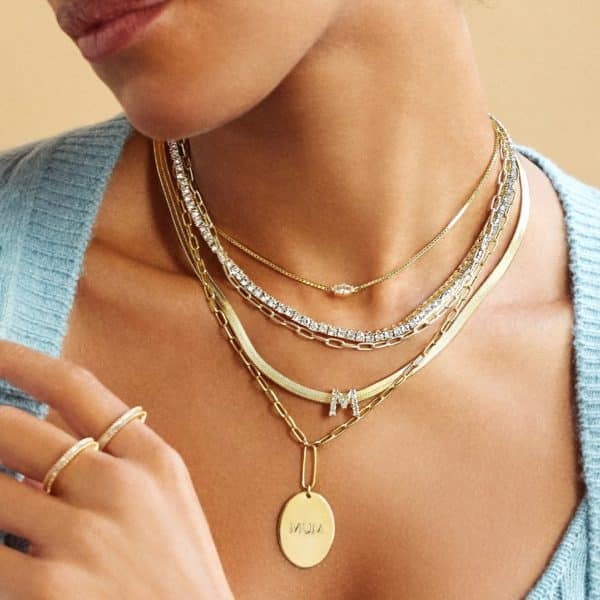 So, now that you have seen the products offered, is BaubleBar good quality? Let's find out. This BaubleBar review will now take you through what customers think of the brand, their practices, their customer service, and more.
In 2020 Business Insider wrote that BaubleBar has an "unmatched selection of affordable, trendy jewelry."
On Influenster, there are 272 BaubleBar fashion jewelry reviews with an average rating of 4.4/ 5 stars. Customers mention "current styles", and "reasonable prices".
A 5-star reviewer on Influenster was initially skeptical of the brand, but did not regret making the choice to purchase from them:
"Bought a few dainty necklaces, and I love them all. They look just like my more expensive pieces, and they've lasted for months now (I wear some of them almost daily)."
Those few negative reviews about the brand claim that they never received their orders and have not been able to contact customer service despite multiple attempts. As one reviewer stated:
"I ordered a necklace in March and still have not received it (over 2 months late)," adding that he had reached out to customer service many times by call and email.
Another 1-star reviewer claimed that the company gave her a fake tracking number. Finally, some unsatisfied buyers wrote that they would report BaubleBar to the BBB.
Plus, on Sitejabber, there are 65 reviews with a fairly poor overall rating of 2.06/5 stars, very similar to Trustpilot who has 71 BaubleBar fashion jewelry reviews with an overall rating of 1.4/ 5 stars.
This BaubleBar jewelry reviews saw that customers on these 2 platforms frequently reported that the pieces were never delivered, seemed cheap, and overpriced.
Is BaubleBar Jewelry Worth It?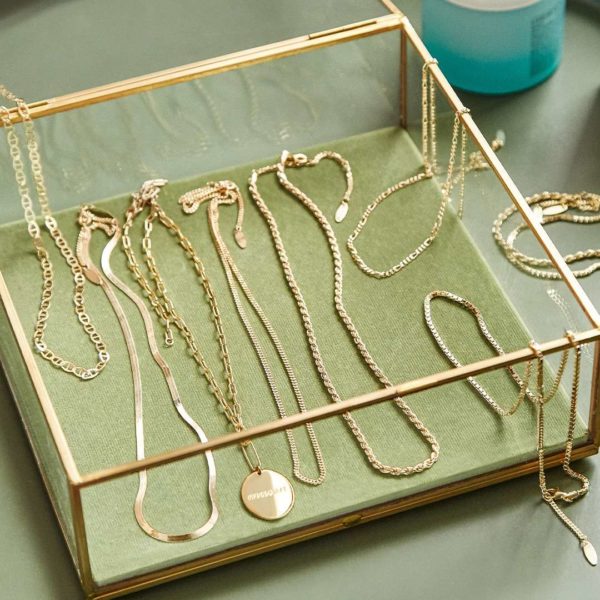 Based on the extensive research conducted by this BaubleBar jewelry review, we think that BaubleBar is worth the buy.
Much like fast-fashion department store jewelry brands, BaubleBar uses affordable materials to be able to provide customers with discounted jewelry. The brand also makes its pieces even more accessible by offering frequent sales.
The negative reviews from customers are daunting, and we acknowledge how annoying it is when products are not delivered or when they are not up to par. If you do have issues of this kind with BaubleBar, you can consider their 45-day return policy your ally.
But, if you are looking for unique jewelry that takes the ordinary to extraordinary and can even come in customizable options, this BaubeBar fashion jewelry review thinks that this brand is worth the buy.
BaubleBar Jewelry Promotions & Discounts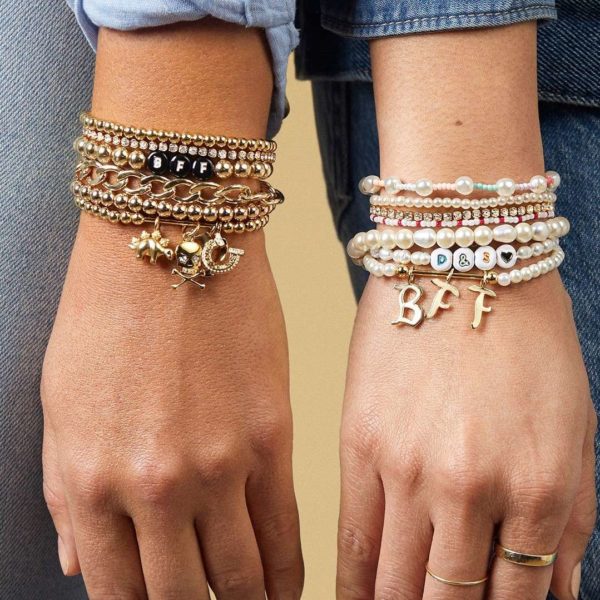 As outlined in this BaubleBar jewelry review, the brand frequently offers site-wide discounts and has an extensive sales section with products discounted up to 80% off.
Right now, there are a couple of limited-time promotional codes floating around the website:
20% off 2+ Pisa Bracelets with code 'PISA20'
15% off 2+ Custom BBxOMC Phone Cases with code 'CUSTOM15'
15% off 2+ Cubic Zirconia rings with code 'RING15'
Free shipping and returns for U.S. orders of $50+
Where to Buy BaubleBar Jewelry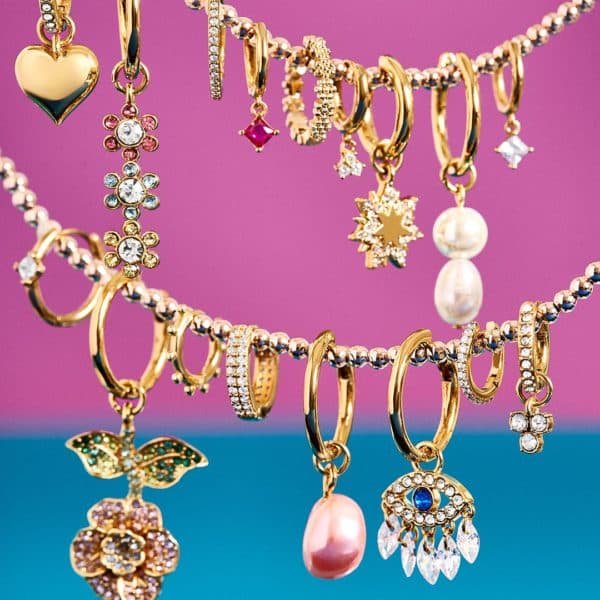 You can buy BaubleBar accessories jewels online at BaubleBar .com.
If you like, you can also ppurchase through partnered BaubleBar jewelry websites such as:
Revolve
Nordstrom
Anthropolgie
Amazon
FAQ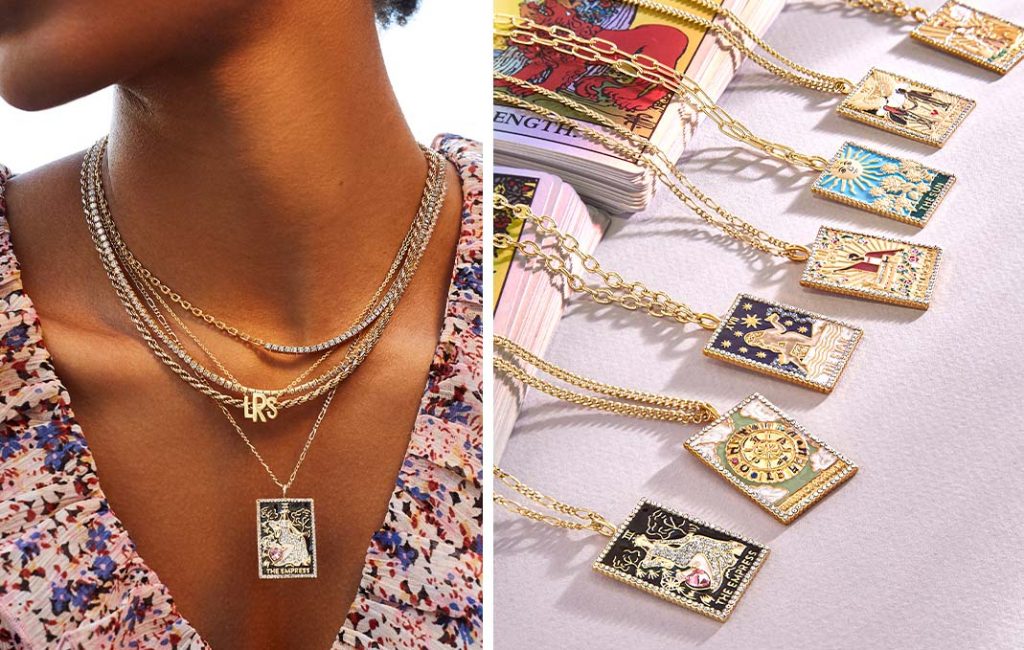 Who owns BaubleBar?
BaubleBar is owned by friends and former investment bankers Daniella Yacobovsky and Amy Jain. They invested in this start-up to fill a hole in the designer jewelry market.
Is BaubleBar ethical?
BaubleBar jewelry is manufactured in New York. The company claims that they support ethical practices, including sourcing their gold.
Is BaubleBar real gold?
BaubleBar does use real 14K Gold. In most cases, it's used to plate sterling silver or brass.
Is BaubleBar hypoallergenic?
According to BaubleBar, all jewelry baubles (as the company refers to their pieces) are hypoallergenic and certified nickel-free, lead-free, cadmium-free, and phthalates-free.
How long does BaubleBar take to ship?
Within the U.S. BaubleBar offers free UPS shipping on orders $50+ with the added benefit of free returns.
The brand offers international shipping to the following countries on a DDP (delivery duty paid) basis: Australia, Canada, China, France, Germany, Hong Kong, UAE, Saudi Arabia, Singapore, and the United Kingdom. Shipping cost is calculated at checkout.
What is BaubleBar's Return Policy?
BaubleBar accepts returns for items received within 45 days of purchase. In order to be eligible for a return, your package must have your original invoice, as well as the jewelry in its original packaging.
When you qualify for a return, BaubleBar will supply you with a prepaid USPS return label. If you choose to use a different shipping method, be sure to address your return to: