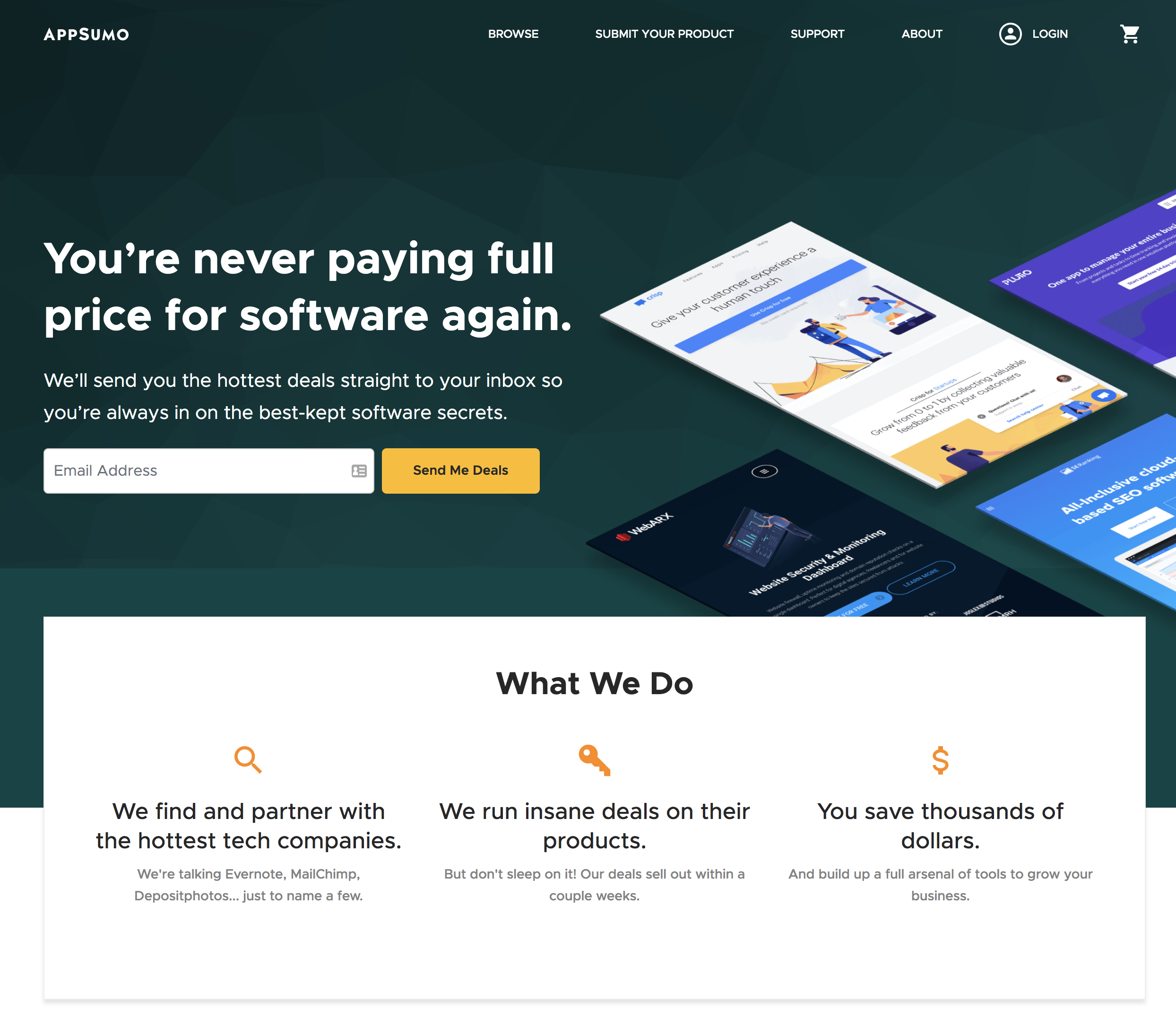 Attention all web geeks! Are you always looking for deals on digital tools? After all, there are so many of them on the market that can do amazing things for your website. Have you heard of AppSumo but not sure what they're all about? So, what is AppSumo? AppSumo is a niche online retailer that delivers mega-discounted prices on software geared toward developers, programmers, web and graphic designers and more. Or, in the words of the former Facebook, Mint, and Google employees who launched AppSumo, they "promote great products to help you kick ass at work."
This Austin, Texas-based company has been around a few years and has 700,000+ faithful followers who know a steal of a deal when they see it. And the AppSumo team also promotes carefully selected software products created by burgeoning entrepreneurs. Interested in learning more? Check out our AppSumo review to see how we rate their marketplace.
AppSum Overview
PROS
Excellent deals on high-quality products
They use and test every single tool before selling them
100% money-back guarantee within 60 days
They partner with up-and-coming developers to promote and sell products
No spam mail
CONS
Most deals are available for a limited time and can sell out
Extremely stringent approval process to promote products for those looking to sell
Key Features
AppSumo deals range from 50 to 95% off of regular pricing
Excellent deals for lifetime sign-ups on digital tools
Major discounts on web-related and other courses
Owned and run by tech experts
Sign up for AppSumo's newsletter, which gives you special access to their latest deals
Featured in the Washington Post, Lifehacker, TechCrunch and more
What Can You Get With AppSumo Deals?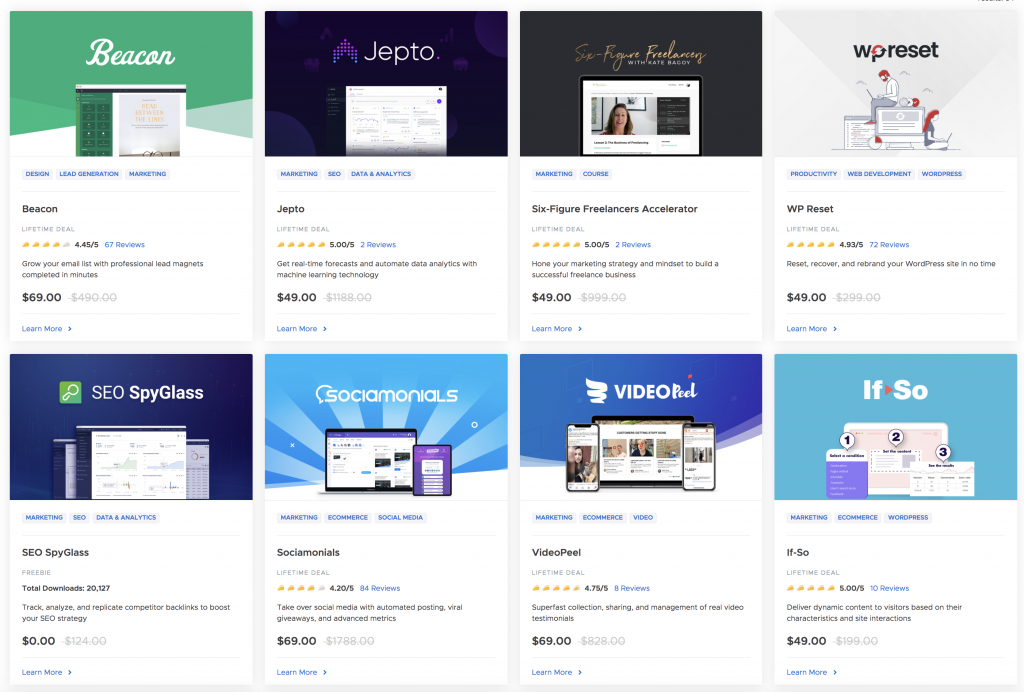 Here's a list of some of AppSumo's more popular deals to give you an idea of what they've offered in the past.
Webinar Ninja: $49 for lifetime signup (normally starts at $45/mth)
Landingi landing page designer: $49 for lifetime signup (regular pricing is $29/mth)
ClickMinded SEO training course: $149 (regular fee is $479)
Serpstat SEO platform: $39 for lifetime signup (normally at least $300 per year)
Kernest Konstellations premium font packages: $125 (normally $540)
What are AppSumo Plus and AppSumo Briefcase?
Ok let's talk about AppSumo Plus first.
For $99 a year you get 10% off each and every deal on AppSumo and you get early access to new deals, additional training on featured apps and also a Pro license to AppSumo's KingSumo giveaways product. (More on KingSumo and other AppSumo ventures like Sendfox below)
Now I will be blunt, AppSumo is not impressive to me firstly because I have KingSumo already from a previous deal anyway and because to make your money back (through the 10% off coupon code) on that $99 per year you will need to buy at least 2 AppSumo deals per month.
Granted for many of you who are just starting to build your software stack this can be really easy with all the great deals they featured but for me it's not a great value proposition. If AppSumo included some type of deal on their new email marketing platform SendFox, believe me I would quickly change my tune. But for now AppSumo briefcase is a way more compelling offer than Plus.
Pay $49 per month and get access to some of the best apps to growth hack your business. Everything is covered from design tools, productivity, sales and business development, video creation, social media marketing and even client management for freelancers and invoicing.
If you had the assurance that all the business tools your startup needed to scale quick would only cost you $49 per month that would be a comforting thought in terms of financial planning and with AppSumo Briefcase it's possible.
Concluding this AppSumo Review
Phew this AppSumo review has been comprehensive but I hope it helps you to feel confident in doing business with these Sumos. Being a client of theirs has been one of the smartest buy-ins I have ever made in my business career. The thing that separates them from competing sites is the quality and due diligence they take with every company they feature.
So it's a no-brainer on the buyer side.
But If you are interested in featuring your company on AppSumo you need to be ready for an avalanche of traffic and have done your own due diligence on whether the 70% fee you have to pay AppSumo is worth the cash injection you get upfront into your startup.
View the latest deals from AppSumo and don't forget to claim your bonus here if you do.