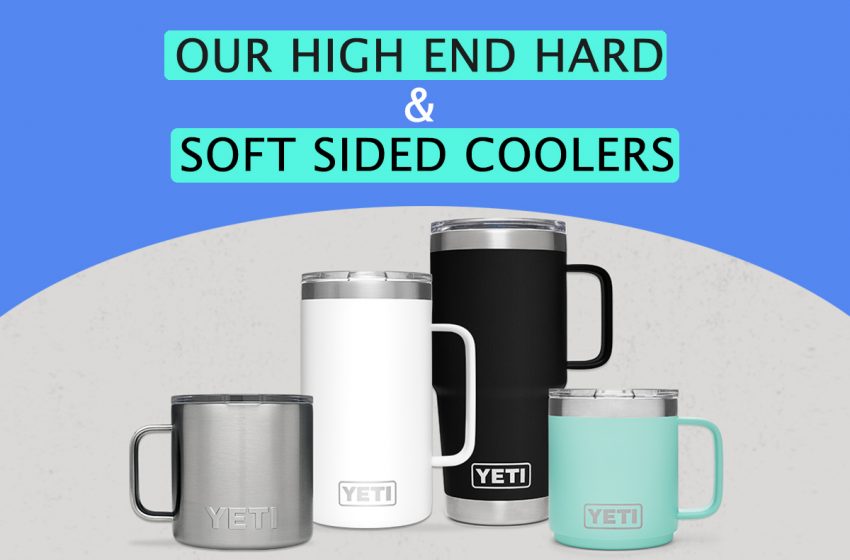 About Yeti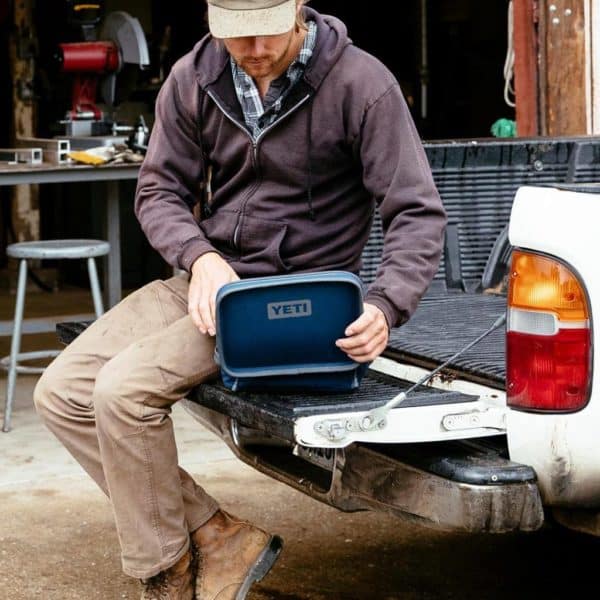 Yeti specializes in high-performance coolers, drinkware, and other outdoor accessories. In the United States, Yeti coolers have become a status symbol for their quality and widespread use for outdoor activities like camping, backpacking, and boating.
Yeti products are featured in prominent publications including Business Insider, Fast Company, Men's Health, Gear Junkie, and the New York Times. The brand also has an impressive following of 1.5 million people.
This Yeti cooler review provides an overview of their top-selling products to help you decide if these goods are worth a travel mug, water bottle, or cooler upgrade.
Overview of Yeti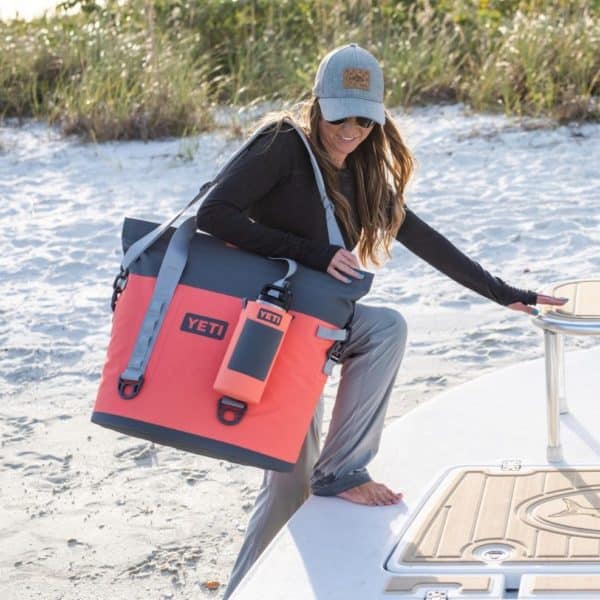 Yeti was founded in 2006 by the Seiders brothers in Austin, Texas. As avid outdoorsmen, they had a simple mission: create a cooler that would keep catches, kill, and beers cold. They found other run-of-the-mill coolers on the market to be lacking in this key capability.
After the success of their debut hard-shell cooler, many other products and accessories followed, like Yeti backpack models, tote bags, insulated cups, and lunchboxes. Yeti products are made in different locations including the US and Mexico, each marked with their country of origin. Talk about transparency!
Next up in this Yeti cooler review is a comprehensive list of pros and cons about the brand.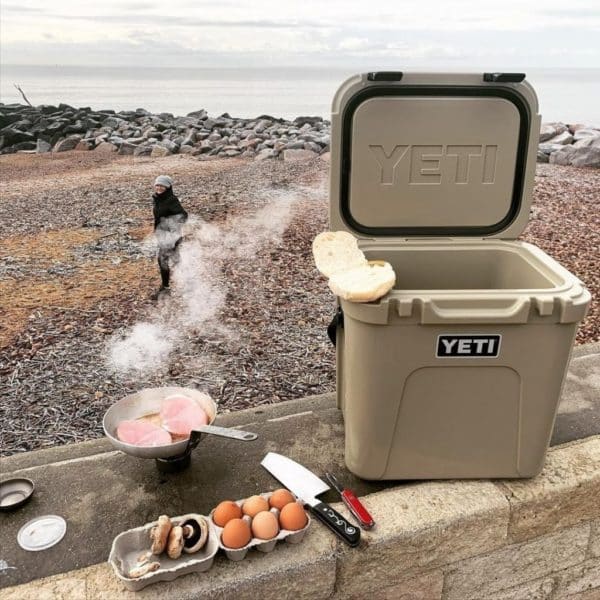 Pros
Wide variety of multifunctional products
Leak-proof and waterproof designs
Durable construction that lasts longterm
Customizable Yeti drinkware (text, monograms, and logos)
Free shipping within the United States
Extensive international shipping options
Cons
Coolers are pricier than most on the market
Some customers complaints on customer service
In this Yeti cooler review, we'll be going over some of the company's most popular products across categories. From drinkware and coolers to outdoor gear, we'll provide insight into the function and specs of each product. Yeti products may end up as essentials for your next camping or hiking trip.
Yeti Drinkware Review
First up, drinkware. With numerous tumblers, coolers, and bottles, Yeti has got many on-the-go drinkware solutions specifically designed for outdoor adventures. Every Yeti cup is customizable, so you can add text, a monogram, or even a logo!
Yeti Rambler 20oz Tumbler Review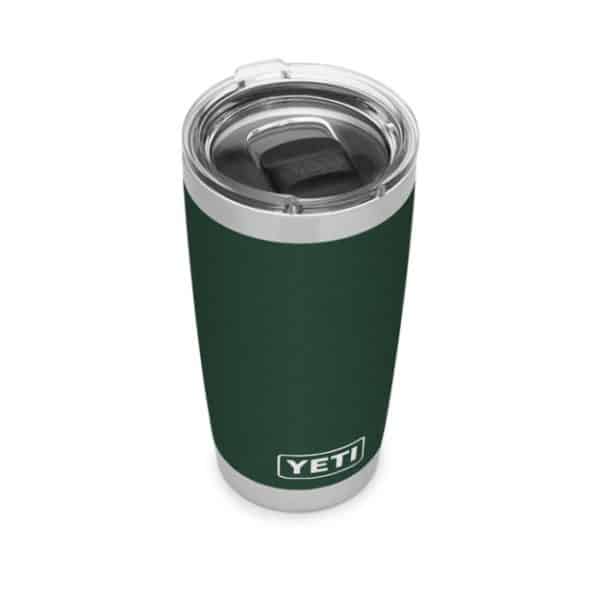 The Rambler 20oz Tumbler looks basic, but it's packed with useful features. This stainless steel tumbler is incredibly durable, boasting puncture- and rust-resistance. The drinkware features double-wall vacuum insulation to keep drinks hot or cold for hours.
With its cup holder compatibility, this tumbler can come on your morning drive to work. A magnetic lid closure keeps the opening securely shut, so you won't be spilling its contents.
Have drinks on the way to work, at your desk, then pop the tumbler in the dishwasher for easy cleaning. This Rambler 20oz Tumbler comes in 9 colors for optimal personalization and rings in at $30.
Yeti Rambler 10oz Wine Tumbler Review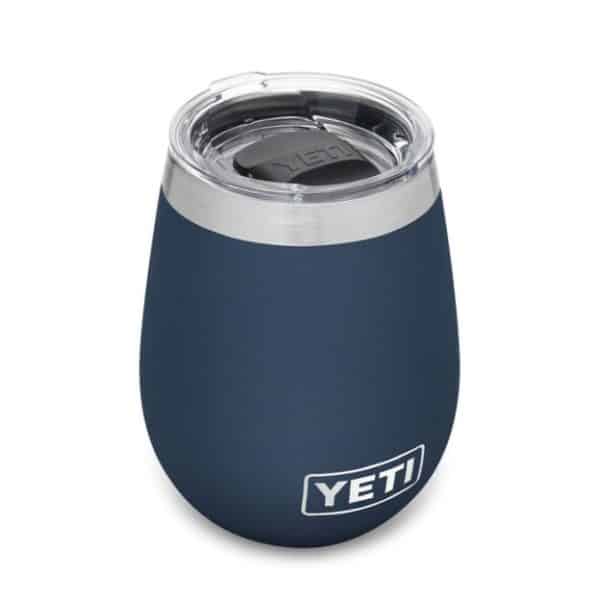 A temperature-controlled cup for wine, is there anything better? This wine tumbler contains dishwasher-safe stainless steel. It features the very same double-wall vacuum insulation as Yeti's standard Rambler tumbler.
Warm wine can really ruin the taste, especially with whites and bubbles. While this tumbler doesn't contain a lid, it's still more effective at maintaining cooler temperatures compared to a standard wine glass.
Since it's so durable, the Rambler 10oz Wine Tumbler is well-suited for sipping vino on the patio or poolside, where regular wine glasses aren't the greatest option. It's available in 9 fun colors for $18.75, reduced from $25.
Yeti Rambler 12oz Colster Review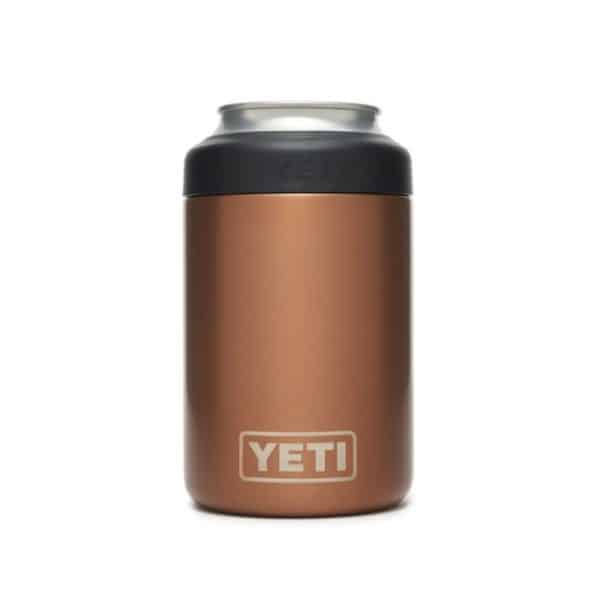 The Rambler 12oz Colster is designed for keeping beer, soda, and other cans cold. The stainless steel holder features the same dishwasher-safe, double-wall vacuum insulation to make sure your drinks stay refreshing.
Whether you are at a summer barbeque or enjoying a winter dip in the hot tub, you can use this drinkware in any season. It's resistant to dents, drops, and condensation. Get this high-performance Yeti holder for your cans in one of 8 colors, priced at $25.
Yeti Rambler 18oz Bottle Review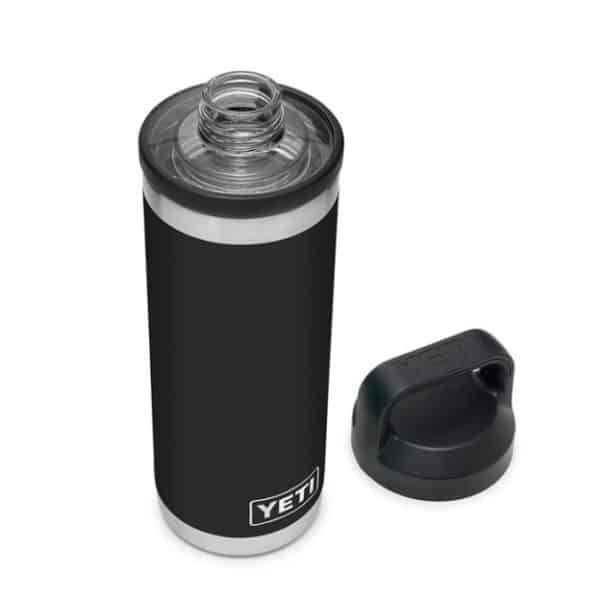 The Rambler 18oz Bottle can tag along on your daily commute, gym trips, and outdoor adventures. The shatterproof, condensation-resistant, stainless steel has a quick-twist chug cap allowing you to take quick, controlled gulps.
Note that this model is not intended for carbonated or hot beverages. After you enjoy other drinks, you can clean this dishwasher-safe Rambler easily. It's available in 9 colors for $30.
Yeti Coolers Review
Yeti is well known for their soft and hard coolers alike. Yeti's heavy-duty coolers are often seen on boats, in the back of trucks, on riverbanks, and alongside picnic blankets. Keep reading this Yeti cooler review to learn more about these buzzed-about coolers.
Yeti Hopper M30 Soft Cooler Review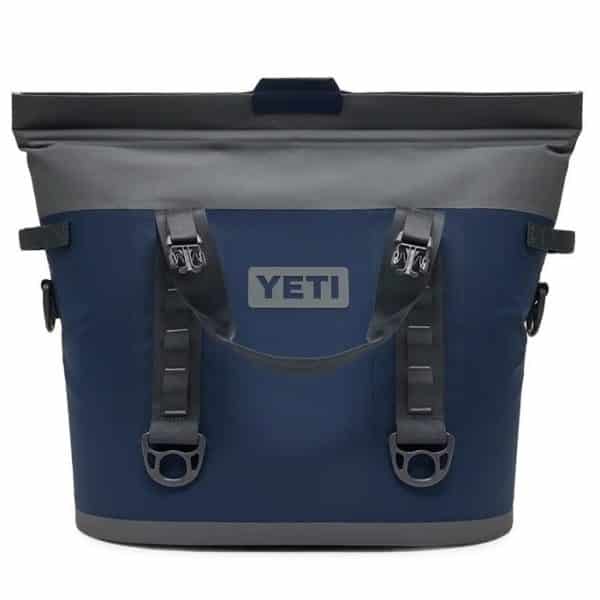 The Hopper M30 Soft Cooler is rough and tough, constructed from heavy-duty Dryhide fabric that boasts UV-, mildew-, and puncture-resistance. This kind of durability is rare in a soft cooler, to be sure.
You don't have to worry about leaks either. The cooler features a magnetic A Hydroshield closure and leakproof seal maintain cold temperatures, paired with ColdCell insulation.
This spacious Yeti cooler bag has a wide-mouth for easy access to food and drinks. Ringing in at $300, you can choose between Grey, Sagebrush Green, and Navy shades.
Yeti Roadie 24 Hard Cooler Review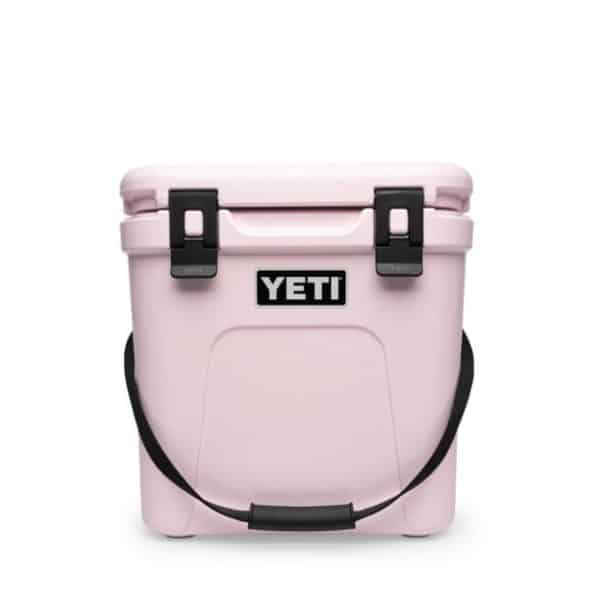 The Roadie 24 Hard Cooler is for withstanding tougher outdoor conditions, featuring Yeti's signature rotomolded construction. Its PERMAFROST insulation can contain ice for days, an undoubtedly impressive feat.
One noteworthy thing that instantly grabbed my attention is that its size accommodates wine bottles…We're sold. What's more, this sturdy cooler has a NeverFail hinge system, quick latch, and a HeftyHauler handle to make carrying this roomy cooler easier.
The Roadie 24 Hard Cooler is compatible with Yeti's Tie-Down kit, so you can also transport this cooler on your boat, truck bed, or trailer. Talk about mobility!
Dubbed "The Roadtrip buddy," this model isn't bulky like many other options on the market and is relatively lightweight for a hard cooler. This top-performing cooler rings in at $200, available in 6 attractive colors.
Yeti Tundra 35 Hard Cooler Review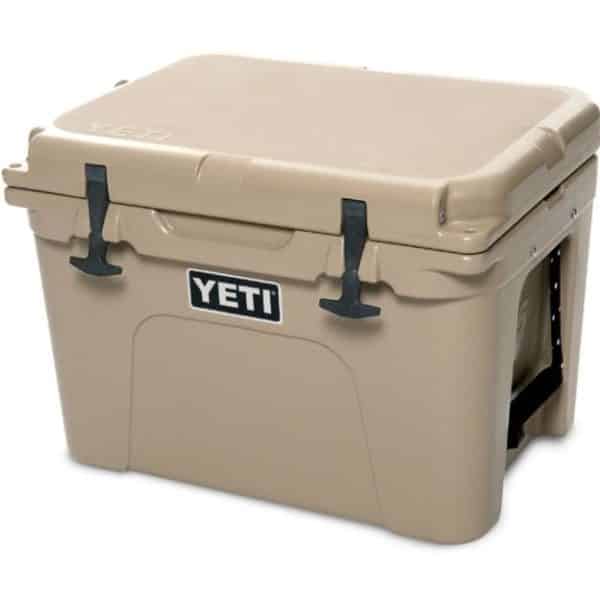 The Tundra 35 Hard Cooler! This is one of Yeti's most popular items, ideal for keeping food and drinks cold for large groups or Its rugged rotomolded design can withstand almost anything. It contains walls with 3 inches of pressure-injected polyurethane foam insulation for ultimate temperature retention.
Contents are secured in this cooler with Yeti's Neverfail hinge and interlocking lid systems. It's designed for mobility with Anchorpoint tie-down slots, and LipGrip, DoubleHaul handles. Bonus features include a Vortex drain system and Bearfoot non-slip feet. We're pretty impressed at this point.
This cooler costs $250 and comes in Sagebrush Green, Navy, White, and Desert Tan. It's compatible with many other brand tools and accessories, which we'll get into next in this Yeti cooler review.
Yeti Gear Review
Yeti also carries some innovative and rugged gear for the outdoors, including pet bowls and buckets. Whether you are hosting a party and need a beer bucket or want to spoil your pup with a Yeti dog bowl, check out these bestselling gear and accessories.
Yeti Boomer 4 Dog Bowl Review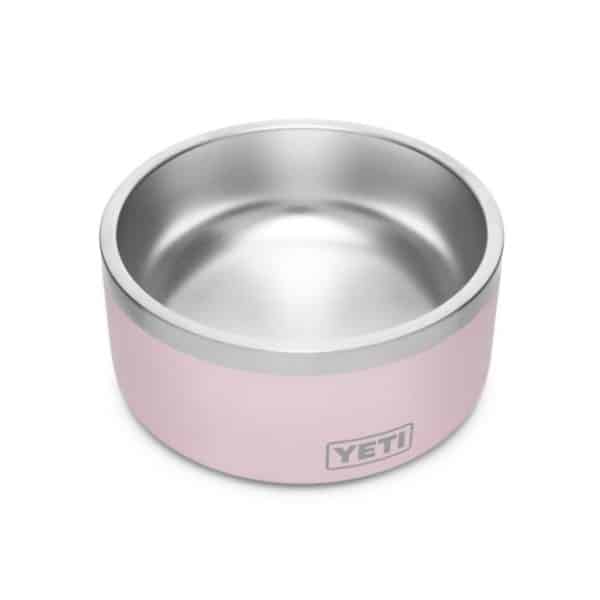 Your fur-baby needs some adventure gear too! Enter the Boomer 4 Dog Bowl, safe and BPA-free. This durable bowl has a 4 cup capacity with high-tech features, just like other Yeti products. Talk about a doggie upgrade!
This premium dog bowl contains a non-insulated, rust-resistant stainless steel construction and the Duracoat exterior is resistant to cracking and chipping. All this adds up to next-level durability that comes in handy when roughing it outside with your pup.
The Boomer 4 Dog Bowl comes with a few other convenient features: dishwasher safety and a Bearfoot non-slip ring to prevent eating while your pup is chowing down. Get this heavy-duty dog bowl for $40 in one of 5 fun colors.
Yeti Loadout 5-Gallon Bucket Review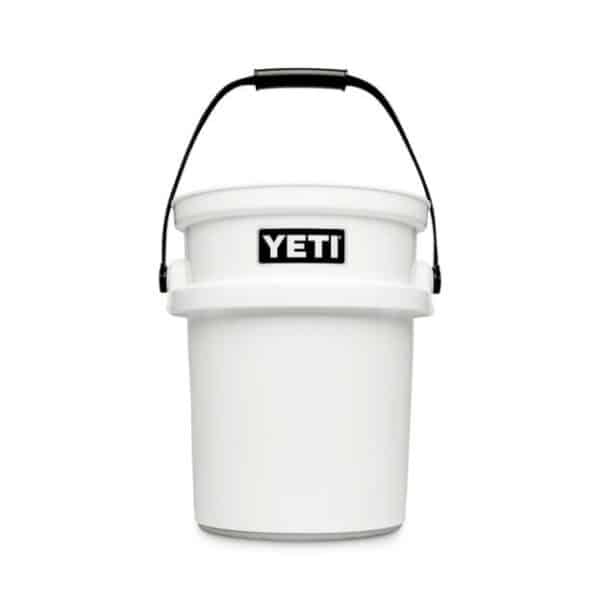 The Loadout 5-Gallon Bucket is a nearly indestructible powerhouse. This bucket is impact-resistant and designed for comfortable carry while you put it to work. One Yeti cooler review dubbed it "The Cadillac of Buckets."
Despite it's seemingly straightforward design, it comes with a host of classic Yeti product features. While the high-capacity bucket may seem unwieldy, it contains an HeftyHauler, LipGrip handle for easy carry. Anchorpoint tie-down slots and a non-slip bottom keep it secure on your travels and while in use.
This food-safe, multi-use bucket can be used for fishing, ranch work, storing water, and more. The bucket will stay in place with its non-slip bottom. This Yeti bucket prices at $40, available in White, Seafoam, Desert Tan, and Charcoal.
Yeti Reviews: What Do Customers Think?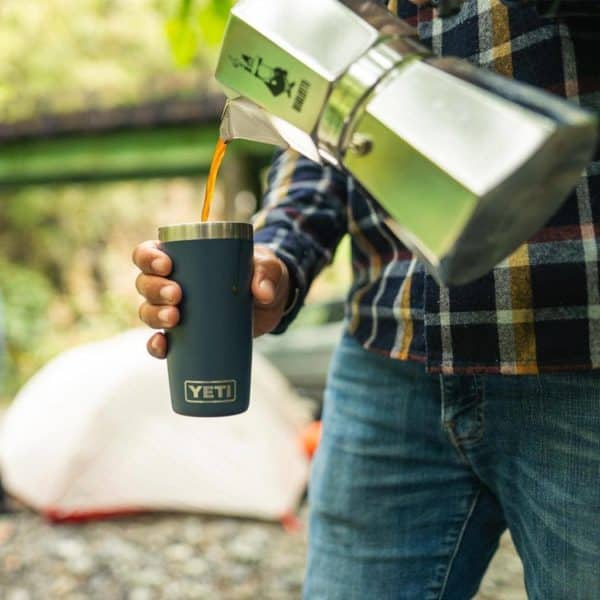 Customers on the Yeti website are largely pleased with their products. Average customer ratings all approach 5 stars, amounting to thousands of reviews. For instance, the Tundra 35 Hard Cooler has 4.8/5 stars out of 2,715 reviews.
Buyers are thoroughly impressed with the durability and quality of Yeti products. Take this review on the Hopper M30 Soft Cooler: Being in the sporting goods industry I have seen it all. Yeti remains at the top while others are desperate to knock off. I appreciate the product line…..I have many. Whether I'm hunting or fishing, the products hold up."
Reviews also praise customer service, like this one: "outstanding customer service! They truly are dedicated to making the most durable products on the planet! I don't care how expensive Yeti products are – with this type of customer service they are worth every single penny!"
On Influenster, There are over 9600 reviews, most of which give the products 5/5 stars. Comments similarly reflected appreciation for the quality, performance, and durability of Yeti products. We're sensing a trend here.
GearLab published a review of the Yeti Rambler 26 which praised its ease of use and durability which were both rated at 9/10. But, the weight of the products had a 2/10. This website rated the product as 76/100 at a standpoint of #2 out of 18 water bottle products. GearLab concluded: "all in all, this bottle wowed us enough in all of our metric comparisons to take the title of Editors' Choice."
Yeti products perform remarkably well on Amazon with near-perfect star values. Check out how customers rated some of their most popular items: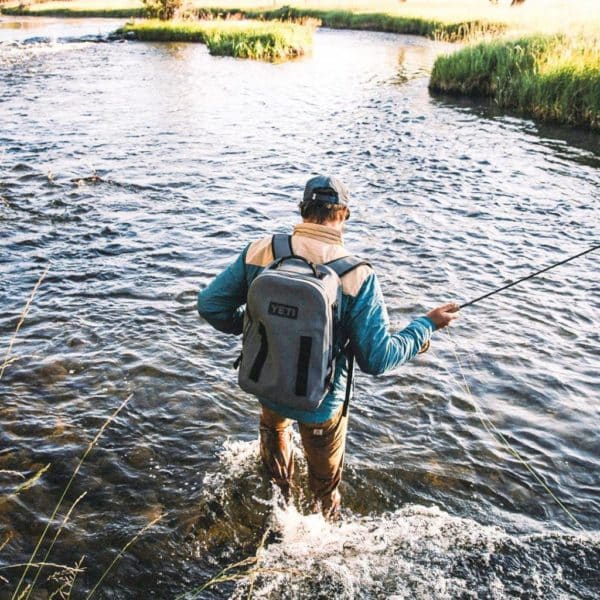 Rambler 20oz Tumbler: 4.8/5 stars from 83,000+ ratings
Rambler 14oz Mug: 4.8/5 stars from 47,000+ ratings
Rambler 10oz Wine Tumbler: 4.8/5 stars from 6,000+ ratings
Rambler 10oz Lowball: 4.8/5 stars from 16,000+ ratings
Boomer 8 Dog Bowl: 4.9/5 stars out of 1,300+ ratings
On the other hand, Trustpilot features mostly low ratings, though this only contributes to 117 reviews in total. With an average of 2.1/5 stars, many complaints relate to poor customer service, especially related product customization issues.
One Trustpilot review reads, "everything that has been said about yeti's customer service in customization is true!! Horrible. Buy somewhere else. They won't cancel or make changes to an order they haven't even started yet."
Trustpilot and other sites include some additional complaints, including reports that products broke, scratch easily, or did not perform well. Take this Yeti cooler review: "It is not much better in retaining cold than my blue wheeled Colman Cooler. Ice did not remain for more than 2 days and the frozen bottled water defrosted in 3."
It's important to note that positive Yeti reviews number in the tens of thousands, compared to the few hundred negative comments we came across. Even reputable brands have occasional issues with defective products, and it's clear that these experiences are rare.
Is Yeti Worth It?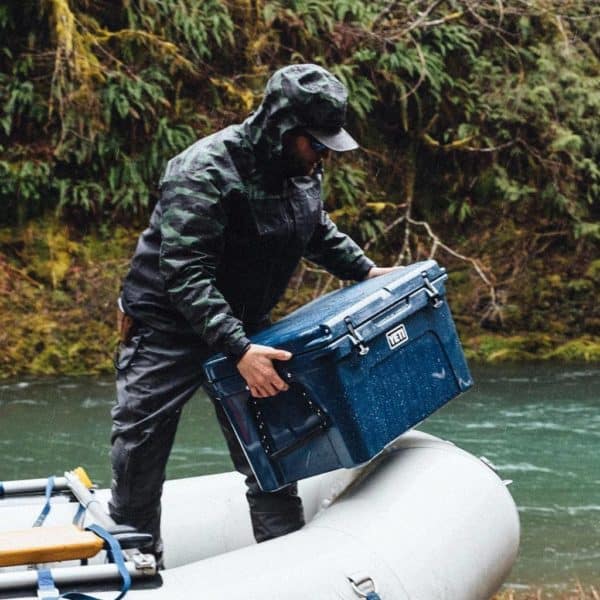 Based on the research gathered in this Yeti cooler review, we think the products are worth the steeper price tags. Their collection is durable, high-performing, and will last a lifetime. Many customers would rather dole out a little more cash for a quality product, compared to buying its cheaper counterpart with a shorter lifespan.
As for negative reviews and red flags, these appear to be few and far between. Thousands upon thousands of positive ones counter them. Customer service blunders and defective products are bound to happen, so don't put too much emphasis these comments.
Many Yeti customers use the products for their roughest outdoor endeavors and love them, to the point of buying more. If these products are outside of your price range, the lunchboxes, backpacks, and other everyday items may not be worthwhile.
If you can afford these products, we're certain the Yeti collection will be useful across the board. Their drinkware, backpack, and gear are suitable for a variety of situations, so you won't be limited to outdoor activities with these products.
Yeti Promotions & Discounts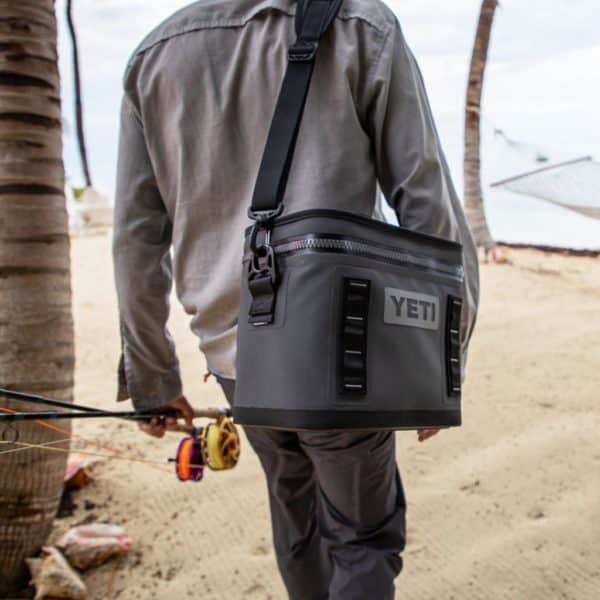 We couldn't find an active Yeti promo code, but we found a few ways that customers can save:
The Yeti website currently offers 25% off select Rambler drink products
Create a Yeti account and register products via the form on their website to receive a free gift
Join their mailing list receive alerts on upcoming deals and promotions
Where to Buy Yeti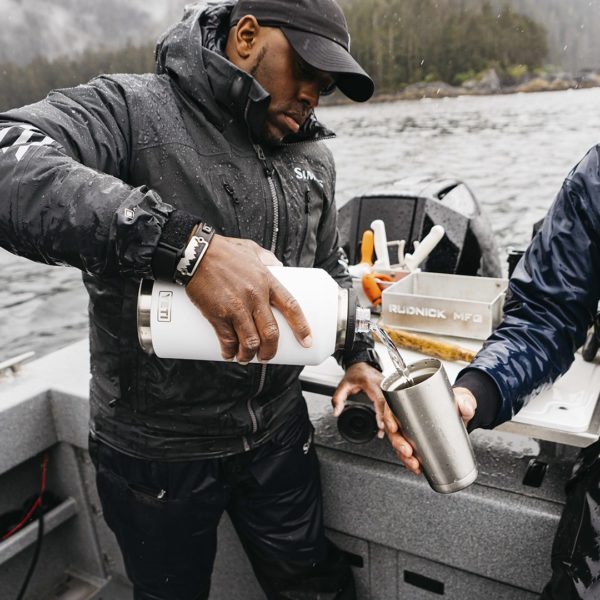 To access their entire collection of coolers, drinkware, backpacks, and more, shop through Yeti.com. You can also visit physical stores including their flagship locations and partner retailers like Sport Chek, Walmart, Dick's Sporting Goods, and Lowe's. Visit the Store Locator feature on their website for a full list of Yeti dealers.
Some of the above partner retailers have Yeti products available for purchase on their websites as well. The Yeti Amazon page is another convenient option, though their selection is limited.
FAQ
Is Yeti against hunting?
In an official statement from Yeti, they stated that they enthusiastically support hunters and the practice of hunting.
Does Yeti lose effectiveness?
Yeti products can take a serious beating, they do not lose effectiveness. Most products also carry a warranty to attest to this durability.
Does Yeti have a lifetime warranty?
The products do not have a lifetime warranty. The company does offer a Yeti warranty for particular products.
How do I track my Yeti order?
Once your order is placed you will receive an email with tracking information. You can also track orders via the Yeti website.
How long does Yeti take to ship?
Yeti ships throughout the US and to select international countries (full list on their website). The company provides free ground shipping throughout the continental US, which takes approximately 2-5 business days. Shipping charges are applied for overnight and two-day shipping, as well as orders to P.O., FPO, and APO boxes, in addition to Alaska and Hawaii.
International shipping varies depending on location. Once a country is selected, product prices appear in local currency. Order totals are recalculated to include international shipping costs.
Customers can track their Yeti shipments by filling in their order number, order email, and billing zip code.
Can I return my Yeti?
Yeti has a 30-day return policy. If you initiate your exchange within 30 days of receiving your product, you are eligible for a full refund (with the exception of customized products). Yeti returns must be unused and still original packaging. To initiate a return, customers must fill in a request form on the Yeti website.