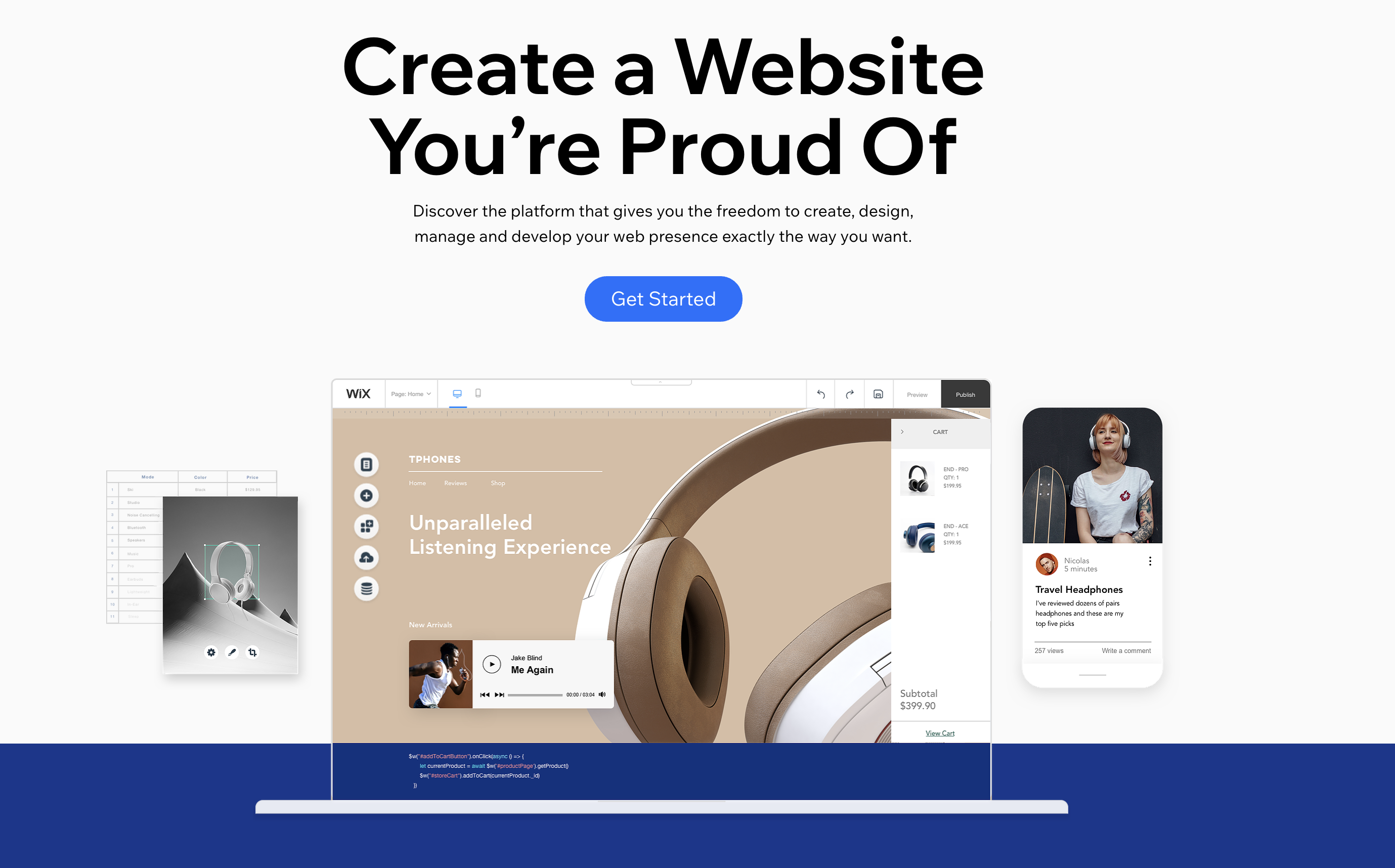 Wix's drag-and-drop editor makes it easy to create a professional website – without having to know a line of code! With hundreds of templates and great tools Wix lets you build and sell through your site. Beginner-friendly and scalable, Wix is suitable for anything from personal online portfolios to small business websites.
What Are the Pros and Cons of Wix?
Pros
Easy-to-use editor, with a side menu for adding images and apps
Great help features, including a searchable knowledge base
Automatic website backups keep your work safe
Cons
Can't switch templates after a site is live
May have to spend more on third party apps for scalability
Full Overview of  Wix
Wix is used by over 100 million people across 190 different countries. It's an affordable, easy and hassle-free way of creating your own website in a matter of minutes.
Building your own website used to be something only whizkid coders could do. Or people who were rich enough to pay whizkid coders to do it for them!
But thanks to Wix, now everyone can create a website of their own. Whatever your skill level, Wix's powerful template editor gives you full creative control – without needing to know a word of code.
If you have a look at some of the website examples that are created by Wix, they're beautiful and professional.
Wix isn't the only drag-and-drop website builder, of course. But it's the best in the world today.
Why do we think that? First off, it covers hundreds of industries – many more than any other website builder. Just check out what it's got for…
Small businesses
Cafes and restaurants
Hotels and hospitality
Musicians
Photographers
Graphic designers
No matter what your niche is, you'll find Wix templates, tools and apps to match. Dog walkers? Success coaches? Internet stars?? It's easier to say what industries Wix doesn't cover!
Since launching in 2006, Wix has swiftly established itself as the market's leading website builder. Before we get our teeth into this review of Wix, though, let's take a step back and explain what a website builder actually is:
A website builder is an online platform that helps you create your own website, without coding.
There are two main types of website builders – the classic template-based platforms, and the more modern AI (Artificial Intelligence) platforms.
A classic website builder lets you pick from a vast range of pre-designed templates. You can then easily customize the template and populate it with all your own content, adding in useful features as you go.
AI website builders work by asking you a series of questions, like the type of website you'd like, and your design preferences. After that, it creates a website for you. You can still make some tweaks to the design, but this approach is really for people who need a simple website up fast.
Wix is a classic template website builder and an AI platform rolled into one. You can choose from over 500 industry-specific templates and make use of its incredible drag-and-drop editor. Or if you'd prefer, use Wix ADI and let Wix design a website for you!
Wix comes with a big reputation, but here at Website Builder Expert, it's our job to scratch beneath the surface and tell you exactly how good it is. Unlike many Wix reviews, we conduct our own thorough research and testing to bring you expert analysis.
Throughout this review of Wix, you'll learn about its strengths and weaknesses, how suitable Wix is for different types of websites, and how it fared when we put it through its paces.
Is Wix Safe?
Yes – Wix is safe to use. Wix is a publicly-traded company that operates globally with well-established legal, privacy, payments, and product standards. There are plenty of fly-by-night or amateur-run website builders. But Wix is not one of them. They have downsides & tradeoffs, but a solid upside is their safety & reputation.
Is Wix Free?
Wix has a free plan, but only if you use a Wix subdomain (e.g., yourwebsite.wix.com). You also have to display Wix ads and have limited functionality.
To use a custom domain and have full functionality, you have to pay for a premium plan. It's great for a short-term or temporary project…or to simply try Wix out before upgrading.
If you are looking for a free website builder option, you could also explore these free website options. This review will explore Wix's full product suite with a focus on anyone building a full, public-facing website.
Make sense? Awesome, let's dive into the Wix review.
Is Wix Good for SEO?
That depends on what you need. Wix has fixed a lot of their past SEO issues and offers a good toolkit for websites that generate most of their organic traffic with "brand" terms and good content. Read more about the nuances under technical SEO limitations.
Is WordPress Better Than Wix?
That depends on your experience, budget, and goals. WordPress has a steeper learning curve and requires more maintenance. But over the long-term, it offers much more versatility and options to grow. If you self-host WordPress (rather than use WordPress.com), it can also be much cheaper than Wix. Wix focuses on onboarding and pure ease of use for someone who wants a solid, maintenance-free website without the frustration of a web designer or figuring out HTML issues.
How Does Wix Compare to Other Platforms?
First, I'd encourage you to try Wix's free option yourself, just to get a sense of the platform and how it fits with you. Second, you can browse my site to explore other website builder options with a bunch of Wix's competition.
Is Wix Good for Blogging?
Wix has blogging options, but they aren't as good as platforms originally built for blogging. Wix is better as a website builder with a small blog add-on, not as a blog-focused builder.
Pricing
Wix offers a free plan if you don't mind having your site address structured http://yourwebsite.wix.com/yourwebsite. Their only caps are around file storage and features – not around pages or page types. Their paid plans aren't outstanding on pricing (they are actually a disadvantage listed here shortly), but they are competitive enough for many businesses who care more about the done for you part over counting a dollar here and there.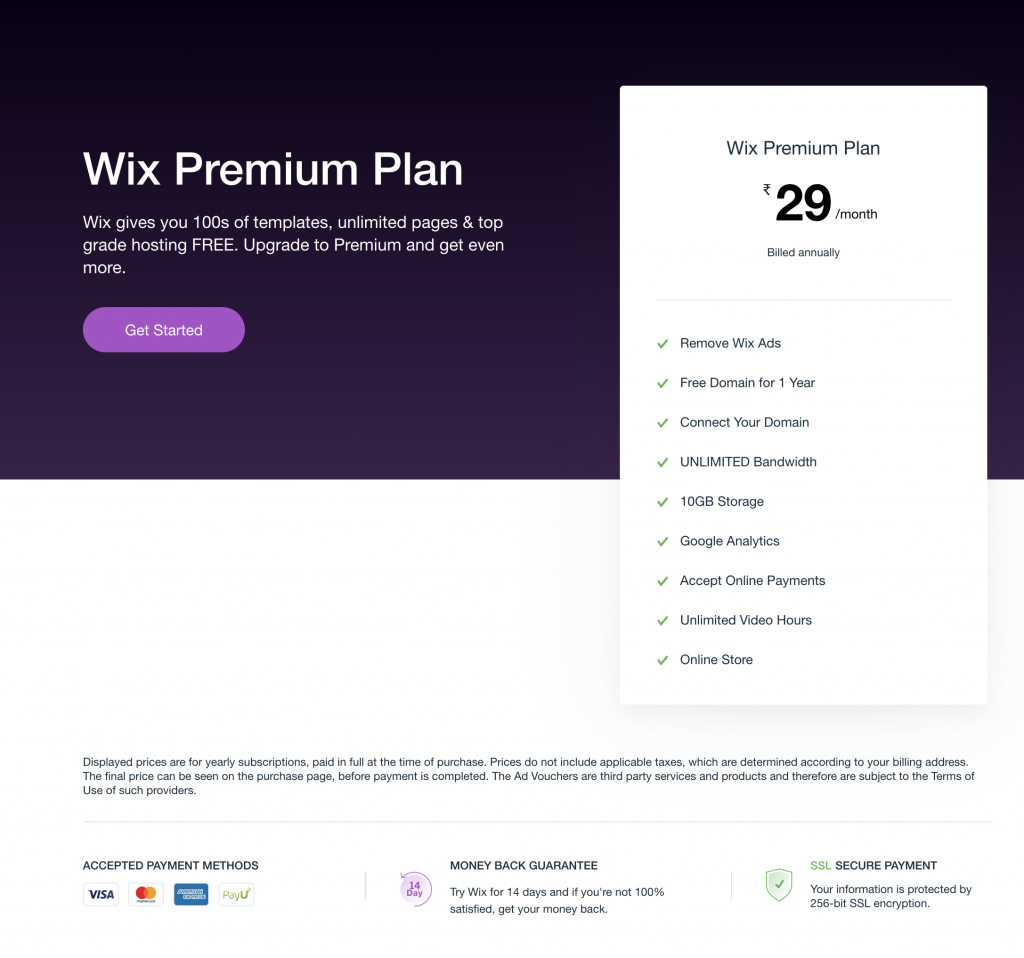 Their plans allow you to get a site up quickly with no technical fuss and everything bundled and provided for you.
Their tiers are reasonable – though it is worth paying close attention to the caps and whether you actually need the bonus features (ie, more Video Hours vs using YouTube or Wistia).
All plans have tiered discounts for the longer that you sign up.
Helpfully, they give you the "true" price upfront and show the discount after you select the plan.
Combo plan ($13 per month)
The 'Combo' plan is billed as 'for personal use.'
Crucially, it removes Wix brand advertising from your website. This advertising is fairly intrusive, inserting a noticeable Wix call-to-action at the top of your site.
The plan also allows you to connect a domain to your website (i.e., your site can live at www.yourdomain.com rather than a Wix address), and provides free domain registration for the first year.
On this plan, you get 3GB storage and 2GB bandwidth.
You also get 30 'video minutes' on this plan — as the feature's name suggests, this means you can upload 30 minutes of video to Wix.
The benefit of Wix's 'video minutes' feature is that you can use it to sell or rent streamable video content — this contrasts positively with many other website building platforms (which only allow you to embed videos from Youtube, Vimeo etc. — and not charge people to watch them).
Unlimited plan ($17 per month)
The Unlimited plan is pretty similar in basic functionality to the 'Combo' one, but gives you $300 of 'Ad Vouchers'. These can be used to pay for advertising with Google Adwords, Bing Ads, and Local Listing.
The plan also provides access to the 'site booster' app — a third party app by AppSharp that submits your website to search engines — and an analytics app (which lets you measure site traffic).
Finally, the Wix 'Unlimited' plan comes with 10GB storage, unlimited bandwidth and 1 hour worth of video minutes.
Pro plan ($22 per month)
This plan gives you more storage and video hours than the 'Unlimited' plan; it also gives you access to a logo making tool, the ability to customize social icons and a calendar tool which allows you to provide event listings on your site.
VIP plan ($39 per month)
The VIP plan is basically the same as the Pro plan, but gives you higher priority for user support.
Unless you plan to be in very regular contact with Wix's support team, I'd be inclined to go with one of the other plans.
Business Basic ($23 per month)
The 'Business Basic' plan is the cheapest Wix plan available that facilitates e-commerce.
It's similar in features to the $17 'Unlimited' plan, but gives you more storage (20GB vs 10GB) and provides more generous video hours (5 vs 1).
For me, this Wix plan probably represents the 'sweet spot' in the line-up, because it is relatively feature-rich and facilitates e-commerce without breaking the bank. Its generous video minutes allowance is good for users wishing to sell video content too.
Business Unlimited ($27 per month)
The 'Business Unlimited' plan is the same as the 'Business Basic' one, but adds logo making tools, social icon tools and more generous storage (35GB) and more video hours (10).
Business VIP ($35 per month)
The 'Business VIP' package is described by Wix as constituting 'the full suite' and provides more generous limits on storage and video (50GB and unlimited hours respectively) than the 'Unlimited' plan. You also get priority support.
Unless you're in the video selling or renting business and need to avail of the unlimited video minutes, I'd probably be inclined to go for one of the cheaper plans over this one.
Enterprise ($500 per month)
As is increasingly the way with subscription products like Wix, there's now an "Enterprise" version of the platform available. This costs $500 per month and basically gives you the functionality available on the $49 'VIP' plan but a lot of hand-holding during and after the build (for example, you can consult with experts on design and code issues; avail of security audits; and get access to a dedicated VIP support line).
For me, whether Wix is genuinely an Enterprise-grade solution is moot; I haven't come across any big corporations using Wix to date (in my experience, Shopify Plus or Bigcommerce Enterprise tend to be the hosted solutions that big businesses opt for).
Customer Satisfaction
After everyone finished testing Wix, we asked them if they'd recommend it.. Well, the results are in – and they're glowing.
A massive 88% of people who used it would highly recommend Wix to a friend.
To put that score into some context for you, that recommendation is:
24% higher than Weebly's
20% higher than Squarespace's
12% higher than GoDaddy's.
People loved the freedom Wix gave them when editing, and just how easy it was to drag and drop things around their website. They were also amazed at just how quickly they could create something they'd be happy to publish online.
The only criticism people had was that to begin with, Wix can feel overwhelming. There's so much choice – in templates, features and customization – that it takes a few minutes to settle into the platform.
Wix templates
Wix gives you a choice of over 500 templates. This is considerably more than key competitor Squarespace, which offers around 110, and all of the Wix templates are free, which is not the case with online store builders like Shopify and Bigcommerce.
The templates look professional and are visually appealing — so long as you populate them carefully, Wix websites certainly don't have to look like a do-it-yourself creation. The templates make good use of spacing and typefaces to create impact, and are particularly effective when used with high-quality photographs.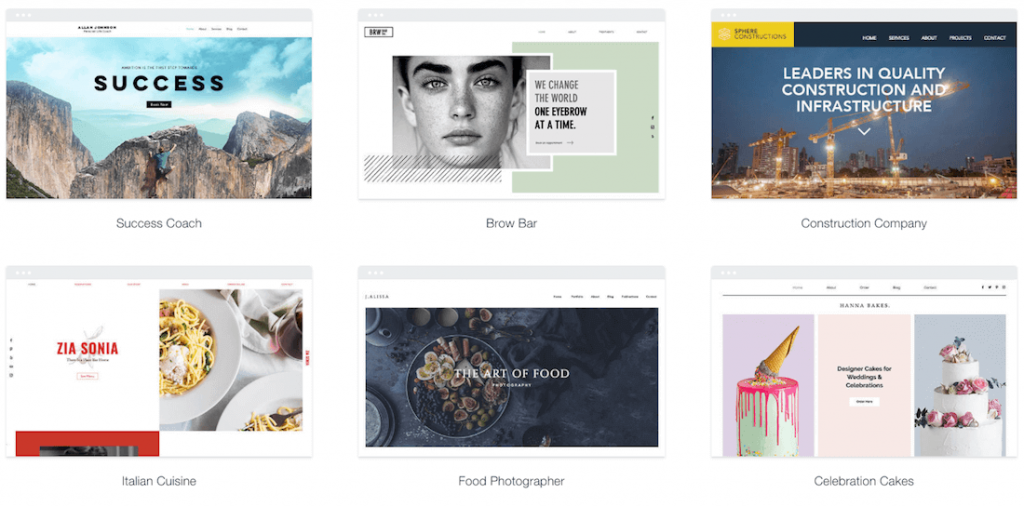 And speaking of photography, Wix also provides a large library of professionally shot images that you can use for free; and on top of that, you can access Shutterstock directly from Wix Editor.
The templates are organised into intuitive categories, which means you should be able to find a template which meets your needs fairly easily.
And the large number of templates means you can get very specific: for example, in the online stores category, there is a category for fashion and clothing, with 20 different templates. The 'Music' templates have different options for solo artists, bands and DJs.
Compare this (for example) to Jimdo's four categories — with only a few templates in each — and you can see that this large range of templates represents a major strength for Wix.
Once you pick your template, you'll find that Wix has provided good-quality sample text, pictures, and layouts. These get you started, give you a sanity check about what to include, and help avoid writer's block.
One big caveat is that if you're using the main version of Wix (Wix Editor — more on the different versions below), you need to find the right template and stick with it, because you can't change templates.
That's right — if you change templates part way through your website creation, you will need to start again from scratch. Not fun. Many of Wix's competitors are more flexible — Jimdo, for example, allows you to switch templates part way through without losing any content, and the same goes for Shopify and Bigcommerce.
Animations
Wix makes it easy to add functions like parallax scrolling, animations, and video backgrounds to your website. These functions are automatically disabled in mobile view to improve performance.
Design Customization
Wix's templates are ready-made websites in their own right. You can keep the dummy content and publish right away if you want, but to make a site your own, you'll need to do some editing.
Wix makes basic tweaks very easy. For example, to edit text, just click the dummy text and type away. Changing its size is also a simple matter of dragging a slider: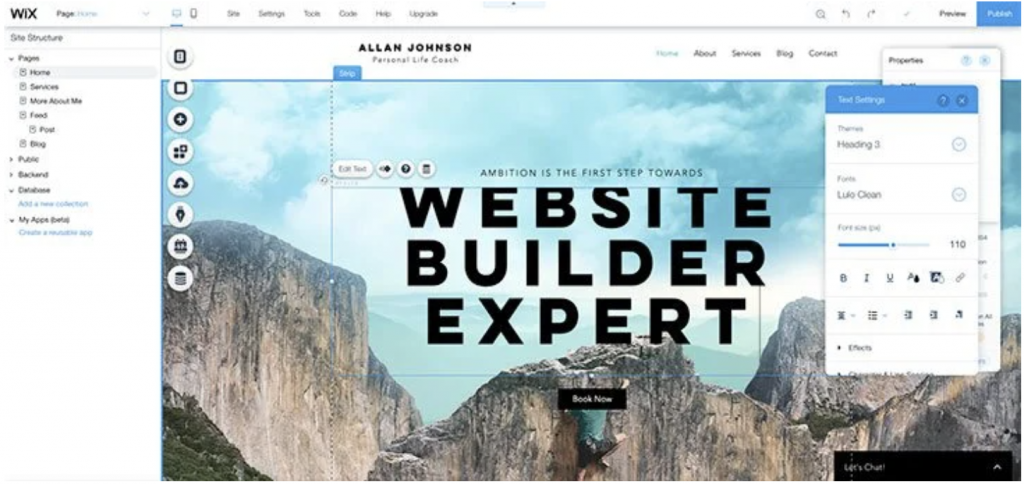 It's also simple to upload content from your laptop or other online accounts, such as Facebook or Instagram.
When you start getting more creative, Wix really comes into its own. You'll soon find you can really turn that template into something special.
The animation button is a great example. You can bring almost any feature to life – heading, photo, menu or whatever – by making it zoom, fade out, or even spin onto the page.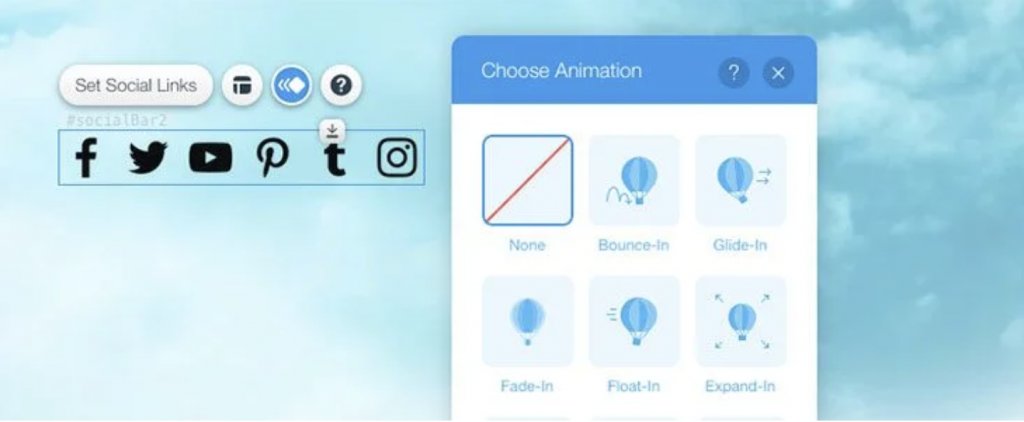 Wix also has hundreds of additional site features, which you can add by dragging them onto the template.
You can add blogs, restaurant menus, contact forms, music players, maps, interactive slideshows, video backgrounds… much more than we have room to list here!
Once you've added extra features, most can be customized by changing their size and behavior, or adding effects like animation.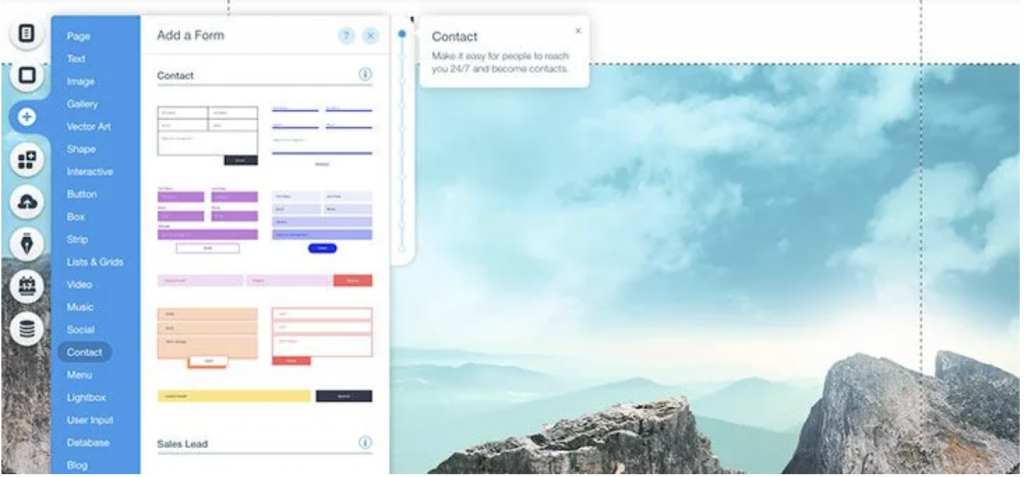 Wix offers a huge library of professional photos, graphics and videos, all free to use on your site. Wix's free media content can save you tons of time and decision-making.
Wix's Tools and Features
While its templates and features steal the show, it's Wix's tools that keep things ticking over behind the scenes – in fact, Wix earns a 4.0/5 in our research for features.
We'd be here all day if we wanted to list every single one of Wix's tools. So, we've picked out some of the most important ones for you to consider.
Wix Editor
Start from scratch or choose from over 500 designer-made templates. With the world's most innovative drag and drop website builder, you can design any website you want.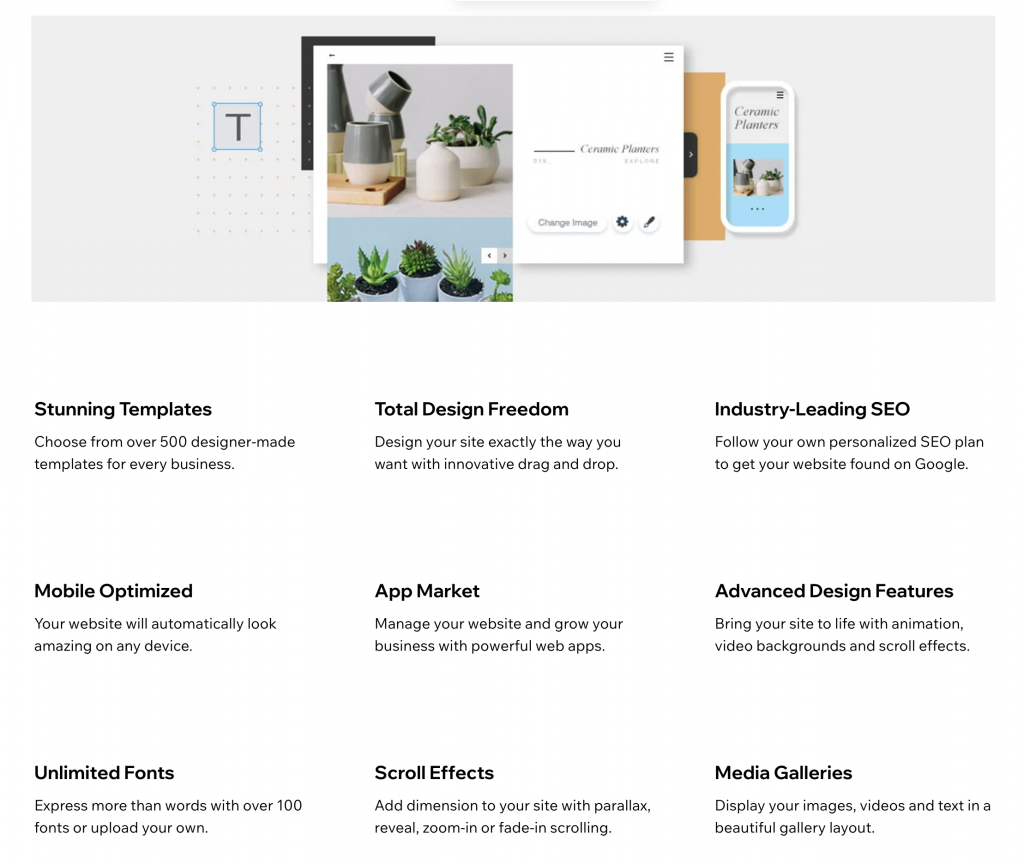 Wix ADI
You'll love how fast you can get online and look amazing! Answer a few simple questions and Wix ADI will instantly design a stunning website just for you.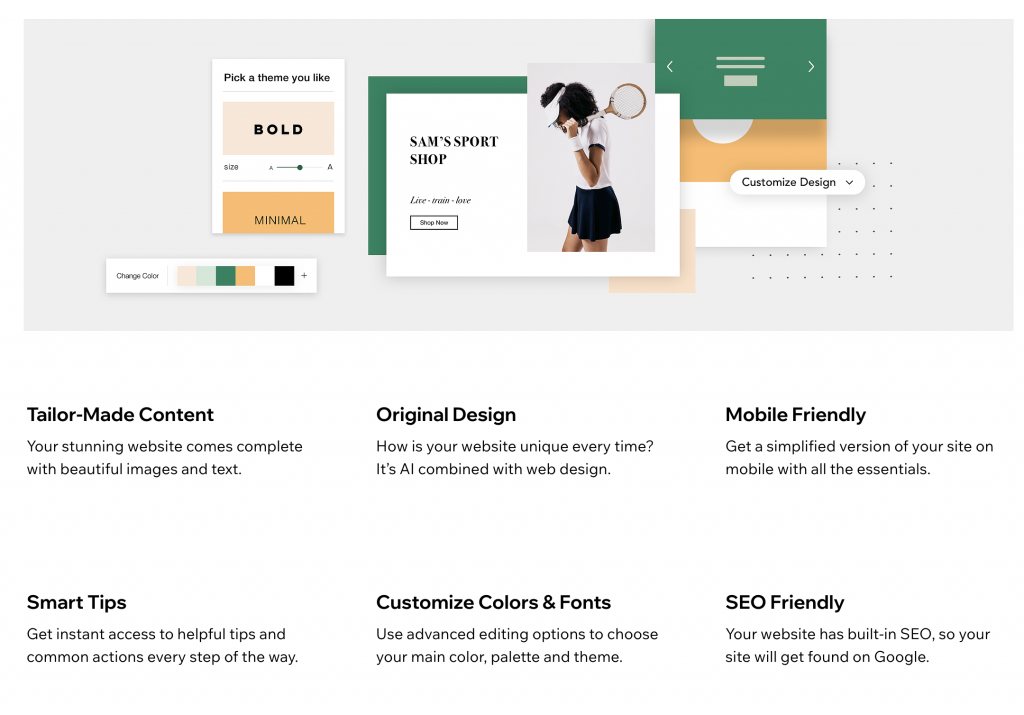 Corvid by Wix
Corvid is an open development platform for building advanced web applications. Get serverless computing, hassle-free coding and total design freedom to create, manage and deploy your next web project.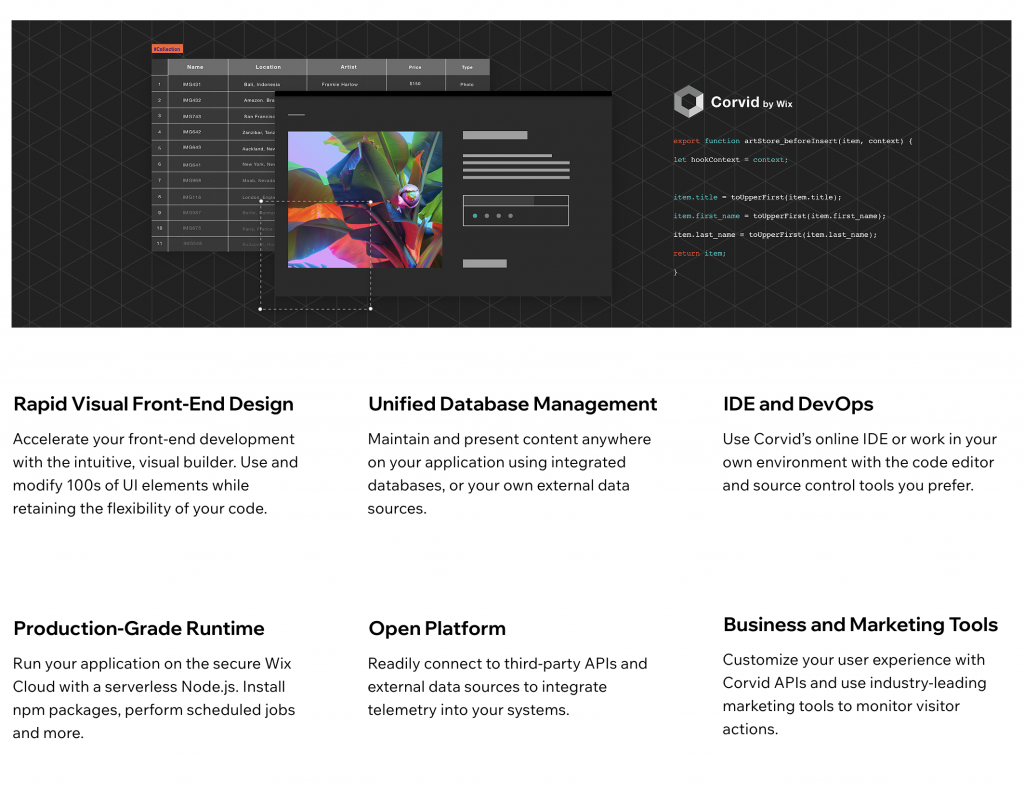 Professional Features for Your Website at WIX
Custom Domain Name
Look professional with a custom domain or connect one you already own.
Analytics
See how well your website is doing. Track your site's performance and stats.
Wix Chat
Be there for your visitors when they need you most with a live chat.
Professional Mailbox
Get a personalized email that matches your website domain and brand.
Contact Management
Manage your contacts and collect subscribers in one organized place.
Social Tools
Connect all your social accounts in one place with customizable icons.
Free Hosting
We take care of web hosting to make sure your site is safe and secure.
Member Login
Create password protected pages that only your members can access.
SSL Certified
Secure your website and boost your SEO with an SSL Certified site.
Search Engine Optimization (SEO) and analytics
Wix SEO
Wix SEO functionality is generally good — it allows you to easily perform key SEO tasks, including:
adding alt text

adding meta descriptions

editing page URLs

creating 301 redirects
One SEO feature which may particularly appeal to SEO novices is Wix's 'SEO Wiz' tool. This walks you through the key steps for optimizing your website for search engines, helping you to to update your page titles, meta descriptions, alt text, and so on. If you have no idea what all these SEO terms are, not to worry — Wix's SEO Wiz explains what you are doing, and more importantly, why.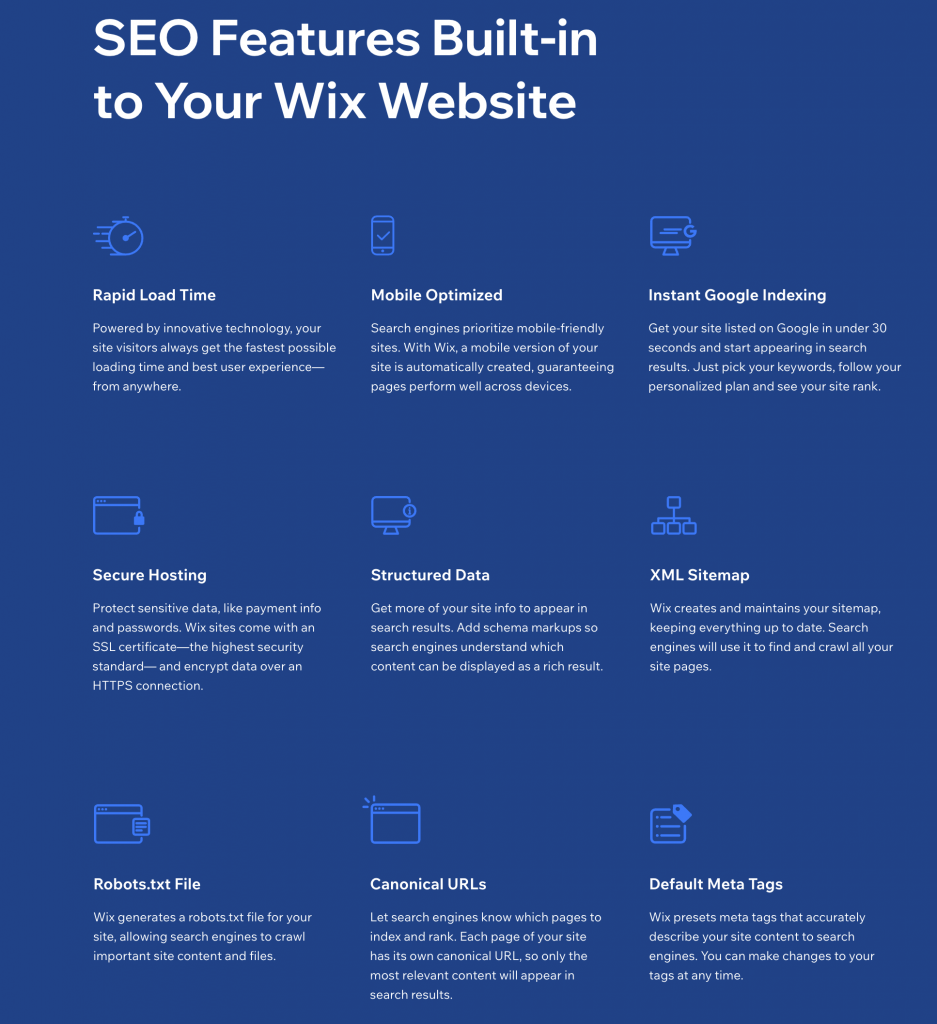 (If you are new to SEO, you might find our post on increasing site visibility in Google and our SEO e-book, 'Super Simple SEO', helpful.)
If you're on a premium plan, the SEO Wiz can also help you register your site with Google Search Console.
There are a couple of areas where I feel Wix could perform better in the SEO department however.
My main gripe involves how mobile versions of its site display — as discussed earlier in this comparison, Wix creates separate views of your site for desktop and mobile, rather than using responsive design.
And responsive design — where you are dealing with one template that adapts its size automatically to the device it's being viewed on — is preferred by Google to Wix's 'absolute positioning' approach.
Another omission in the SEO department is Wix's lack of full support for Accelerated Mobile Pages (AMP). AMP pages load extremely quickly on mobile devices and can bring some SEO benefits when used (as well as improved conversion rates). Although you can create AMP versions of your blog posts in Wix, you can't currently display products in AMP format (something that contrasts negatively with the likes of Bigcommerce and Shopify).
These SEO issues are not showstoppers, and despite these omissions, Google's John Mueller is on record as saying Wix websites 'work fine' in search.
Generally speaking, the main things that will affect a Wix's site performance in search results will be the keyword research you've carried out (check out our SEMrush review for more about that), the quality of content it contains, and the number of quality links pointing to it; but as something of an SEO purist I would still prefer it if Wix sites were fully AMP-enabled and fully responsive.
Analytics and conversion tracking
Wix has good support for analytics tools, providing built-in integrations for:
Google Analytics

Google AdWords

Google Tag Manager

Facebook Pixel

Yandex Metrica
You can use Google tag manager to implement any other third party code or pixels, or add custom code directly to your Wix site to track conversions.
Help & Support
When using Wix, I was able to find answers to almost everything I wanted to know by searching in Wix's Help Centre, which contains a large library of articles and good search functionality. There is also excellent contextual help provided throughout the site.
If you can't find what you need in the Help Centre, then you can contact support by clicking 'No' in response to 'Did this answer your question?' at the bottom of each support page. (It would be better to provide a simple 'contact us' link).
In terms of the kind of support that's available from Wix, the company provides support over the phone and via email, but there's no live chat.
Phone support is available 24/7 for English-language users; or office hours, Monday-Friday in French, Spanish, Italian, Russian and Portuguese. You will need to request a callback, which at least means you don't need to wait on hold.
You can also submit an email ticket. Wix doesn't commit to a timeline for answering these, simply promising to get back to you 'as soon as possible'.  When I submitted a question, a member of the Wix support team got back to me at the start of the next business day.
If you are paying extra for VIP support, then you will jump the queue — so long as you use the email address associated with the account.
Wix Has All the Tricks
For ease of site building and breadth of options, you can't beat Wix. If the ability to export site code and a need for true responsive design are priorities for you, you may want to go with Weebly or Squarespace instead. But Wix offers the most when it comes to building your site the way you want it.
You get online storage of your media, a large third-party gallery of site additions, and a clear, well-thought-out interface. Its optional Wix Code feature, while adding a degree of difficulty, also enables more powerful, modern, dynamic site creation. Wix Ascend brings together useful web business tools.