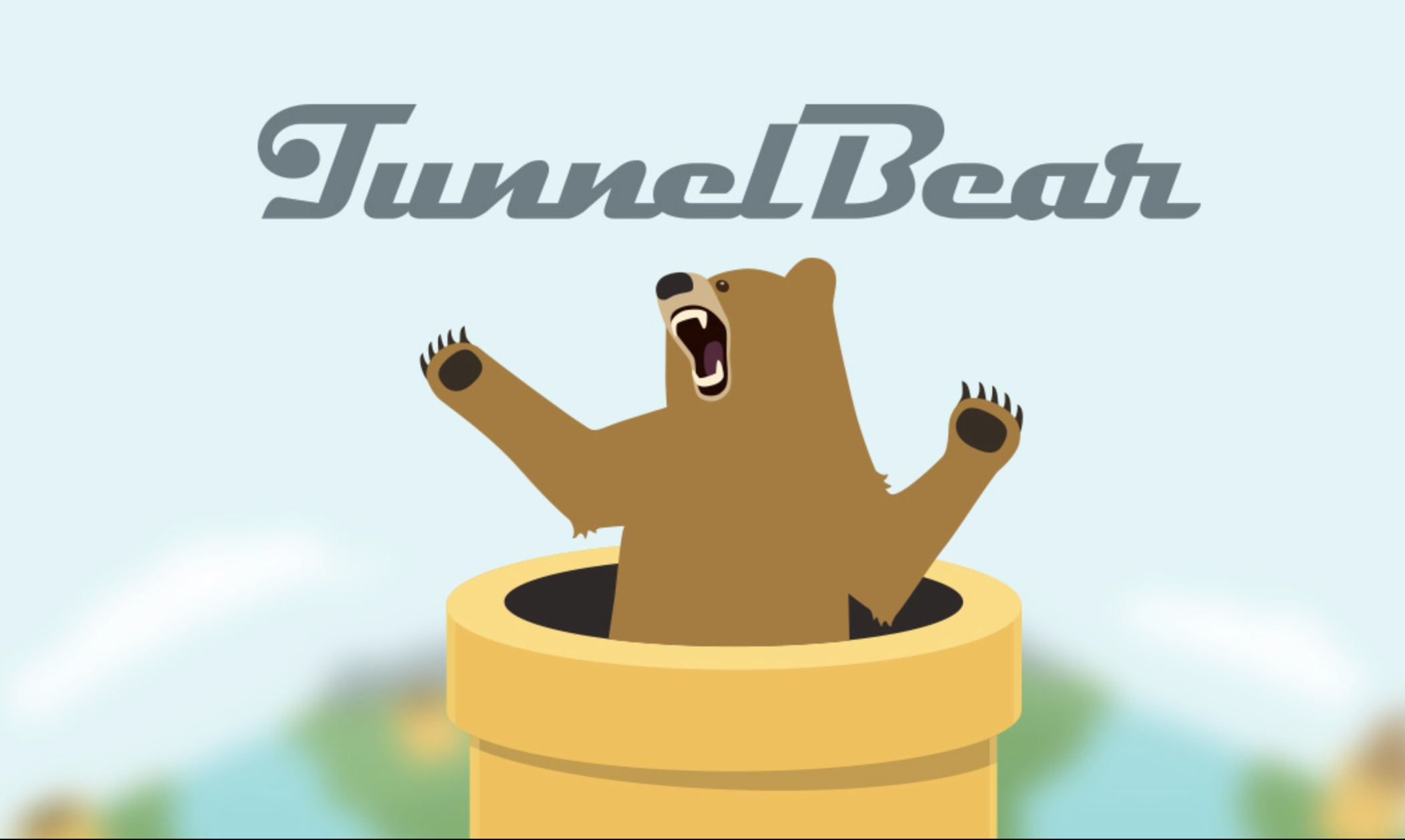 TunnelBear was founded in 2011 in Toronto, Canada. Is Canada a good place to start a VPN company? Well, Canada is one of the founding members of Five Eyes, an international surveillance alliance that could force VPNs to hand over people's data. Okay, so it's not an ideal location for a VPN, but don't give up hope. As I'll discuss below, TunnelBear has a no-logging policy which means they shouldn't have any data to hand over.
At the moment, TunnelBear has servers in 23 countries around the world. Internet speed is strongly related to your distance from the nearest server. Unlike other VPNs, TunnelBear doesn't say how many servers they have. That information is nice to have because too many users and not enough servers could mean a slow internet connection. But no worries, as you can look below for my TunnelBear speed test results. For now, let's see what kind of features TunnelBear has to offer us.
TunnelBear has gained a reputation as one of the easiest, most user-friendly VPNs. Indeed, when you switch the TunnelBear VPN to a new location, the little bear tunnels across the screen to the desired region. This is perhaps a little gimmicky, but this fun element serves to make the experience less technical and ease new users into the world of VPNs.
TunnelBear Pros & Cons
Pros
Affordable
Excellent privacy policies
Annual independent audits
Friendly, approachable design
Browser extensions, including stand-alone ad blocker
Good speed test results
Bears
Cons
Slow speeds
Based in Canada (Five Eyes)
No cryptocurrency or PayPal payments
No refunds
Small server network
Not a good choice for torrenting or Netflix
Limited support
What Is a VPN?
When your VPN is active, your web traffic travels through an encrypted tunnel to a server managed by the VPN service. That keeps your information safe from data thieves and other ne'er-do-wells lurking on public networks. It also helps protect against ISPs selling anonymized metadata about your web habits. When your traffic exits to the web through the VPN server, you appear to have an IP address at that server's location. This protects your real identity as you browse the web.
Plans and Pricing
There are three versions of TunnelBear available. You can get a basic free-forever option, an Unlimited plan that starts at $3.33 per month, and a Teams subscription that costs from $5.75 per month.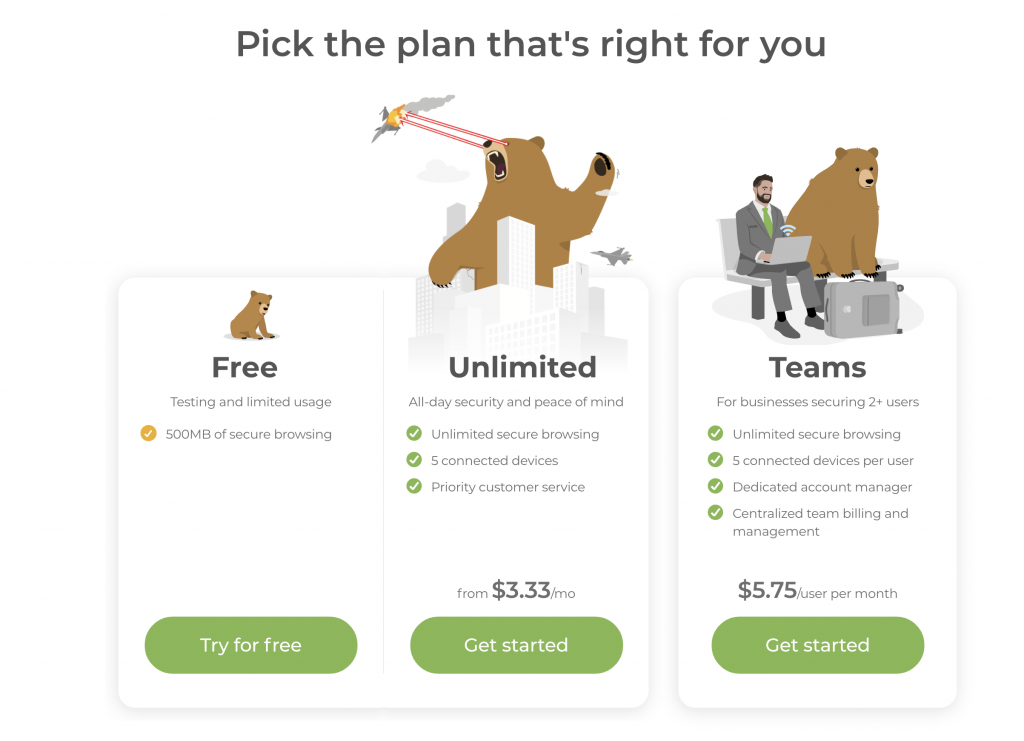 The free plan is very limited. It includes all the features found in the full version, but is capped at 500 MB of data per month. To put that into perspective, that's really only enough to test the program out, as it equates to roughly six hours of browsing or around half an hour of standard-definition video streaming. In its free form it's certainly not a great torrenting VPN.
Fortunately, you can upgrade to an Unlimited plan for just $3.33 per month with a three-year subscription. An annual plan will up the price to $4.99 a month, while if you choose to truly pay monthly, it'll be $9.99 a month. As suggested by the name, this plan includes unlimited data, along with priority support. If you sign up for a three-year plan, you'll also get access to the RememBear password manager (usually $2.50 per month), which adds a nice bit of value if you're in need of it.
If you're looking for a VPN for your small business, the Teams plan costs $5.57 per user, per month (with a minimum of two users). It comes with a range of VPN management tools, including an integrated management dashboard and centralized billing.
It's worth noting that there's no money-back guarantee, so we'd recommend trialling TunnelBear's free plan before committing to a paid plan. However, TunnelBear's FAQ has a note on refunds, saying they may be offered on a case-by-case basis. We reckon that if you asked very nicely, did it sooner rather than later and had a good reason, the 'friendly support bears' might take pity and offer you a refund – but neither we nor TunnelBear make any promises.
TunnelBear Features
Although TunnelBear is far from the most advanced VPN on the market, it still comes with plenty of great features. For starters, the VigilantBear setting allows you to set up an internet kill switch, which will cut your connection if the VPN connection fails. This is a great addition, as without it you may end up thinking your connection is protected, but in reality your VPN has dropped and you're using your regular unprotected network.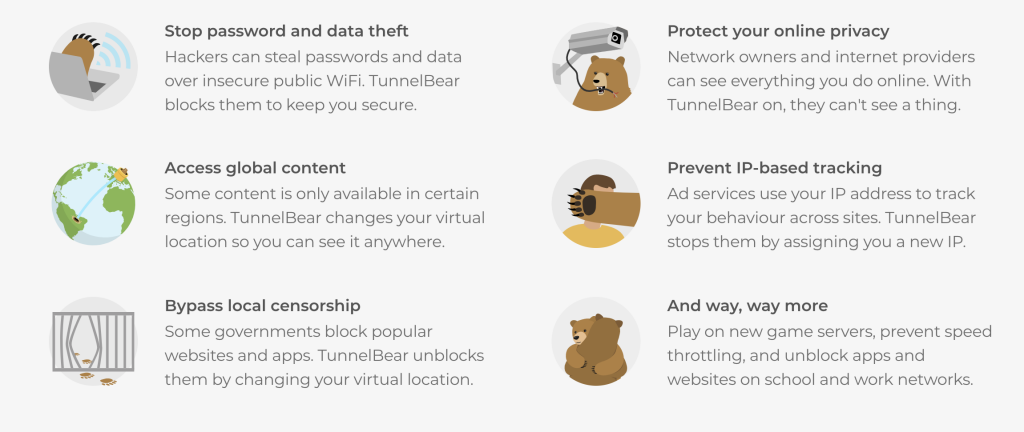 Another interesting feature is the GhostBear setting, which is designed to disguise the fact that you're using a VPN. This could particularly help users that need a China VPN to avoid the country's internet restrictions. You can also choose between OpenVPN TCP and UDP connections, although there's no option to change your connection protocol.
Torrenting is something of a sensitive topic for VPNs, largely because P2P sharing is often used to download illegal or pirated content. While often not featured as a selling point on VPN providers' websites, torrenting may actually be supported – and TunnelBear comes through with the goods. We spoke directly to the TunnelBear team, and they confirmed that torrenting is supported in all locations.
Unfortunately, TunnelBear isn't a great choice for accessing geo-blocked content – even on a full plan. We tested it with Netflix, Amazon Prime Video, Disney+, and BBC iPlayer – none of them worked.
However, TunnelBear is clear about its security and logging policies, and provides details about the information it collects and exactly what happens to it. On top of this, TunnelBear is audited annually by Cure53, an independent security company. The results of these audits are made public, resulting in great transparency. We appreciate this commitment to security, and think independent audits are something every VPN worth its salt should undertake.
TunnelBear Protocols
Internet protocols determine how data packets are sent across a network. The degree of security a VPN has depends on the protocol chosen. TunnelBear uses OpenVPN/IKEv2 on Windows, OpenVPN on MacOS and Android, and IPSec/IKEv2 protocols on iOS. All of these protocols are considered highly secure by the infosec community. You can find more information below on these VPN protocols.
OpenVPN
OpenVPN is an open-source VPN protocol used to make secure tunnels for your web traffic. OpenVPN is sometimes referred to as the gold standard when it comes to VPN protocols, and rightly so because it offers a good balance of speed and security. It offers up to 256-bit encryption using the Open SSL library and many other security features that can be configured as desired with protocols such as PPTP, L2TP, IKEv2/IPSec, SSTP, and more.
IKEv2
Internet Key Exchange version 2 is a widely used VPN protocol that automatically re-establishes your connection with your VPN after you're disconnected from the Internet. This comes in handy when you would like to switch between Wi-Fi and mobile hotspots, which happens all the time when you're on a mobile phone.
IPSec
IPSec, or Internet Protocol Security, is a collection of internet protocols to securely send data over an internet connection. These protocols can authenticate and encrypt the packets of data sent. As I mentioned, IPSec can use a variety of ciphers and algorithms, so its strength depends on the algorithms used.
TunnelBear VPN browser extensions
The TunnelBear browser extension is a lightweight encrypted proxy that you can control from the browser window. TunnelBear offers browser extensions for:
I tested the TunnelBear Chrome extension for this review and found it to work alright. Here is the TunnelBear Chrome extension in action, which you can see in the upper right corner of the browser.
I also tested this out by running one VPN server on the desktop VPN client and using a different server through the Chrome extension. For everything done in the Chrome browser, this essentially creates a double-hop connection with traffic being encrypted across two separate servers. Your IP address and DNS requests would match up with the desktop client for everything outside the Chrome browser.
Here you can see that I'm connected to the Denmark server with the Chrome extension, while at the same time the desktop VPN is also encrypting all traffic through the Norway VPN server.
There are also a few other VPNs that offer browser extensions, including VPN.ac, ExpressVPN, and also NordVPN.
TunnelBear Speed Test
Whichever VPN you choose, you'll have to accept the fact that it will slow down your Internet at least marginally. The extra protection from VPN security protocols comes at a price. Please note that your Internet speed is determined by many factors— time of day, location, Internet Service Provider, VPN server distance, and of course the VPN service provider. So TunnelBear may be faster or slower for you. I'm testing TunnelBear in Warsaw, Poland on a Macbook Pro and Lenovo ThinkPad.
When it came to download speeds, TunnelBear performed better on my Mac than on my Windows computer, with a 45% decrease on my Macbook Pro and a 53% decrease on my Windows computer. For percentages, these are pretty average. But I will say that I'm surprised that my Mac download speed stayed above 250 Mbps.
For upload speeds, TunnelBear slowed down my upload speed significantly more on the ThinkPad than on the Macbook Pro, with a difference of about 82% compared to 15% on the Macbook Pro. This time the difference was massive, with my Mac performing remarkably better.
And finally, I want to take a look at ping, or latency. This time, my Windows computer came out ahead. While TunnelBear increased latency by 182% on my Windows, my ping increased 467% on my Mac. That's pretty bad for my Mac, considering the server I was connecting to was close to me. Overall, TunnelBear performed well on my Mac, and was mediocre on my Windows laptop.
Privacy, anonymity, and trust
TunnelBear does not claim zero logging, but the information it does keep is pretty generic. The company's privacy policy states that when you use its service, it collects the version of your operating system and the TunnelBear app. It also logs the number of active sessions you use per month (but not the time spent on the VPN), as well as your total data usage every month.
TunnelBear does not collect the IP address you use to connect to the VPN or visit TunnelBear's website, nor is any of your online activity logged when using the VPN.
When you sign up for an account, TunnelBear only asks for an email address. However, it may also collect the Twitter account of users who use a promotion for a free gigabyte of data after tweeting a message about TunnelBear.
Payment options include Bitcoin, PayPal, and credit cards, meaning you can choose the amount of anonymity you're comfortable with when paying for the VPN.
TunnelBear is also upfront about its team and the company's address—all of which is available on the TunnelBear site. The company is located at 141 Bathurst Street, Suite 101 in Toronto, and its CEO is Ryan Dochuk. You can find a complete listing of the TunnelBear team on the company's website.
As TunnelBear is located in Canada all personal information is handled according to Canadian law.
Support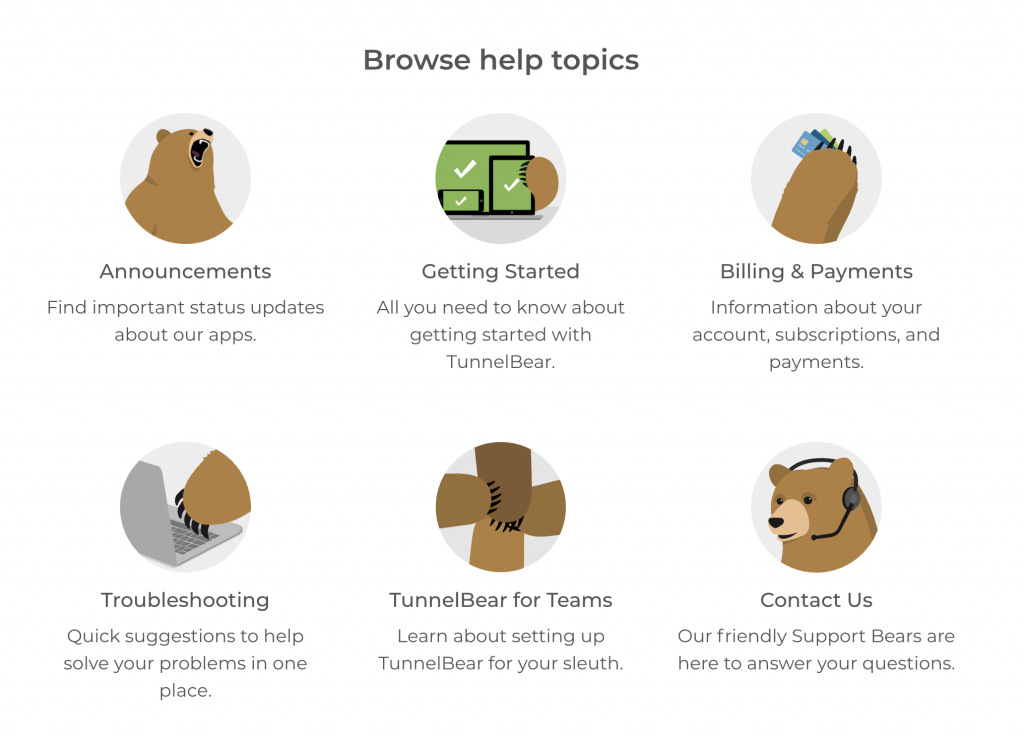 If you have a more general issue or need help setting your TunnelBear account up, there's plenty of information in the knowledge base. Resources include articles answering common questions like 'does TunnelBear keep logs?', quick-start guides, and links to the company's Twitter account, where maintenance and system outage information is posted.
TunnelBear: Final verdict
TunnelBear certainly isn't the most powerful VPN in the world, but it's a great option for beginners and those with limited tech knowledge. It's well-known for its transparent independent security audits and is backed by a good range of advanced features. However, it's let down by its inability to access geo-blocked streaming services, and its support is lackluster compared to the very best.
All things considered, though, for users just looking for a simple, easy-to-use and secure VPN, the no-frills TunnelBear is certainly a viable option.