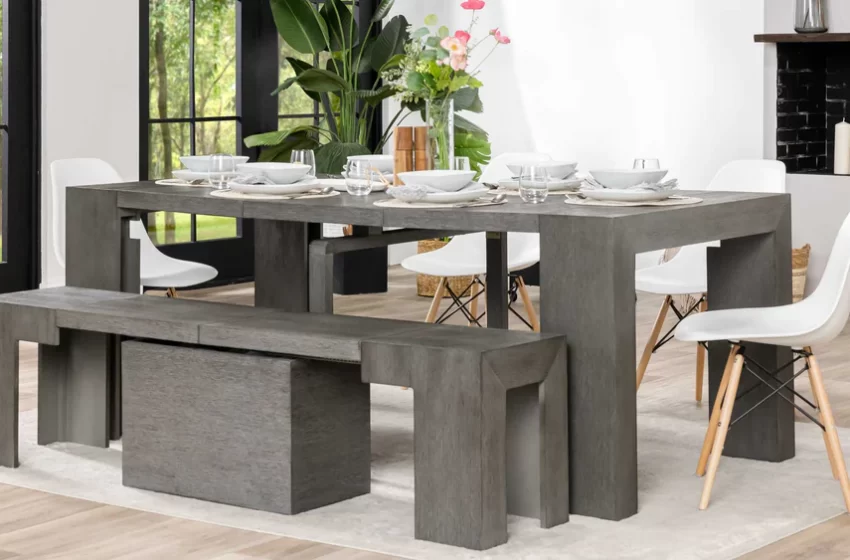 About Transformer Table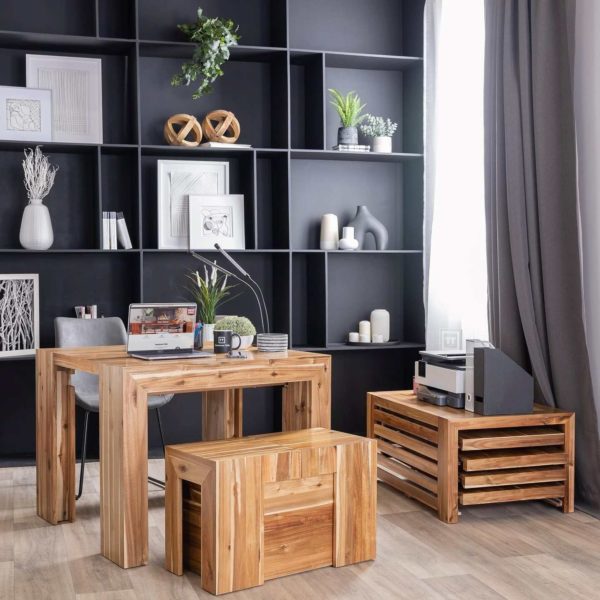 What do you get when you combine tiny apartments, large families, and a love for quality time? The need for a versatile, do-it-all gathering space, and what better than something that helps bring everyone together: a dining table.
The beauty of the Transformer Table isn't just in its family meal-friendly nature though. Scratch and stain-resistant, it easily changes up to create smaller and bigger tables with a few simple movements. Use it for whatever you need to and then store it out of the way when you're done.
If you haven't been boycotting Facebook for the last few years, you've probably already seen the Transformer Table at work. Intrigued, you may have even ventured to its social accounts and witnessed the brand's 170k+ following.
With so much hype around this table, it's hard not to bump into this company's name online or on TV. It's been featured on Dragon's Den, CBC, and Forbes, and honestly, people are kind of nuts about the founders' story.
It's the classic, solution-to-common-problem tale that so many of our favorite brands have. The kind that makes you question why it took so long to be invented before you curse yourself for not thinking of it first. It's clever, sleek, and simply put, it just makes sense.
A group of 6 guys and one of their sisters are the faces behind Transformer Table. After said sister moved into a new place with zero space to chill out, the idea was sparked and set into motion in 2016 from their hometown in Quebec, Canada.
Though the space-saving, easy-to-handle table isn't the only thing this company makes, I had the privilege of trying it out myself, and I've spared no detail in this honest Transformer Table review. Read ahead to get the full scoop.
Transformer Table Review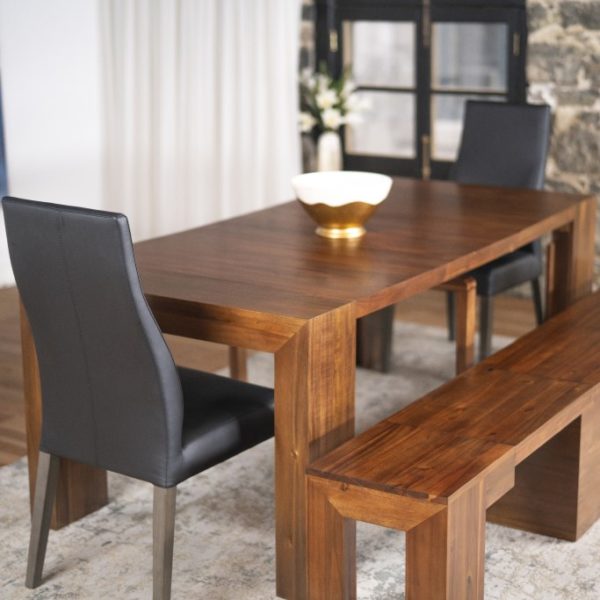 In this Transformer Table review, I'll walk you through what the unboxing process was like when my package arrived and how setting up the table works. I'll also cover what its basic measurements are so you know what to plan for if you think it'll work for your space.
The table comes in 4 different finishes, including Siberian Birch, Australian Acacia, and Canadian Dark Oak. The one I got was American Mahogany.
I'll get into the nitty-gritty of the unboxing process in the next section of this Transformer Table review, but I've got to say, as soon as I got the table out of the box, I was blown away by its beautiful color and great finish.
The wood was super smooth and sturdy. It felt really high-quality despite being something that was apparently effortless to rearrange. Well, I found out very soon what it was like in real life. You'll find all the details next.
Unboxing the Transformer Table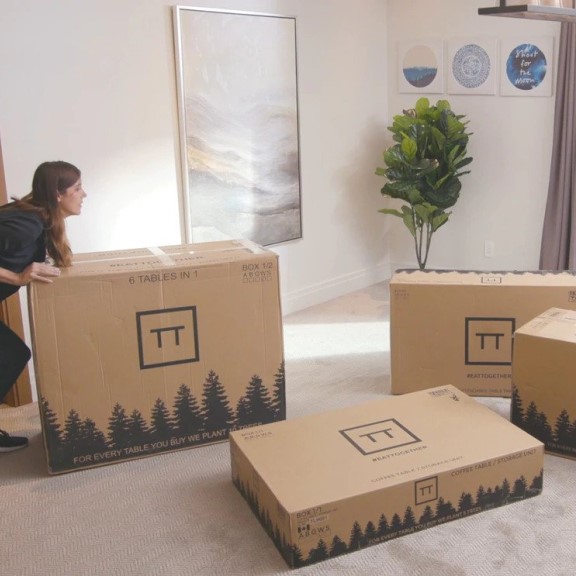 Knowing that the Transformer Table was a 6-in-1 design, I wasn't sure what to expect in terms of how many boxes would show up on my doorstep. I figured with so many different parts (and considering the table can seat up to 12 people) I may not have been able to step foot out of my front door with the pile of boxes it would surely be split up between.
The day my Transformer Table arrived, it came in just three boxes. Apparently, magic is another thing this brand excels at. On the other hand, since it makes giant, family-sized tables transform into desk-sized surfaces, maybe I shouldn't have been so surprised.
My Transformer Table took a couple of weeks to arrive, but I knew that ahead of time. The company lets you know the expected delivery date when you buy it, and honestly, I'm fine with that as long as a brand is upfront about it. It's the unexpected waiting that causes issues.
Before the day the table was due to arrive, someone from their team called and coordinated the delivery date and let me know how the table would be sent and what I could expect on the day. The whole process was thorough and on the day of delivery, everything went as planned.
Smooth delivery is important, especially for products that cost a little more. The folks at Transformer Table made it really easy.
Setting up the Transformer Table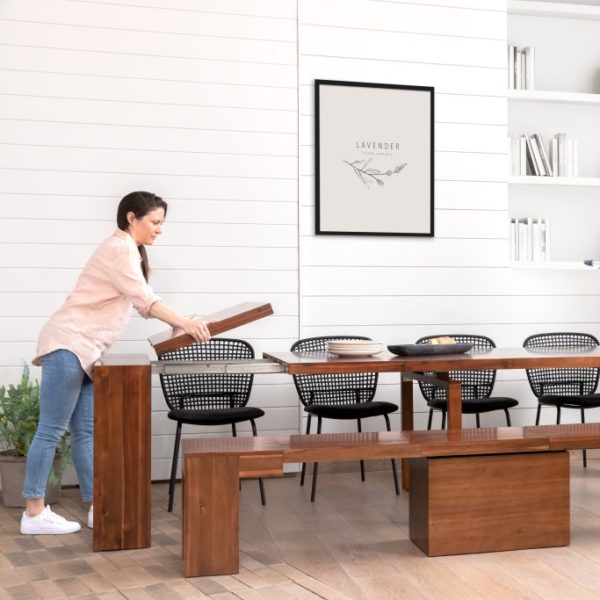 If you're wondering if the Transformer Table is exactly what it sounds like, it is. It's basically a small table that magically transforms into a full table. When you take it out of the box, you won't need your own box full of tools to put it together.
Instead, all you need to do is piece it together like a puzzle. The parts just snap into place — but not the bad kind of snap, the satisfying one where you're confident your new table won't crumble beneath a loaded plate of food. The entire process was super quick, easy, and mess-free.
Before I knew it, I had a full table set up and ready to go in my dining room. And it literally took under 30 minutes from start to finish. The cool part was that it came with benches too. Literally, I pulled them right out of the box and they were ready to go with a few snaps.
One thing I really love about the Transformer Table is that to change up its size, all I had to do was add or remove the wooden panels. It means I can have a smallish table when I want or a larger one when I have friends and family over.
Overall, it's a surprisingly durable table. I felt like, if I ever needed to, I could move it outside without a problem for alfresco entertaining.
Transformer Table 3.0 Dimensions & Specs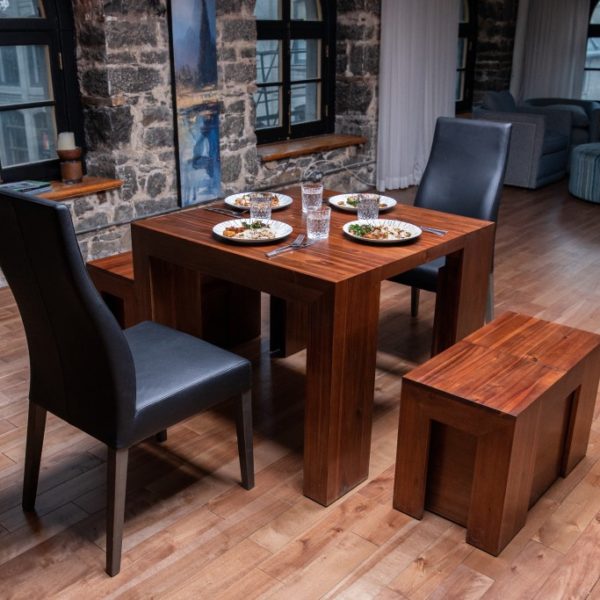 I've covered what the table is like to unbox and set up in this Transformer Table review so far, now would probably be a good time to tell you what its actual dimensions are. You'll find the expanded and collapsed dimensions for both the table and the bench below.
Collapsed Table: 30"H x 38"W x 18"L
Expanded Table: 30"H x 38"W x 118"L
Collapsed Bench: 17"H x 14"W x 28"L
Expanded Bench: 17"H x 14"W x 135"L
Despite the table being incredibly sturdy, it actually only weighs 145lbs when it's collapsed. When you add all of its pieces, that weight increases to 224lbs and it can support up to 750lbs. That's useful considering we all have a few family members or friends who seem to find no use for chairs when a respectable table is in sight.
Each bench weighs 110 lbs, and when extended, it can hold up to 1,200 lbs of weight and 6 people. That closes off my personal experience with Transformer Table, so up next, we'll look at other feedback to get a feel for what customers think about the brand in general.
Transformer Table Customer Reviews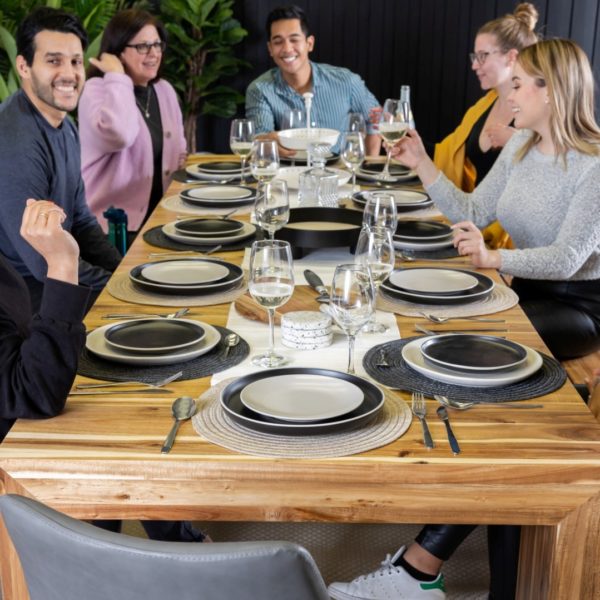 I was personally very impressed with the table, but I'm not the only one. There are loads of 5-star reviews for this brand on and off its website and I'll include a few here in case you're a fan of variety.
"This is a very nicely built table. It is very sturdy, and SO versatile! We've easily expanded it as needed, shrinking it back when not. And the latches on the table and five leaves impart a nice sense of security. It is very heavy, but easily "operated". I highly recommend this table "
It's easy to assume that a table that's easy to set up and rearrange might be flimsy and cheaply made, but the Transformer Table is really secure. Its parts move smoothly and it's a well-made table. So how about the wood itself? In another Transformer Table review, a customer wrote:
"I ended up getting the Acacia finish and I'm so glad I did. In my opinion, this finish beats all the others for its stunning natural beauty and grain variation. I'm a hardwood furniture enthusiast (all my furniture is hardwood) and this stuff is the real deal."
You are really getting a high-quality wooden table from Transformer Table. It just also happens to be super convenient and magically compact at the same time.
How To Buy The Transformer Table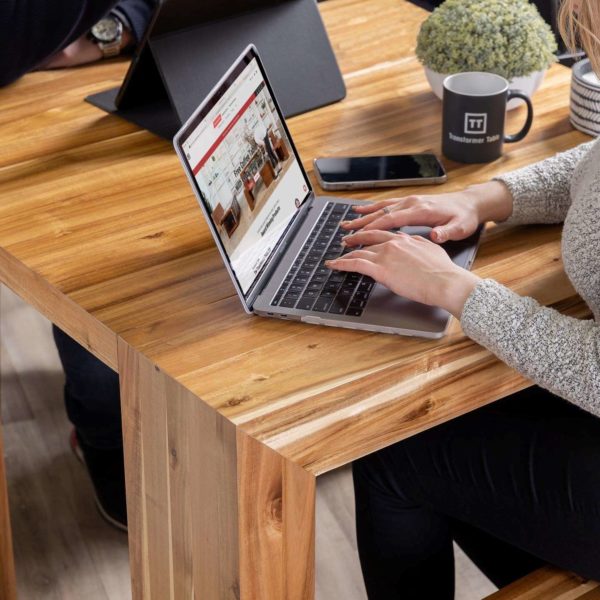 Liking what you've read so far? The final steps of buying anything online are usually what either breaks or seals a deal. The number you see at the virtual checkout counter is usually a big one, but if a company has financing, a large price tag is a lot easier to swallow. You know, if eating price tags is a habit of yours.
If you're looking for just the table (you already have your own chairs), it'll cost you $2,699. Right now, the Transformer Table 3.0 is on sale for $1,999 which is a pretty killer deal.
If you're interested in adding a bench (and if you're a fan of a polished, farm-style look, it comes highly suggested that you do) your total will of course go up. Here are your options:
The Dining Set (table + bench) $3,299, on sale for $2,599
The Full Dining Set (table + 2 benches) $3,699, on sale for $2,999
If you'd rather split up your payments, you totally can. Transformer Table offers 0% APR financing through Paybright. Your total will be split up into 6 monthly payments. To go ahead with financing, just select the Paybright option at checkout and you can check your rate and go from there.
If you live in the contiguous US or Canada and your order is over $899 (and obviously, if you're buying the Transformer Table, it will be), it will be shipped for free. Major win. When you check out, you'll see an estimate of how long your table will take to arrive, and then closer to the day, you'll receive a call from a delivery agent who will coordinate a drop-off time window. Deliveries are typically Monday – Friday 8 am – 5 pm.
Delivery will be curbside. There isn't a white glove service available so keep that in mind in case you need someone to help you move your boxes indoors.
What Other Products Does Transformer Table Sell?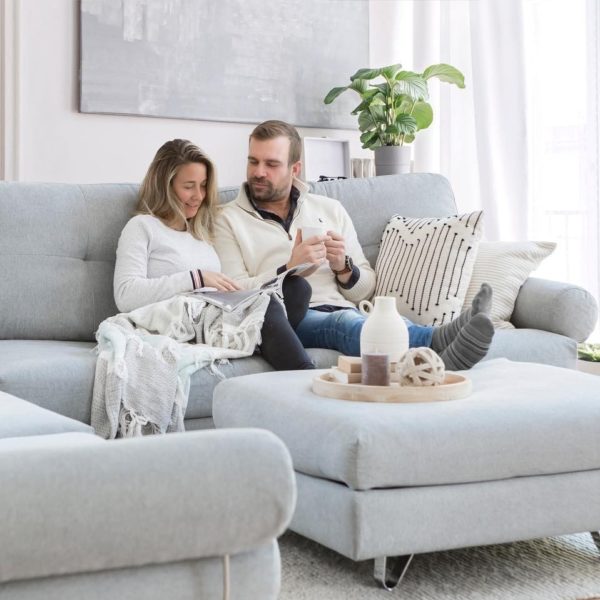 If you're in love with the concept of the Transformer Table, you may be happy to know that the brand also makes other furniture. And yes, it transforms too.
You're probably familiar with the concept of a sectional sofa. No matter what kind of home you live in, they're the way to go if you ever plan on moving, like to switch things up, or want something that perfectly fits your space.
The Transformer Couch meets all three of those needs, and honestly, it just looks plain comfortable like the type you just can't wait to sink into after a long day. It's sold in 3, 4, 6, and 10-piece configurations and with each of those comes options as to how you can set it up.
You'll get to pick from storm, teal, indigo, and mineral colors. Costs range between $4,497-$14,900, but right now, they're all on sale for $2,749-$6,499.
Transformer Table also sells outdoor furniture. It's similar to the Transformer Couch but made for your outdoor spaces. Choose the number of pieces that are perfect for your outdoor space and create the lounge area you've always wanted. Rearrange it whenever.
Transformer Outdoor furniture is sold in 5, 10, and 15-piece options and comes in grey, beige, or brown wicker with cushions in beige, grey, or charcoal. Each combination looks super modern and classy. Prices range from $1,999-$5,999. Currently, they're on sale for $1,799-$5,199.
Is The Transformer Table Worth It?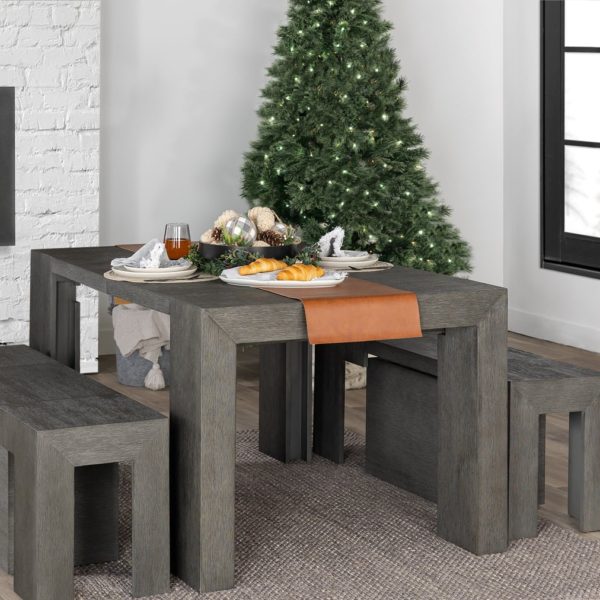 If you didn't get the vibe before now, I think Transformer Table is definitely worth it. It looks really nice in the house like a genuinely premium table, and the easy setup just takes the cake. It's easy to move around and expand when I want or shrink when I don't. Overall, it's a solid, quality table that's undoubtedly going to become a valuable part of my home.
FAQ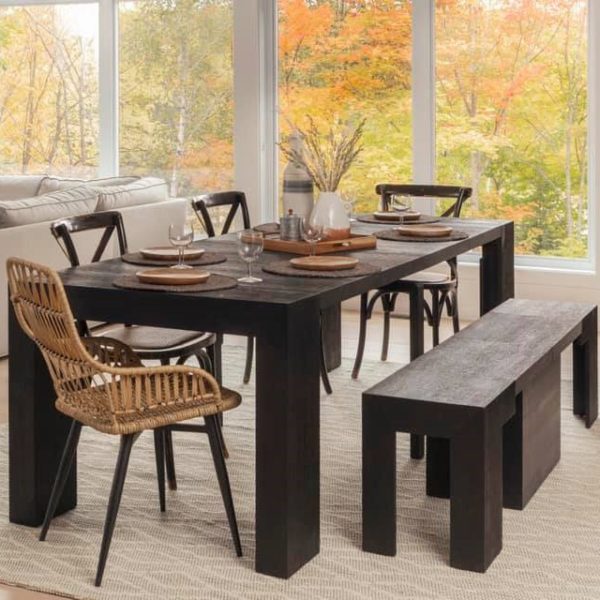 What is a Transformer Table
The Transformer Table is a 6-in-1 table that expands from a singular console to a large dining table that can seat 6 people. It comes with 5 panels plus the console and is made from 100% hardwood.
How much does a Transformer Table 3.0 Cost?
Normally, the Transformer Table is $2,699, but it's on sale right now for $1,999.
What is the Transformer Table made of?
When selecting your preferred finish for the Transformer Table, you'll get to pick between oak, birch, acacia, and mahogany. These are the real woods your table will be made from. The brand does not use pressed wood or Melamine.
Does the Transformer Table have a warranty?
It sure does. The structure of the Transformer Table comes with a one-year warranty that backs it against structural and manufacturing defects. The telescopic mechanism that allows it to retract and expand is backed by a lifetime warranty.