Booking.com is an online travel agency (OTA) that offers flights, car rentals, attractions, and airport taxis, but its strength is in booking multiple types of accommodations.
In addition to traditional hotels, it offers access to book almost any type of accommodation you could ask for including apartments, hostels, homestays, bed and breakfasts, and villas!
We'll take you through this website to show you what you need to know to get the best deal, and we'll discuss how Booking.com's prices stack up to other OTAs.
Booking.com Stays

Booking.com's strength is in booking unique accommodations for your next trip. In addition to traditional hotels, you can also search for apartments, B&Bs, hostels, villas, resorts, homestays, and even boats! You will be able to see everything that's available through the main search box.
However, we found this site to be inconsistent when searching for accommodations — the results screens showed up in a few different formats with no real rhyme or reason to the differences. We'll walk you through the basic features of searching for accommodations, but keep in mind that your screen might have a different layout than the screenshots below.
How to Search for Stays

Booking.com defaults to the search box for accommodations (otherwise click Stays), so all you need to do is enter your basic search criteria: destination, dates, and number of people. Then click the blue Search button.
After inputting your basic search criteria, you will see the main results page. This will look pretty familiar if you have ever searched for a flight on an OTA previously.
The main search results are in the middle of the screen with sorting options shown right above. You will be able to sort your results by:
Top picks for long stays
Show homes first
Price (lowest first)
Review Score & Price
Stars
Genius (more on this program later!)
Star rating and price
Distance From Downtown
Top Reviewed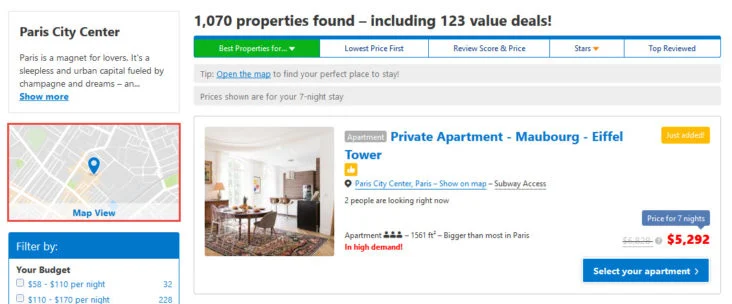 To the left (or at the top) of your screen, you will see a map icon — click this to see all of the properties marked on a map. You can hover over each marker to see which hotel it is. This is a really helpful tool since location tends to be important criterion for most accommodation choices.
Under the map icon (or the search box) at the left are the amazing filtering options offered by Booking.com. You will be able to filter your search by just about any criteria you could think of, including:
Budget
Popular filters
Star ratings
Fun things to do
Availability
Deals and discounts
24-hour front desk
Free cancellation
Meals
A note about search results ranking: When you do a search and don't sort the options (or if you are looking at Booking.com's Top Picks), these are sorted based on an algorithm that gives a higher position to providers that pay a higher commission to Booking.com.
While this isn't unusual, it's good to know that the search results aren't necessarily ranked by the quality of the property.
Map View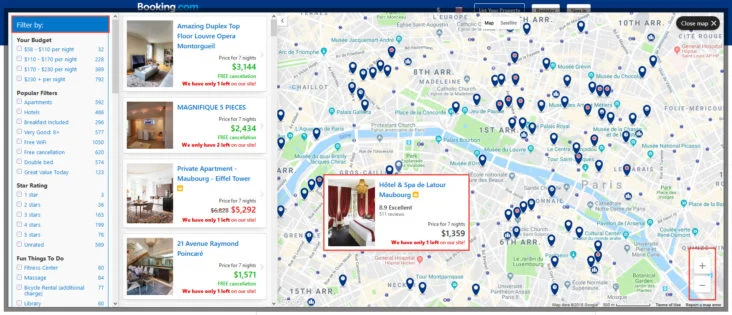 The map view is one of our favorite tools on Booking.com since location is such an important factor when choosing a place to stay. However, just as with the results page layout, we found it to be a tad quirky.
Sometimes the map showed up alone, and sometimes it had the accommodation list and filtering options with it on the screen. Either way, the map still works the same, and all the accommodation lists and filtering options are always available on the search results page.
Each marker on the map represents a different hotel (or apartment, B&B, etc.). You can hover over each 1 to get more information about the actual accommodation available at that location.
You might notice that some markers have white dots and some have red dots. The red dots indicate a property that is sold out for your chosen dates. You can zoom in or out on the map with the +/- buttons on the lower right side of the map.
When you get the full map view, you will be able to see a list of all available accommodations in the middle of the screen. If you hover over your selection, you will be able to see where it is located on the map — just look for the bouncing pinpoint. All filtering options are on the left side of the screen.
Choosing Your Stay

The main search results list can be quite overwhelming if you aren't sure what you're looking for. Be sure to use as many filtering options as you can to narrow your results.
Each listing gives you a lot of information, including price, location, and rating. Some property types will be easily identifiable, but unfortunately, they aren't all labeled. We found that apartments, vacation homes, and villas were labeled clearly — but there was no label in the listing for other property types.
So if you're absolutely sure you want a hotel, be sure to mark that in your filtering options so that you don't end up with a hostel or B&B by mistake! While these are usually pretty obvious, it's good to be sure since Booking.com offers such a wide variety of accommodation choices.
How to Book Your Stay

Once you've selected the property you want to book, you will need to complete your transaction.
Click the large blue button in the search results box. This box can say different things, like "See our last available rooms" or "Select your apartment" (like above).
This will bring up more details about your chosen accommodation (on a screen that's somewhat cluttered with information). You will see photos, more information about the area, guest reviews, and hotel highlights. Scroll to the bottom for your booking options. The green writing will tell you what's different about each price level — often the higher prices include free cancellation. Use the drop-down box under Select Rooms to select the number of rooms you want to book, then click the blue I'll reserve button at the right.
Next, confirm the details and fill in your name and email address. Click the blue Next: Final Details button to continue.
On the next page, you will need to fill out your address plus credit card information. Click the blue Complete booking button, and you will receive an email confirmation of your booking. To double-check your cancellation policy or other hotel policies, click on What are my booking conditions?.
Cancellation Policy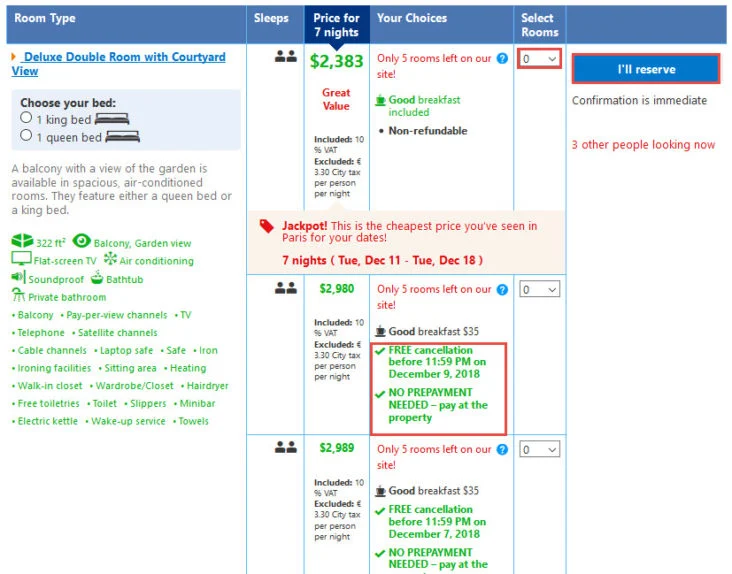 Booking.com does not have a blanket cancellation policy; each booking comes with its own rules and regulations.
Be sure to check your booking before submitting your payment so that you are aware of the cancellation policy. Some special prices require upfront payment and do not offer free cancellation.
Price Match Guarantee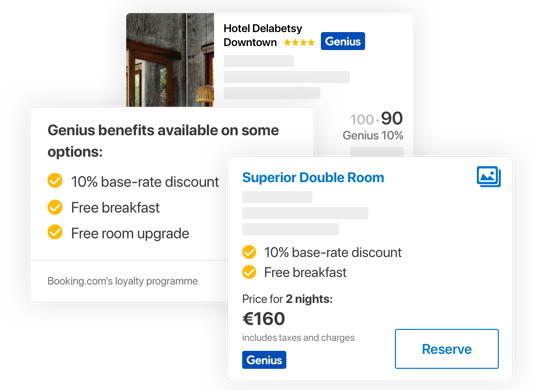 Booking.com's price match guarantee only applies to accommodations on the site — it can't be used for other services like flights or car rentals.
One nice thing about Booking.com's policy is that you have up until 24 hours before your check-in to submit a claim. Most other OTAs only price match within 24 hours of booking.
To be valid, the lower-priced accommodation must be online and available when checked by Booking.com. The lower price needs to be for the exact same booking in every way: same property and accommodation type, same check-in and check-out dates, and the same cancellation policy.
The lower price will not be honored in the case of an opaque booking (where the exact property isn't revealed until the booking is complete), if it's part of a loyalty or rewards program, or if it's a special promotion or deal.
To submit a claim, look for Found this room cheaper somewhere else? on your confirmation page, or go to View all bookings in your account. If you don't have a Booking.com account, you can log in with your booking number and PIN. Or just contact customer service to submit your claim.
Price Comparisons — Stays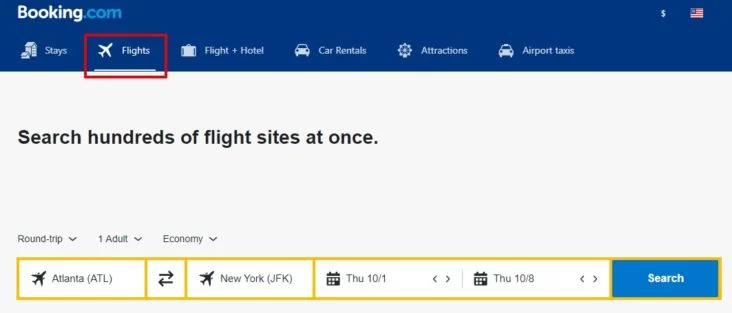 Ok, so now let's get to the important part: how Booking.com's prices compare to other sites!
As a test, we priced out a week-long stay at the JW Marriott Scottsdale Camelback Inn Resort & Spa in Scottsdale, AZ, and compared prices head to head. Here is what we found:
Booking.com $3,687.08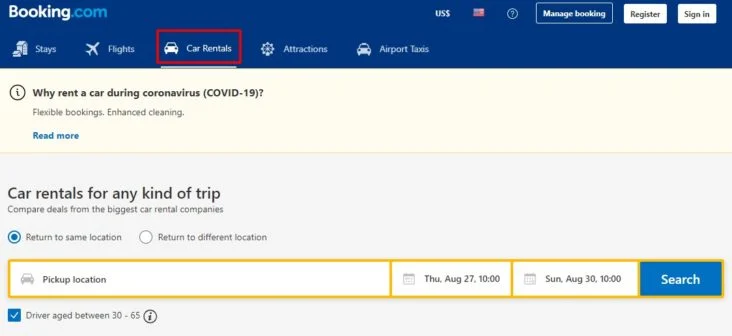 In this example, you could save $91.65 by booking a member rate through Marriott's own website. Priceline was the next cheapest, saving $32.24 over Booking.com.
Another important note is that if you purchased this hotel stay through Orbitz, you would be earning $102.29 in Orbucks (Orbitz's Rewards program currency).
One thing to keep in mind is if you belong to any hotel loyalty program, you likely will not earn hotel rewards when you book through Booking.com. In this example, any Marriott Bonvoy member would be better off booking directly.
Now let's take a look at a smaller, independent hotel. We priced out a 7-night stay at Hotel 140 in Boston.
In this example, the hotel's website was actually $260.13 higher than Booking.com or any of the other OTAs, which all offered the same price.
However, Expedia, Hotels.com, and Orbitz all offer their own rewards programs, so booking on one of those sites might be a better option in this scenario.
Booking.com offers a loyalty program with a lifetime membership called Genius.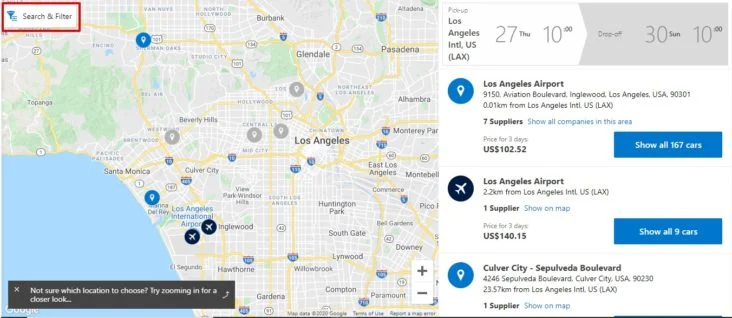 Level 1: 2 stays within 2 years
10% discount at select properties
Level 2: 5 stays within 2 years
10% to 15% discount at select properties
Complimentary breakfast on select options
Free room upgrade on select options
Properties offering a Genius rate will display a blue badge in the search results designating the distinction.
Booking.com Flights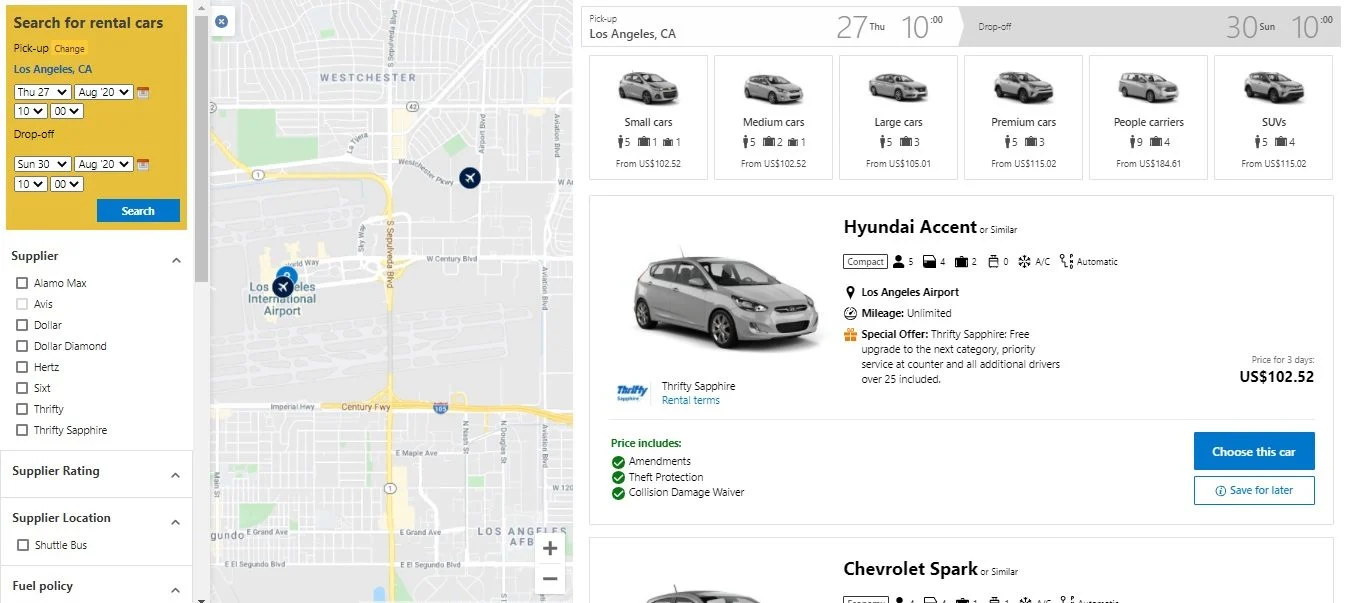 The Booking.com flight search functionality is through Kayak, which is also under the Booking Holdings Inc. umbrella. It was previously through Vayama, so things might look different now if you've used Booking.com to book flights in the past.
Click on Flights in the main menu of Booking.com. Fill out your basic search criteria — origin, destination, dates, and number of travelers. Then click the blue Search button.
The search results page looks like many other OTAs. You will find the main results in the middle of the page with filtering options to the left. You can also sort your results by price or trip duration using the drop-down at the left of the page.
Above the filter options, you will also see Our Advice from Kayak that gives its best estimation of how prices might change in the next week and a suggestion to buy now or wait.
Each search result will display the flight times and price, as usual. Click View Deal to see more details.
Depending on which route you've chosen, the second View Deal button you click will likely take you to the airline's website to complete your purchase.
Search for Flexible Dates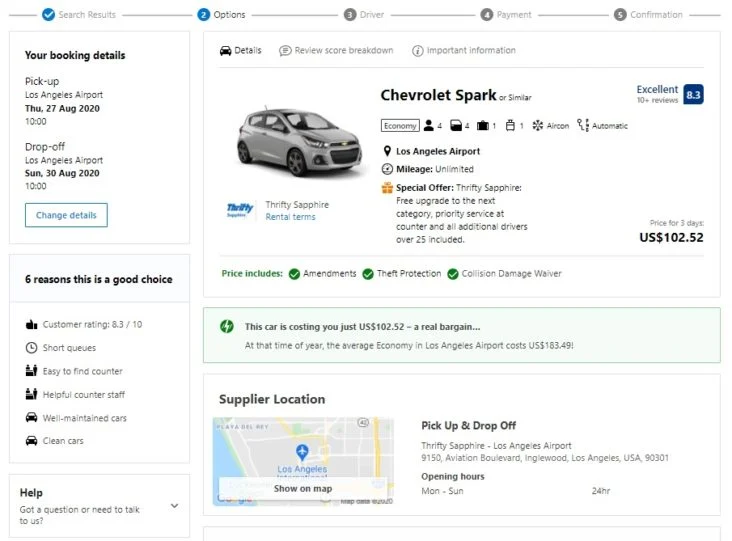 You can often save money by shifting your flights backward or forward a day or 2, so it's great when you can easily see the prices for weeks at a time.
If your dates are flexible, click either of the initially searched dates in the top search bar. This will show prices for your exact dates, up to 3 days before and after, and flexibility across weekends and the month.
Price Comparisons — Flights
Here's how Booking.com stands up to other websites in terms of flight prices.
As you can see, the majority of sites and the airline itself offered the exact same price for the flight. Orbitz users could earn a little less than $2 in Orbucks, which did not make up for the additional charge of a $21.99 booking fee.
Booking.com Car Rentals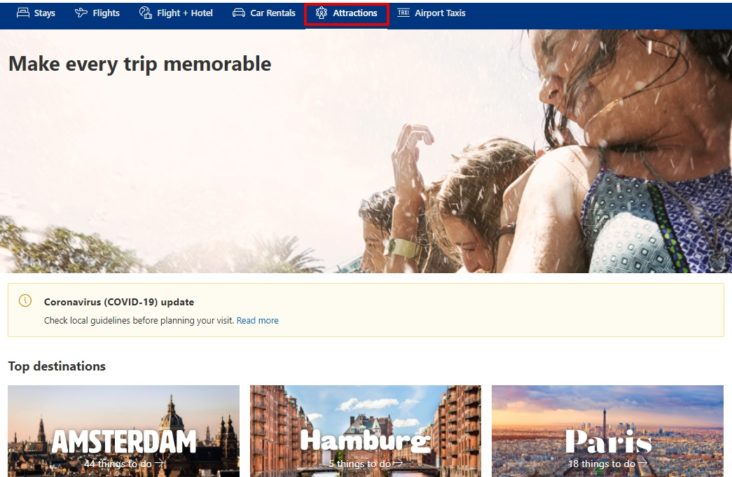 To search for a rental car through Booking.com, select Car Rentals in the main menu at the top of your screen. In the past, searches would redirect to a Rentalcars.com page, also part of Booking Holdings Inc., but the search is now seamlessly integrated directly on Booking.com.
Fill in your basic search criteria (including pick-up location, dates, and times), and then click the blue Search button. If you would like to drop off the car in a different location, select the radio button above the pick-up location field.
Your search results will display on a map and you can click Search & filter in the top left corner to bring up filter options. You can also narrow your search by location to the right of the map by clicking Show all X cars.
Once you see your search results, you can select the type of car you want (economy, compact, standard, full size, SUV, etc.) across the top of the screen. To the left of the screen, you will see options to filter by car rental company and car specifications, like air conditioning or automatic transmission. Once you've applied a filter, the search results are sorted descending by price.
Each search result box will show you a lot of information about the car, including rental agency, type of car, amenities (like A/C), terms and conditions, and price. There might be 2 prices listed — a price per day or week and a total price. The total price is what you want to pay attention to. This is the price you will actually pay with all taxes and fees included. Click the blue Choose this car button to make your selection.
Next, add any needed extras like a child car seat or GPS and whether or not you'd like to buy Extra Cover from RentalCover.com (more details on car insurance in the next section).
At step 4 you'll enter your payment details, review your selections, and see the price breakdown with any additional fees or required deposit. Click Book Now to continue to step 5 to complete your transaction.
Car Rental Insurance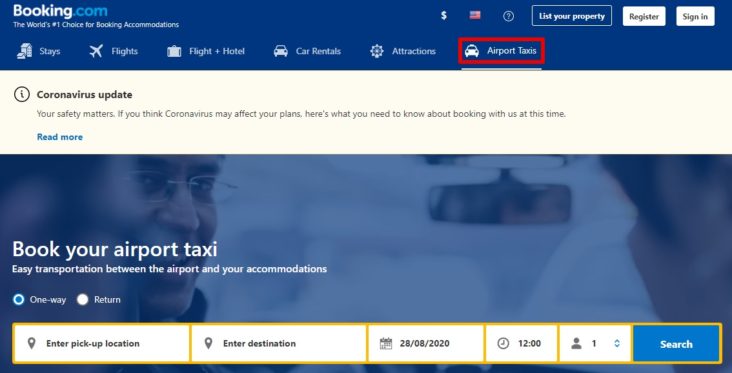 In step 2 of completing your reservation, you will see the car rental insurance information box. If you do want insurance, this is where you would select it. However, there is usually a better way!
Many credit cards come with excellent car rental insurance coverage. They usually require you to decline coverage from the rental agency and pay for the entire rental with the card.
There are tons of cards out there that offer varying levels of coverage, but a couple of our favorites are the Chase Sapphire Preferred® card and Chase Sapphire Reserve® card that come with primary car rental coverage.
As you can see, Booking.com had the lowest price with Thrifty directly at the highest. If you were flexible on the type of car or after the lowest price, it pays to shop several car rental websites as other pages were offering larger cars at a lower price.
Booking.com Attractions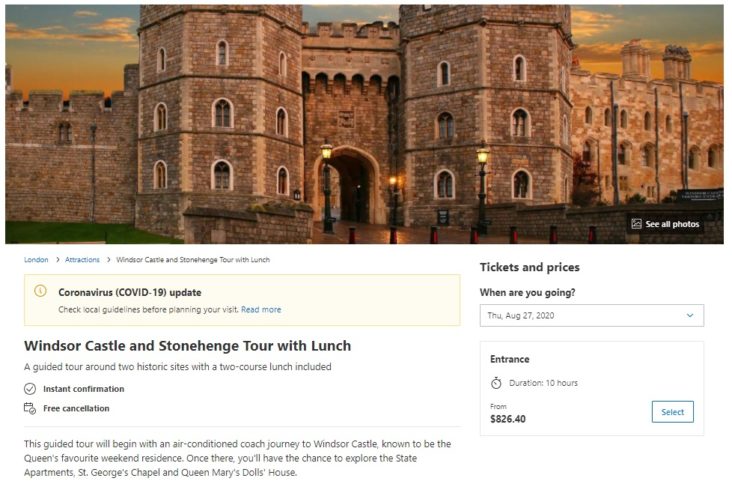 In June 2020, TUI and Booking.com announced a strategic global experiences, activities, and excursions partnership, eventually giving Booking.com customers access to 70,000 tours, attractions, and activities bookable via TUI-subsidiary Musement.
The Booking.com Attractions page currently features over 40 destinations, primarily in Europe.
Start your search by selecting a destination from their visual city tiles. You can then explore recommended tours, filter by interest, view by "must-sees," or see where tours originate on a map. Clicking the blue arrow next to a tour name will bring up a page with more details.
Select the day that you want to tour from the right drop-down menu and click the blue Select button. This will trigger selections for any specific types of tickets you may need to purchase (family, adult, children, senior, etc.). Make your selection and click Next.
In the next step, enter your contact details and take note of the cancellation policy, type of ticket, the currency that you'll be charged in (we have a great round-up of credit cards with no foreign transaction fees!), and what time your tour is scheduled to begin. Click Next to proceed.
Enter your payment details and click Pay now to complete your transaction.
Booking.com Airport Taxis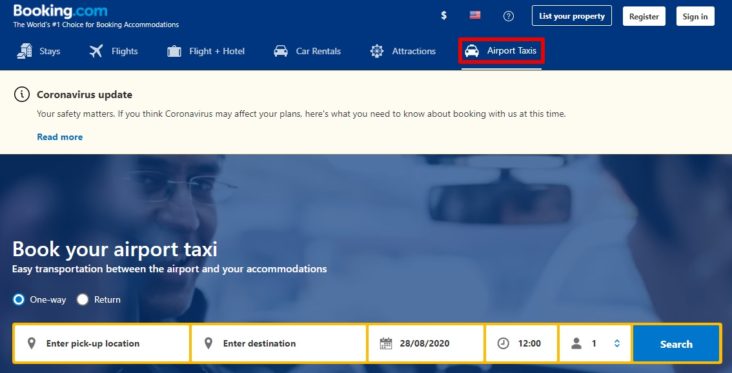 If you are particular about the type of ride you have to and from the airport, you might want to check out the airport taxis section of Booking.com. It's powered by Rideways and offers access to airport transfers, taxis, and executive cars across the globe.
One thing we really appreciated about this service is that all taxes, service charges, and gratuities are included in the price you see.
To get started, click on Airport Taxis in the main menu at the top of the Booking.com homepage.
Then fill in your information including pick-up and drop-off locations, date, time, and the number of passengers. There is a radio button that you can select if you would like to book a round-trip transfer. Click the blue Search button to continue.
The search results will prompt you to select your taxi and include details on size, number of passengers, and bag capacity.
If you've dreamed of being greeted at the airport by a driver with your name on a sign, you are in luck! Many rides include a "Meet & Greet" service — your driver will meet you in the arrivals section of the airport to escort you to your car.
Fill out your contact and flight information, then scroll to the bottom of the page and click the blue Continue to book button at the very bottom.To complete the booking, fill out your credit card information and click the blue Book Now button. Most reservations can be canceled up to 2 hours before the scheduled pick-up time without penalty.
Final Thoughts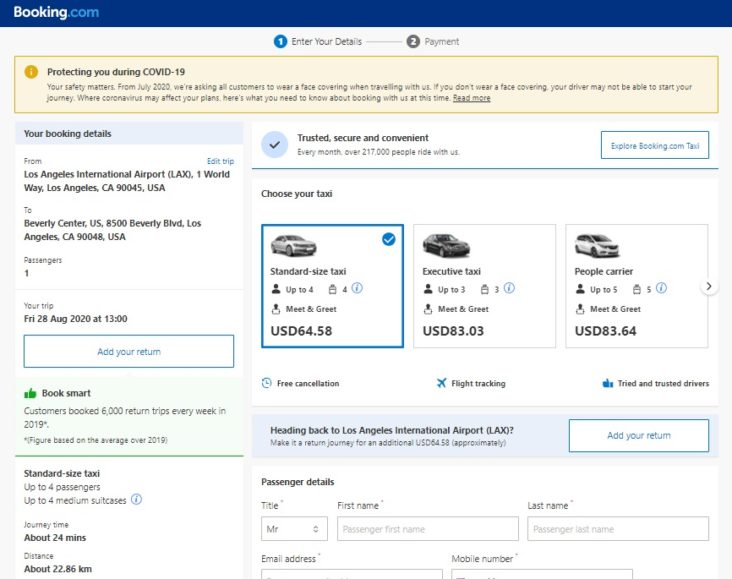 Overall, we weren't super impressed with what Booking.com has to offer, except when it comes to unique accommodations. If you are looking for a bed and breakfast, apartment, villa, or guesthouse, Booking.com offers lots of variety. The new partnership with TUI also plans to deliver plenty of new opportunities to book tours, tickets, and experiences at popular attractions and locations.
If hotel loyalty points are important to you when booking accommodations, you will most likely NOT earn points or have your elite status recognized when booking your room through Booking.com. Any elite status you may have will also likely not be recognized.
As we have learned from researching a lot of OTAs, there is not 1 perfect website that always has the best prices, so it's always a good idea to shop around.
Frequently asked questions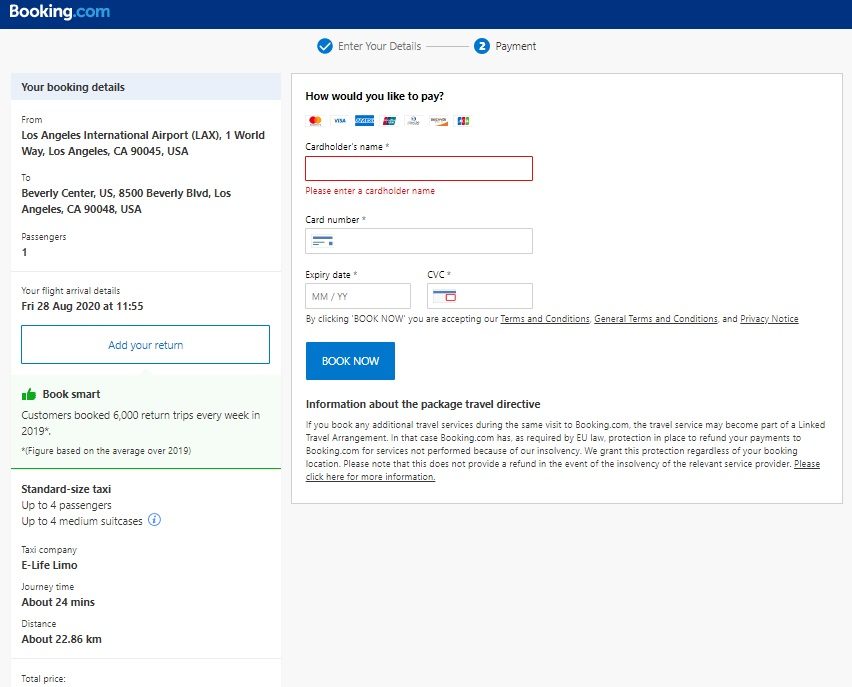 Are Booking.com reservations prepaid?
It depends on the reservation — some are prepaid, some aren't. Be sure to look at the terms and conditions for your reservation for details.
Can Booking.com cancel my reservation without a fee?
Many hotel and car reservations are fully refundable until 24 to 48 hours before check-in. Most flights are non-refundable.
Does Booking.com charge a booking fee?
Usually not, but it depends on the reservation you are making. Review the final itemization of charges before completing your transaction.
Does Booking.com price match?
Yes, Booking.com offers a price match guarantee for any accommodations booked on the site. The lower priced reservation needs to be identical in every way — same property and accommodation type, same check-in and check-out dates, and the same cancellation policy.
The lower price will not be honored if it is an opaque booking (when the exact property isn't revealed until the booking is complete), if it's part of a loyalty or rewards program, or if it's a special promotion or deal. You have up until 24 hours before your check-in to submit a claim.