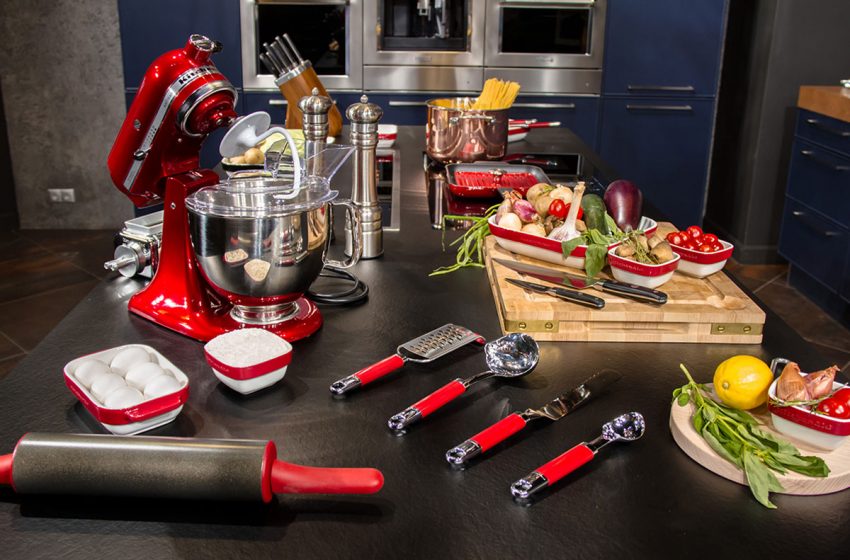 "If you buy something through our links, we may earn a commission."
If you bake often, you might be considering upgrading to a stand mixer. KitchenAid stand mixers, which have been in existence for more than 100 years, are coveted by both professional bakers and serious home bakers. They can help you mix, whip, beat, knead, and fold a variety of recipes. These mixers also make quick tasks like whipping cream, beating egg whites to stiff peaks, and kneading bread dough–all possible by hand, but they take way longer and tire you out. Stand mixers also offer greater capacity than a standard mixing bowl and handheld mixer, so you can make larger batches of doughs, batters, and frostings, which is perfect for bake sales, parties, and holiday cookie trays.
KitchenAid stand mixers aren't just for baking, though. There are more than 10 attachments sold separately to turn your mixer into a juicer, pasta maker, food processor, and more. The attachments are powered by the mixer's motor making this one versatile workhorse. With tilt-head, bowl-lift, and commercial designs, plus tons of color options and bowl styles to choose from, there's a KitchenAid stand mixer to fit your kitchen and cooking style.
Here are the best KitchenAid stand mixers.
Best Overall: KitchenAid Artisan Series 5-Quart Tilt-Head Stand Mixer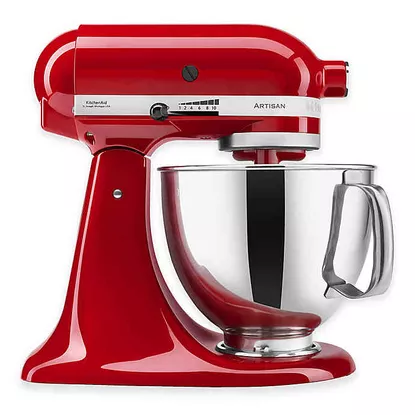 The Artisan series mixers are very popular with users. They're large enough for home cooking and baking but not so large that you'll need a helper to move the mixer into storage if you don't keep it on your counter. Reviewers say the 5-quart stainless steel bowl is big enough to hold double batches of cookies and royal icing.
There's nothing this model can't do. The motor is powerful enough to knead dough or whip cream, and the front power hub is compatible with more than 10 attachments. Plus, it's available in over 15 different colors, so you're guaranteed to find one that you love.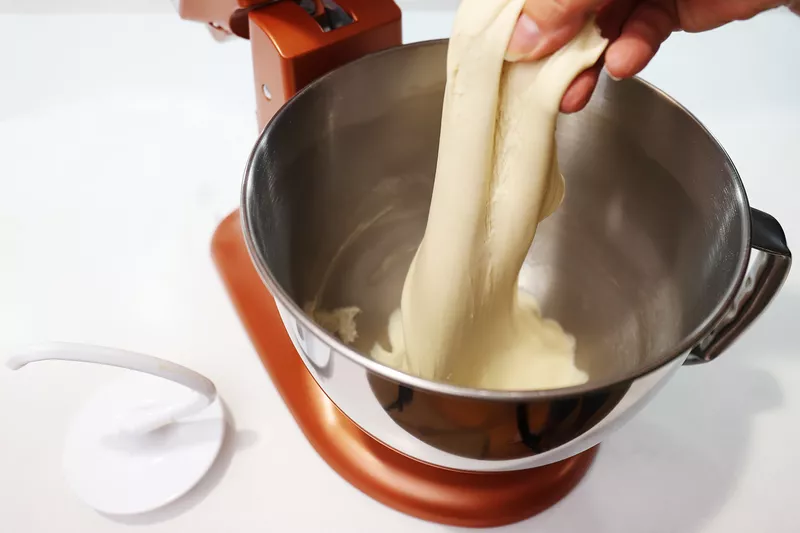 Best Budget: KitchenAid Classic Plus Series 4.5-Quart Tilt-Head Stand Mixer KSM75SL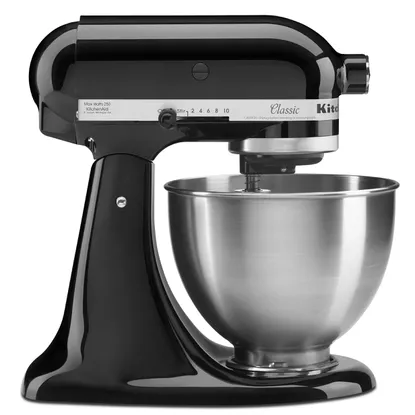 While KitchenAid stand mixers might never be considered inexpensive, this tilt-head model offers slightly less power at a more affordable price. Customers have noted that this machine is quieter than other models because of its 275-watt motor but reported that it can still handle tough dough. This model will also help keep your countertops clean with its soft start feature, designed to prevent flour from getting thrown out of the bowl as it mixes.
Best Design: KitchenAid 100 Year Limited Edition Queen of Hearts 5-Quart Tilt-Head Stand Mixer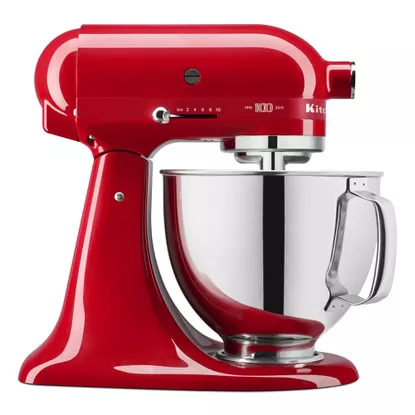 If you're looking for a mixer that makes a statement, this limited edition Queen of Hearts mixer in passion red could be a great choice. The trim band is covered with tiny red hearts, and the custom power hub cover celebrates KitchenAid's 100-year anniversary. Several reviewers say this mixer makes an attractive addition to their kitchen and that it operates relatively quietly. However, a few have mentioned that the beater becomes a little loose when mixing very large batches.
The mixer comes with a 5-quart polished stainless steel mixing bowl with a handle. There are 14 different attachments sold separately, so you can roll out pasta to the perfect thickness, make ice cream, or grind meat.
Runner-Up, Best Design: KitchenAid Artisan Series Tilt-Head Stand Mixer with 5-Quart Ceramic Hobnail Bowl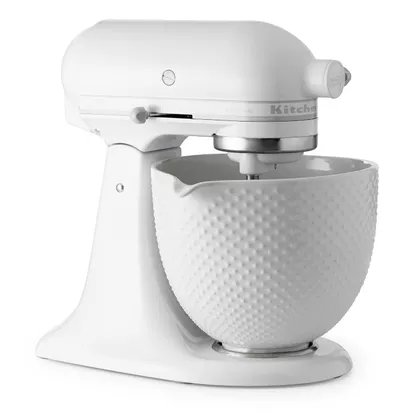 If you can't choose between all the color options available for our top pick, the Artisan 5-quart stand mixer, this might be the perfect option for you. It has all the same power, features, and capacity as the Artisan 5-quart but in a special edition all-white design that'll bring a fresh, crisp, and calming vibe to your countertop. The vintage white ceramic hobnail mixing bowl offers a hint of retro nostalgia.
This mixer comes with the Flex Edge beater, flat beater, dough hook, and wire whip to help you tackle baking tasks, from beating egg whites for meringue to whipping cream and kneading bread dough.
Best for Kneading Bread: KitchenAid Pro 600 Series 6-Quart Bowl-Lift Stand Mixer KP26M1XNP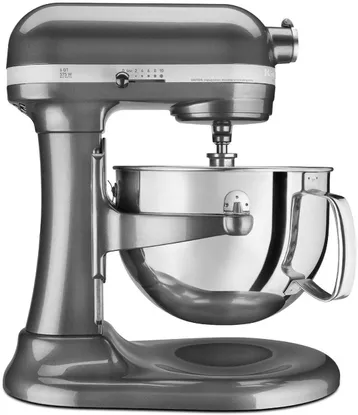 The Professional 600 Series mixer is the perfect piece of equipment for serious bakers. Users found the 575-watt motor strong enough to knead dough for long periods without damaging the machine, even when baking back-to-back bread loaves.
This model comes complete with a slow stir-speed feature, which means the mixer starts at a slower speed, so you're less likely to spew flour all over the kitchen or splatter wet ingredients before it's all neatly incorporated.
Best for Big Batches: KitchenAid Pro Line Series 7-Quart Bowl-Lift Stand Mixer
This mixer is the largest capacity bowl-lift mixer designed for home use. Featuring an attractive stainless steel design, a 1.3-horsepower motor, and a bowl that holds up to 16 cups of flour, it's the perfect addition to any kitchen that's whipping up large batches. Most reviewers who bake regularly praise this workhorse of a mixer. However, weighing in at 32 pounds, it's heavy to move in and out of storage, so it's best to find a permanent spot for it in your kitchen. You'll get a dough hook, a flat beater, wire whip, and pouring shield to use with the mixer.
Best Professional: KitchenAid NSF Certified Commercial Series 8-Quart Bowl-Lift Stand Mixer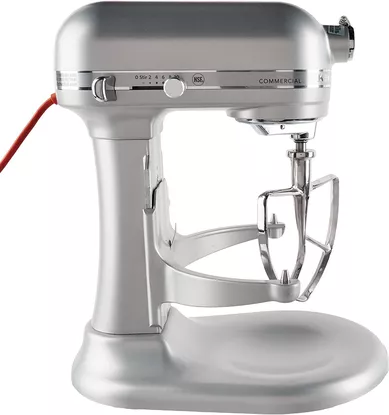 Choosing a mixer for a professional kitchen? Then this commercial-grade pick is the best KitchenAid mixer for you. This bowl-lift mixer is NSF-certified4 and features an 8-quart brushed stainless steel bowl. Its 1.3-horsepower motor is more than enough power for large or small batches, but you don't have to worry about the motor overheating. Several reviewers also report that it operates more quietly than previous KitchenAid models they've owned. You can choose to purchase it with or without a metal bowl-guard, which prevents extra ingredients from being added while the mixer is in motion.
What to Look for in a KitchenAid Mixer
Style
There are two types of KitchenAid mixers: tilt-head and bowl-lift. The motorhead of a tilt-head mixer pushes back to let you pour ingredients into the bowl and access the beater. A bowl-lift mixer has a lever that pulls the bowl up to the beater. There is also a tilt-head "mini" model that's lighter and more compact than a typical tilt-head mixer.
Size and Capacity
Tilt-head mixers typically have a medium build, meaning they fit pretty well under most cabinets and have a capacity of around 5 quarts. They're quite heavy, however, coming in at approximately 26 pounds. Still, they're not quite as heavy as bowl-lift mixers, which punch in at 29 to 30 pounds; their bowls can hold up to 6 quarts. Due to their size, however, they're meant to be displayed on the counter and not placed under a cabinet. According to KitchenAid, the tilt-head model is made for families or people who plan to use mixers every day, while the bowl-lift model is designed for cooking for a crowd or handling heavy mixtures.
Attachments and Accessories
KitchenAid has more than 10 motor attachments that work with all of its stand mixers. These include a juicer, food processor, spiralizer, and pasta roller, among others. There are also helpful accessories available, such as pouring shields, pouring chutes, and covers.
FAQs
How do you use a KitchenAid mixer?
According to KitchenAid, follow these steps for success. The home appliance brand also features illustrated instructions of each step below, as well as more details about different models and accessories.
Set your stand mixer on a flat, level surface
Select your accessory and attach
Lock your mixing bowl in place
Add ingredients according to the recipe
Lock head (if you have a tilt model), turn on, and select speed
If you have splatter guard, attach it
When finished mixing, shut off, unlock head, and remove bowl
Remove accessory and wash
Once finished with bowl contents, clean it and your mixer
Dry and store mixer for next use
How do you clean a KitchenAid mixer?
Be sure the mixer is unplugged. Wash all attachments and the mixing bowl by hand in warm, soapy water. Dry thoroughly and store for next time. Wipe down the stand mixer with a damp sponge and mild cleanser. Get in all the nooks and crannies where food debris can hide, but be careful around knobs and levers.
If you have tough, stuck-on debris, concoct a paste using water and baking soda. Sometimes a toothbrush or cotton swab will help for coils and threads that are hard to clean. The attachment hub unscrews, so you can be sure to get all the splatters that creep in there. Flour and sugar can hide in the ventilation shaft, so be sure to dust for that with a hand vacuum or paper towel.
Once you have all surfaces clean and dry, lock the head in place and turn the mixer on its side to clean underneath. A damp sponge with a mild cleanser or even a paper towel should do the trick. Be sure everything is dry before you store the mixer. If the stainless steel bowl has water spots or fingerprints, you can use a stainless steel cleaner on it or a little Bar Keepers Friend (view at Amazon).
How often should you change the grease in a KitchenAid mixer?
Think about it like the grease on the bearings of your bicycle. You want to be sure the grease is sufficient to keep all the parts moving. Depending on how much use your mixer gets, most should be greased once a year. You need a few tools to undertake this endeavor: a putty knife, flat-head and Phillips screwdrivers, and food-grade grease (view at Amazon). Other products you may need in your arsenal are a container to store your screws and newspaper to cover your work surface and minimize mess.
Once you have assembled the tools, follow these steps to change the grease in your mixer, or make an appointment to have it done for you at a professional small appliance repair shop.
Remove screws on back cover and screws holding the metal band
Remove screws on planetary (the part that mixes ingredients)
Remove the planetary pin and take the planetary off
Remove remaining visible screws
Lift the top off the mixer and expose inner parts
Remove old grease from gears with putty knife
Remove screws on gear tower and take it out
Clean everything, and then put inner parts back in reverse order
Apply new grease to all gears, surrounding area, inside cover, and any moving parts
Put everything back together with original screws
Why Trust The Spruce Eats?
Donna Currie is the author of the cookbook, "Make Ahead Bread." She also reviews kitchen gadgets and other products for The Spruce Eats—so she definitely knows more than a few things about stand mixers. In fact, she's personally tested three stand mixers for our site, including one KitchenAid mixer.
This roundup was updated by Sharon Lehman, a Registered Dietitian Nutritionist who happily makes space for any gadget that makes cooking faster and easier. She specializes in small kitchen appliance testing and reviews for The Spruce Eats. Further updates were provided by Carrie Honaker, a restaurateur and avid home cook who knows the importance of finding the right tool for the right job. She loves her KitchenAid Artisan Stand Mixer for its durability and functionality. The vibrant mango color looks pretty on the counter, as well.
Final Verdict
The KitchenAid Artisan Series 5-Quart Stand Mixer takes our top spot because of its powerful motor and large capacity. Plus, it's compatible with more than 10 different attachments and is available in a ton of color choices. If you're looking for something larger to make big batches, go for the KitchenAid Pro Line Series 7-Quart Bowl-Lift Stand Mixer.