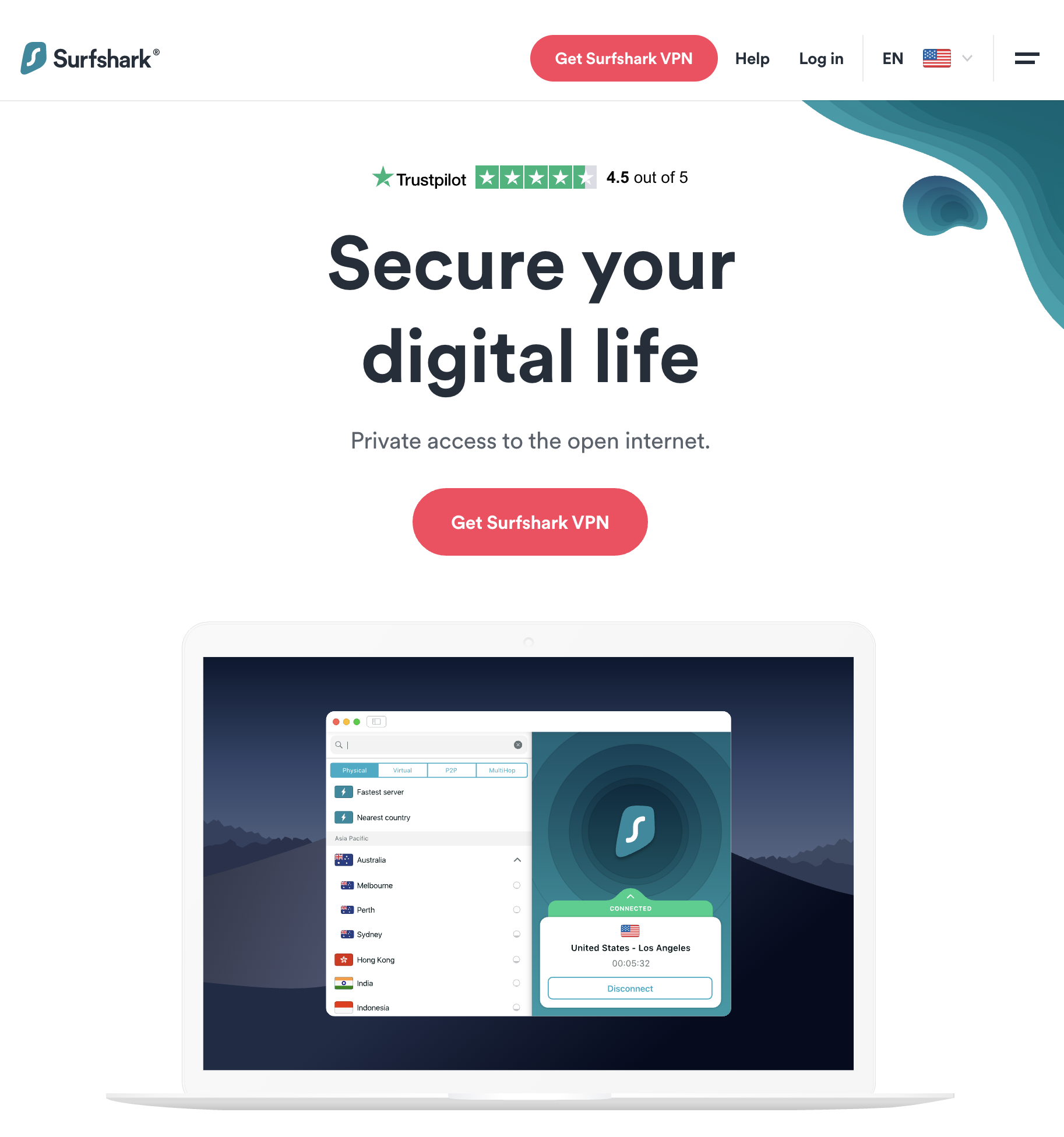 For high-speed performance and plenty of features, without the high price, this could be the best VPN for you.
Cons
Too basic for some
Software only available in English
No option to manually select a server
Full featured and high-speed VPN doesn't have to be expensive. Surfshark proves that point perfectly by offering one of the best services out there for nearly half the price of the competition.
Surfshark VPN is a relatively new service compared to some other options out there, but what it lacks in age it makes up for in features. From tight security and privacy to feature-rich apps and the ability to unblock Netflix – this packs in everything most people look for in a VPN.
With over 1,040 servers spread across 160 locations worldwide this is a super capable VPN that's perfect for anyone travelling. But with AES-256 level encryption it's also just right for anyone looking for a VPN to keep themselves anonymous and secure at home – or anywhere else for that matter.
So is this the VPN for you? Read on to find out everything you need to know about Surfshark VPN.
Pricing and plans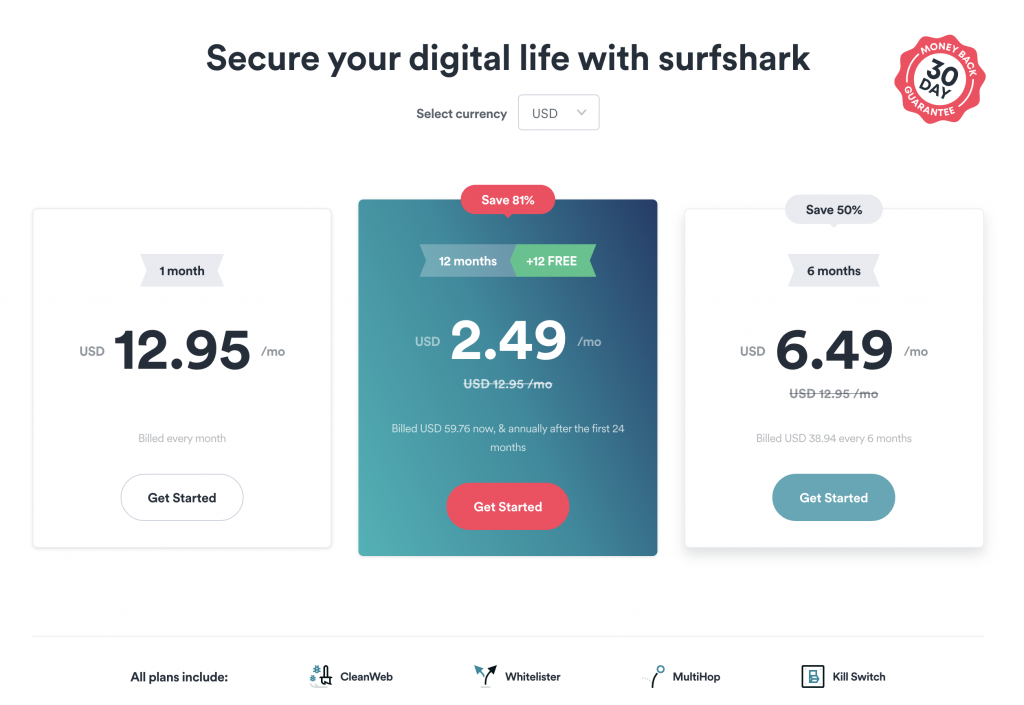 Surfshark keeps it nice and simple when it comes to pricing options with three tiers to pick from. These are time based, with monthly, annual or two year plans which go down in price based on how long you commit for.
The monthly option is the most open, allowing you to pay month-to-month with no commitment. As such this is the most expensive, usually priced at around $12.95. Jump up to a year, paid in one lump sum, and you get a big reduction that equates to $6.49 per month.
But the best plan, which gives you one of the most affordable VPN prices of any out there right now, is the two year plan. Pay this sum up front and it works out at just $2.49 per month. That's a saving of a massive 83 percent compared to the monthly payment option.
No matter which subscription you get, Surfshark offers a 30-day money-back guarantee, and you can use the subscription on an unlimited number of devices. Payment methods include the following options: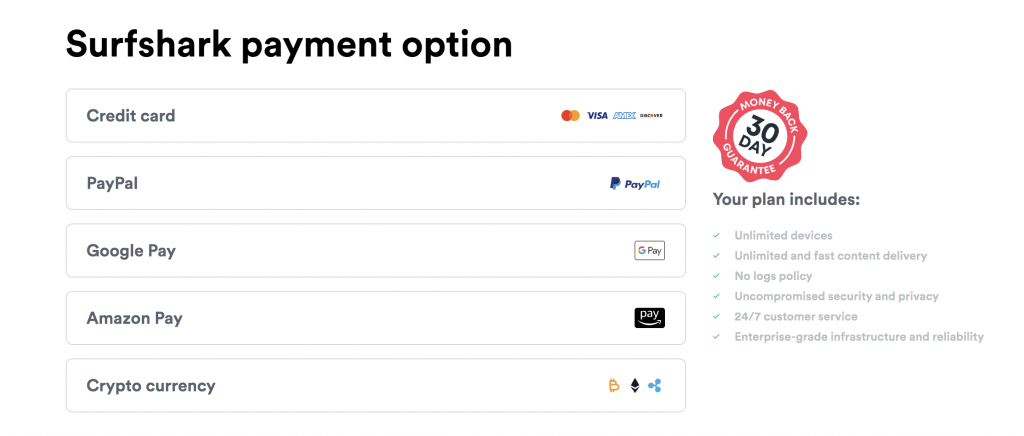 Credit card (Mastercard, Visa, American Express and Discover Card)
PayPal
Google Pay
Bitcoin and other cryptocurrencies (using CoinGate or CoinPayments)
Sofort
Other, local payment options
Testing and performance
Despite being a budget VPN you can rely on Surfshark to offer some really great speeds, according to our testing. On a reliability level we found no connection failures and connection times that are faster than average plus all servers returned IP addresses for their advertised locations. So all ticks then.
When it came to performance speeds, we tested in the US using a 600Mbps connection. On the whole results were consistent denoting a reliable performance. Speeds averaged 150Mbps, which could have been our ISP affecting that to be fair. The lowest speed we got, across 40 test locations, was 119Mbps – still plenty fast then.
Over in the UK the line tested was 75Mbps and we got an impressive average of around 68Mbps meaning very little bandwidth was lost due to Surfshark.
Server locations affect speeds so if you're after pure performance, a bit of testing various servers could help you perfect your connection for the ultimate speed result.
Features
One of the big features for VPNs these days is Netflix unblocking and Surfshark specifically advertising this is something its service offers. In fact it even names 14 countries where it can do this, including the U.S., France, Japan, Australia, Italy and more.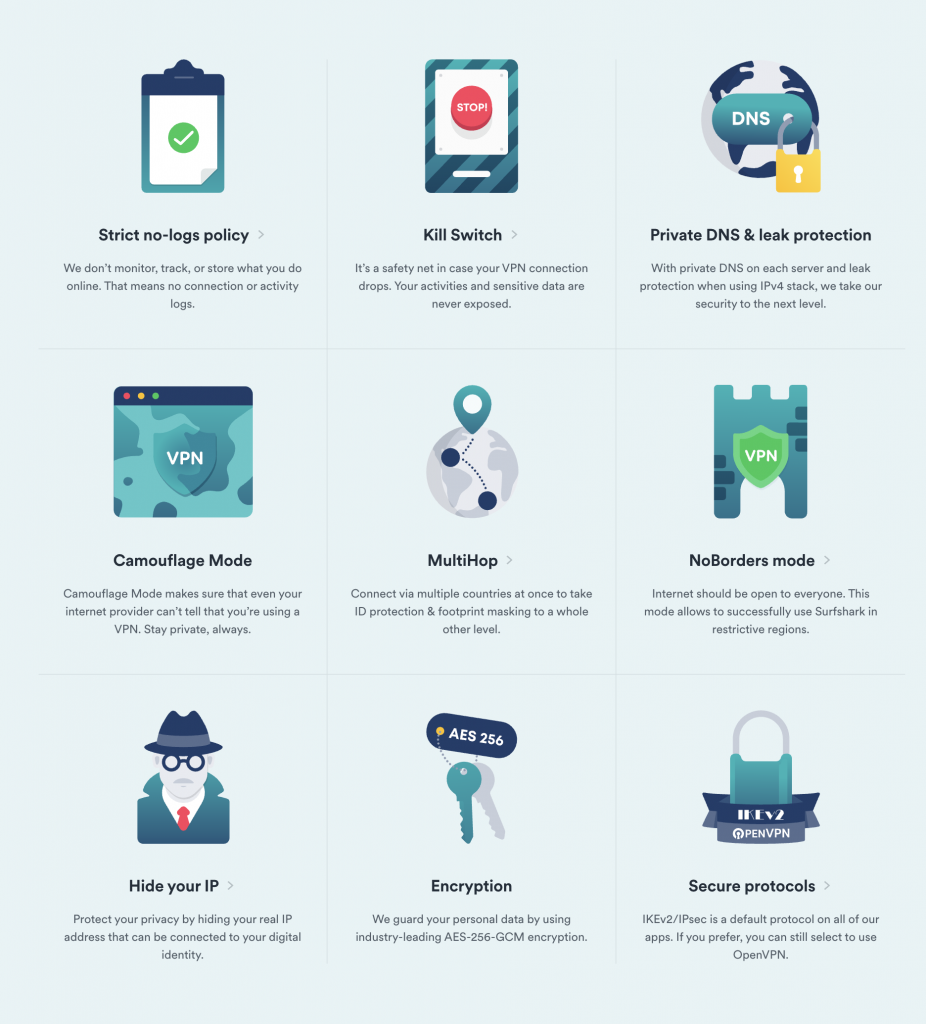 Aside from Netflix you can enjoy geo restriction unblocking for the likes of YouTube, Amazon Prime Video and even the often challenging BBC iPlayer. The only one that presented issues here was Amazon Prime Video, which did work for going abroad and accessing home country content, but blocked accessing other countries' content when using your account setup at home.
Getting online in countries that otherwise block VPNs is an option here thanks to a service called NoBorders mode. This, presumably through obfuscating your traffic, gets you around any blocks to go online – ideal for China and Iran then.
A Whitelister panel is a nice touch that allows you to select applications, websites and IP addresses that can bypass the VPN. This is great if you want to access your banking app without setting off alarms about you being out of the country, for example.
The CleanWeb feature works well to block ads, any trackers and links that could be malicious to help keep your online experience as clear as possible.
The mobile apps allow you to select a "use small packets" option which is able to improve performance on some networks which could help speeds while also saving you money on data use.
Support is another great feature, with 24/7 live chat available wherever you are. This is a great way to get online if you're having issues, or find the right server to unblock something like a media player. While there are lots of details on the company's website that can help, it's nice to have a human waiting to help, should you get stuck.
Speed
Average speed loss: 27%
Number of servers: 1,000
Number of server locations: 60 countries
Optional static IP addresses available
I ran my speed tests over the course of three days with dynamic IP addresses, in two locations, using both wireless and ethernet connections — one location offered slower broadband speeds, and the other offered higher speeds via fiber-optic internet. Internet speeds in the US vary widely by state and provider. And with any speed test, results are going to rely on your local infrastructure, with hyperfast internet service yielding higher test speed results.
That's one reason I'm more interested in testing the amount of speed lost (which for most VPNs is typically half or more) across both high-speed and slower connection types, and in using tools like speedtest.net to even out the playing field. In the case of Surfshark, only 27% of average internet speeds were lost.
Surfshark's fast speeds during testing pushed the service immediately past NordVPN's and Norton Secure VPN's tested speeds (which averaged 32% speed loss and 57% speed loss, respectively), and into competition with the likes of other speed-intensive VPNs such as ExpressVPN and IPVanish. This is particularly impressive given the small size of Surfshark's server fleet.
Peak speed was reached on London servers at 46.02 Mbps during a testing round, with non-VPN speeds in the mid-40s. UK servers ranked fastest overall among the tests, with average download speeds of 28 Mbps compared to my overall non-VPN average speeds of 36 Mbps.
US servers in New York came in at a close second place with about 27 Mbps, topping out at 46.55 Mbps. Surfshark's Singapore servers, fast but inconsistent, beat those in Australia and Europe to take third place. Among tests conducted on both French and German servers, the strongest speeds were regularly marked in Paris. Berlin's scores dragged the European tests into last place, behind Australian servers, which held steady throughout each round.
Security and privacy
Jurisdiction: British Virgin Islands
Encryption: AES-256-GCM, RSA-2048, Perfect Forward Secrecy
No leaks detected
Includes kill switch
Surfshark uses the enterprise level AES-256 encryption meaning all your data is kept locked so even if it were compromised it would remain unintelligible. Not that it should be at risk thanks to a kill switch, keeping you safe if your connection drops, and a double hop VPN. That means your address is even more secure, should you activate this feature, making you highly anonymous and difficult to track.
There are some of the best modern security protocol options including OpenVPN UDP and TCP plus IKEv2. Plus the company is based in the British Virgin Islands meaning no logging is required. The fact that each server has its own private DNS is yet another layer of security to set your mind at ease.
A third party test of Surfshark by German security firm Cure53 led it to conclude that it was: "highly satisfied to see such a strong security posture on the Surfshark VPN extensions, especially given the common vulnerability of similar products to privacy issues."
Surfshark's server network
Surfshark has an extensive server network: they have 1700 servers across 63+ countries and locations. This is very convenient for bypassing geo blocks. In most countries, they have multiple servers. Especially the US servers are numerous, most likely to ensure watching the American Netflix keeps working.
Furthermore, all of Surfshark's servers are P2P-friendly. This means you won't have to select a special P2P server if you want to download torrents, for instance. Furthermore, Surfshark gives you the option of connecting to two VPN servers at once (MultiHop). Your data will be sent through not one, but two VPN servers. This increases your online security and anonymity. Not all of Surfshark's servers support this. Instead, there are thirteen pre-selected combinations of two servers you can use. Three of these have a U.S. server as the exit server. This is very useful for unblocking a lot of geo-restricted content, such as the US version of Netflix, while staying extra safe.
Number of servers and locations

Surfshark has 1700 servers across 63 locations. These locations are spread out over the following countries:
Albania
Australia
Austria
Belgium
Bosnia and Herzegovina
Brazil
Bulgaria
Canada
Chile
Croatia
Costa Rica
Croatia
Cyprus
Czech Republic
Denmark
Estonia
Finland
France
Germany
Greece
Hong Kong
Hungary
Iceland
India
Indonesia
Ireland
Israel
Italy
Japan
Kazakhstan
Latvia
Libya
Luxembourg
Malaysia
Moldova
The Netherlands
New Zealand
Nigeria
North Macedonia
Norway
Paraguay
Poland
Portugal
Romania
Russia
Singapore
Serbia
Singapore
Slovakia
Slovenia
South Africa
South Korea
Spain
Sweden
Switzerland
Taiwan
Thailand
Turkey
Ukraine
United Arab Emirates
United Kingdom
United States
Vietnam
Customer service
Navigating to the Help section on Surfshark's website, you'll find a decent amount of information to help you get started with the service. There are various setup guides, including manual connection guides, router tutorials, and extension and app guides. In addition, some FAQs are answered, although this isn't as comprehensive a section as it could be.
Most of what you need should be here, but if not, live chat is available to help. Note that while testing the service, the live chat was unavailable at times and clicking the chat button directed us to an email form instead. However, a representative acknowledged that there is a glitch and you may have to wait a few seconds after opening the website for the live chat to be available. We tested this and it appeared to be true.
Even if you do submit an email form, you can expect a prompt response. We got a response to one query in under an hour, and to another in just under two. The live chat feature is outsourced to Zendesk, so those looking for the utmost privacy may want to use the email form anyway.
Should you sign up?
If you want to save a packet on a really decent VPN that offers lots of features, then Surfshark could be for you. Presuming you're ok with paying that two year up front cost then you can get this cheaper than most other VPNs, without sacrificing quality, speed, security or reliability. In fact, this budget VPN is above average and beats a lot of the more expensive services with its offerings.
Features like unlimited device use make this a genuine option for use across all your gadgets. You could, conceivably, even split the cost with someone and share this impressive and comprehensive VPN service. Looking for other VPN deals? We have you covered there as well!