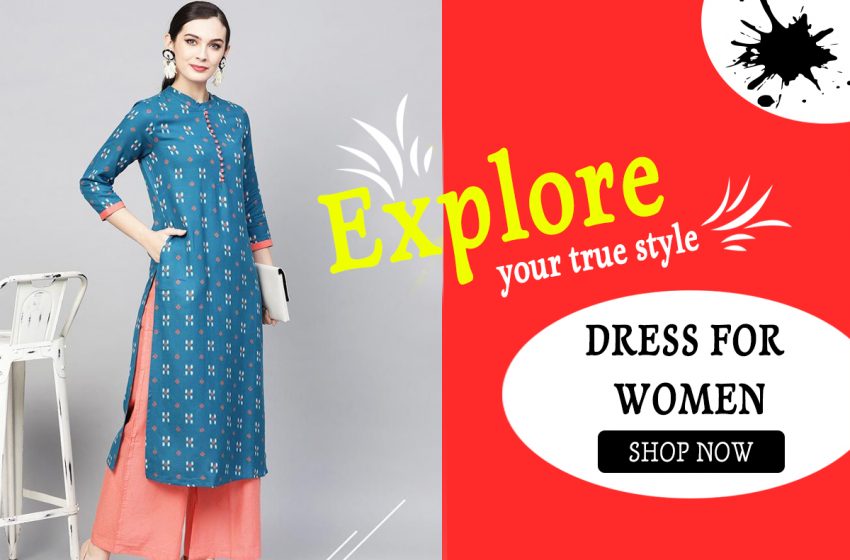 About Petal and Pup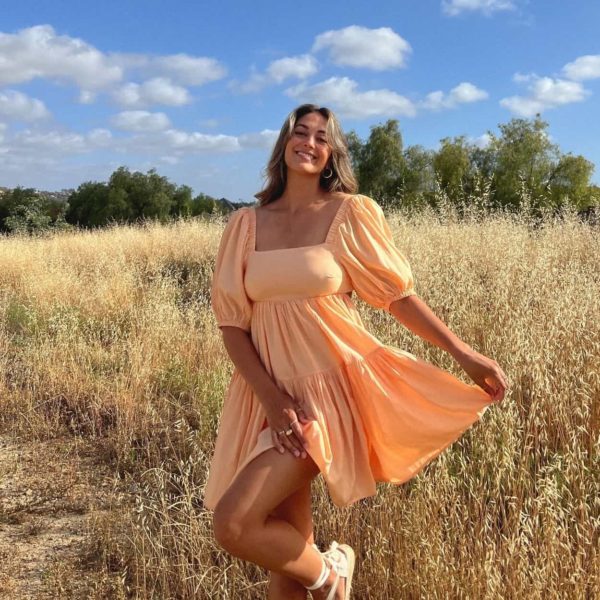 Most of us want the trendiest pieces, but it's hard to invest in items that are only going to go out of style in a few weeks or months. Petal and Pup offers a solution to this fashion dilemma with its wide selection of clothing that stays on-trend, but is also simultaneously as timeless as it is eye-catching. This Petal and Pup review has all the scoop on what this brand has to offer.
Petal and Pup has an impressive 950k followers on Instagram, where they document their newest styles worn by smiling faces, only enhancing the confidence of the women wearing the items. The brand also has a line in collaboration with Georgie Stevenson, a popular blogger and the co-founder of Naked Harvest Supplements.
So, is this brand worth investing in? This Petal and Pup review is here to help you find out. We'll take an in-depth look at the company, its clothing line, and customer ratings, to help you decide if it's what's missing from your wardrobe.
Overview of Petal and Pup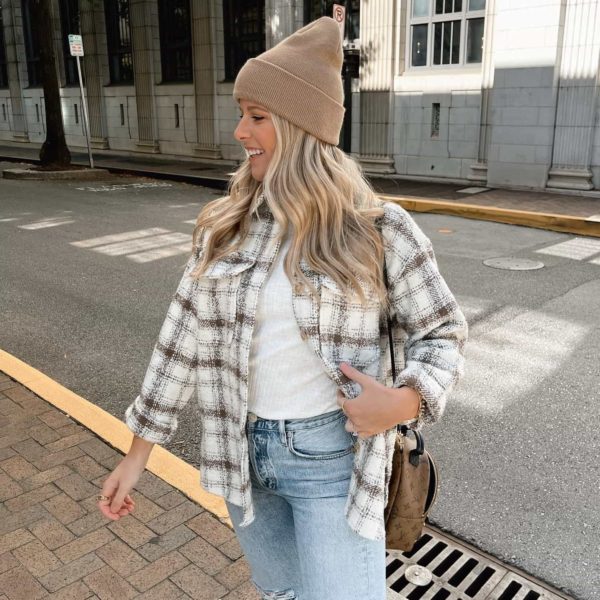 From humble beginnings, Petal and Pup began in 2014 as a small boutique in Australia. The label was founded by Tiffany Henry, a young entrepreneur who wanted a second job that was fun and exciting.
So that's why Henry founded Petal and Pup. The brand quickly became a popular option, selling items that were cute and trendy, and inexpensive to boot since it offers direct-to-consumer products.
Since its creation, the brand has been committed to providing customers with "the choice of beautiful trend-driven pieces that offer an element of practicality, versatility and personality to their wardrobes." While the products are still made in Australia, the brand ships worldwide.
Before we jump into the product reviews, this Petal and Pup review will take a look at a list of highlights about the brand.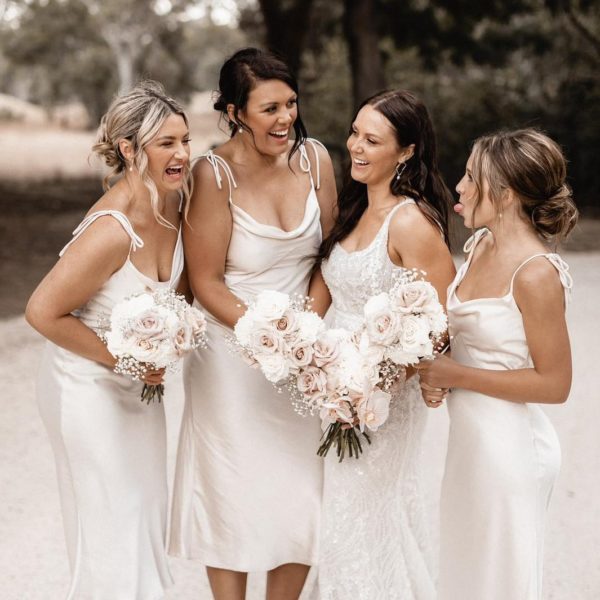 Highlights
Wide selection of women's clothing and accessories
Timeless yet trendy pieces
International shipping
Free shipping on orders over $100
Size guide available
100 new arrivals weekly
Inexpensive compared to other retailers
Option to make payments through Afterpay
The brand carries an extensive line of wardrobe necessities—from tops and bottoms to accessories and shoes. On top of that, it comes out with 100 new items weekly, so there are always fun new styles to choose from. But, this Petal and Pup review will focus on what the brand is most well known for—its bump-friendly dresses.
Petal and Pup Bump Friendly Dresses Review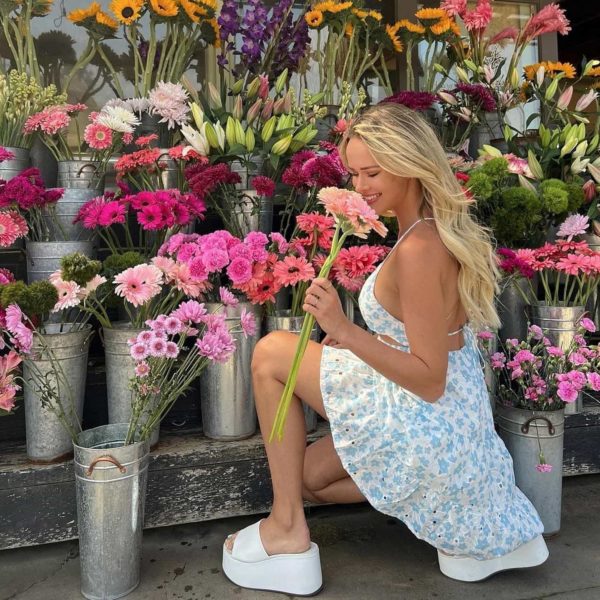 When it comes to pregnancy, a good dress selection is a must-have. That way it'll be super easy to put your outfit together since all you have to do is match some shoes to your dress! As a bonus, Petal and Pup bump-friendly dresses can be worn even when you're not pregnant, so the styles aren't exactly exclusive.
These dresses are loose and stretchy enough to be worn no matter the size of your belly, so you can wear them before, during, and after you've been blessed with a little one. Let's dive right into some of the bestselling Petal and Pup dresses so we can see if they live up to the brand's mission!
Petal and Pup Valente Dress Rust Review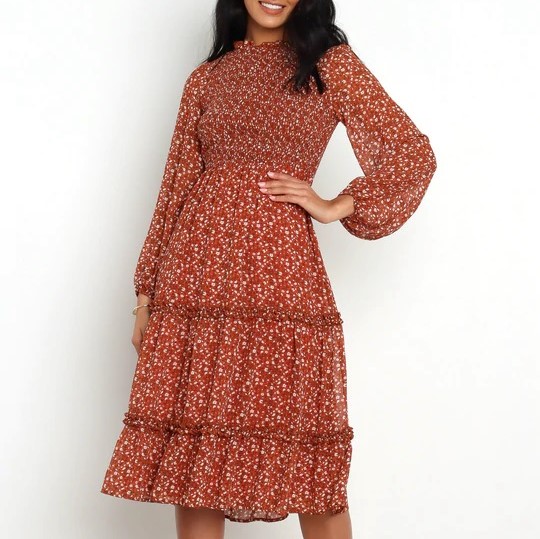 We can see it now: a fall evening spent on the warm, golden Tuscan countryside, a glass of wine in one hand, and a forkful of noodles in the other. Wine country in the cooler weather is best complemented by a long-sleeve midi dress, like the Valente Dress.
This dress has a tiered romantic skirt topped with a smocked bodice that adds texture and shape. The high neckline features a dainty frill that contrasts and complements the sheer balloon sleeves.
This dress has a petite floral pattern and is available in seven different colors—from fall rusty tones to spring pinks and winter blues. Pair it with some white sandals and your chunkiest gold hoops, and you'll be ready to watch the sunset.
This Petal and Pup bump friendly dress retails for $80.
Petal and Pup Latiana Dress Mocha Review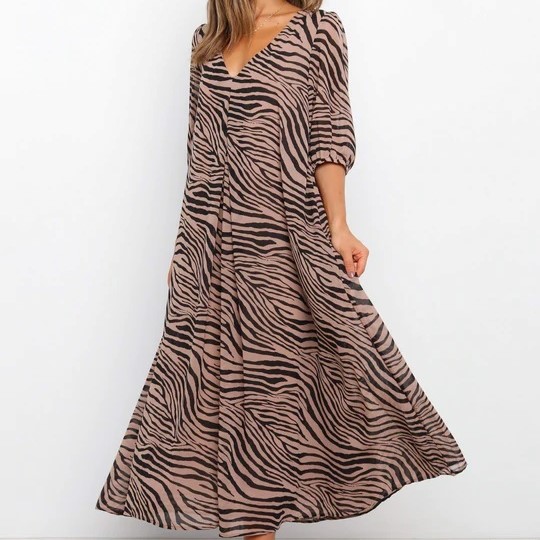 Made with a relaxed and flowy shape perfect for summer evenings, the Petal and Pup Latiana Dress is a deep mocha color, peppered with zebra stripes.
Depending on your height, this dress will fall at a midi or maxi length. It features a deep V-neckline and three-quarter length sleeves that have a slight puff. The pleat detailing on the back and center seam on the front draws the eye downward, elongating the figure.
The Latiana Dress will be completed with a pair of white pumps and a leather white crossbody bag to offset the dark tones in the fabric. It retails for $80 but is currently on sale for $40.
Petal and Pup Ollie Dress Beige Review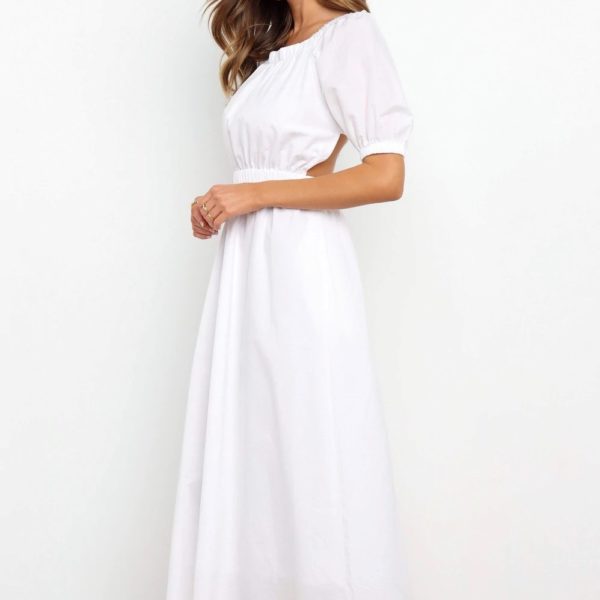 If you feel like you belong in a field, barefoot and picking flowers, then you've found the dress of your dreams with the Petal and Pup Ollie Dress.
This dress can be worn on or off the shoulder with the elasticated shoulder straps, and it has short puff sleeves with an elasticated cuff to match. The back offsets the modest front, with an 'X' detailing that connects the bodice to the simple maxi skirt.
A flower crown in your hair and nude strappy heels is all you need to complete this look. With your choice between classic shades of black, white, or light brown, this maxi dress retails for $70 but is on sale for $28.
Petal and Pup Babis Dress Blush Review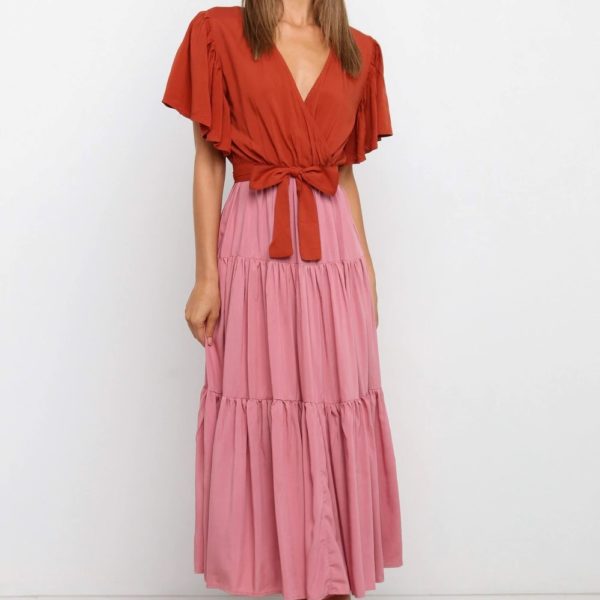 We're thinking of winery tours and summer afternoons with the Petal and Pup Babis Dress in Blush. The warm colors and casual details make it perfect for day-to-day wear, but it can easily be dressed up for special occasions.
This dress is made special with the color blocking that separates the deep red bodice from the warm bubblegum pink skirt. The wrap-style V-neck is contrasted by the lengthy tiered maxi skirt and flowy ruffle sleeves. The tie front detailing is just the cherry on top and pulls the look together.
Pair this dress with a heart necklace, some white heels, and a peach bag for a Valentine's Day outing, or wear all nude accessories to let the dress do the talking on a day out and about. This Petal and Pup Babis Dress in Blush retails for $74 but is on sale for $37.
Petal and Pup Salma Dress Emerald Review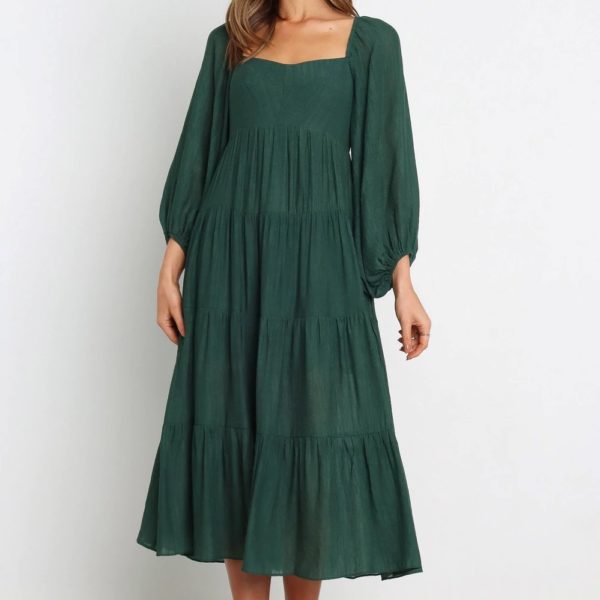 When it's time for brunch with the girls and you just want to slip something on and go, the Salma Dress in Emerald is exactly what you need.
The simple design features a sweetheart neckline, lengthy balloon sleeves, and a tiered midi skirt—all in a jewel-toned, deep green silky material. Pair this dress with dainty gold pendant necklaces and a black velvet headband for an earthy, warm look.
This dress is currently sold out in the dreamy emerald color, but you can sign up for notifications and snatch it up for $82 when it's back in stock! If you can't wait, the Affinity Dress in Emerald is a similar style for $70.
Petal and Pup Airleigh Dress Camel Review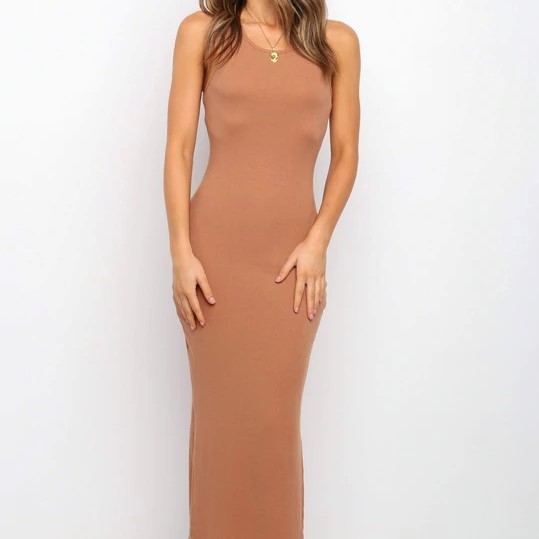 A bodycon dress is a must-have in every woman's wardrobe, and the Airleigh Dress is the easiest and most convenient closet staple you'll ever see.
This maxi dress features a super simple design, which is exactly what makes it so versatile. It has a halter neckline and slits at the bottom for easy movement. The dress comes in five colors—from neutral shades of white and brown to sage green and aubergine.
The look of this dress will change with whatever jacket you wear over top and whichever shoes you pair with it. If you want a casual look when you head out for groceries, toss on a flannel or hoodie and your fav white sneakers.
Or if you want something a little edgier then a leather jacket and black booties are the way to go. The Petal and Pup Airleigh Dress retails for $52.
Petal and Pup Adams Dress Beige Review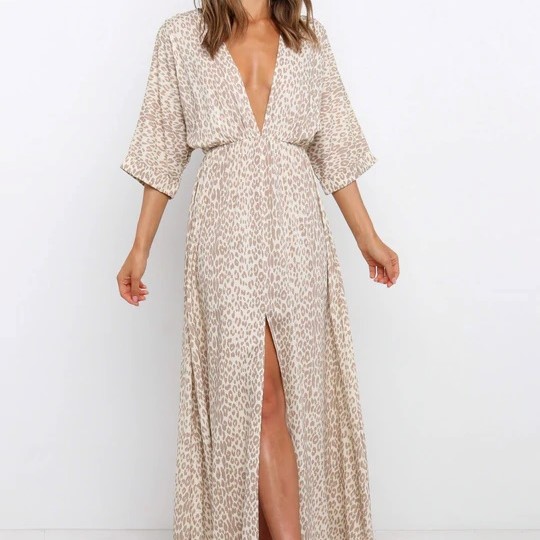 Think your partner will be popping the big question soon? The Petal and Pup Adams Dress in Beige is the dress to show up in!
This dress has a super deep V-neckline that matches the slit that runs down the center of the skirt—creating symmetry and drawing the eye inward—generating an hourglass shape. The flowy three-quarter length sleeves, bodice, and skirt create an ethereal, breezy look.
This dress is available in a soft ivory color that features a cheetah print in a taupe-y brown. It will pair perfectly with nude heels to elongate the legs and let the dress do all the talking.
The Adams Dress in Beige retails for $82.
Who Is Petal and Pup For?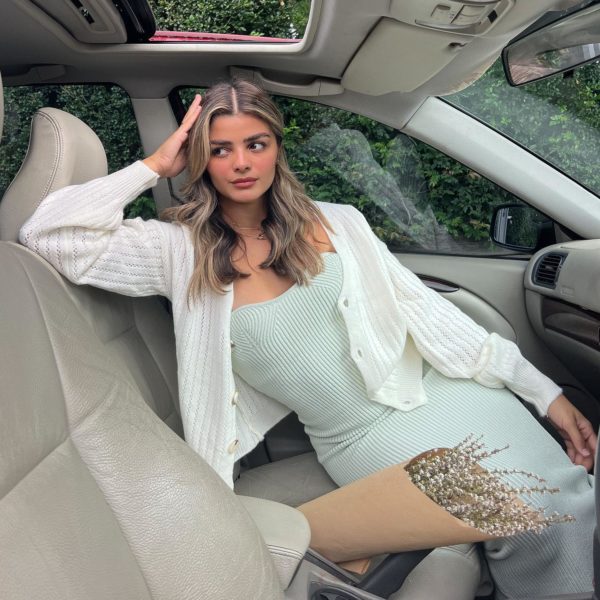 Dresses, dresses, and more dresses! Petal and Pup is definitely for anyone looking for the perfect dress—whether you're a bridesmaid, wedding guest, a party-goer, posing for photos, or anything in between.
Who doesn't need a collection of "staples and statements" in their closet? They also have a selection of simple, sophisticated, and slightly boho clothing. These items are wardrobe staples, perfect for completing your clothing collection.
On top of that, the items are super versatile so you can wear your new favorite dress to six completely different occasions without ever feeling out of place.
This Petal and Pup review thinks that the brand is for anyone looking for modern, inexpensive clothing and accessories that will stand the test of time and go well with the items you already own.
Petal and Pup Reviews: What Do Customers Think?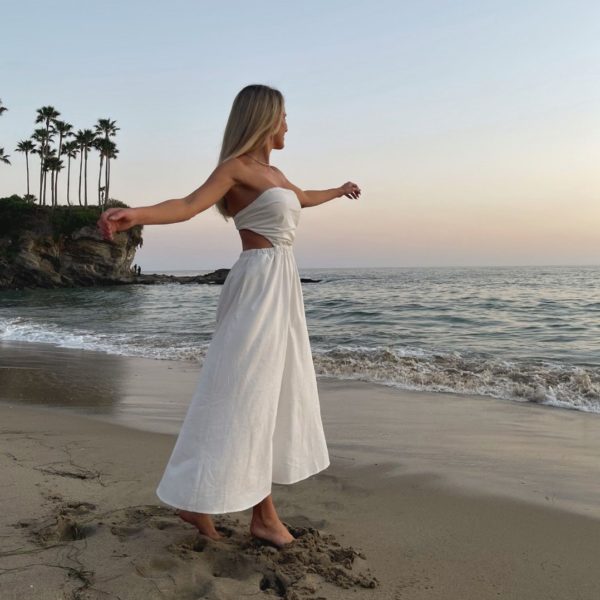 Now it's time for this Petal and Pup review to take a look at some customer testimonials to determine if the brand lives up to the hype. We found reviews on the Petal and Pup website, blogs, TrustPilot, and productreview.com. But before we dive into what shoppers are saying, let's take a look at how they're rating some of the brand's bestsellers:
Dancer Dress: 4.5/5 stars from 42 reviews
Franklin Dress: 4.8/5 stars from 28 reviews
Barker Dress: 4.7/5 stars from 25 reviews
On TrustPilot, Petal and Pup is rated 4.5/5 stars based on 172 reviews. One shopper left a 5/5 star rating and described how they love the customer service, prices, and selection for moms to be (is there anything else left to say?!): "Stunning products and exceptional customer service. The Bump Friendly section is so awesome. Beautiful Maternity Clothing that doesn't break the bank."
Another buyer on TrustPilot named themselves a repeat customer for this brand. In their review, they state, when it comes to online boutiques, the brand offers more than just the status quo. They also left a 5/5 stars review. Here's what they wrote:
"I've bought several things from Petal and Pup within the past couple months and I am blown away by the consistent quality of everything I've purchased. Usually I'm leery of buying from online boutiques because sizing can be a pain or it comes in and is super cheap but everything I've gotten from here has been consistently perfect quality and fitting! IN LOVE!"
Petal and Pup continues to receive more impressive ratings elsewhere online. On productreview.com, they received a 4.3/5 stars rating based on 696 reviews. One shopper is overly happy with their purchase and experience with the brand, stating they intend to come back for more. After leaving a 5/5 stars rating, they wrote this Petal and Pulp review:
​​"Absolutely obsessed with my dress, it fits perfectly and is so comfortable. It's a beautiful colour and I feel fabulous with it on. I made a mistake with my address also and it was changed with absolutely no hassle. Can't wait to buy more beautiful things from here!"
On TrustMamma, the brand has a 5/5 star rating from one shopper, who wrote about how versatile the pieces are:
"I loved shopping at Petal and Pup! Their clothes all have a very elegant and refined design, perfect for work outfits or Sunday morning brunch! Their clothes come beautifully packaged in a small cloth bag and a note, which gives a nice personalised touch to it. Shipping was also quite fast!"
With so many positive reviews, it's easy to see how the brand has garnered such a big following on social media. The items are exactly as described on the website—good quality, versatile, and long-lasting pieces that can serve as staples or special items in your wardrobe—helping you to create a well-rounded closet filled with many options.
Is Petal and Pup Worth It?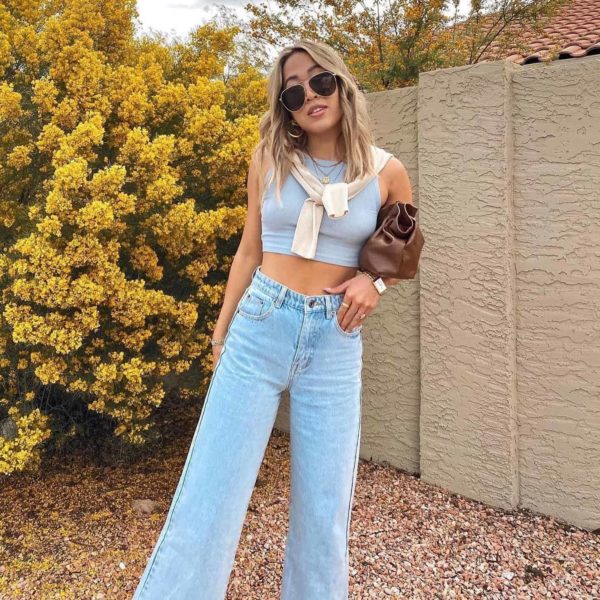 With all things considered, this Petal and Pup review concludes that the brand is worth the buy. The pieces are made from quality materials, with intricate and unique designs. And many of them feature a neutral and solid color palette that makes them perfect for every occasion.
On top of that, the customers seem to have only good things to say about Petal and Pup. Most reviewers state that they're more than satisfied with the brand, and many claim they've returned for more because they just can't get enough of their versatile collection.
This Petal and Pup review does extend one word of warning: be sure that you know your Australian clothing size and take a look at the size chart to ensure that you're ordering the right fit!
Petal and Pup Promotions & Discounts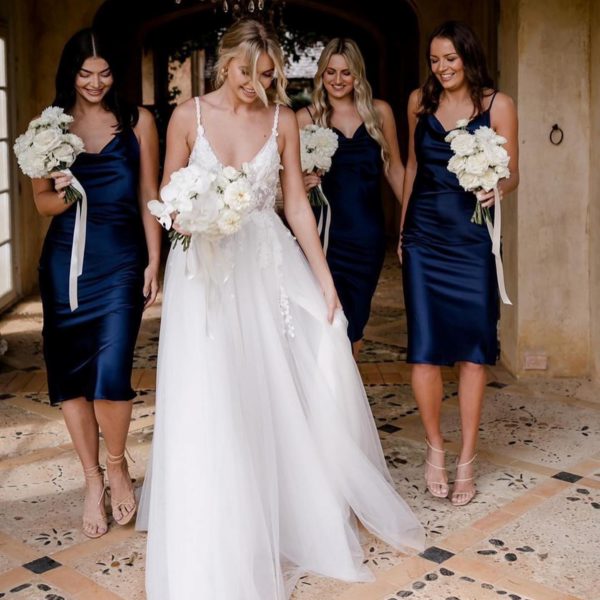 On the hunt for a good deal on your new wardrobe pieces? Here are some promos this Petal and Pup review found:
10% off your first order when you sign up for emails
Sale section with items under $75, $50, or $30
Free shipping for orders over $100
Where to Buy Petal and Pup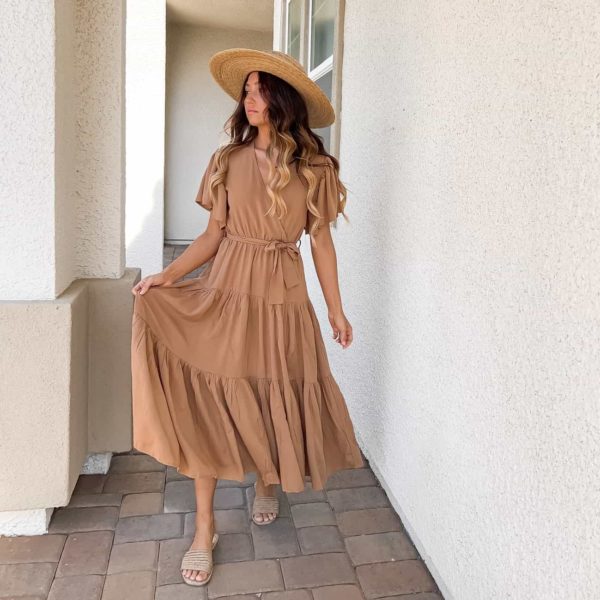 The brand's website, petalandpup.com, is the best place to shop for all your closet essentials and trendy clothes!
FAQ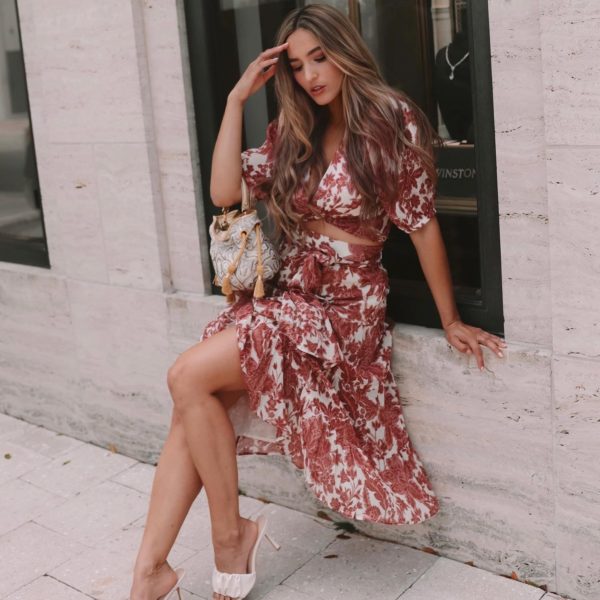 Where are Petal and Pup clothes from?
Petal and Pup products ship from Australia or the US. This ensures faster shipping depending on your location!
Where is Petal and Pup based?
Wondering where the ideas for these products come to life? Petal and Pup is headquartered in Brisbane, Australia.
What is Petal and Pup's Shipping Policy?
Tracked shipping prices range from $7–$20 depending on the customer's location and desired speed. Standard shipping is free for orders over $100.
Also, standard shipping can take between 2-14 business days depending on the customer's location. Unfortunately, the shopper is responsible for duties and taxes.
What is Petal and Pup's Return Policy?
If you're not in love with every item you've ordered, you can return or exchange your purchases super easily. Here's how it works:
Follow the prompts through the brand's return portal
Package your like-new item, with tags and packaging still attached and intact
Attach the supplied return label
Bring it to your nearest post office to be shipped
Return shipping costs are the customer's responsibility and will be deducted from the refund total.