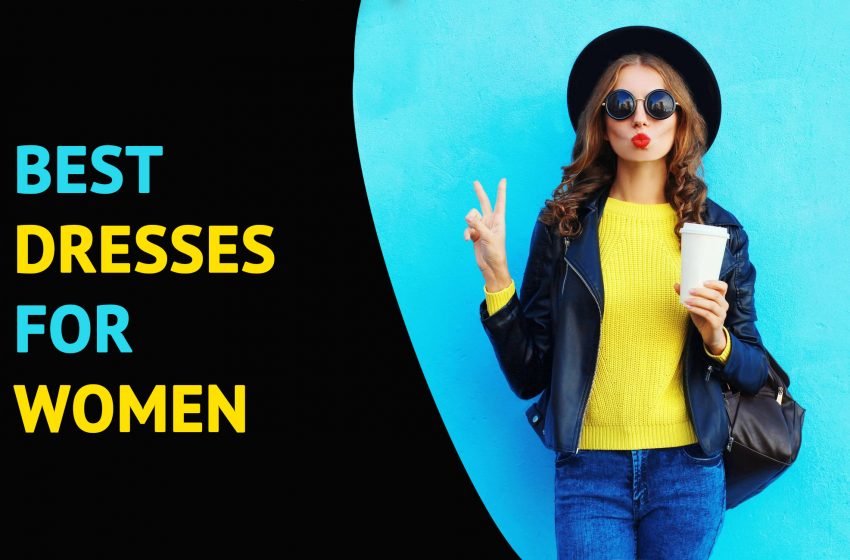 About Free People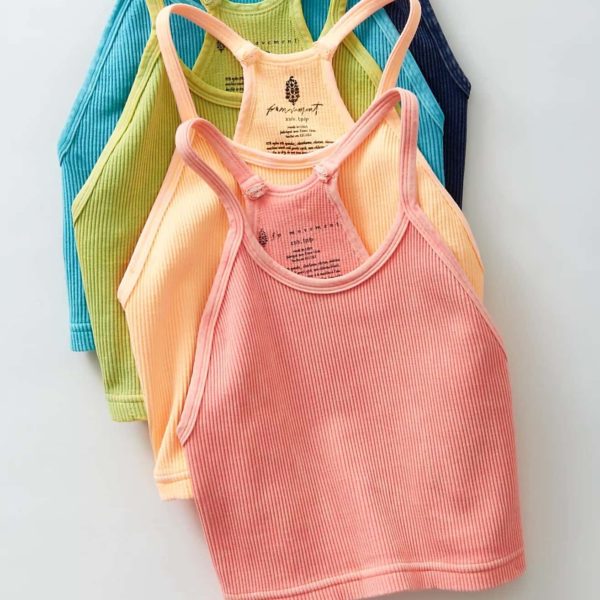 On the hunt for trendy clothing? Free People offers a hodgepodge of bohemian, vintage, and contemporary apparel for trendsetters to choose from. Catered to the millennial and the Gen Z demographic, this popular boutique is best known for its collection of women's wear.
If you're an avid mall-goer, there's a good chance that you've encountered a Free People store on your shopping trips. The brand also boasts an impressive following of over 3.9 million on Instagram.
Of course, with a company this popular, it's only natural for celebrities to include a few of its pieces within their wardrobes. Big-listers like Taylor Swift, Selena Gomez, and Bella Hadid have all been spotted wearing Free People clothing.
For those who haven't shopped at this trendy boutique before, they're probably wondering, "What's the big deal?" Hopefully, this Free People review will answer that question for you, as we'll take an in-depth look at the brand, its bestselling products, customer ratings, promotions, and more to help you decide if they're worth checking out.
Overview of Free People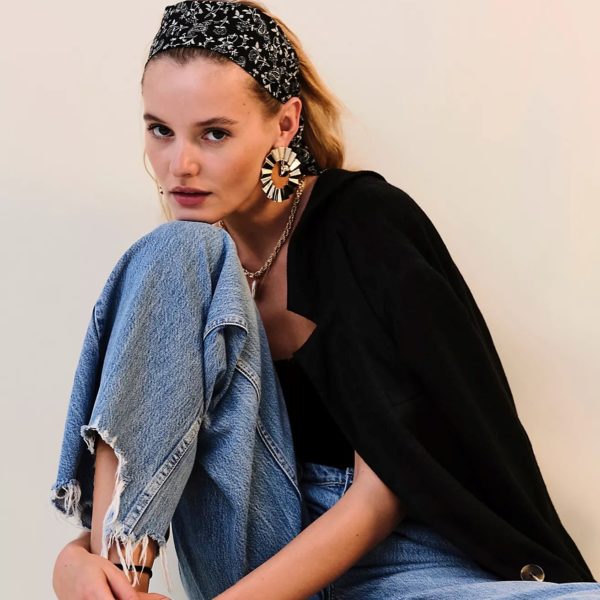 Fashion wasn't always this freeing. In some notable eras, clothing felt constrictive—both in societal convention and through lack of comfort.
Back in the 1970s, founder Dick Hayne realized that things needed to change, which led to the establishment of Free People in Philadelphia, Pennsylvania. His humble apparel shop provided customers with a sense of rebellion, spirit, and, most importantly—freedom.
Over the years, Free People underwent some serious changes. During a moment of economic prosperity, Hayne and his wife decided to rebrand their company into Urban Outfitters. But, this was later separated into 5 distinct businesses: Anthropologie, Ecote, Cooperative, Bulldog, and finally—a new and refurbished Free People at the end.
Today, Free People continues to successfully grow as a business. They hone in on the different forms of femininity—whether that be a romantic artist, a rebellious tomboy, or a down-to-earth socialite. They now have showrooms in London, Chicago, New York, and Los Angeles.
Before we get into this Free People review, let's go over some highlights:
Highlights
A wide selection of clothing to choose from
Offers a mobile app for customers to download
Involved in some good efforts, including volunteer programs, clothing donations, and manufacturing recyclable garments
Provides Afterpay as an alternative payment option
Free shipping on orders $100 or more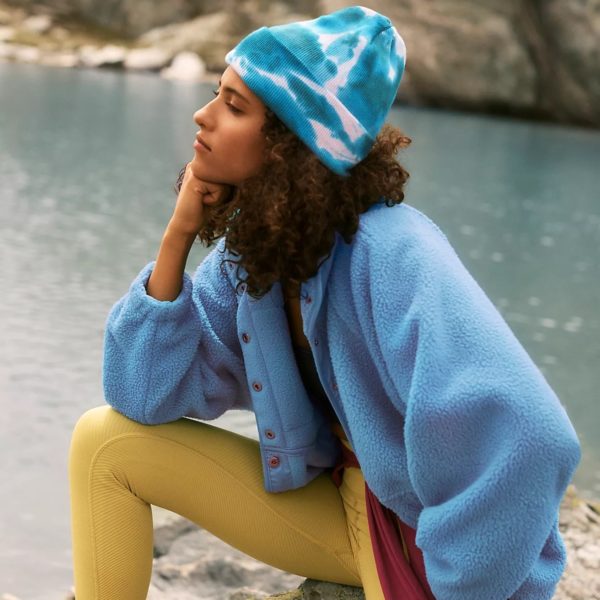 As noted in the brand's company mission, Free People is all about embracing different forms of femininity. They want to embody the "26-year-old girl, smart, creative, confident and comfortable in all aspects of her being, free and adventurous, sweet to tough to tomboy to romantic." 
In short, its clothing collection speaks volumes when it comes to personality. You won't find any subtle prints or patterns here.
The Free People Movement collection boasts a large selection of women's wear, ranging from jackets, pants, tops, intimates, shoes, and more. They also have a beauty and wellness section which is home to several indie brands, including Bala Bangles and Youth To The People.
Looking to go on a shopping trip of your own? Before you head off, we suggest staying put for this Free People review. We'll feature a few of the brand's best-selling products for first-timers to try out. And who knows? Maybe they'll make an appearance in your shopping cart.
Free People Movement Review
From time to time, Free People will issue a new clothing collection every month.
Today, we'll be covering its October Collection, which includes a bunch of cold season must-haves such as fleece jackets, comfy leggings, and lots of warm-toned colors. For now, this Free People review will look at one of the company's top sellers.
Free People Hit The Slopes Printed Fleece Jacket Review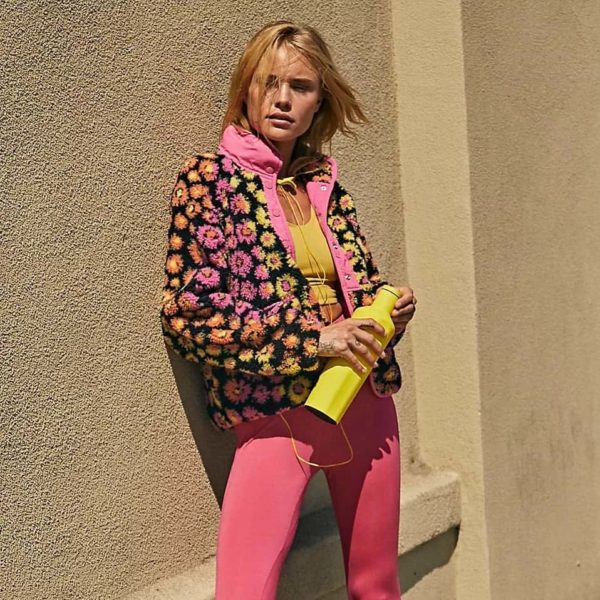 The '70s was a great time for fashion. From brightly colored bell-bottoms to loud-print blouses, the Woodstock movement was anything but subtle. During this period, ski apparel was considered one of the hottest clothing trends of the decade.
If you're looking for a solid reminder, I'm sure that the Hit The Slopes Printed Fleece Jacket harbors this old-school craze throughout its flower power design.
Stamped with a flurry of pink, yellow, and orange flowers, this late-autumn pullover features a relaxed silhouette, dropped shoulders, and nylon patches for added pizzazz. As its name suggests, this coat is best worn during below ten temperatures.
For those who aren't a fan of the design, the Free People Hit The Slopes Printed Fleece Jacket also comes in 7 other prints, including indigo, tea, and meadow.
Best paired with brightly colored pants and a pair of shades, the Hit The Slopes Printed Fleece Jacket retails for $168. It's worth noting that 1% of its sales will go to benefit Girls Inc.
Free People Dresses Review
There's nothing more freeing and feminine than a twirl-tastic dress. Fortunately, this clothing boutique offers a wide selection of gowns to choose from, such as mini, maxi, and sweater dresses.
Moving forward, this Free People review will spotlight one of our favs within this section.
Free People Shayla Velvet Mini Review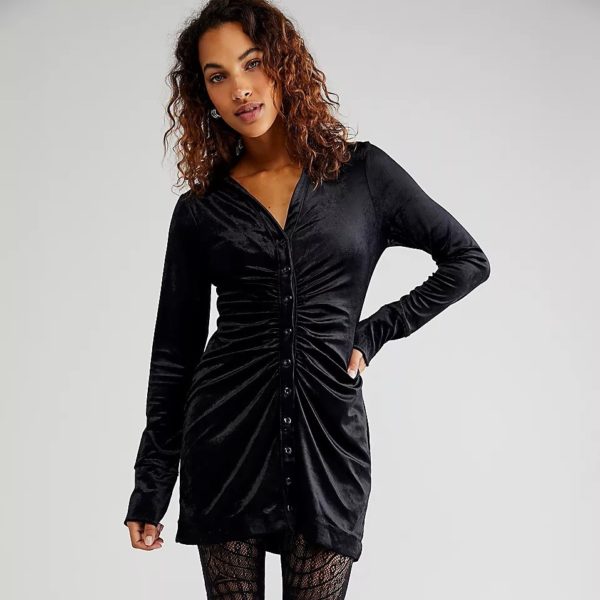 If you're born to live in the spotlight, the Shayla Velvet Mini dress can help ensure that all eyes stay on you. This attention-grabbing beauty is made out of plush velvet, which does wonders in reflecting light and darkening shadows.
It also comes with ruched detailing down the button enclosure to help cinch in the waist. If anything, this cropped gown is a longer version of a collared blouse.
Dyed in pollen gold, the Free People Shayla Velvet Mini dress will definitely make for a stunning New Year's Eve ensemble. But for those who'd rather wear this number out casually, we recommend slipping on the Free People Brayden Western Boots and a bomber jacket to get that 'Old Town Road' kind of feel.
Regarding price, the Shayla Velvet Mini dress is priced at a whopping $128.
Free People Jeans Review
From acid-wash bell-bottoms to safari-style jumpsuits, the Free People jeans collection has it all when it comes to the latest styles.
Honestly, its selection is quite fun to peruse, as the company offers a wide assortment of fun prints and silhouettes that are bound to make a statement in your wardrobe.
While we can spend all day making comments about its jeans collection, this Free People review will keep things short by highlighting one of the brand's hottest picks.
Free People Ziggy Denim Overalls Review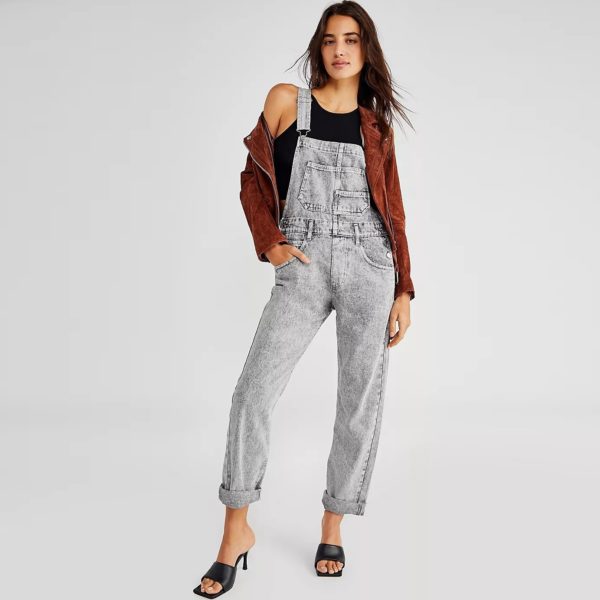 Contrary to popular belief, dungarees aren't just meant for farm work. They can be glamorous too. Take, for instance, Olivia Culpo, Zooey Deschanel, and Hilary Duff, who've all been spotted wearing this old-school classic.
For those who want to jump on the trend, the Ziggy Denim Overalls offer a tinge of rustic appeal that's both flattering and casual to wear.
The Free People Ziggy Denim Overalls come with a loose silhouette, acid wash detailing, tapered legs, and lots of pockets for on-the-go storage. Considered part of the We The Free Collection, these dungarees can help you look more relaxed and down-to-earth.
In case you want to glam things up a bit, we suggest pairing the $98 Ziggy Denim Overalls with the Free People FP One Adella bralette underneath and some casual tennis shoes. Oh, and for those not a fan of black, it also comes in 9 different washes as well.
Free People Bralettes Review
Ladies, I'm sure you've subbed out support for a bralette in the name of comfort. Sometimes that pokey underwiring is too much to handle for the day.
Fortunately, this famous boutique offers a Free People bralettes section. There, you'll find a wide assortment of lacey, stretchy, and silky beauties for any occasion. As an introduction, this Free People review will feature one of the brand's best-sellers for readers to consider.
Free People FP One Adella Bralette Review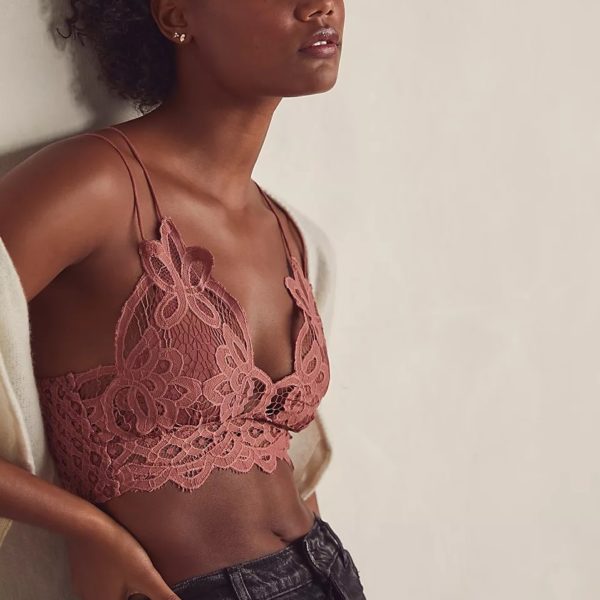 With a design this stunning, the FP One Adella Bralette doesn't deserve to be hidden under a tee or blouse. This gorgeous number is made out of crochet lace, which is reinforced with adjustable crossed straps and a smocked back. Comfy and subtle in silhouette, this boho-inspired beauty is definitely a must-have during the summer season.
For those who feel adventurous enough to wear this top out, we suggest pairing it with the Free People Agolde Parker shorts and some strappy sandals for a summer in the city kind of look.
Currently, the FP One Adella Bralette retails for $38 and is available in various colors.
Free People Shoes Review
Of course, no outfit is complete without a pair of kicks. Unless you're keen on walking barefoot for the day, this Insta-famous brand provides a Free People Shoes collection for customers to pursue.
There are lots of unique styles to choose from, ranging from MOU's Glacier Boots to the Shailine Strappy Sandals.
To keep things short, this Free People review will showcase one of our all-time favs within the brand's shoe collection.
Free People Brayden Western Boots Review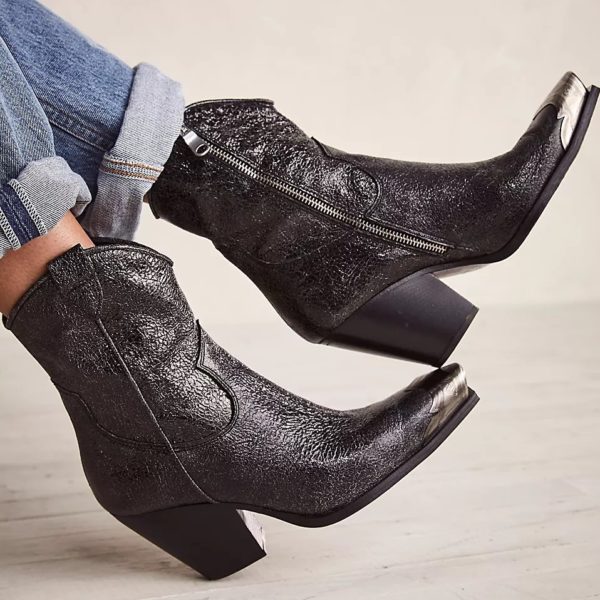 Let's do a quick checklist. Do you have horses in the back? The horse tack attached? A hat that's matte black and boots that's black to match? For those missing in the latter part of their Old Town Road-inspired ensemble, the Brayden Western Boots can act as a suitable fill-in for any trendsetting cowboy.
These stylish riders are made out of genuine Italian leather. Designed with rustic scratchings, a low heel, and a rustic steel toe, these Free People boots will undoubtedly put you in a square dancing mood.
For those who don't want to go full cowboy, we suggest keeping things casual by wearing the Free People Angelic Pullover on top and pairing it with cigarette jeans.
If you're head over heels about this pair of kicks, hold onto your horses. The Brayden Western Boots costs a whopping $298 in total.
Free People Sweaters Review
The Free People sweaters collection is anything but limited. They've got hundreds of stylish pullovers and roomy tunics to choose from. Arguably, each design is worthy of an Insta post.
For those who want a taste of what this brand has to offer, this Free People review will highlight one of the company's top-selling designs down below.
Free People Angelic Pullover Review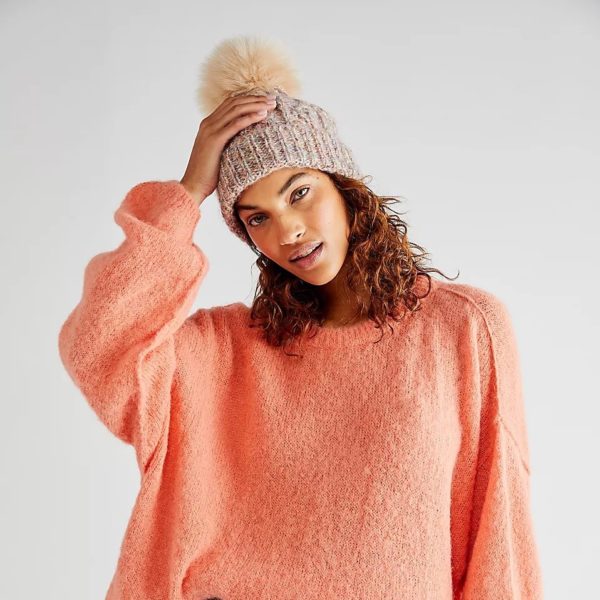 The Angelic Pullover is definitely giving me a 'Watermelon sugar high.' This brightly colored sweater features a slouchy silhouette that's fit with drop shoulders, extra long sleeves, and lots of extra material perfect for tucking. Plush and soft in construction, it makes for an ideal layering piece for any outdoor ensemble.
In terms of styling tips, we suggest pairing the $148 Angelic Pullover with a loose gown from the Free People dresses collection. If we're being specific, the Emmaline Mini Dress can help soften its bright, watermelon hue for a more casual summer vibe.
Free People Shorts Review
Once the cold season is over, it's time to celebrate by unearthing your collection of summer blouses, dresses, and of course—shorts.
Fortunately for customers, Free People is stocked full of July-appropriate denim, khakis, and rompers. For now, let's take a look at one of the brand's customer favorites for an introductory look.
Free People Agolde Parker Shorts Review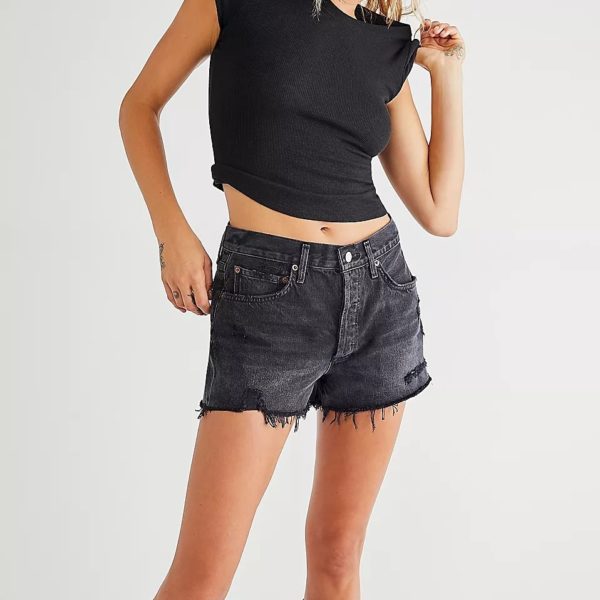 Summer is the season for distressed denim and cheeky silhouettes. The Agolde Parker Shorts are nothing short (no pun intended) of these two widespread crazes. These ripped denim bottoms feature raw hemming, acid wash detailing, and a high rise cut to help even out your bodily proportions.
Best of all, these Free People shorts are part of the brand's Care FP collection, which is designed to help reduce the company's carbon footprint. According to the product description, these bottoms are made out of 50% eco-conscious fiber. The Agolde Parker Shorts retail for $128 in total.
Who Is Free People For?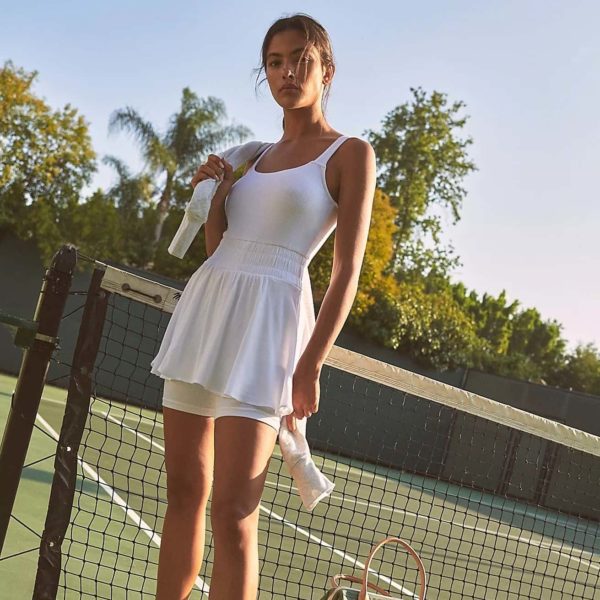 As the brand name suggests, Free People is catered to those 'free-spirited' types. They aren't limited to a specific fashion style, as their collection boasts dozens of clothing trends.
This includes Insta-famous aesthetics like boho, vintage, hipster, and in some cases, minimalism.
Free People Reviews: What Do Customers Think?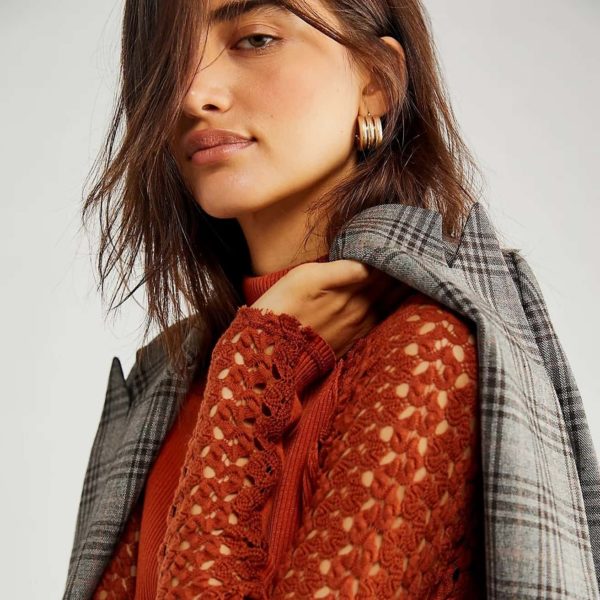 This Free People review was curious to hear what customers were saying about their purchases from this brand. Fortunately, we found many positive comments. We'll feature the ratings for some of the brand's best-selling products:
The Hit The Slopes Printed Fleece Jacket: 85 reviews with 4.6/5 stars
The Ziggy Denim Overalls: 217 reviews with 4.7/5 stars
 The FP One Adella Bralette: 553 reviews with 4.3/5 stars
The Angelic Pullover: 46 reviews with 4.3/5 stars
So far, there's nothing to see but positive reviews off of Free People's website. Hundreds of happy buyers state that the brand's clothing is fashionable, comfortable, and flattering to wear. Of course, don't take it from us, as it's best to let the customers do all the talking:
"I love these overalls sooo much! I just wish we could get a dark purple pair, dark teal pair, and a maroon pair. More colors! I have the black and olive pair and I get so many compliments," one customer wrote for the Ziggy Denim Overalls.
"The pattern looks just like the picture," one reviewer shared for the Hit The Slopes Printed Fleece Jacket. "The overall fit is kind of boxey, rather than long, but it is still oversized and worth it. Also very warm- perfect for fall and winter weather!"
Some websites, such as Influenster, also hold dozens of rave reviews for Free People clothing. In total, there are over 1,068 comments posted with a general score of 4.1 out of 5 stars. According to one happy customer, the brand excelled in quality and price.
"This is hands down my favorite brand for casual, weekend attire! The fabrics are so nice and everything fits perfectly! So comfortable! I love shopping here for jeans, sweaters, summer dresses, boots and more," one customer wrote.
Is Free People Worth It?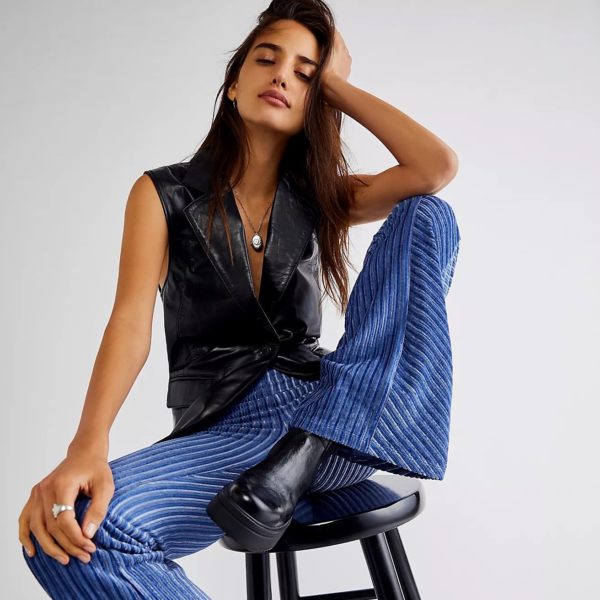 Free People's collection offers a promising selection of trendy clothing to choose from. Taking the wisdom of buyers, we suggest opting for in-store shopping when possible to avoid some delays.
All in all, it's a great place to find some cute outfits when you're lacking inspiration for the season.
Free People Promotions & Discounts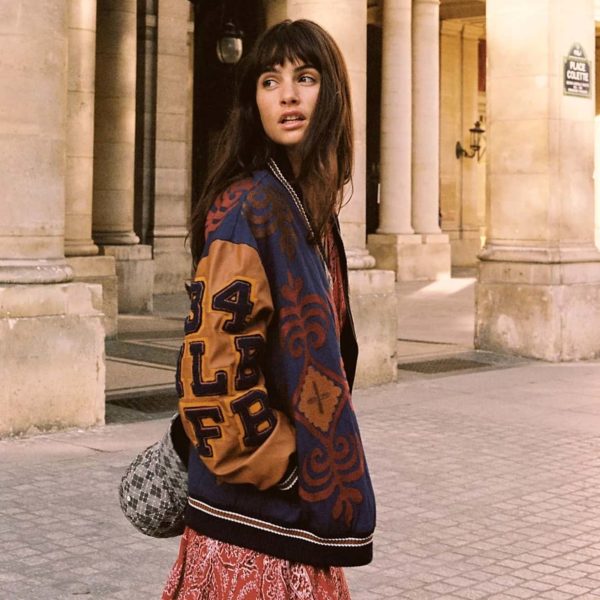 This Free People review found out that they have a sale outlet in which select items are at a discounted price. You can also sign up for the brand's newsletter to receive free express shipping on your first order.
Where to Buy Free People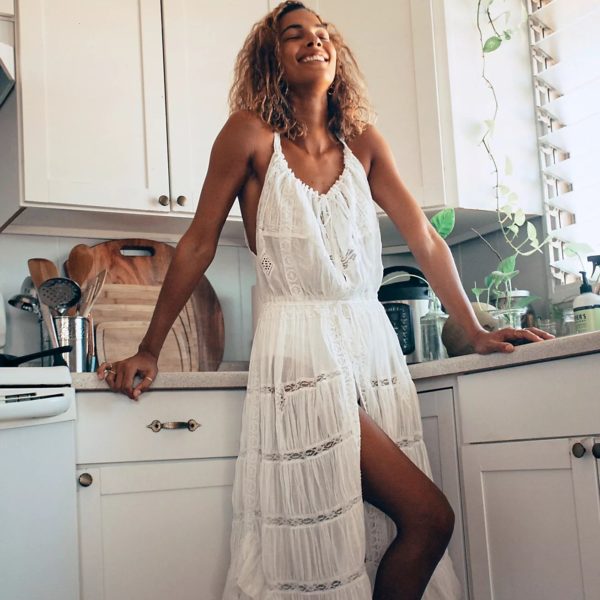 In love with a certain pair of overalls? Customers can head over to freepeople .com to see what they have in store. Aside from visiting their physical locations, you can also find them at select retailers, including:
The Bay
Nordstrom
Amazon
Walmart
Revolve
Asos
FAQ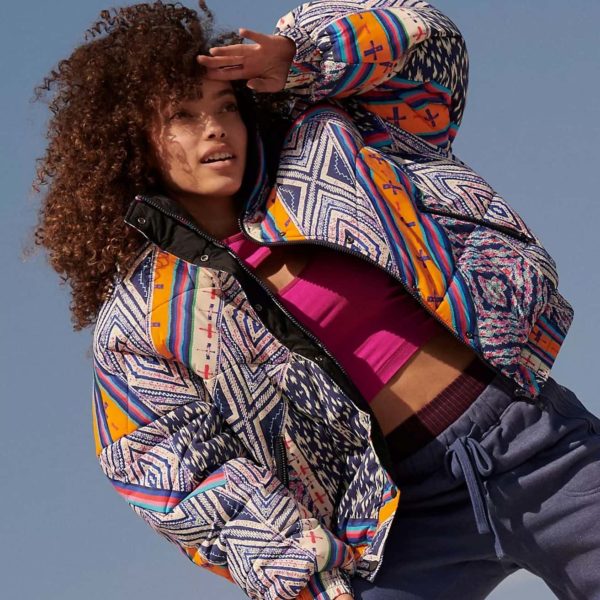 Who owns Free People?
Free People is owned by Dick Hayne. He also runs other big-name brands such as Anthropologie, Ecote, and Urban Outfitters.
Does Free People ship internationally?
Yep! Free People offers international shipping to select countries such as Canada, Australia, and France.
Where is Free People made?
Unfortunately, this Free People review couldn't find out where its clothing is made. Some sources online point to countries like India as the brand's main manufacturing location.
What is Free People's Shipping Policy?
This Free People review is happy to report that they offer free standard shipping on orders that total $100 or more. Anything below this amount is charged a flat fee of $8.
They also provide other delivery options such as Express and Overnight. To help keep tabs on your purchase, the brand will issue a tracking number alongside a confirmation email.
What is Free People's Return Policy?
Free People offers a 30-day window for customers to send back their products. If you just managed to miss the time frame, the brand will issue a free gift card instead of a refund.
It's worth noting that their return policy is relatively specific for certain items, including intimates, furniture, and beauty products. To get the full details, we suggest heading over to their website.
Fortunately, the brand offers a free shipping label for buyers to use. To initiate the return process, customers must access the portal located on the company's website.