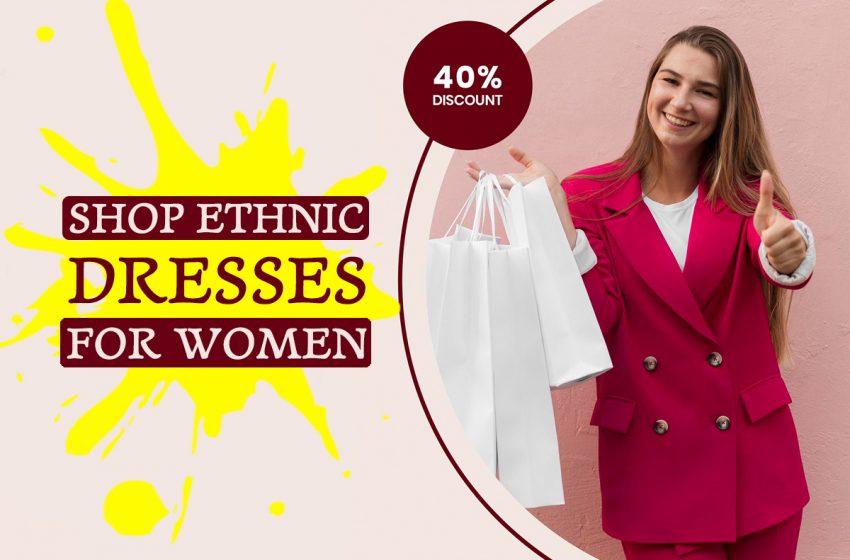 About Eloquii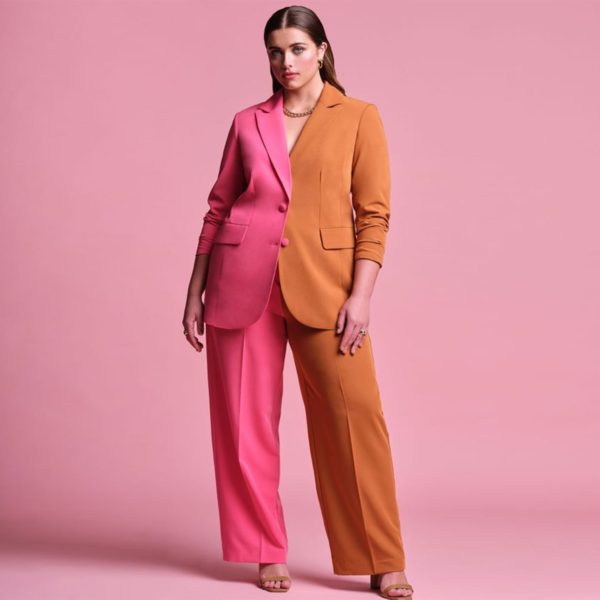 Fashion can fit any size and proving that was Eloquii's goal back when they launched in 2012. Eloquii fashion provides pieces for plus-sized women going beyond standard dresses to the latest styles and trends.
Designed for sizes 14-28, Eloquii clothes give curvier gals limitless access to a fashion-forward closet, continually adding new and trendy items to their ever-growing collection.
With pieces worn by Chrissy Metz, Rebel Wilson, Aidy Bryant, Lauren Ash, and more, this brand is gaining praise and popularity from A-list celebrities for their form, fit, and fashion.
But is this brand worthy of your own red carpet walk? Our Eloquii dresses review will give you all the best details on prices, customer testimonials, products, and more to help you decide if they're deserving or not.
Overview of Eloquii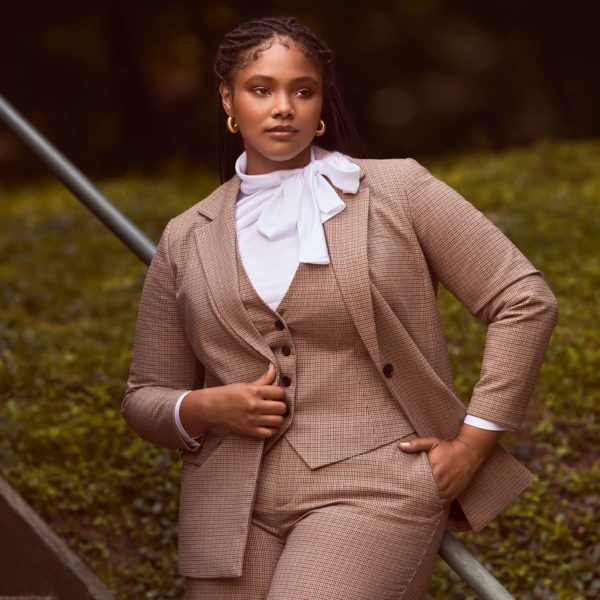 Eloquiii launched in 2012 with the goal of proving that fashion doesn't stop at size 12. Believing in "the transformative power of Fashion," Eloquii plus size dresses follow all of the latest trends and give you the confidence you need to show yourself off as you strut through the streets.
By offering three sizing charts, you're sure to get true sizing based not on standard proportions, but rather on your real size and shape.
Don't worry about if your hips are bigger than your thighs, or your bust is bigger than your waist, Eloquii jumpsuits, coats, and jeans are all made to fit you just as you are.
Beyond Eloquii coats or standard items, the company adds new inspired styles to their websites daily and continues to launch new collections throughout each month.
Let's get to some highlights before we get too excited by the opportunities this brand offers: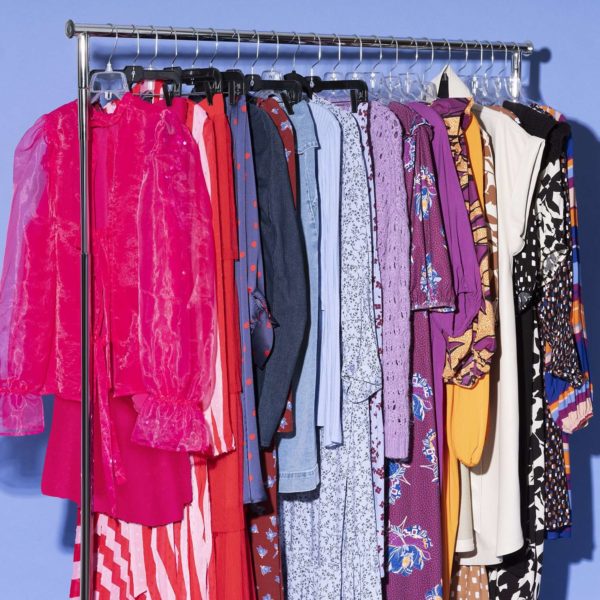 Highlights
Offers a stunning variety of clothing to choose from, including dresses, skirts, suits, tops, and so much more
Sizing options go from size 14-28
Designs are available in three fits (regular, viola, and gena) to best suit your body type
The fashion-forward brand has been recognized and praised by several A-list celebrities
Financing options available through Affirm
Eloquii offers a variety of products and collections. The inventory keeps growing and beyond simple Eloquii jeans comes a number of styles within the category.
To limit the incredible number of products, we've narrowed our article to include some of our favorite skirts, swimsuits, and, of course, we top it all off with an Eloquii dresses review to really show off those classic styles.
Eloquii Dresses Review
There's nothing like an Eloquii dresses review to kick off the products list. Designed for every size, Eloquii dress styles offer unique and fun looks for plus-sized women to feel confident and courageous.
We pulled a few bestsellers to give you an idea of what the brand has to offer when it comes to fabulous plus-size fashion.
Eloquii Wrap Maxi Dress Review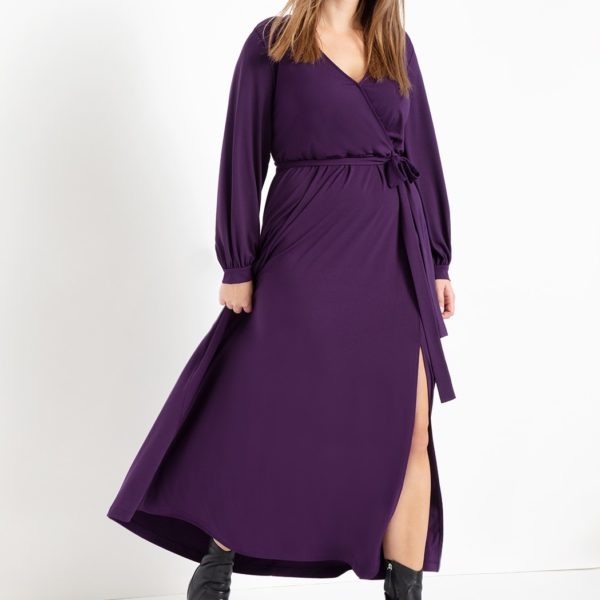 Strut your stuff in this stunning kimono-style ensemble. The Eloquii Wrap Maxi Dress comes in a compelling (but not over the top) design.
Perfect for spring through to fall fashion, these dresses are designed for pullover wear making it easier than ever to get dressed before your day out.
The inset elastic waist adds just the right amount of fitting, accentuated by the flared silhouette. Want to tighten your look up? A belt is included to make it fit how you want it to.
The Summer Garland style is currently down from the regular price of $130 to an incredible offer of $25.
Eloquii Flare Sleeve Scuba Dress Review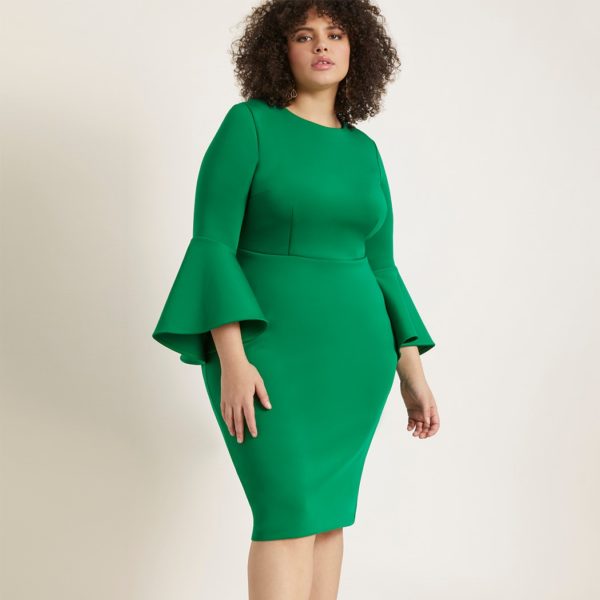 Look no further for your new go-to Eloquii white dress. Or a green dress. Or red, black, pink…you get the idea.
The Eloquii Flare Sleeve Scuba Dress comes in 8 different styles, with 7 solid color options for a cool $100.
This crewneck dress is designed to cinch your figure with its close fit bodice and column fit from hip to sweep. Made from polyester and spandex out of double-knit scuba fabric, you'll be stunning the crowds in an easy and comfortable fashion.
Let's not forget the true star of this design – the flared sleeves. Could you BE any more fashionable? We don't think so!
Eloquii The Nabela Dress Review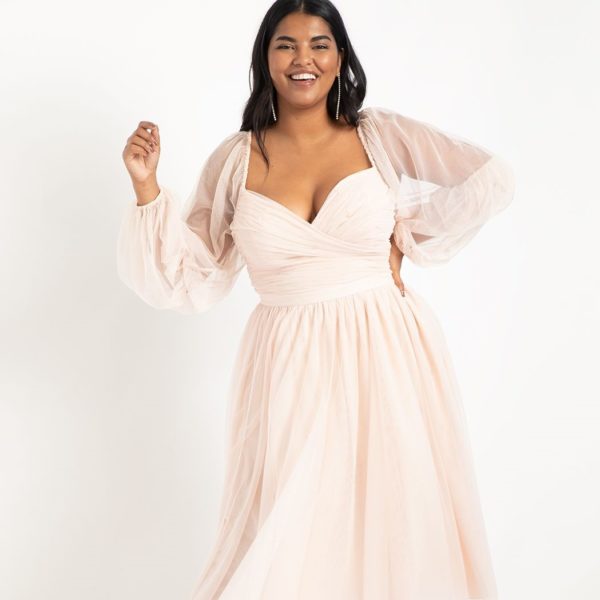 Rounding off our Eloquii dresses review comes a featured favorite – The Nabela Dress. This piece holds the body tight with its close fit bodice while falling away to a full skirt that displays your curves.
The delicate two-tier puff elastic sleeves give you a fairy-like figure and you'll swear this dress might just be magic.
The knee-length Nabela Dress is available for $170.
Eloquii Skirts Review
Conquer every workday and meeting in a slimming Eloquii skirt. We've pulled some customer favorites for this list to showcase just what stunning options are available.
Eloquii Neoprene Pencil Skirt Review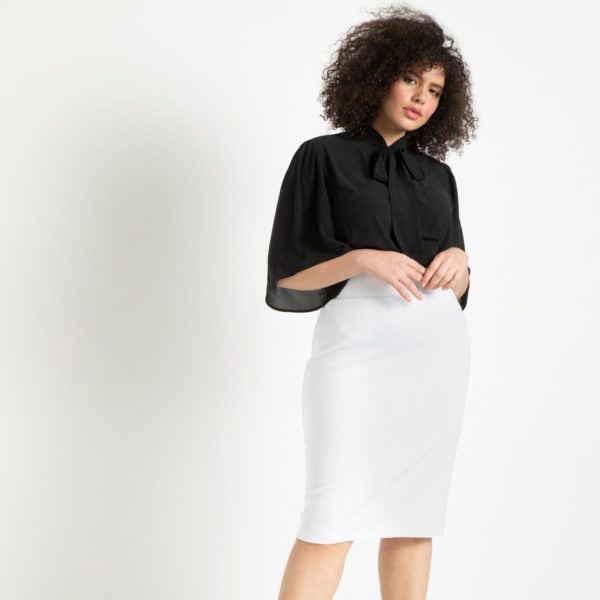 You might be adding a few new skirts to your cart when it comes to the Neoprene Pencil Skirt. Eloquii offers 15 different colors and patterns for this piece and you'll definitely be looking at more than one.
With 10 solid color options and 5 patterns, Eloquii is set to release two more pattern options in the coming months. Pair these with any solid color blouse and you'll make a statement for any occasion.
These skirts typically run for $60, but there are several sales on for different colors and patterns, so go check out the website to find deals on some fabulous new looks.
Eloquii Tiered Maxi Skirt Review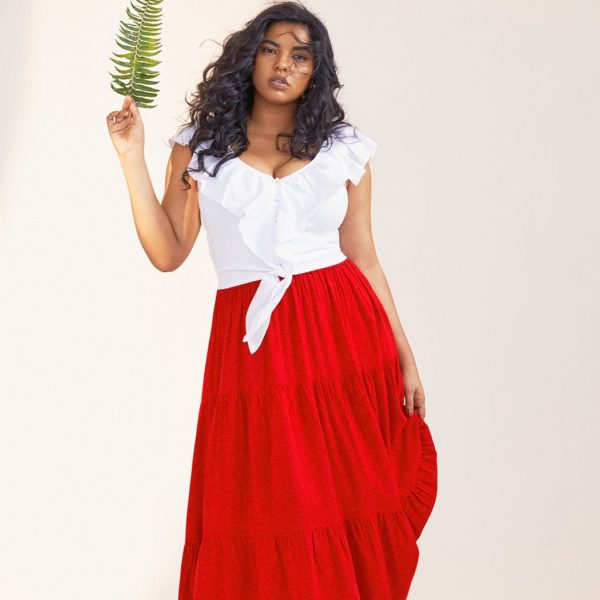 Float through the room with the Tiered Maxi Skirt in the Pretty Wild pattern. This design is made from 100% viscose and styled with an A-line silhouette to best show off your curves. The elastic waistband provides a casual comfort to this seamed panel skirt.
Now's the time to go with the flow and pick up a new skirt or two for the closet because the Tiered Maxi Skirt is available for the final sale price of $15, down from $85!
Eloquii Swimwear Review
Eloquii swimwear brings summer fun to a whole new level. You'll be stunning the beach crowd in these feature bestselling swimsuits designed to accentuate your best curves.
Eloquii Lace Up One-Piece Swimsuit Review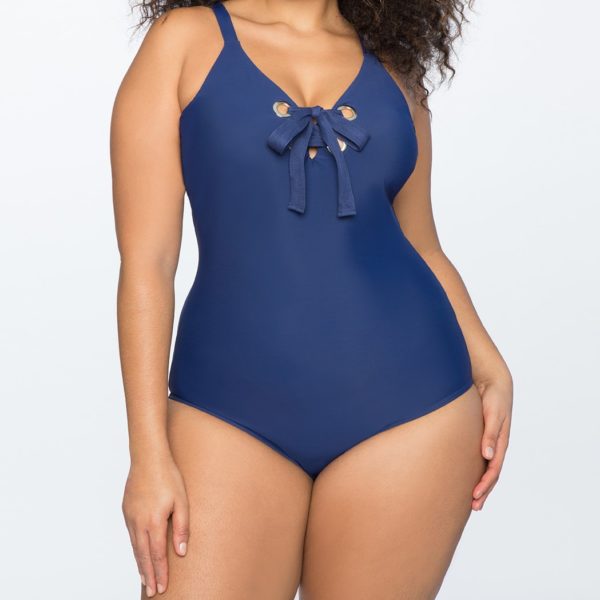 Every angle is a good one with the Lace Up One-Piece Swimsuit. With its plunging V-neck and lace up front ties, you'll be looking classy and elegant in everyone's favorite navy blue shade.
Two adjustable straps work alongside the soft cup underwire bra to show off what you're working with while retaining all grace and dignity.
Unfortunately, this piece is currently sold out, but keep your eyes out or join the waitlist to get notified of when it's back in stock. Trust us, you'll want to know!
Eloquii Drama Ruffle One Piece Swimsuit Review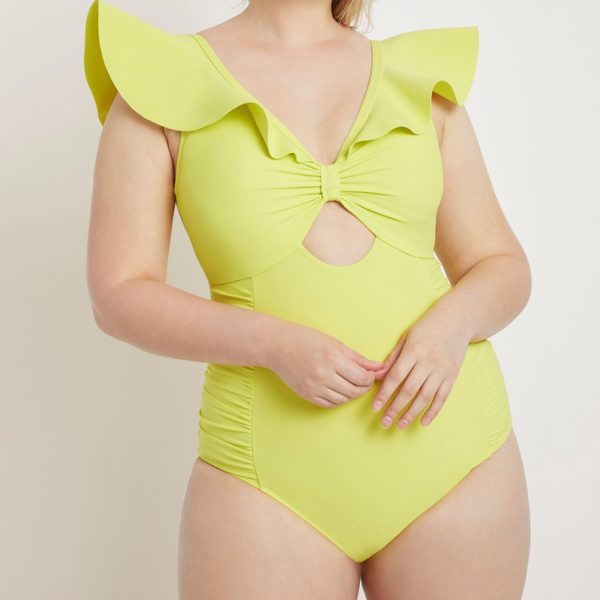 What's more fun than a bit of ruffle to spice up your attire? The Eloquii Drama Ruffle One Piece Swimsuit gives you a bit of flair for some quality fun in the sun.
Made with heavyweight tricot fabric, this suit is built to last. It's also quickly become a customer favorite, so it's out of stock (for now).
Eloquii Crisscross One Piece Swimsuit Review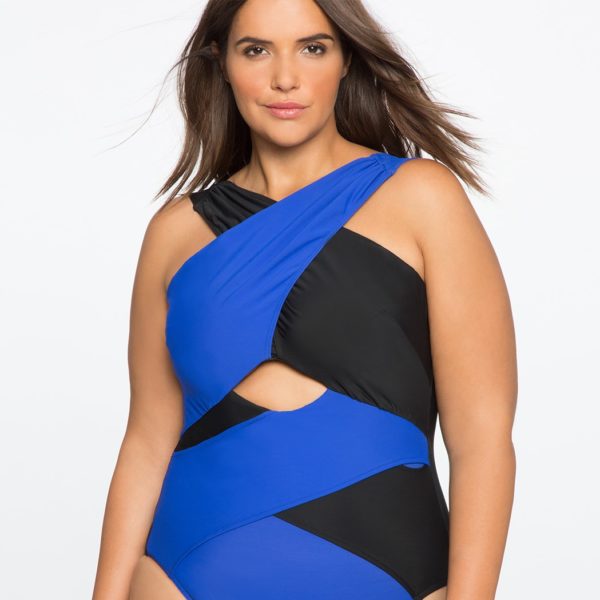 Make a statement with the Eloquii Crisscross One Piece Swimsuit. This two-tone black and blue design looks smooth and sexy, crossing you in all the right places.
A peekaboo keyhole gives a fun little peak without showing off too much. The heavyweight fabric is made to stretch and give you a perfectly smooth figure you'll be proud to showcase at any beach.
This piece has you covered in more ways than one with its superior support and shaping through underwire and inner sling bras. You won't be worried about things staying in place during your swim – Eloquii planned ahead!
Like the other popular swimsuits, this piece is currently sold out.
Who Is Eloquii For?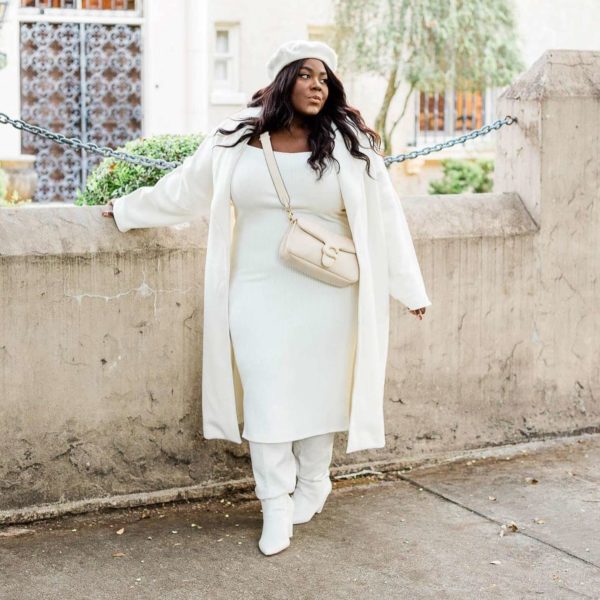 Eloquii is designed to fit plus-sized women sizes 14-28. While many plus-sized teenagers would fit the sizing, the brand is geared towards adults with pieces designed for working professionals, formal attire, and of course casual wear.
Their more formal and trendy outfits have been showcased on numerous red carpets by a variety of A-list celebrities. Feel fashion-forward and dress to impress no matter your size.
Eloquii Reviews: What Do Customers Think?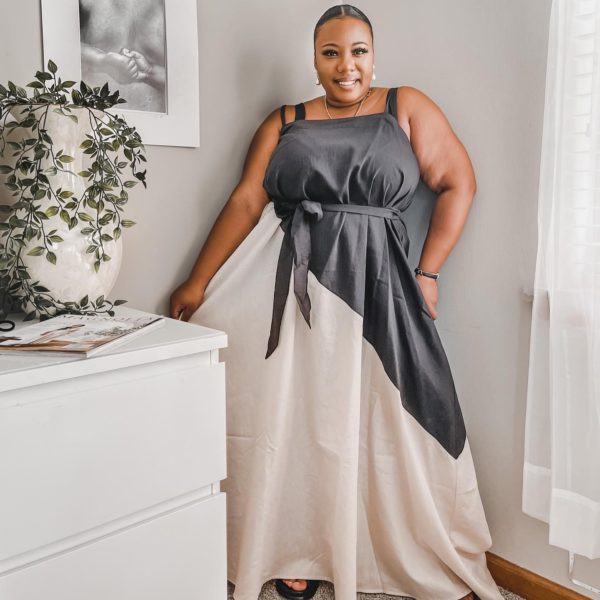 When it comes to giving you the best in this Eloquii dresses review, we need to search for the real experience and see just what customers think when it comes to the brand.
We have to tell you, there's some good and not-so-good, but we'll start with the best and head from there to give you all the juicy details left behind in these online Eloquii dresses reviews.
Facebook actually rates the company the highest of any review website. With 5/5 stars based on 220 reviews, the brand comes out on top. Women's reviews on Facebook come with pictures of customers looking and feeling confident in their stunning Eloquii skirts and dresses!
Many compliment the fit, price, and quality of the pieces, often commenting on how incredible it felt for them to find such trendy outfits in a plus-size option:
"As a plus size woman, clothes don't often fit properly and are made of poor quality. I love that you offer quality clothes at great prices."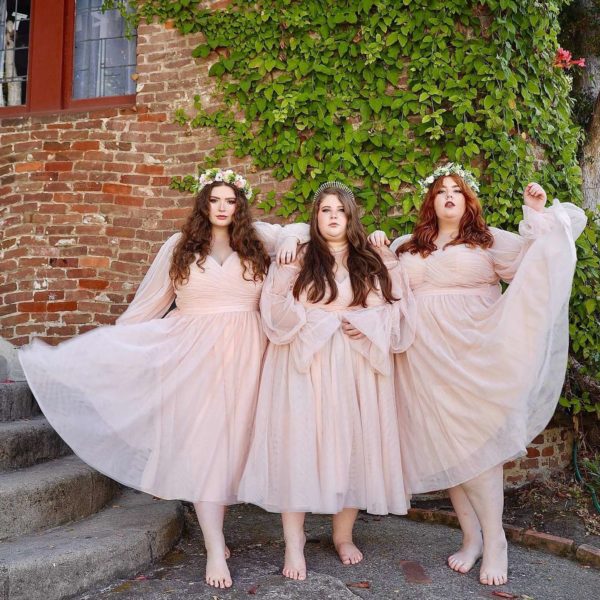 Buyers on Facebook have also complimented the styles available, stating that the options Eloquii offers are unique, vibrant, and fun patterns not often available to plus-sized women.
What do the product reviews on Walmart's site actually have to say about the clothing? Turns out, it's actually pretty good.
The Flare Sleeve Scuba Dress is rated 4.5/5 stars out of 17 ratings. Customers were quick to note the fabulous fit, the pure class of the dress, and the price that fits in many a dress budget (it doesn't hurt that it's currently on sale too. Here's what just one ecstatic buyer had to say:
"I love this dress. It arrived quickly and I was so nervous because I don't have experience with the Eloquii brand and as a plus-sized woman, we tend to get disappointed quite a bit ordering online. But, I took a chance and I'm glad I did. The dress is lovely; the fabric is good quality; my fit was perfect. Makes me glad I ordered one in white and in red!!! Fits perfectly!!!"
We can't argue with that. At the end of the day, there are so many more positive reviews for the brand online than negative ones, and that definitely speaks in Eloquii's favor.
Is Eloquii Worth It?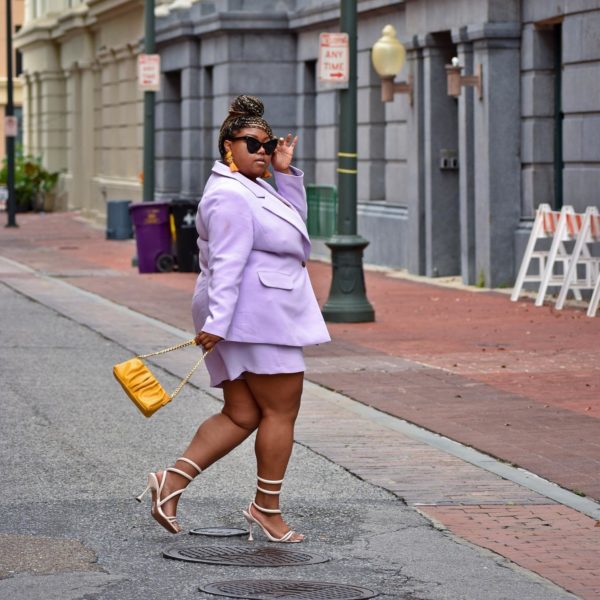 Eloquii offers an extensive inventory when it comes to plus-size clothing. The number of options available alone makes them worth your consideration.
The Walmart acquisition can turn some readers away, but quite a few of the customers that purchased through Walmart have only great things to say about the clothing. Safe to say that your mileage may vary.
The brand offers wonderfully unique items for plus-sized figures that have otherwise been unavailable in these sizes, but the prices they charge combined with the complaints of quality leave us a tad wary. At the end of the day, though, we think their clothing is worth the buy!
Eloquii Promotions & Discounts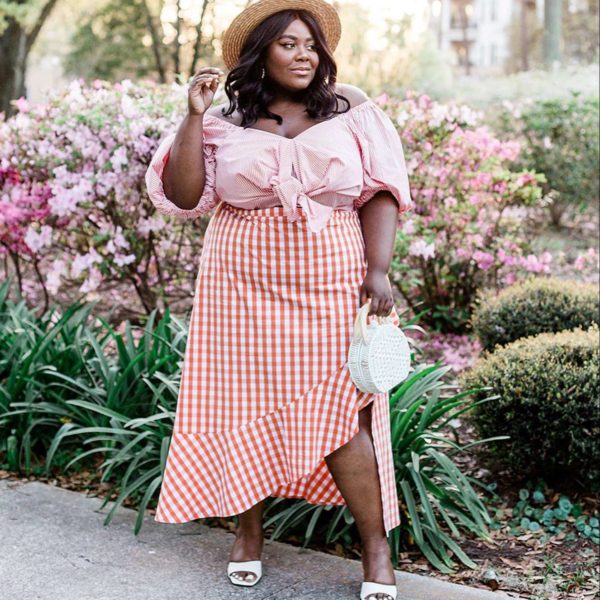 Eloquii promo codes and deals abound on their website. Here are only a couple that we came across in our search:
50% off + an extra 10% off when you spend $125+, promo code: BIGDEAL
$29 & under Fall Finds savings with Eloquii sale code: BIGDEAL
Free shipping on orders over $125
Where to Buy Eloquii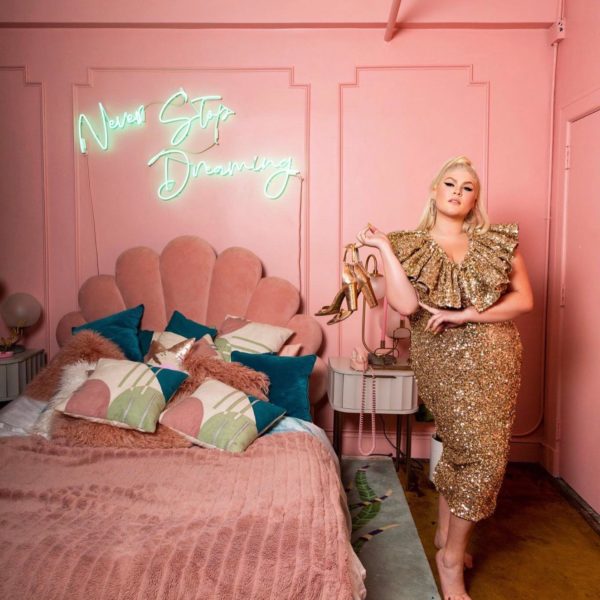 Eloquii opened exclusively as an eCommerce store in 2012. Upon reopening after being bought by Walmart, items are available both on eloquii.com and in Walmart locations.
FAQ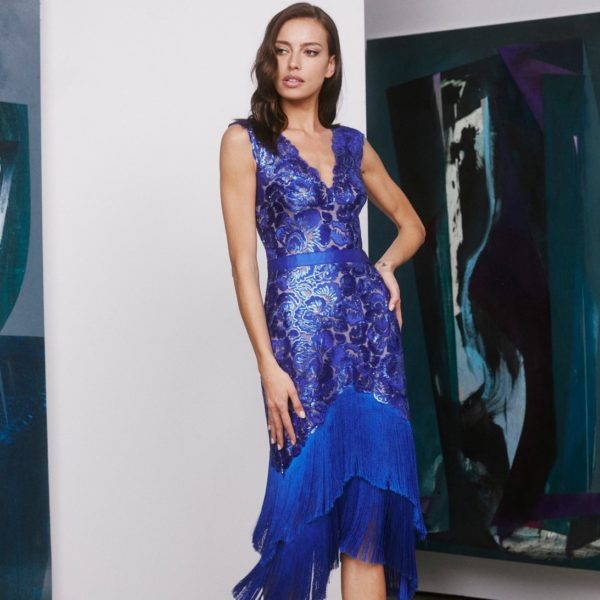 Who owns Eloquii?
Eloquii was founded by John L. Auerbach. As recently as 2018, the company was acquired by Walmart, expanding their line and brand to now include Eloquii Elements – an offshoot made to be more affordable for casual wear.
When was Eloquii Founded?
Eloquii was founded in 2012. The brand became a part of The Limited Brands, before launching on their own in 2013. Eloquii has since been bought out by Walmart.
Where is Eloquii Made?
Eloquii is a US-based company. Currently, the company has headquarters in New York and Columbus, OH.
Does Eloquii Fit True to Size?
Eloquii brings sizing to a whole new level by offering three different Eloquii size charts:
Regular Fit: proportional bust, hips, and waist are measured in inches for this chart
Viola Fit: made for those whose hips are 1-2 sizes bigger than their bust
Gena Fit: designed for a bigger mid-section with narrower hips and thighs
Eloquii plus sizes aren't just smaller sizes made bigger, the whole brand is built around fitting your body in the best way possible.
That means Eloquii clothing follows the chart and items are made to fit you true to size. No more worrying about whether or not you'll be squished or drowning in an item, whether you're hoping for a fashionable top or some more standard pieces from the Eloquii pants collection, you'll find your perfect fit!
What is Eloquii's Shipping Policy?
This Eloquii dresses review is happy to report that the brand offers shipping domestically and internationally. For shipping within the US, three services are offered with cost dependent on the sum of your order in addition to the shipping service you choose.
Eloquii offers international shipping with prices dependent on the location of delivery. Most international orders arrive between 6-10 working days. Unfortunately, the brand does not cover international duty or taxes.
Tracking numbers are provided for all orders once the item has shipped so you can eagerly await your new clothes.
What is Eloquii's Return Policy?
Need to return any Eloquii tops? That's fine! The brand accepts returns within 30 days of purchase. Items returned must be unworn and undamaged. Any underwear or swimsuits must retain the hygienic strip for a full refund. Final sales items are not eligible for return.
Details for returns are dependent on the country from which you're returning. See below for instructions on your return category.