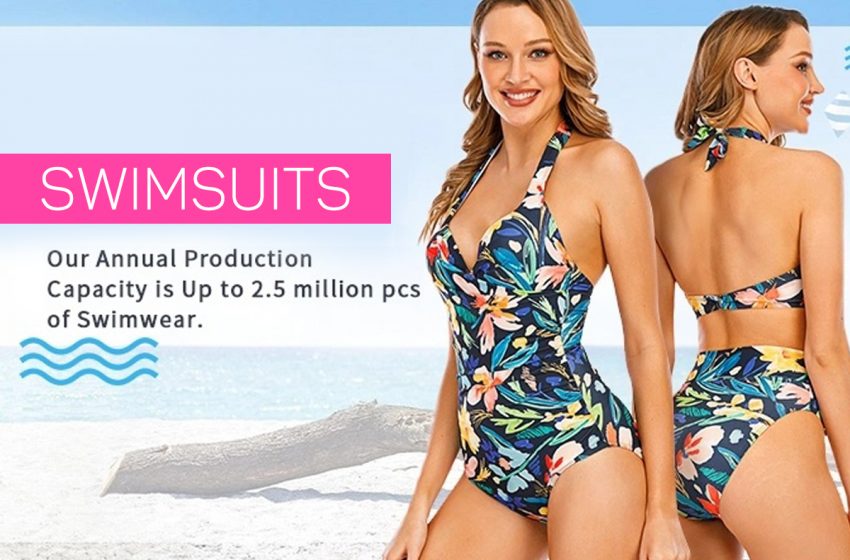 About Cupshe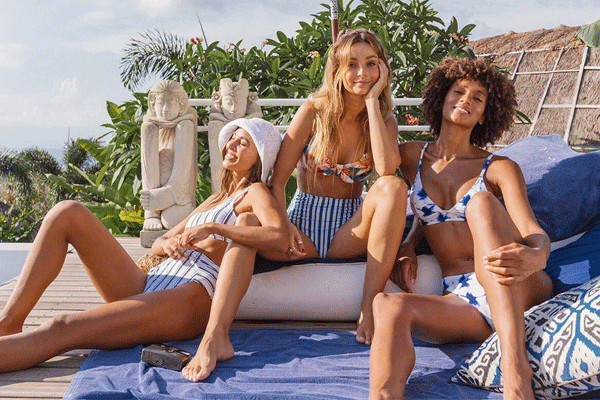 If you've been looking for stylish and affordable swimwear, chances are, you've come across an ad for Cupshe. Marketed as an all-inclusive beachwear brand for "vibrant, fun, and fearless women", Cupshe is steadily growing in popularity year after year.
Their offer is very versatile, with a wide range of available styles and cuts, as well as sizes. But even with a wide variety of choices available, shopping for a bathing suit – especially online – can be daunting. Have no worries, as that's why we created Cupshe Swimsuit Reviews.
It seems like every other brand has a different way of sizing, not to mention, it's hard to gauge the quality of the bathing suit by looking at it through the screen. To help you decide if Cupshe bathing suit is worth the buy, we give you our detailed and honest Cupshe Swimsuit Reviews. Here, we take a close look at the company, their offer, sizing, shipping and return policies, as well as customer reviews, so read on!
Overview of Cupshe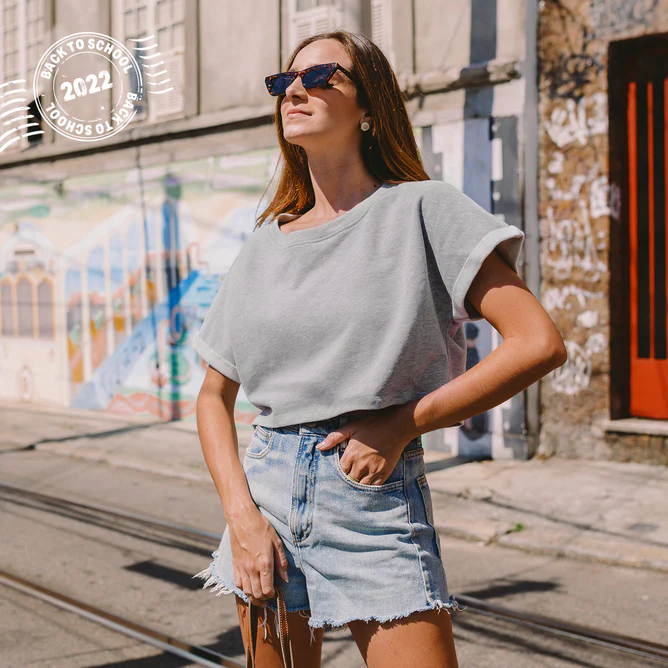 Cupshe defines itself as a "beachwear brand inspired by and created for the most vibrant, fun, and fearless women all around the world." Indeed, the Cupshe bathing suits and beachwear range is so extensive that it's easy to decide to get two or three items instead of one. This way you can switch up designs and patterns from beach to brunch.
Created in 2015, the Cupshe company focuses on one mission: empowering women with designs that will provide comfort and confidence. One of the beachwear brand's main focuses is to design swimwear for the average customers body figure. Thus Cupshe is a redefined and affordable fashion brand, that seems to suit most women's needs.
But before we start examining all the aspects of the brand in our Cupshe swimsuits review, let's see a few pros and cons of the brand.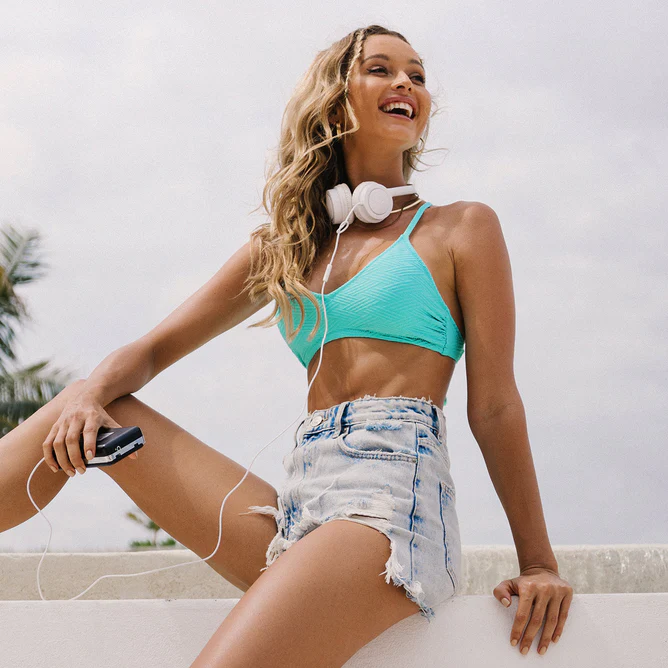 Pros
Extensive range of swimwear cuts and shapes
The brand designs for every body type and size
The patterns and mix-and-match sets are stylish and fun
Affordable price and regular discounts
Sunchasers Club rewards
Made from quality materials
Cons
Sizes sometimes unclear
Returns are not free
Cupshe Products Review
Are you wondering "Is Cupshe legit"? Well, with this details Cupshe Swimsuit Reviews of a few products, you'll soon realize that they are legit. Cupshe prides itself on customer's satisfaction and we can't help but wonder why. As we dive into individual pieces, we'll see the versatility of these bathing suits and why they're worth the hype.
Cupshe One-Piece Review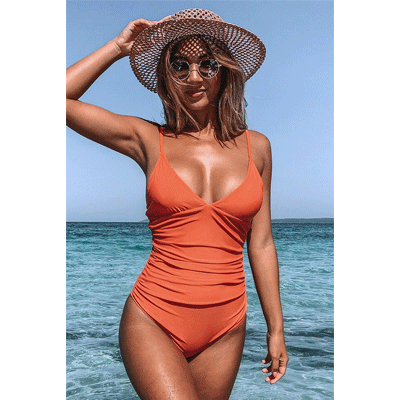 The first product in this Cupshe review is the One-Piece. They lie among the most popular Cupshe bathing suits, and they are divided into three categories on the website: Plunges, Solids, and Florals. The brand offers rows upon rows of breathtaking styles that will make you wish you were already on vacation. The prices range between $17.99 and $32.99. The brand also offers sales that can mark the price down to less than $14 for some designs.
For instance, the coral Braided Back and Strappy One-Piece Swimsuit ($27.99) feature strappy back detailing with braids that give the one-piece a hippy feeling. Made from a high-quality blend of chinlon and spandex, it's quite comfortable and stretchy, but also durable.
For a sexier look, the solid Red Ruffled One-Piece Swimsuit ($19.99) is a great choice. The breast ruffles create a classic yet statement swimsuit that makes you feel confident and flirty. Its adjustable shoulder straps and padded cups allow you to find your perfect fit. This seems to meet customers demands.
Cupshe Bikini Review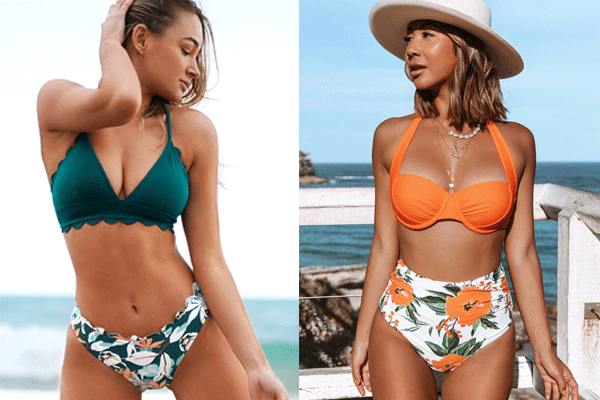 Cupshe offers stunning two-piece swimsuits that you can purchase as a set or separately. Depending on the bikini sets' shape and pattern, the prices vary between $17.99 and $32.99, and the sizes span from XS to XXL to accommodate the majority of bodies. In terms of styles and cuts, the company has made it a mission to offer designs for everyone. In their collections, you will find high-waisted bottoms, cut-out designs, padded tops, underwired cups, and all kinds of cheeky cuts.
The Black Floral Halter High Waisted Bikini ($27.99) is a mix and match two-piece set made with a solid black printed top. The top offers removable pads and the bottoms are high-waisted. Your beach style looks put together all day long with this set.
The Floral V-Neck O-Ring High Waisted Tankini ($32.99) provides a whole other kind of coverage. The stunning skirted tankini top can be worn outside of the beach as well. The matching statement teal high-waisted bottoms offer coverage and comfort to make you feel confident on the beach.
Cupshe Plus Size Review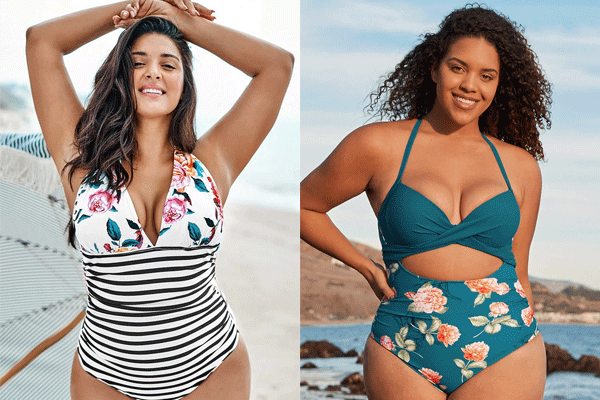 Sticking to their core mission, which is offering affordable and stylish beachwear to women of all sizes, Cupshe has incorporated many beautiful styles in their Plus Size section. The collection ranges from 1X (US 16/18) to 4X (US 22/24). Furthermore, you will also find a cup size guide to match your bust size to Cupshe, helping you order the perfect Cupshe swimsuits.
For instance, the Green and Floral Ruffled Plus Size Bikini has removable padding and adjustable shoulder straps, designed to give you as much comfort as possible. The detail ruffles under the bikini top's bust give off a romantic look to a swim piece that offers plenty of coverage for relaxed, comfortable beach time. It retails for $32.99 and is made of a special 95% polyester and 5% spandex fabric for extra elasticity.
Beachwear Review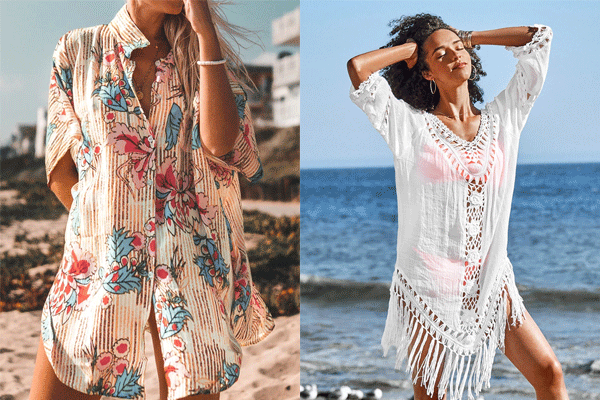 Besides a huge range of bathing suits, you can also order diverse cover-ups and stunning beach dresses. The brand offers three styles of beachwear; kimono cover-ups, tunic cover-ups, and dresses.
The Kimono Cover Ups are priced between $19.99 and $27.99, with designs that rely on mesh, crochets, and embroideries laced in the middle. These styles make you feel like you are on vacation. Long or short sleeves, trims, maxi dresses, or short cover-ups. You are sure to find your perfect bikini coverup after a jump in the pool or the ocean.
The Tunic Cover Ups range between $19.99 and $27.99 and are available in various designs made with crochet, semi-transparent fabrics, and boho feel materials. They come in both very short and maxi-sized models to help you adapt your outfit to your day perfectly.
Priced between $19.99 and $42, the Cupshe dresses are really great options to have as you can wear them on almost any occasion, even if you are not going to the beach any time soon. We have found stunning dresses that you can wear for cocktails, birthdays, or even just a day out on the town with friends. Stripes, flowers, solids, and polka dots -the choices are seriously endless!
Cupshe Promotions & Discounts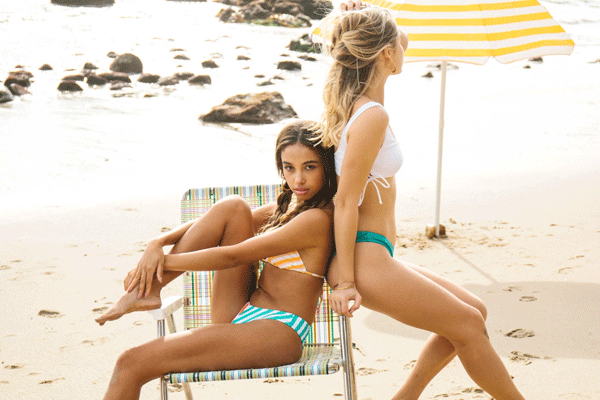 For Cupshe swimsuit reviews, we have scoured the Internet to find the most appealing discounts and deals to use for Cupshe, and we have been very pleasantly surprised!
The brand offers many different ways to chop a few dollars off your order, including:
Signing up to the mailing list for exclusive perks and 10% off your first over of $65+
Signing up via text for an extra 15% off your swimsuits order of $75+
Student Discount: with Student Beans, you can unlock $10 off your $85+ purchase
Sunchasers Club discounts allow you to redeem Sunchasers points awarded every time you place an order. For example, creating an account, writing a review, referring a friend, or even on your birthday. 500 points get you a $5 coupon or an Express Delivery voucher, 1000 points get you $10 off your order.
Cupshe Swimsuit Reviews from Customers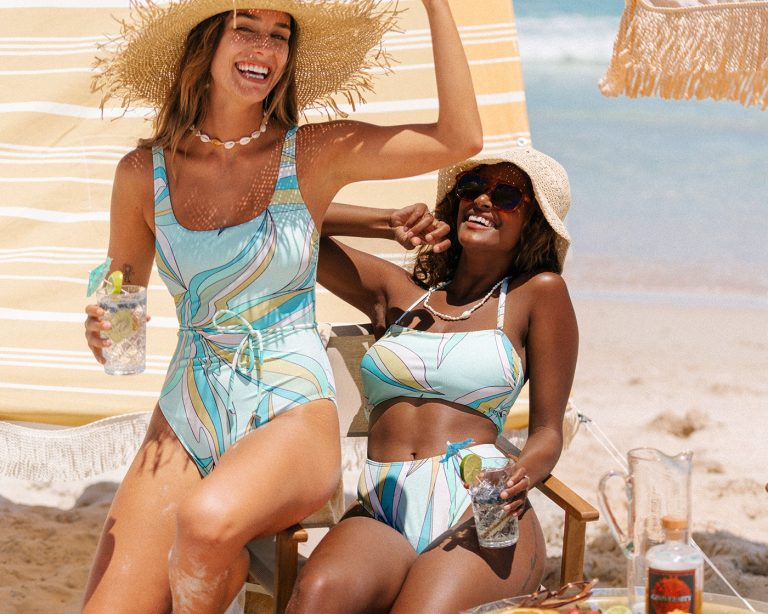 We've taken a very close look at the customer reviews on Trustpilot for this Cupshe swimsuits review. Cupshe also allows its customers to post their reviews straight onto the website. Firstly this is a power move considering that the brand trusts their bathing suits enough to accept every review without filters.
Secondly, when we read the Cupshe reviews and customer experiences, we found that despite a 3.5/5 mark on Trustpilot, the great majority of customers are raving about the products and the outstanding customer service.
Although a customer here and there has had difficulty selecting their perfect fit, the website does offer a size chart that can help you in finding the right swimsuit size. Some complained about the returns fees which incur to the customer. However, the brand always tries to offer their customers several options if they need to return an item, so you often don't have to pay for a return.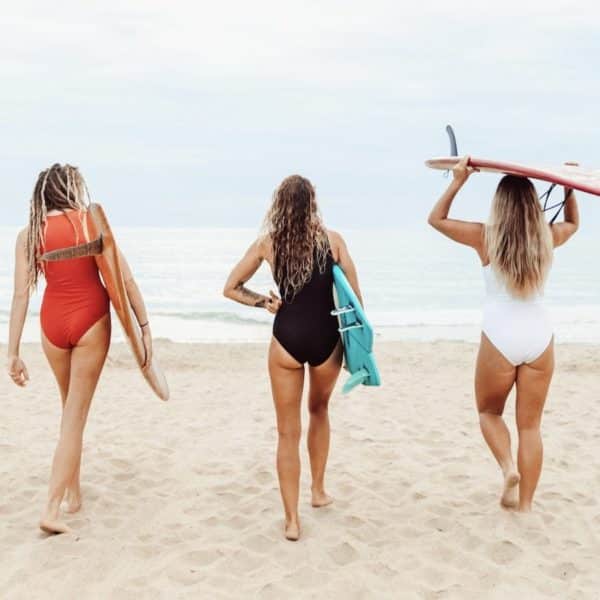 We have found that customers mainly appreciated the true-to-size fitting, a huge variety of colors, designs, cuts of the bathing suits, and the fabric's good quality. One loyal customer wrote a lovely review.
"This is the second time I've ordered swimsuits from Cupshe. I love the fit, designs, and fabric of their suits. I'm very pleased with my purchases. I can't wait to order more!".
Customers who have had to return an item because of the size were in great majority pleased with the customer support. They were described as very helpful, patient, and kind. Some even stated in their Cupshe reviews that the brand had not even asked for their swimsuit to be sent back and had refunded them so they could still purchase the correct size.
One delighted customer said: "I needed to do a return on one of the items because it was too large. When I initiated the return, customer service was prompt, efficient, polite, and competent. I will continue to shop with them and would recommend them."
Overall, the straightforward returns process, the customer support team's competence, and the friendliness support team, coupled with various swimsuits colors and designs for every size and body shape, have earned the online-based brand some excellent points reflected by outstanding Cupshe reviews.
Where to Buy Cupshe Swimwear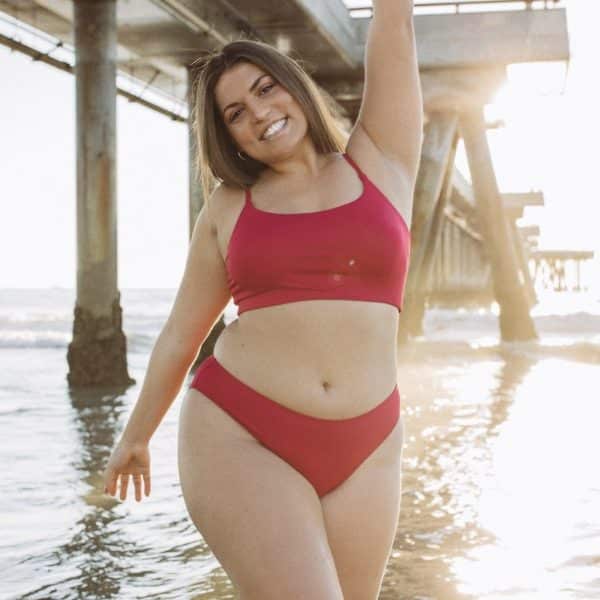 The dozens of stunning Cupshe bathing suits are currently only available to purchase online from the official website and on the Cupshe Amazon store, which carries a wide range of the brand's products. If you want to find exclusive deals, you're better off shopping from the website itself.
Cupshe Swimsuit Reviews: Editors Verdict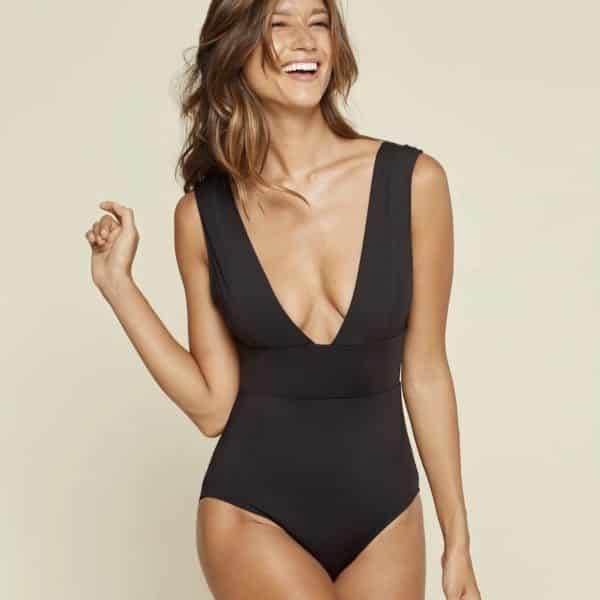 It did not take us very long to form our own favorable opinion of the Cupshe brand. Upon reading the customer experiences there's no doubt that Cupshe is the real deal.
Whether you prefer a solid one-piece or your vibe flows better with patterns on a bikini, the brand is sure to carry a wide choice of designs to suit your needs and likes. If you'd rather treat yourself to a beautiful dress for a night out with your friends, Cupshe also has what you need with rows upon rows of truly gorgeous solid and patterned fabrics.
With a reliable delivery service, true to size and high-quality products, an easy return policy, and outstanding customer support, Cupshe is definitely the way to go for your next bikini shopping haul.
Want to step up your fashion game? Perhaps you'll like these: MeUndies, Fashionphile and Blackbough Swim.
Frquently Asked Questions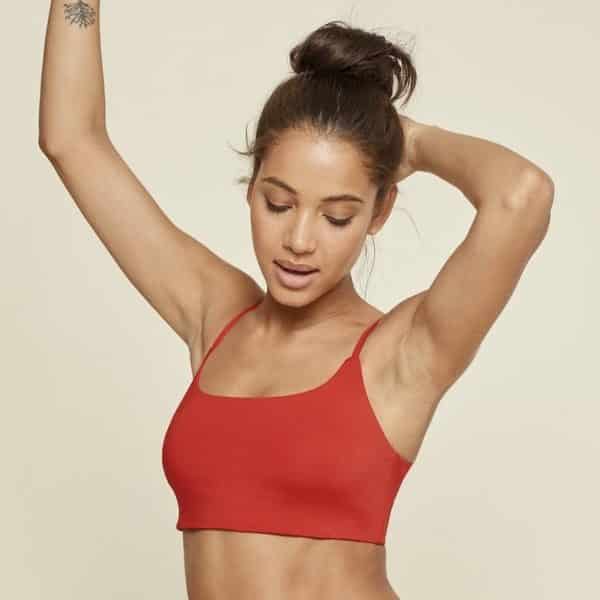 Is everything true to size?
Cupshe makes sure that their products are true to size. To find out what size you should go for, check out the 'How to Measure guide.
Can I purchase different sizes for tops and bottoms?
Yes, you can. There are separate sets that you can mix and match, next to the swimsuits that are sold in sets.
I've received a damaged or defective item. What should I do?
If you have received any faulty items, you will have to get in touch with the Cupshe customer service team. You'll need to provide them with your order number, product name/code, and describe why the items are faulty as well as provide clear photos.