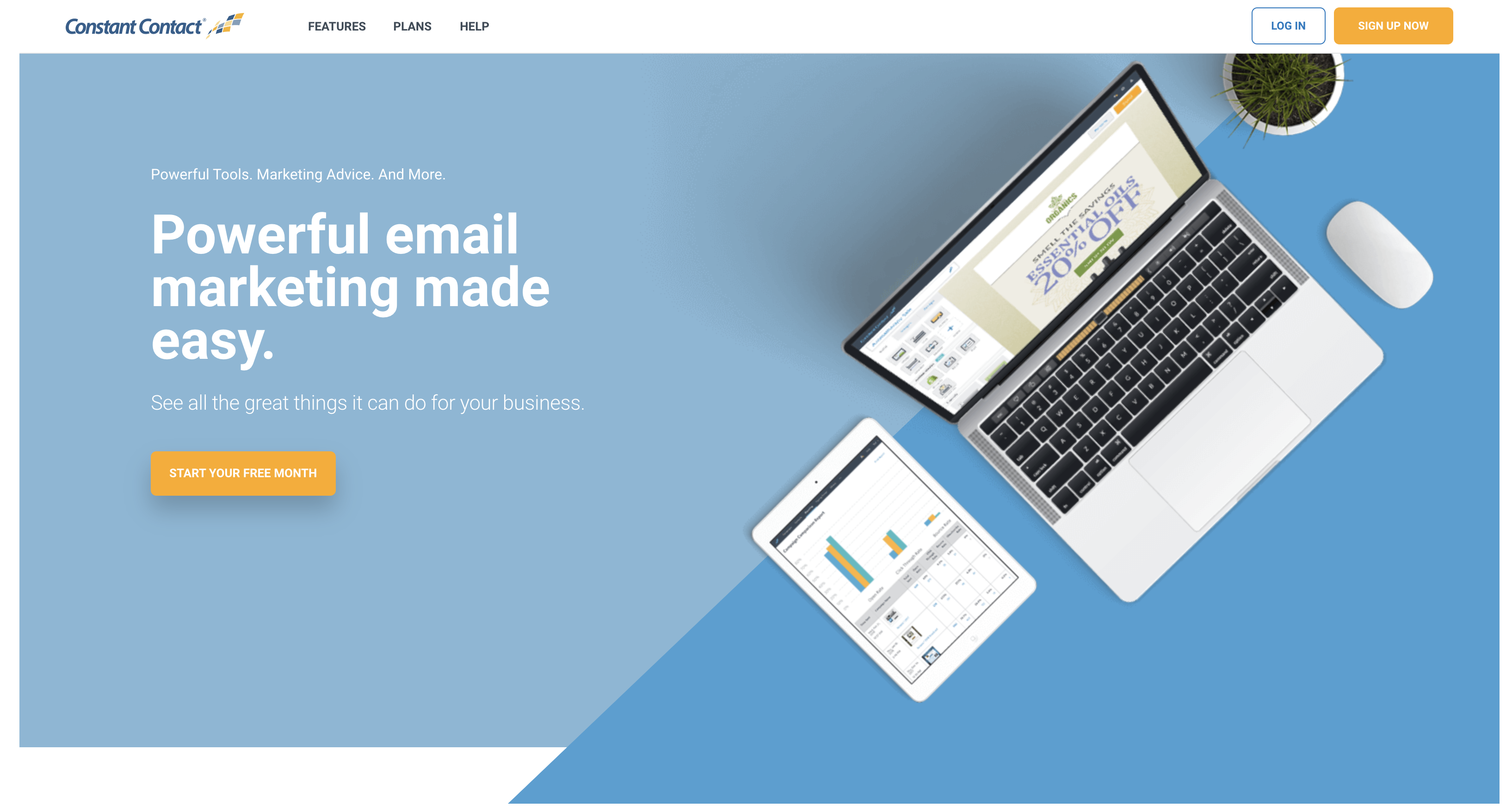 Constant Contact provides a range of intuitive marketing applications designed to help small businesses and nonprofits expand their customer bases and nurture relationships. Solutions include email marketing, event marketing, social campaigns and reporting, survey management and offer management—all of which are available either independently or as part of an integrated suite called the Constant Contact Toolkit.
Constant Contact's email marketing application allows businesses to import customer data from spreadsheets or email clients, such as Gmail and Microsoft Outlook. Email sign-up forms can be personalized and embedded on web pages or on Facebook to capture new contacts and build email lists. The system offers hundreds of customizable email templates with drag-and-drop elements and also includes real-time reporting features to track email opens, clicks, forwards, social shares and more.
Constant Contact offers both online and in-person seminars and training to help users improve their marketing efforts.
Features of Constant Contact
Constant Contact allows users to streamline email campaigns and nurture relationships. The following are the key features that make this happen:
Marketing Automation – With Constant Contact, users can set up welcome emails, autoresponder series, and anniversary and birthday emails to automatically be sent to contacts based on certain triggers. Once users spend some time to customize emails, they don't have to worry about them again until they're ready to modify their content.
Contact Management – The solution's contact management dashboard provides all the tools users need to organize subscribers into a single contact list. Marketers can upload a text file or spreadsheet for automatic processing, or import contacts directly from Outlook or Gmail. Tagging contacts and adding custom fields is a breeze, and Constant Contact allows users to clean up lists by avoiding duplicates.
Statistical Reporting – Constant Contact offers detailed reports that show statistics on number of clicks, unsubscribes, forwards, opens, spam reports, and more. These statistics are graphically displayed in the user's account. In addition, the software provides users with an option to customize the spreadsheet to export whatever stat they desire. An activity tab logs exports, removals, updates and additions.
Event Marketing Tools – Constant Contact's event registration application is a great feature for marketers interested in leveraging email marketing to drive attendance at trade shows and conferences. Called EventSpot, it provides all the tools a user needs to create email invitations and a corresponding registration form and home page. The online form streamlines the event registration process, removing the need to collect registration information via telephone. There are also integrations with other event marketing tools, such as Eventbrite.
E-commerce integrations – Constant Contact offers native integrations with many e-commerce solutions to enable marketers to process abandoned cart emails, see sales right in their Constant Contact dashboard and more.
A/B Split Testing
With Constant Contact's A/B testing feature, you create two different subject lines that are each sent to a portion of your contact list. The software determines the better-performing subject line and automatically sends the winner to the rest of your audience.
Autoresponders
With Constant Contact's autoresponders, you can create a series of personalized, automated emails that will be sent automatically based on certain triggers. You can automate emails such as welcome messages to new subscribers, and birthday and anniversary emails to existing customers.
Deliverability
Constant Contact boasts a 97% deliverability rate. The company also offers resources on its website where you can learn about email best practices and phrases that may trigger spam filters.
Email Editor
When you click "Create Email," you have the choice to add your website. If you select that option, Constant Contact scrubs your website to find your brand's colors, logo and social media accounts, then adding them to the email. Next, you pick a template and edit it using the drag-and-drop tools. If you aren't sure how to use the email editor, a video automatically plays when you're in the editor for the first time. When we used Constant Contact's email editor, we created and sent an email in less than 10 minutes. The emails we sent hit the right inboxes, not the "spam" or "promotions" folder.
Email Templates
Constant Contact has dozens of templates in its library. Each template is reusable and built for both desktop and mobile. Once you pick a template, you can customize it with your own images as well as your brand's colors and fonts.
List Management
You can upload your existing contacts with Excel, Outlook and Salesforce. When you upload new contacts, you can use tags to categorize them, such as "VIP donor" and "prospect." Constant Contact automatically removes duplicates and unsubscribed contacts for you so you don't have to manually manage your lists.
Reporting
Once you send emails out, you can immediately view reports from the campaign. Statistics include open rates, click rates, the number of emails sent, bounces, successful deliveries, unsubscribes, spam reports, and did not opens. You can also view what links are clicked, social media statistics and poll responses. In this dashboard, you have the option to resend an email.
Constant Contact Pros
Supports subscriber tagging as well as lists
A comprehensive library of email templates across many industries
Reasonably good drag and drop email builder
Email preview for mobile and various email clients
Can build both inline and popup forms (+ a page builder)
Supports basic autoresponder sequences
Offers basic reporting features for regular campaigns
Has a number of integrations
Constant Contact Cons
Lengthy and annoying approval process (industry-specific)
No rule-based segmentation options for campaigns
Ugly and/or outdated email template designs
Very limited form templates and customization
No support for email A/B testing
No automation workflow builder for dynamic sequences
Very limited reporting for autoresponder sequences
Expensive relative to competitors
Customer Service & Support

Constant Contact offers robust customer resources, including:
A Knowledge Base that contains how-to articles, tutorials and guides
A database of video tutorials covering beginner to advanced tips and strategies
A professional services team, which offers marketing advice, premium design, as well as campaign design and copy, branded footers, autoresponders, list growth and seasonal or holiday templates
Educational events that include seminars and training that occur online and in-person
Constant Contact customers can also access support via phone, live chat and through its social media accounts. Customers can also access the Help Center, where they can find a community of more than 665,000 members.
Constant Contact Pricing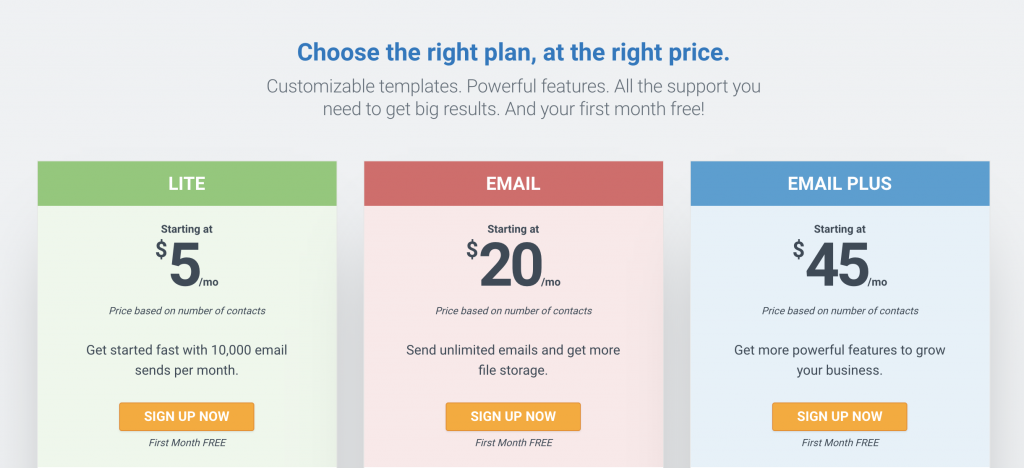 Constant Contact has two plans, Email and Email Plus, that can fit into the budgets of most small businesses. Additionally, Constant Contact offers a 60-day free trial.
Both plans have everything you need to create professional email campaigns. With each plan, you can send unlimited emails. Each plan comes with customizable templates, contact management and list-building tools, pop-up forms, tracking and reporting features, an image library and a mobile app.
The difference between the two plans is that Email Plus offers dynamic signup forms, 2GB of file storage, access for up to 10 users, email automation, event marketing, online donations, plus surveys and coupons. Here's more that you should know about Constant Contact's pricing:
The prices for both plans are based on list size. If you prepay for six months, you receive a 10% discount; if you prepay for 12 months, you get a 15% discount. Additional discounts are available for nonprofits. Special plans are available for franchises and associations.
Prices for the Email plan start at $20 per month for up to 500 subscribers and $65 per month for up to 5,000 contacts. The most expensive package is $335, which supports 50,000 contacts.
The cheapest package for the Email Plus plan starts at $45 per month, and you can send emails up to 500 contacts. For 2,500 contacts, the cost is $70 per month. The most expensive package is $335 for 50,000 contacts.
If you have more than 50,000 subscribers, you need to reach out to Constant Contact for a price quote.
If your contact list changes from one billing cycle to the next, Constant Contact will automatically adjust your fee.
The 60-day free trial includes all of Constant Contact's tools, including templates, images, an email editor, contact management, reporting and live support. But, you can only send emails to 100 contacts or less.
Final Thoughts
This isn't my first look at Constant Contact, but it's fair to say my opinion hasn't changed.
I don't like the lengthy approval process or the email templates, I wasn't blown away by the visual editor or reporting features, and I felt totally let down by the lack of split-testing and automation capabilities.
In fact, almost every aspect of this platform feels dated or limited in some way, which makes it very hard to get behind when you consider it's also one of the most expensive solutions.
That's why instead of going with Constant Contact, you're better off taking a look at your recommendations for the best email marketing software instead.
You'll find much better email marketing solutions that offer much better value.