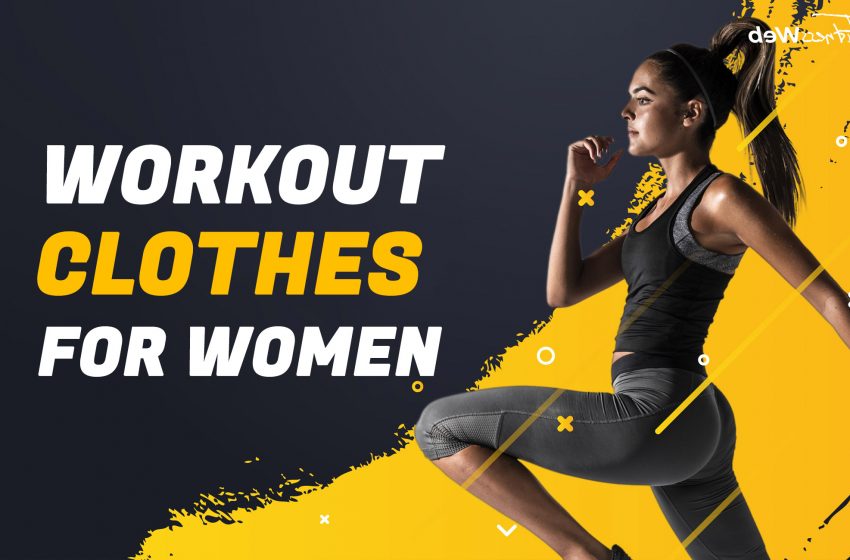 About Beyond Yoga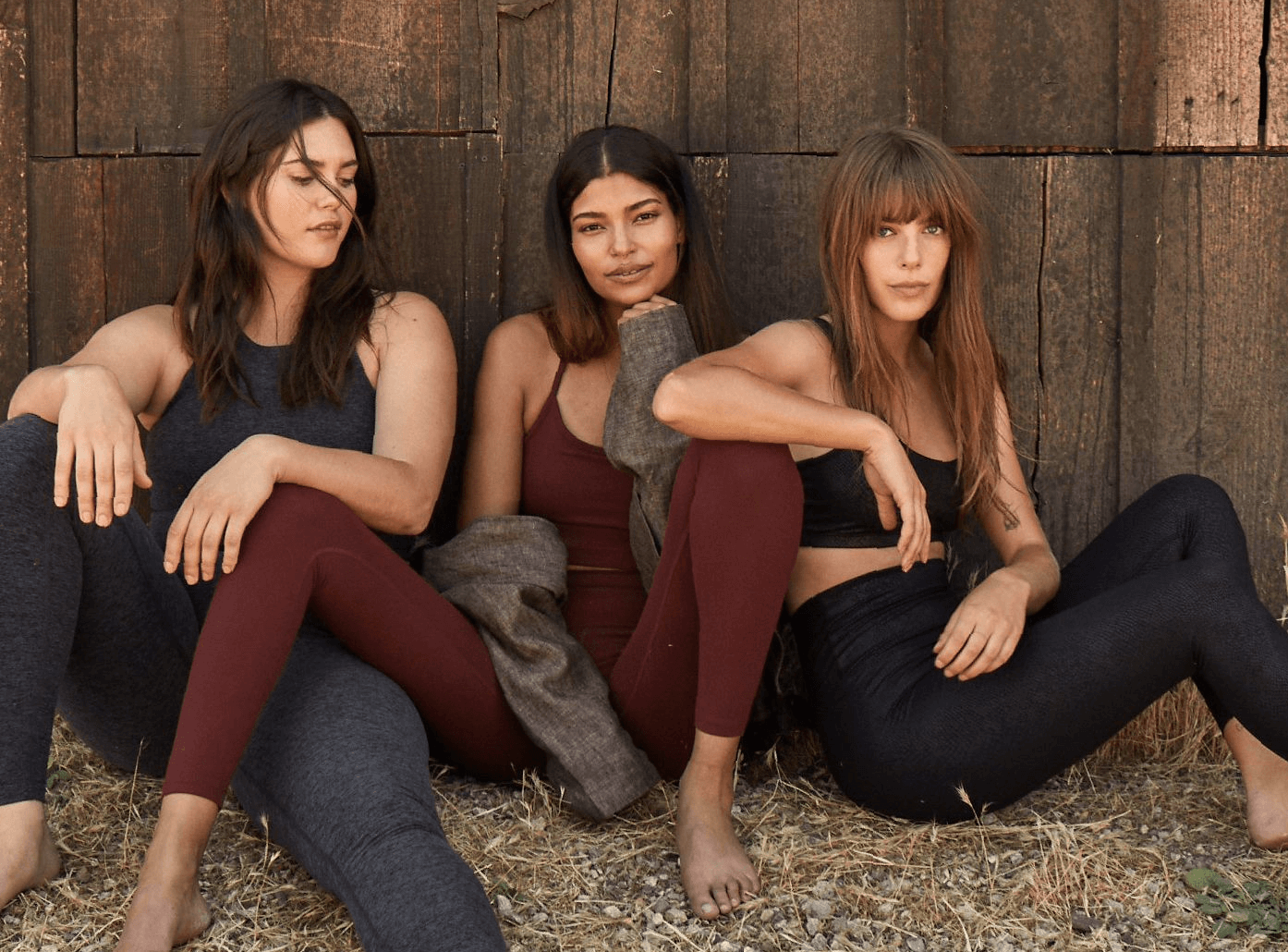 It's always a struggle to shop for clothes online without worrying about the size and quality. Especially when it comes to activewear since they are a heftier investment. However, some brands ensure that you get your money's worth and this review is all about one such brand – Beyond Yoga. Beyond Yoga is one of the leading names in women's activewear in the world.
They also provide a decent variety of comfortable menswear as well. At first glance, the price tag may have had you wondering if Beyond Yoga is worth the investment. If you're looking for thorough and reliable Beyond Yoga reviews to figure that out, then you've come to the right place.
This Beyond Yoga review will cover everything you need to know about the brand – services, customer feedback, promotions, and much more. It will also feature some of their most popular activewear and where you can order them for yourself.
Overview of Beyond Yoga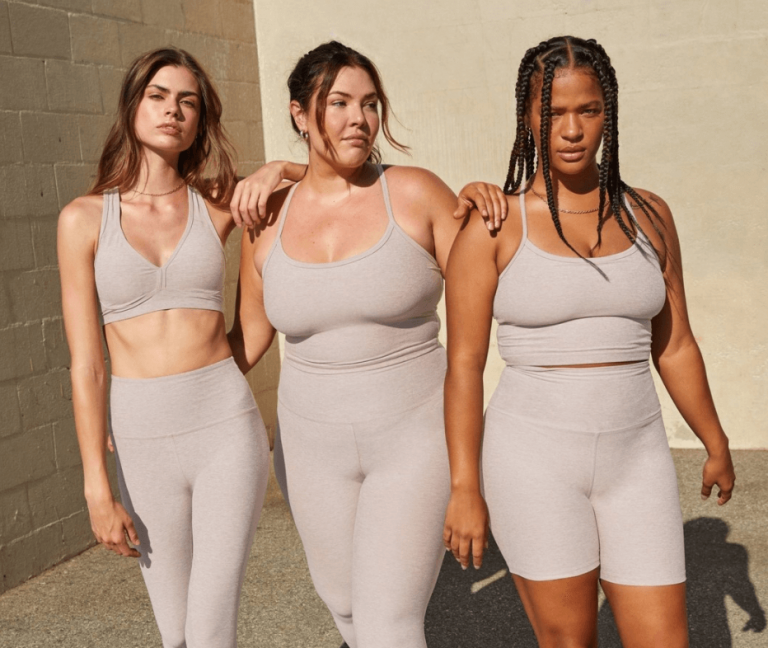 Beyond Yoga is the result of co-founders Jodi Guber Brufsky and Michelle Wahler's goal of providing high-quality, comfortable, and functional activewear for every body type. Designed and manufactured in Los Angeles, Beyond Yoga's clothes come in a wide range of sizes (XXS to 4X).
Beyond Yoga aims to empower its customers with practical and stylish yoga clothes that help boost your confidence both on and off the yoga mat. One of the core values at Beyond Yoga is inclusivity.
You can find everything from shorts and leggings, to bras and tank tops, in every size and shape.
Their fabrics are manufactured through the most sustainable and eco-conscious methods. Spacedye and Heather Rib, their signature fabrics are Bluesign certified, meaning they're made with the lowest impact on the environment.
On top of that, they use recycled materials to further reduce any impact on the planet.
Beyond Yoga also has a commendable social media presence, having been featured in magazines like Women's Health, Vogue, and Shape.
Pros
The brand's major focus on inclusivity helps promote a body-positive message, helping every woman feel confident in their own body
A large selection of varying leg lengths and waist heights cater to your yoga regime and preferences
A detailed size guide to help you find the perfect fit
5 choices of comfortable and durable fabrics made through sustainable means
High-quality fabrics that allow for compression and feature 4-way stretching capabilities
Fabrics are breathable, lightweight, and moisture-wicking, helping you deal with sweat and get through intense yoga routines quite comfortably
They work with suppliers and manufacturers who follow ethical and eco-friendly labor practices
Several satisfied customers with positive reviews about the service, quality, and durability of Beyond Yoga products
Generous sales to support you in buying the yoga outfits you deserve
US customers can enjoy free shipping and returns on their purchase
A very sufficient 30-day return policy
Cons
You cannot cancel orders once you have placed them
A few customers raised concerns about the fitting of some legging sizes, reporting that they tend to slip from the waist
Beyond Yoga Products Review
Beyond Yoga provides an excellent range of products to support you on your fitness journey. Whether you go for the leggings or the crop tanks, you'll feel the comfort and confidence you need to stay motivated.
Here are some of Beyond Yoga's best-selling products in some of their most popular categories.
Beyond Yoga Biker Shorts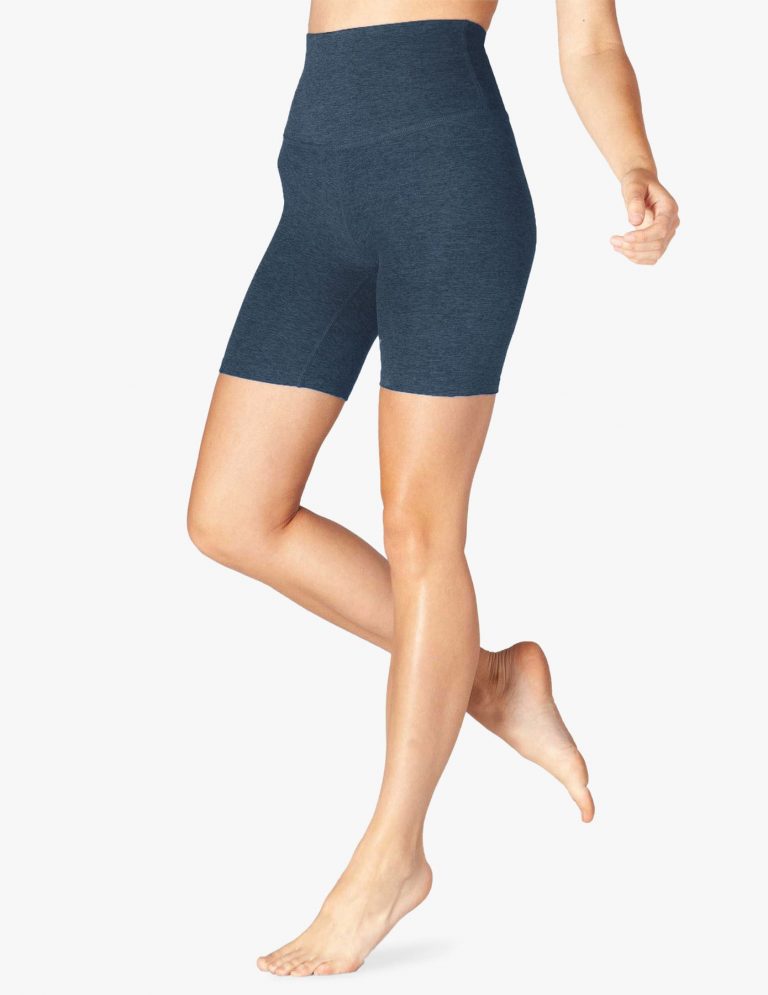 Made from their signature fabric, Spacedye, the Beyond Yoga biker shorts have a buttery-soft feel and chic design. Featuring a high-rise, mid-thigh length with absolutely no outside seams, these shorts not only feel good, but they also look good!
The shorts offer a 5" waistband that sits at the natural waist and a 7" inseam, ensuring that they fit perfectly. The Spacedye performance fabric and the design allow for 4-way stretching so you're comfortable during any form of movement as well.
The Beyond Yoga biker shorts are not only fashionable, but they're also moisture-wicking, so you can get through a sweat-sesh with ease and style. If you prefer to exercise outdoors, then the shorts' UV protection capabilities are more than enough to protect you from the Sun.
Due to the high quality of the fabric, these shorts are very convenient to clean. They can be easily washed alongside your normal laundry. You can even throw them in the dryer without worrying about them losing their color or becoming uncomfortable.
Even after several washes, you'll find these shorts to be just as soft and comfortable as the day you bought them.
Right now, the Beyond Yoga biker shorts are up for only $68. With an astounding 233 5-star reviews out of 275, it's safe to say that these shorts have successfully satisfied the needs of many.
Beyond Yoga Spacedye Bra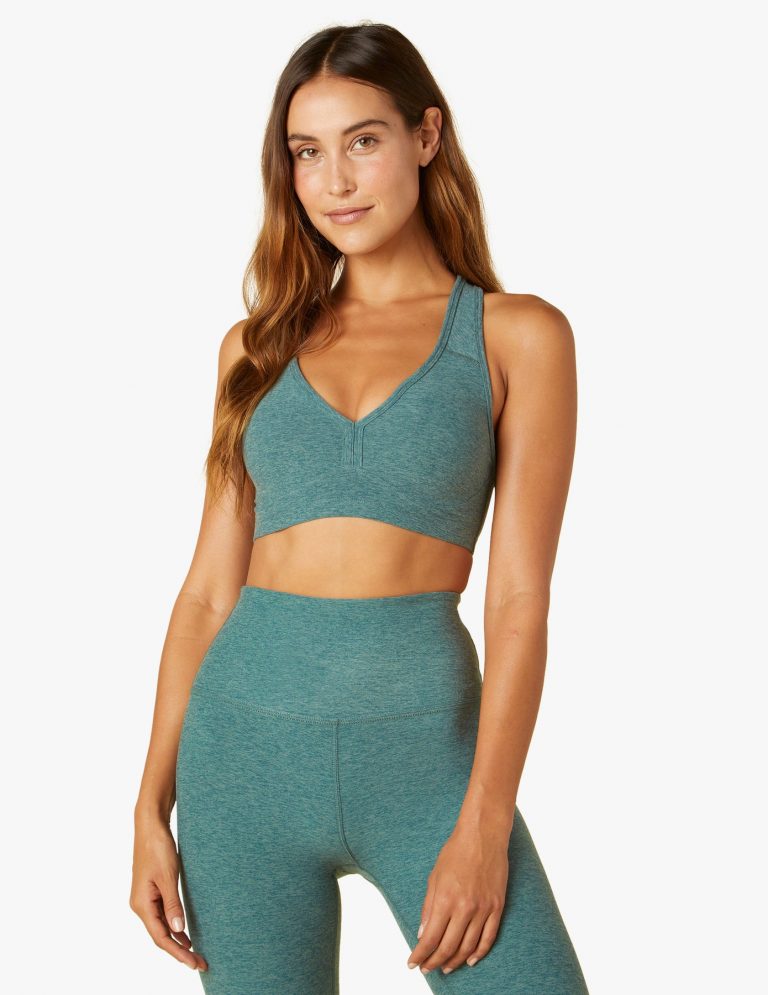 Ideal for mild exercising as well as intense workouts, the Beyond Yoga Spacedye Lift Your Spirits bra provides medium impact support with a racerback strap and liberal stretching capabilities.
Featuring an encapsulating support style, this bra provides everything you need to pull off those gravity-defying poses comfortably and confidently.
This bra is available in many colors. Nocturnal Navy, Rainforest Blue Heather, and the popular newcomer, Chai, are some of the best-selling choices. Don't worry about finding your fit as these are available in sizes from XXS to XL.
Complementing its functional design is Beyond Yoga's signature fabric, Spacedye, which provides 4-way stretch, moisture-wicking, and a soft, comfortable fit. The stylish look makes them suitable for everyday wear as well.
Just put on some matching leggings and a nice jacket, and you're ready for any casual event or activity.
For such a functional and versatile bra, the $60 price tag is worth it.
Beyond Yoga Infinity Scarf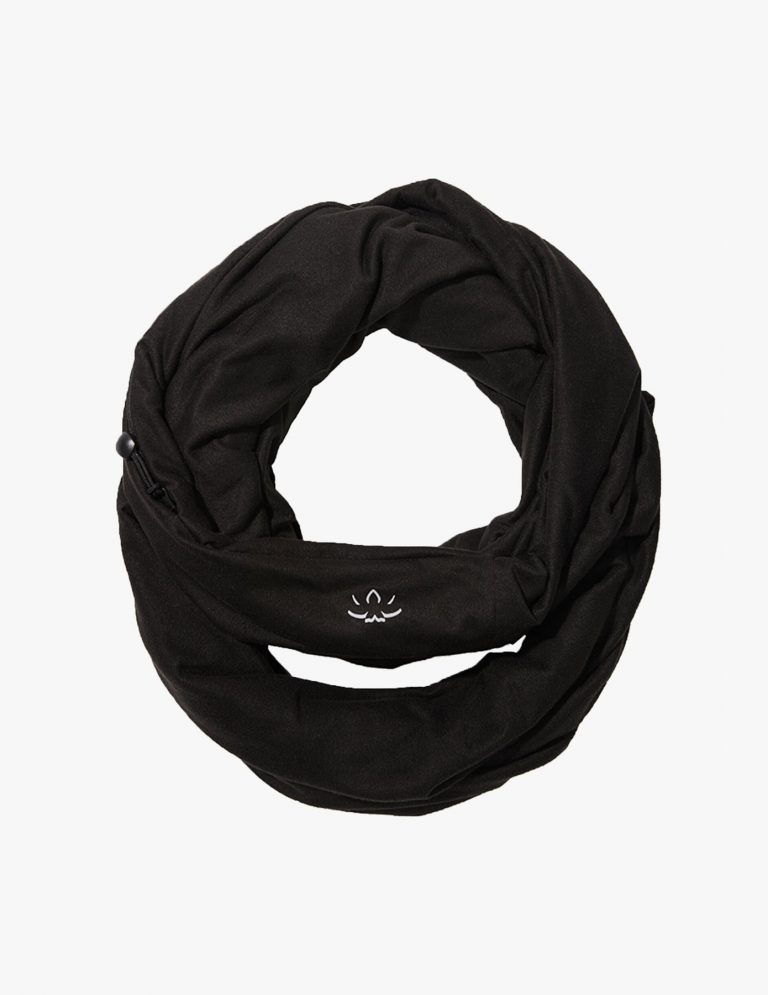 The Beyond Yoga infinity scarf is the perfect companion for your workout routines. Made from a super-soft fabric, the scarf is very comfortable to wear. The scarf has a length of 30.75 inches and a width of 14.5.
The key feature of the scarf is the hidden zipper pocket. The hidden pocket means that it doesn't take away from the style of the scarf and it's just the right size to store your keys, wallets, cash, lip balm, or any other necessity.
The scarf does require some care when it comes to washing. Make sure to give it a cold machine wash and be mindful not to bleach or dry clean it.
Originally for $60, the Beyond Yoga infinity scarf is up for $41.95 on the brand's website. Overall, a reasonable investment to give your yoga look that extra finesse, especially if you prefer to carry small items with you on the go.
Beyond Yoga Joggers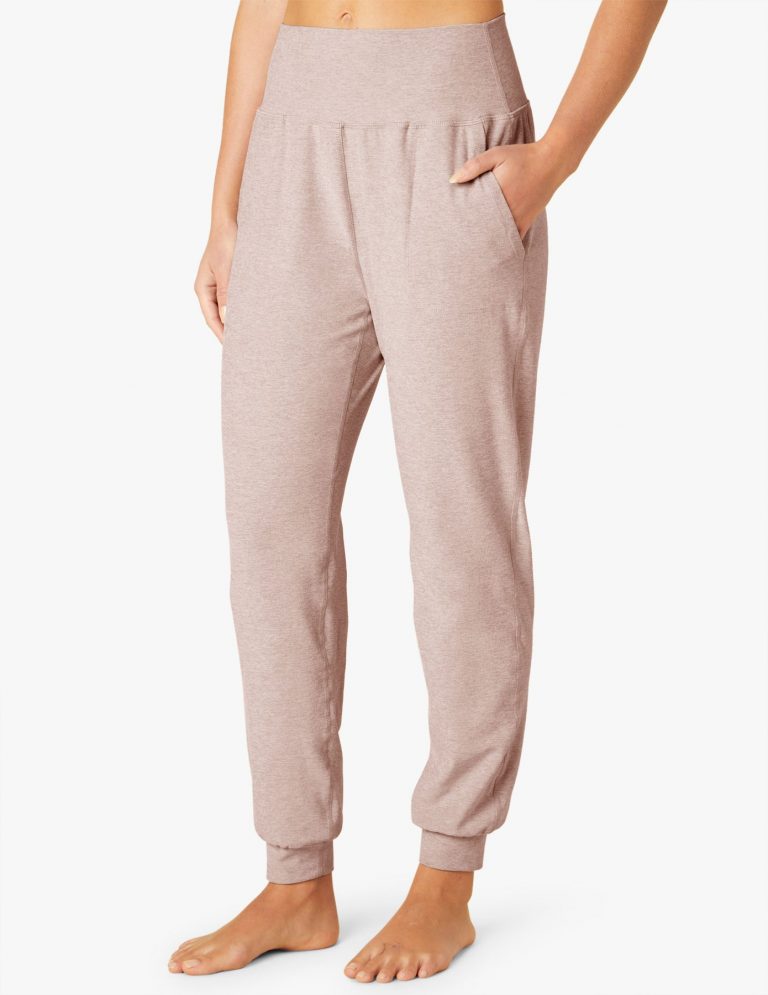 Available in all their unique fabrics, the Beyond Yoga jogger lineup just introduced their newest member. The first jogger made from their Spacedye fabric, the Beyond Yoga Spacedye Midi Jogger.
These midi-length Beyond Yoga joggers combine coziness with elegance for a super-comfortable and stylish experience. The best part about these is that you can put these on whether you're going for your yoga routine or running an errand.
Simply pair them with a matching tee or tank, and you have a cute look ready for any activity.
Not to mention the ultra-soft Spacedye fabric also provides 4-way stretch and moisture-wicking, to keep you comfortable during workouts of any intensity.
You can get the ease, functionality, and style of the Spacedye Midi joggers for $110.
Beyond Yoga High Waist Legging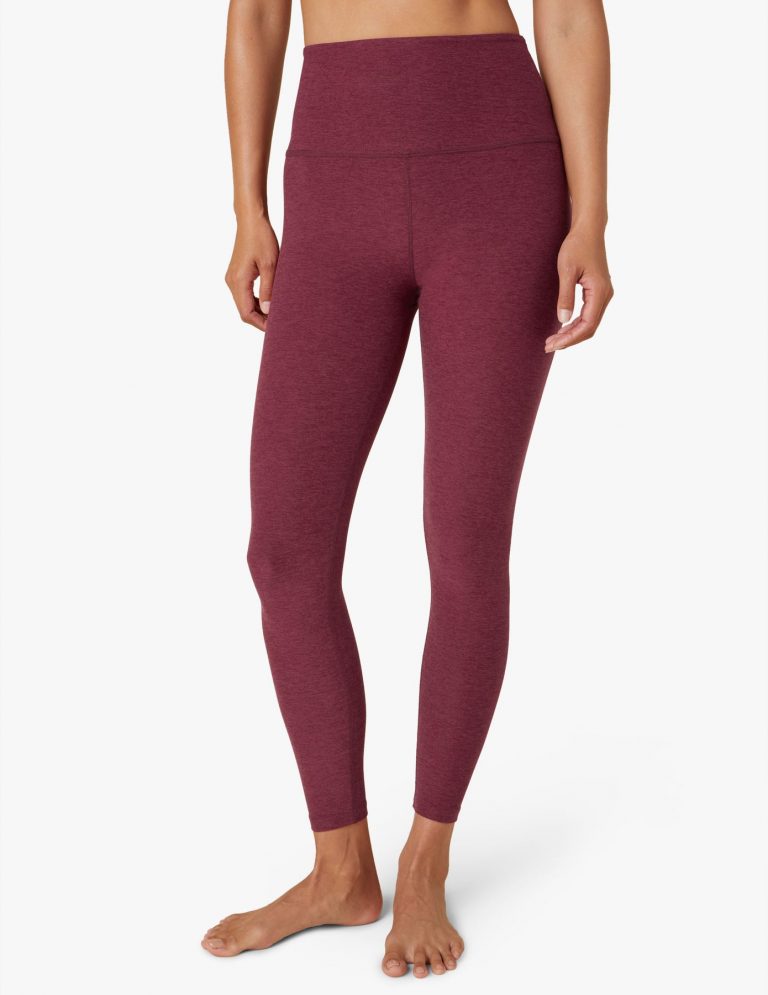 Made for intense activities like sports, weights, and cardio, the Beyond Yoga high waist leggings are designed for functionality and coziness. In this category, the Spacedye Caught In The Midi High Waisted Leggings is the top-sellers.
The breathable and lightweight fabric makes getting through the hottest and most intense workouts feel like a breeze. The moisture-wicking helps deal with sweating and the supportive compression prevents any form of suffocation.
On top of that, these Beyond Yoga high waist leggings are extremely soft, perfect to wear when working out, running errands, or even lounging around. Once you've put them on, you'll never want to take them off.
These leggings have no outside seams and feature a 25" inseam that extends just above the ankle. Wear-tested on real bodies to ensure proper fitting for every size, the Beyond Yoga Midi High Waisted Leggings are available in sizes XXS to XL.
These leggings are available in many colors, including Rainforest Blue Heather, Garnet Red Heather, and Chocolate Chip Espresso. You can get a pair of these beauties for only $97.
Beyond Yoga Cropped Tank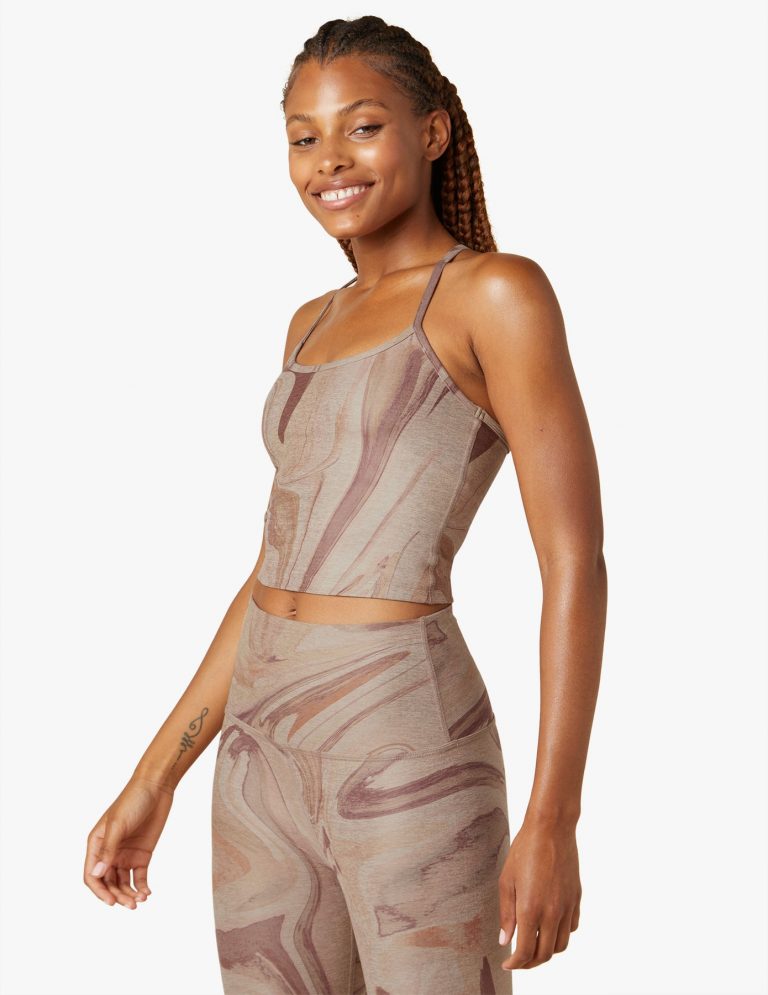 If you're a cropped tank kind of person, then the Beyond Yoga cropped tank selection provides excellent choices to cater to your taste. In the spotlight right now is the Chai Marble SoftMark Slim Racerback Cropped Tank.
The tank features an exquisite leopard print on top of their somber Chai color. The printing is waterless so there is minimal impact on the environment. Not only are you getting a high-quality and cozy cropped tank, but you're also helping protect the planet as well.
This Beyond Yoga Chai Marble cropped tank has a skinny racerback design and a built-in shelf bra for greater support. It makes you feel confident and secure while working out in any setting.
Adding to the unique design are the functional benefits of the Spacedye performance fabric – breathability, 4-way stretch, and sweat-wicking. Available in sizes XS to XL, you can grab this unique cropped tank for only $68.
Beyond Yoga Reviews from Customers
If you're still making up your mind about giving Beyond Yoga a shot, maybe these customer reviews will help. The reviews on all their popular products have been overwhelmingly positive.
Highlighting the versatility of the Beyond Yoga cropped tank, one satisfied customer said, "So soft and comfortable, not binding but holds everything in place. Perfect for all activities." These may be yoga clothes, but they've got the style and comfort for everyday wear.
"Great for working out or a nap on the couch as well." said another satisfied (and very comfortable) customer. Beyond Yoga's activewear can also make for the perfect gift to support your loved ones on their fitness journey.
One happy customer said, "I gave these leggings to my daughter-in-law for Christmas and she really liked them!"
Complementing the ease of care required for the leggings, a satisfied reviewer said, "They wash up very well (I don't put in the dryer) and there is no pilling of the fabric that I've experienced with other brands. Highly recommend!"
Sign Up for Beyond Yoga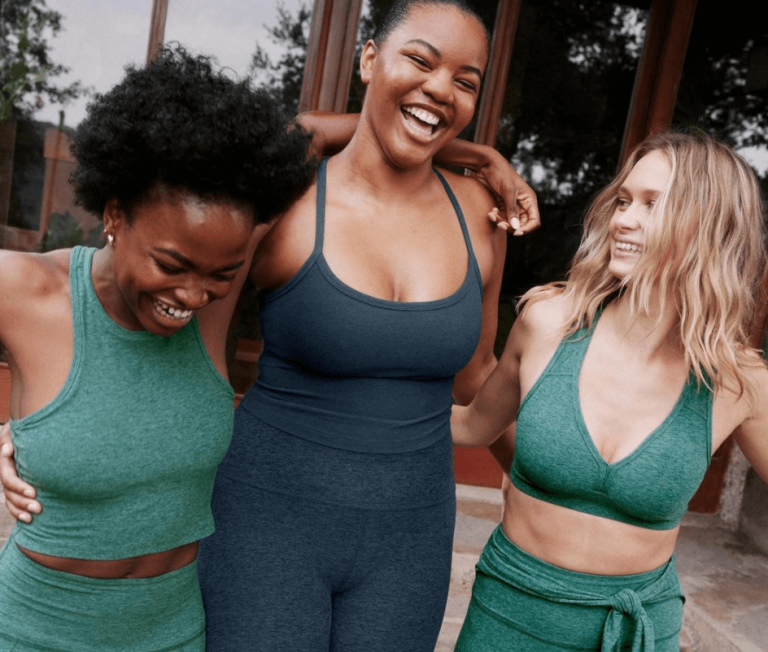 If you'd like to stay up to date with the latest products, promotions, and sales at Beyond Yoga, then signing up for their emails is the best way to do it. Make an account and sign up for emails to get 15% off your first order!
Where to Buy Beyond Yoga
To ensure that you get your hands on authentic products, you have to know where to buy Beyond Yoga. The easiest and most reliable way to buy Beyond Yoga products is through their website. They have extremely helpful guides and images to help you select the right clothes.
Other than that, websites like Revolve and Recreational Equipment Inc. also offer a range of Beyond Yoga clothes. Beyond Yoga has several other retailers, including but not limited to, Urban Outfitters, FWRD, Amazon, and Zappos.
Beyond Yoga Shipping and Return Policy
Shipping & Delivery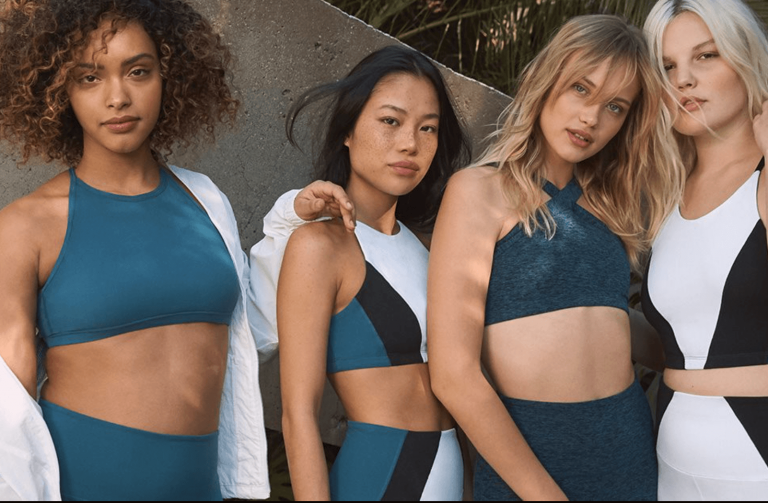 Beyond Yoga provides free shipping and returns for US customers. You can have your order delivered through Free Priority shipping which takes 2-3 business days, or USPS Free shipping which may take 2-7 business days.
For international customers, Beyond Yoga uses a third-party application to calculate the costs of shipping, taxes, and customs, based on your location. The final cost is available to you during checkout.
If you refuse/return a shipment at any point, you must pay for the original shipping charges, the cost of returning the package to Beyond Yoga, and any other charges incurred during the process.
So do make sure that you're satisfied with your purchase before confirming the order!
For more information on which shipping option to choose based on your location, you can check out their shipping page.
Return Policy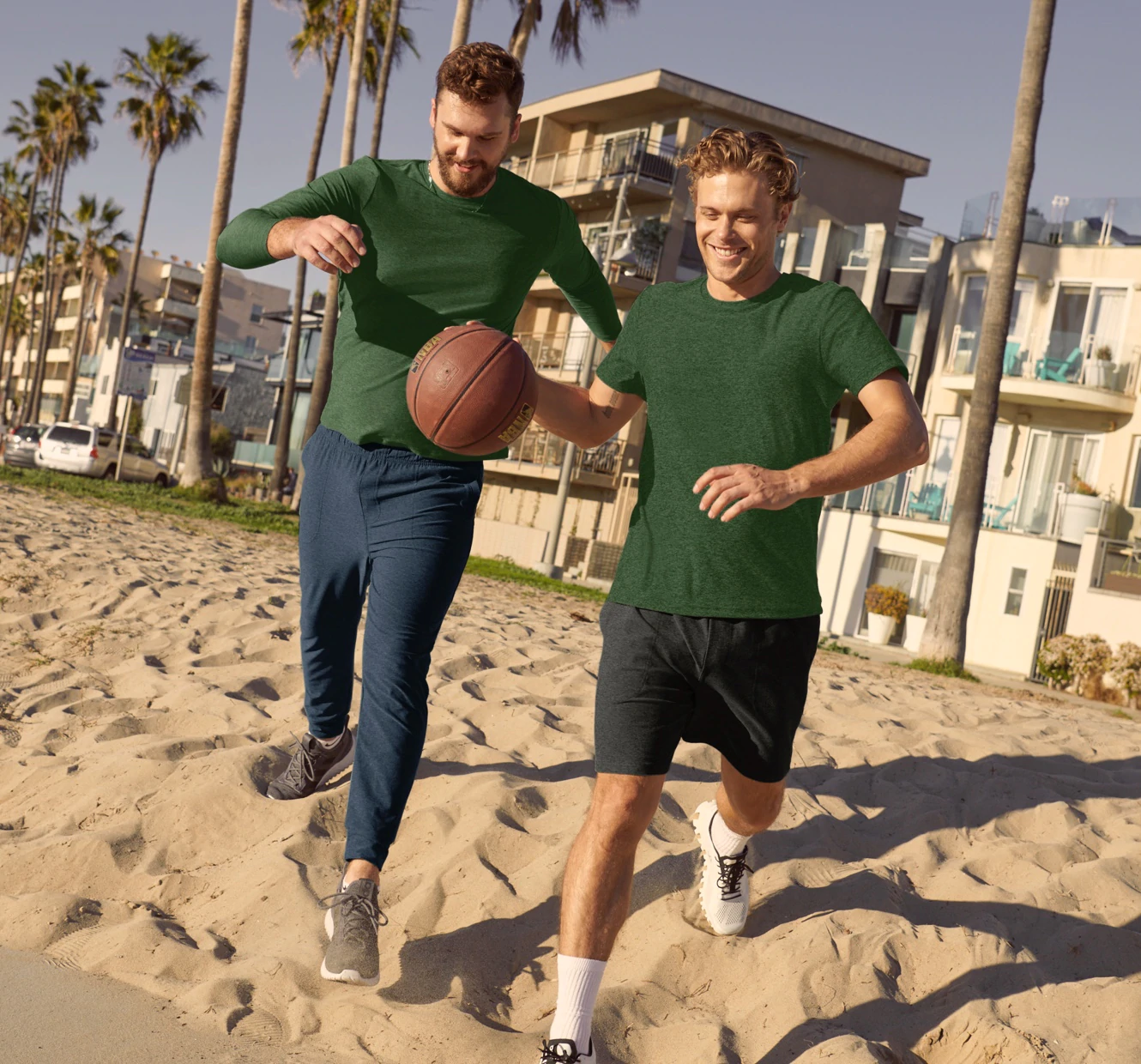 Beyond Yoga has a 30-day return policy, starting from the day the order is placed. However, in light of the ongoing COVID-19 pandemic, they have extended that period to 90 days (subject to approval from Beyond Yoga).
To return any package you must initiate a return request using your order code and zip code.
For US customers, the return is free of cost. Prepaid return labels, unique to your package, are provided for US orders. Remember to only include items that have been approved through your return request. Combining different returns will cause delays in the processing.
For international customers, they must cover the costs of the return.
All returned garments must be unwashed and unaltered. They must also have the tags attached. If you're planning on returning an order, make sure you check all the boxes to avoid any inconvenience.
You can read more about Beyond Yoga's shipping and return policy on their website.
Beyond Yoga Promotions and Discounts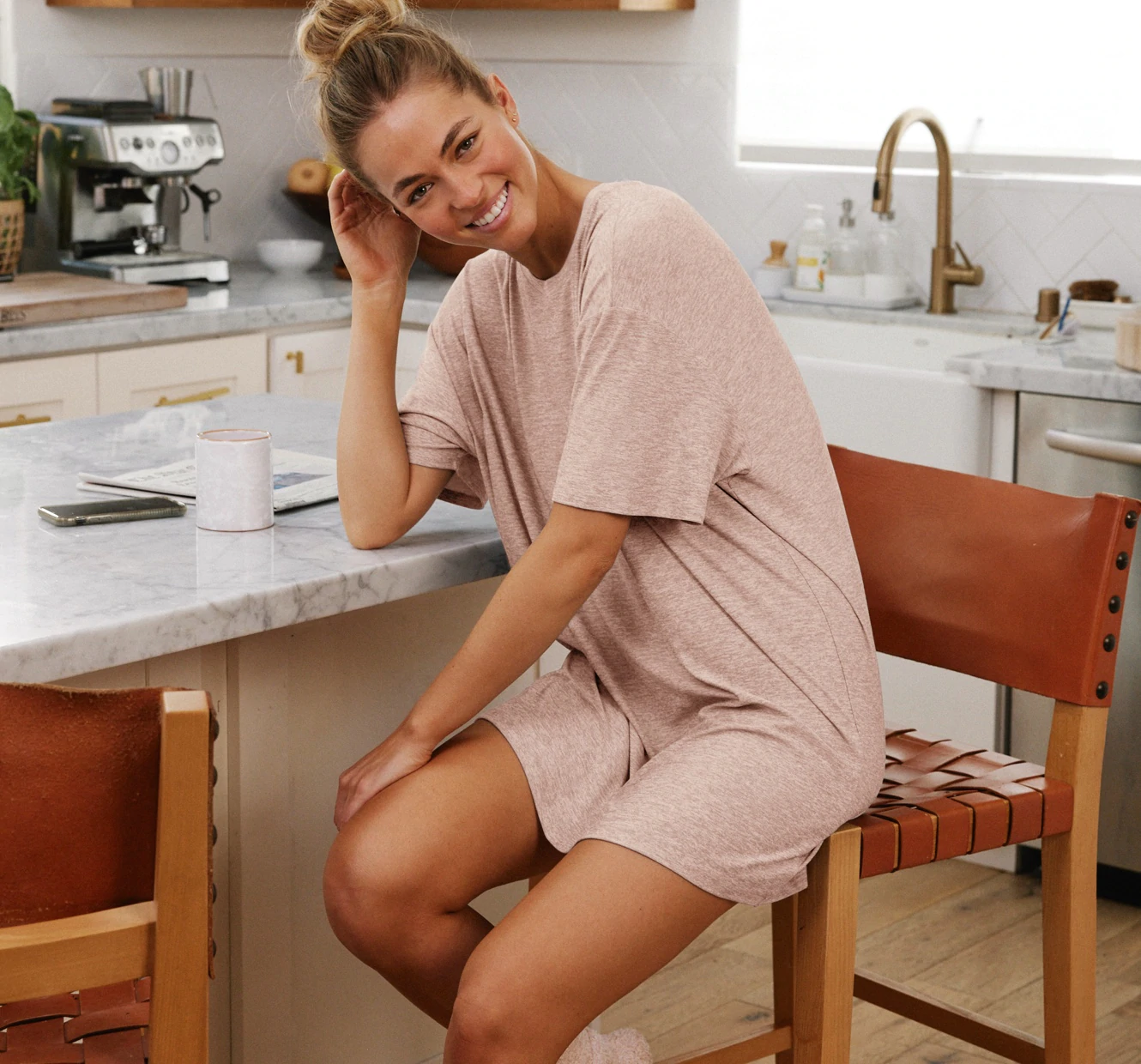 Beyond Yoga frequently puts up an extensive number of products for sale at discounted prices. You can check them out here. Other than that, if you're a new customer, you can get a 15% discount on your first order by simply making an account on the Beyond Yoga website.
Contact Beyond Yoga
One of the best things about Beyond Yoga is its professional and efficient customer service. You can contact them with your message through their contact page. You can also email them at the following address: customercare@beyondyoga .com.
For any additional queries, you can find specific channels to send them through. To get press information, you can reach them at press@beyondyoga .com. For wholesale information, you can contact them through this link.
All of the information is easily available on their contact page.
Beyond Yoga: Editor's Verdict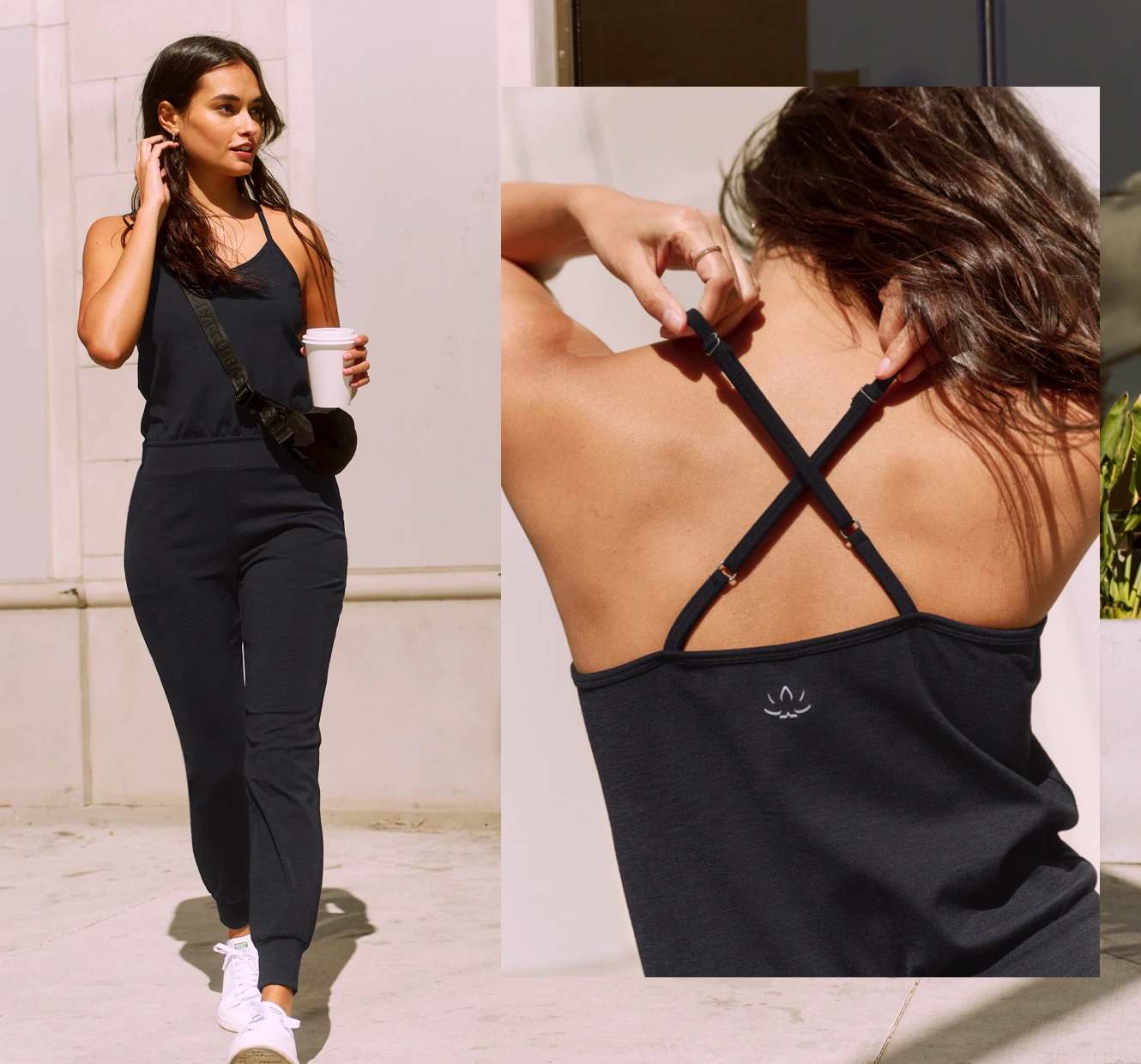 After close evaluation and testing, it's evident that the collections offered by Beyond Yoga are in a league of their own. Their ultra-soft, unique fabrics and chic, functional designs are the perfect activewear for comfort, durability, and style.
The durability of the fabric even after several washes is a big plus. There's no color fade and no roughening of the texture whatsoever.
Leggings and tanks are our favorite categories. You can match them for a cute, fashionable outfit that you can wear even while doing everyday tasks. So is Beyond Yoga worth your investment? Well, with such a cozy, long-lasting, and stylish collection, the answer is a definite yes!
Looking for activewear to feel comfortable while reaching your fitness or daily life goals? Check out our other athleisure brand reviews such as Carbon38, Bandier and Lululemon.
Beyond Yoga FAQs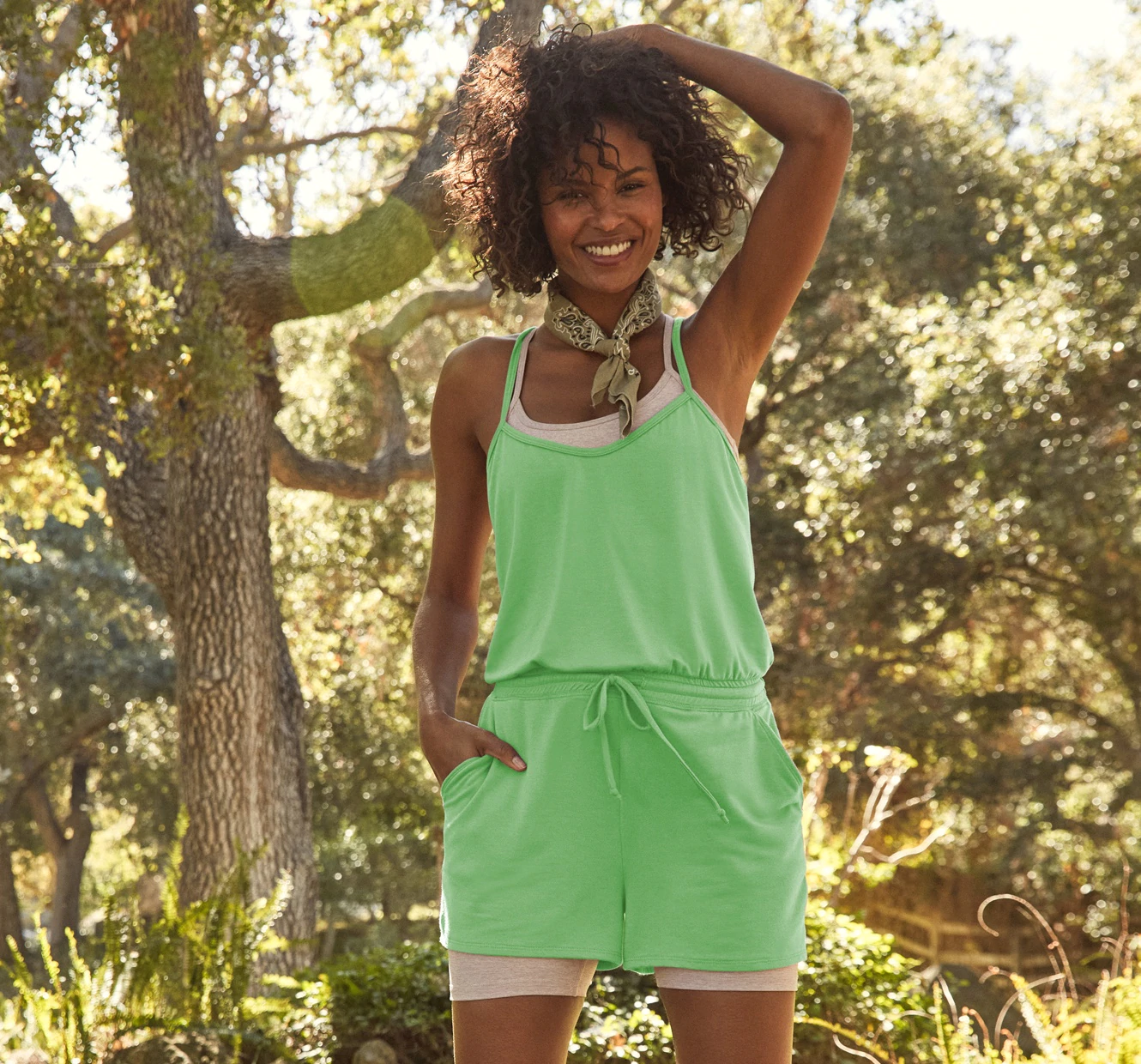 Does Beyond Yoga run small?
Beyond Yoga garments typically don't run small and are generally true to their size. It's always best to follow the size chart on their website. If you're in-between sizes, it's recommended that you choose a size within an inch above your hip and waist measurements.
It may be possible that your purchase isn't the right fit for you. Rest assured, with a 30-day return policy you can return any product and get the one that fits.
Where is Beyond Yoga manufactured?
All Beyond Yoga garments are manufactured in the US. Beyond Yoga works with sustainable and eco-friendly manufacturers to minimize their environmental footprint.
Is Beyond Yoga squat proof?
Yes, Beyond Yoga is completely squat proof. They are extremely comfortable whether you're lounging at home or doing barre, yoga, or any everyday activity.
Does Beyond Yoga have a warranty?
Beyond Yoga does not have any warranty beyond the 30-day return period.